Find out everything you need to know about IKEA Philippines, including opening hours and contact information. Get the latest updates on store locations, product availability, furniture assembly services, and more. Shop at IKEA Philippines today for the highest quality home essentials.
Introduction to Ikea Pasay
Overview of Ikea as a Global Furniture Retailer
When it comes to stylish and affordable furniture, one name that immediately comes to mind is Ikea. Renowned worldwide for its wide range of products and innovative designs, Ikea has cemented its position as the go-to destination for furniture shopping.
By combining functional design with affordability, Ikea has revolutionized the way people furnish their homes. From sleek Scandinavian-inspired pieces to modern minimalistic designs, they have something for everyone.
ABOUT IKEA
IKEA is a Swedish multinational firm that produces and distributes ready-to-assemble furniture, kitchen appliances, home furnishings, decor, and other products and services for the home. Its head office is in the Netherlands. IKEA, founded in 1943 by Ingvar Kamprad, has held the title of largest furniture retailer globally since 2008. The company is most recognized for its modernist designs for many sorts of appliances and furniture, and its interior design work is frequently connected to minimalism. IKEA's focus on cost management, operational details, and continuous product development has allowed the company to reduce prices by an average of two to three percent.
ABOUT IKEA PHILIPPINES
Part of IKEA's global initiative to grow in Asia is the construction of a new 730,000-square-foot plant in the Philippines City of Pasay. It opened on November 24, 2021.  It has a restaurant, call center, showrooms, warehouses, and a space for online shopping. The market hall and showroom of the IKEA store contain roughly 8,000 items. Customers can purchase a variety of Swedish foods in the marketplace, including meatballs, hot dogs, and ice cream which are vegetarian and vegan.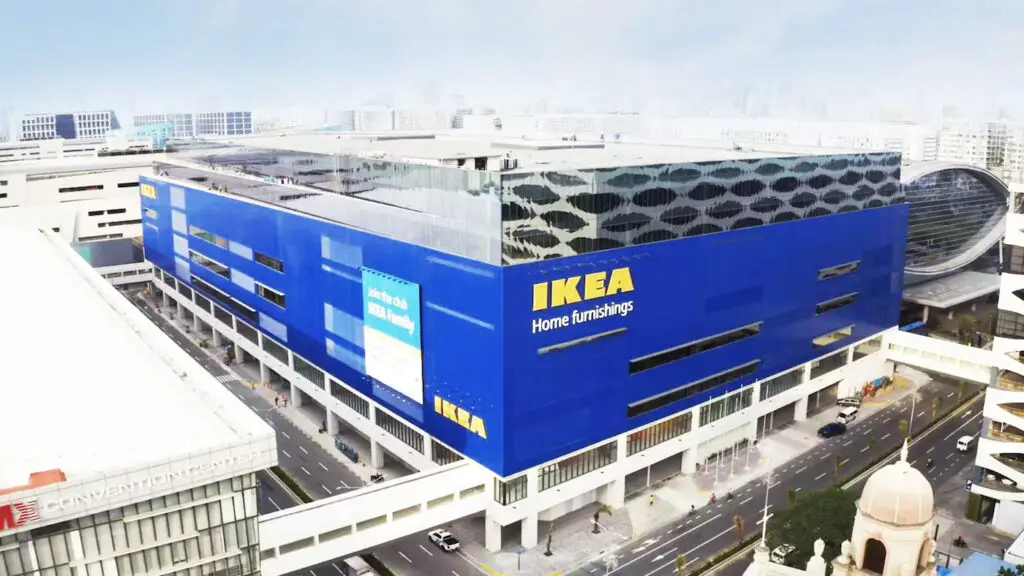 IKEA PASAY PHILIPPINES OPENING HOURS
| | |
| --- | --- |
| IKEA Store Opening Hours | 10:00 am – 10:00 pm, Daily |
| Swedish Restaurant | 9:30 am to 9:30 pm, Daily |
IKEA Philippines Opening Hours
USEFUL LINKS FOR CONVENIENT SHOPPING AT IKEA PH
Shop with ease at IKEA Philippines. Get easy access to frequently used links for convenient online and in-store shopping. Find the latest deals, discounts, and product information from IKEA PH. Enjoy hassle-free shopping today!
DOWNLOAD AND INSTALL THE IKEA APP
The IKEA Shopping app makes it simple to shop from anywhere and has door-to-door delivery available. From making travel arrangements to buying online, discovering what you need, and obtaining product details via a barcode scanner.
Download IKEA Shopping app for free via Google Play (Android) or the Apple App Store (iOS).
THE IKEA SWEDISH RESTAURANT
IKEA's mission is to improve people's quality of life by providing them with an authentic, contemporary flavor of Sweden that they can rely on.
To characterize our approach to cuisine that is healthy for both people and the environment, the Swedish Restaurant has seven guiding principles. But first, let's take a look back at the Swedish Restaurant's past.
The Swedish Restaurant is available every day from 9:30 am to 9:30 pm and is situated on the 4th level of IKEA Pasay City.
IKEA PHILIPPINES STORE LOCATION
Address Of IKEA Philippines
Marina Way, Mall of Asia Complex
Brgy. 76 Zone 10, CBP-IA, 1300
Pasay City, Metro Manila, Philippines
How To Get To IKEA
IKEA Philippines is located inside the Mall of Asia Complex, close to the SM Mall of Asia Department Store. The Mall of Asia Complex is located at the southernmost point of EDSA.
Board the MRT and alight at Taft Station.
Board a bus or jeepney that is headed for MOA.
Get off in the loading/unloading area at MOA.
Walk to IKEA Philippines.
IKEA PHILIPPINES CONTACT INFORMATION
Phone
IKEA'S contact number is +63 2 8888 IKEA (4532), Monday – Sunday: 10am – 10pm
Email
customerservice.ikeaph@ikano.asia
Social media
IKEA for Business
IKEA's Business contact number is +63 2 8424 8228, Monday – Friday: 10 AM – 7 PM
Exploration of the Sprawling Showroom featuring various Room Displays
Once inside Ikea Pasay, get ready for a feast for your senses as you navigate through their sprawling showroom. It's like getting lost in a maze of home inspiration! Every corner reveals meticulously designed room displays that showcase different styles and themes.
You'll find yourself wandering through fully furnished living rooms that exude comfort and elegance; modern kitchens equipped with all the essentials for culinary enthusiasts; cozy bedrooms enveloped in soft linens and dreamy lighting; and practical home offices boasting efficient workspace solutions. What makes these room displays truly captivating is their attention to detail.
Each item has been thoughtfully placed to create a harmonious aesthetic appeal. From perfectly arranged cushions on sofas to neatly organized kitchen utensils, every aspect is artfully curated to inspire customers with countless design possibilities.
Don't be surprised if you find yourself mentally redecorating your own home as you stroll through the showroom. The room displays at Ikea Pasay are designed to ignite your creativity and help you envision how their furniture and accessories can transform your living spaces into havens of style and functionality.
Overview of the Self-Service Warehouse Section for Easy Shopping
After meandering through the enchanting showroom, it's time to head to the self-service warehouse section of Ikea Pasay. This is where convenience takes center stage, making your shopping experience a breeze.
The warehouse is vast, with tall shelves stocked full of flat-packed furniture pieces waiting to be taken home. From sofas and beds to bookshelves and kitchen cabinets, every item has a designated spot on these towering shelves.
Fear not; helpful signage guides you effortlessly towards finding exactly what you're looking for. Once you've picked out the items that caught your eye in the showroom, simply grab a shopping cart or trolley and proceed along well-marked aisles to gather all the individual components required for your purchase.
Everything is clearly labeled with aisle numbers and bin locations, ensuring that you can easily navigate the warehouse without feeling overwhelmed. Upon completing your shopping journey, head towards one of the conveniently located checkout counters where friendly staff will assist in finalizing your purchase.
If needed, delivery services are also available to transport your newly acquired treasures straight to your doorstep! Ikea Pasay's store layout and design have been carefully crafted to optimize customer experience.
The iconic blue and yellow building facade makes a striking first impression while also staying true to Ikea's brand identity. The sprawling showroom offers endless inspiration with its diverse room displays, allowing customers to visualize their dream spaces.
And when it comes time for shopping convenience, the self-service warehouse section ensures an effortless experience from start to finish. So dive into this retail wonderland and let your imagination run wild!
Product Range at Ikea Pasay
Introduction to the wide range of furniture offerings, from living room to bedroom sets
When you step into Ikea Pasay, prepare to be amazed by the vast array of furniture options available. Whether you're looking for a cozy sofa to relax on after a long day or a stylish dining table to entertain friends and family, Ikea Pasay has got you covered.
Their living room section boasts an impressive selection of sofas, armchairs, coffee tables, and entertainment units in various styles and sizes. You'll find everything from sleek modern designs to more traditional pieces that add a touch of warmth and charm.
Moving on to the bedroom section, get ready to transform your sleeping space into an oasis of comfort and style. From sturdy bed frames in different materials like wood or metal to plush mattresses that guarantee a good night's sleep, Ikea Pasay offers it all.
Don't forget about storage solutions! Explore their range of wardrobes, dressers, and bedside tables designed with functionality in mind.
Discussion on the diverse selection of home accessories and decor items available
Ikea Pasay is not just about furniture; it's also a treasure trove of home accessories and decor items that allow you to personalize every nook and cranny of your space. From statement lamps that illuminate your living room with style to cozy rugs that add warmth underfoot, there's something for everyone's taste. The kitchenware section is a food lover's dream come true.
You'll find an extensive collection of quality cookware, utensils, dinnerware sets – all designed with practicality in mind. Whether you're an aspiring chef or simply enjoy cooking delicious meals at home, Ikea Pasay has everything you need to whip up culinary delights.
For those who love hosting dinner parties or having intimate gatherings with friends over coffee or tea, the dining and serving section is a must-visit. Explore their wide range of dining sets, glassware, cutlery, and table linens that will make your guests feel truly special.
Highlighting unique products exclusive to Ikea Pasay or inspired by Filipino culture
As Ikea Pasay is located in the Philippines, it embraces the rich culture and heritage of the country. You'll find unique products that are exclusively available at this branch or are specially designed with Filipino culture in mind. One such example is their "Bahay Kubo" collection – inspired by traditional Filipino houses made from native materials like bamboo and rattan.
This collection includes furniture pieces such as chairs, tables, and storage solutions that bring a touch of local charm to any space. Additionally, Ikea Pasay celebrates local craftsmanship by collaborating with Filipino designers and artisans.
Look out for limited-edition items created in partnership with talented individuals who infuse their creativity into home decor pieces like wall art, textiles, or ceramics. Whether you're searching for furniture to suit your style preferences or adding those perfect finishing touches to make a house feel like home, Ikea Pasay has an extensive range of options.
From living room essentials to bedroom comforts and an array of home accessories influenced by Filipino culture – there's something for everyone at this captivating furniture retailer. So head on over to Ikea Pasay and let your imagination run wild as you explore their diverse product range!
Dining Experience at Ikea Pasay
When visiting Ikea Pasay, one cannot miss the delightful dining experience offered at their spacious cafeteria. It is the perfect place to refuel after exploring the vast showroom or shopping for furniture and home accessories. The cafeteria not only provides a comfortable setting for a meal but also offers an array of delicious Swedish-inspired cuisine to tantalize your taste buds.
Iconic Swedish Meatballs with Lingonberry Sauce
One cannot talk about dining at Ikea without mentioning their iconic Swedish meatballs. These delectable bite-sized wonders are made from a blend of ground beef and pork, seasoned to perfection with secret spices that give them their unique flavor.
Served with a generous dollop of creamy lingonberry sauce, these meatballs are melt-in-your-mouth goodness that will leave you wanting more. The combination of savory meat and sweet lingonberries creates an irresistible harmony that has become synonymous with Ikea's culinary reputation.
Traditional Swedish Desserts like Princess Cake or Cinnamon Buns
If you have a sweet tooth, be sure to save some room for the traditional Swedish desserts available at Ikea Pasay's cafeteria. One standout dessert is the Princess cake, a treat fit for royalty.
This beautifully crafted cake consists of layers of sponge cake, raspberry jam, vanilla custard, and whipped cream all enveloped in vibrant green marzipan icing—a true feast for both the eyes and taste buds. Another must-try dessert is their heavenly cinnamon buns.
These soft rolls are baked to perfection, oozing with warm cinnamon filling and topped with a rich cream cheese glaze. Each bite offers a delightful blend of sweetness and spice that will transport you straight to Sweden.
Local Filipino Dishes with a Twist
While Ikea Pasay proudly embraces its Swedish heritage in its culinary offerings, it also recognizes the importance of catering to local tastes. That's why they have included a selection of local Filipino dishes with their own unique twist. Discover familiar flavors presented in an innovative way, showcasing the fusion of Swedish and Filipino cuisine.
From classic adobo given a Scandinavian touch to sinigang infused with Swedish herbs, these inventive dishes take you on a gastronomic journey that celebrates the best of both worlds. Ikea Pasay ensures that locals and tourists alike can enjoy a taste of home combined with international flair.
Dining at Ikea Pasay's cafeteria is an experience worth savoring. From their iconic Swedish meatballs with lingonberry sauce to traditional desserts like Princess cake and cinnamon buns, every bite offers a delightful explosion of flavors.
And let's not forget their dedication to infusing local Filipino dishes with a twist, ensuring everyone finds something they love. So next time you visit Ikea Pasay for your furniture needs, don't forget to treat yourself to a delicious meal at their cafeteria – it's an integral part of the overall Ikea experience!
Services Offered at Ikea Pasay
Overview of delivery and assembly services for customer convenience
When it comes to making your Ikea shopping experience a breeze, Ikea Pasay offers an array of services that cater to your convenience. One of the most helpful services that they provide is their delivery and assembly options.
After you've picked out your dream furniture pieces, Ikea Pasay can deliver them right to your doorstep so you don't have to worry about transporting bulky items yourself. This service is especially useful for those living in high-rise buildings or without access to a vehicle.
What sets Ikea Pasay apart is their stellar assembly service. We all know the struggle of trying to decipher complicated instruction manuals and attempting to put together furniture pieces on our own.
Thankfully, with their assembly service, trained professionals will come directly to your home and assemble the furniture for you. This not only saves you time and effort but ensures that your furniture is assembled correctly, giving you peace of mind.
Explanation on how customers can utilize interior design consultations
At Ikea Pasay, they understand that designing and decorating a space can be an overwhelming task. That's why they offer interior design consultations to help bring your vision to life while ensuring functionality and style are harmoniously balanced in every room. You can book an appointment with one of their skilled interior designers who will guide you through the process step by step.
During an interior design consultation at Ikea Pasay, experts will take the time to understand your personal style preferences, lifestyle needs, and budget constraints before providing tailored recommendations for furniture layouts, color schemes, lighting solutions, storage ideas, and more. Whether you're revamping a single room or planning a complete home makeover, these consultations provide valuable insights from professionals who truly understand how to make the most out of every inch of space.
Insight into workshops and events organized by Ikea for customers' benefit
Beyond just being a furniture retailer, Ikea Pasay strives to create an engaging and interactive experience for their customers through various workshops and events. These gatherings are designed to inspire creativity, provide helpful tips and tricks, and foster a sense of community among Ikea enthusiasts.
From DIY furniture restoration workshops to cooking classes that teach you how to prepare Swedish delicacies at home, there is always something exciting happening at Ikea Pasay. They also organize seminars on topics such as sustainable living, home organization, and interior design trends.
These workshops are not only informative but also provide an opportunity to connect with like-minded individuals who share a passion for creating beautiful living spaces. Additionally, Ikea Pasay often hosts family-friendly events during special occasions like Christmas or Easter where children can enjoy fun activities such as face painting or cookie decorating.
These events make visiting the store a delightful experience for the whole family. The services offered by Ikea Pasay go above and beyond the typical shopping experience.
With delivery and assembly services that take the hassle out of bringing your purchases home, interior design consultations that help you transform your space into a haven of style and functionality, as well as workshops and events that foster creativity and community spirit, Ikea Pasay truly sets itself apart as more than just a furniture retailer. So next time you find yourself in Manila looking to enhance your home or seeking creative inspiration, don't miss out on all that Ikea Pasay has to offer!
Sustainability Initiatives at Ikea Pasay
A Core Value for IKEA Globally: Prioritizing Sustainability
Sustainability is not just a buzzword for IKEA – it's deeply ingrained in the company's DNA. With a commitment to creating a positive impact on people and the planet, sustainability drives every decision made by this global furniture giant. And their efforts are not limited to their Swedish headquarters alone; they are also reflected in each individual store, including Ikea Pasay.
From sourcing materials responsibly to reducing waste and energy consumption, Ikea Pasay fully embraces the sustainable approach set forth by its parent company. By adhering to strict environmental standards and continuously exploring innovative solutions, they aim to minimize their carbon footprint while bringing affordable furniture options to Filipino homes.
Specific Initiatives Implemented at Ikea Stores
Ikea has taken concrete steps towards sustainability, integrating various initiatives into its operations that align with the global agenda of responsible business practices:
Energy-Efficient Lighting: To reduce electricity consumption, Ikea Pasay employs LED lighting throughout its store. These energy-efficient bulbs not only provide better illumination but also significantly cut down on power usage compared to traditional lighting options.
Waste Reduction and Recycling: Waste management is a top priority at Ikea Pasay. They have implemented effective recycling programs within the store, ensuring that materials such as cardboard, plastic, and paper are appropriately separated and recycled. Additionally, they actively encourage customers to participate in these efforts by providing designated recycling bins throughout the premises.
Sustainable Sourcing: Ikea Pasay takes great care in selecting suppliers who share their commitment to sustainability. They prioritize partnerships with companies that adhere to responsible forestry practices and use environmentally friendly materials. By sourcing sustainably, they contribute to the preservation of natural resources and promote ethical production methods.
Social Responsibility: Beyond environmental sustainability, Ikea Pasay also focuses on social responsibility.They support local communities by engaging in various charitable initiatives and partnering with organizations that strive to improve the lives of underprivileged individuals. These efforts range from educational programs to donating furniture for disaster relief.
Conclusion
Ikea Pasay is more than just a furniture store; it is a beacon of sustainability in the heart of Metro Manila. With its commitment to responsible business practices and a global focus on reducing environmental impact, Ikea Pasay sets an example for others in the retail industry.
By prioritizing energy efficiency, waste reduction, sustainable sourcing, and social responsibility, Ikea Pasay demonstrates that businesses can thrive while still contributing positively to society and the planet. So next time you visit Ikea Pasay, not only can you find stylish and affordable furniture but also take pride in supporting an establishment that shares your values and actively works towards a greener future.