The much-anticipated BCC Christmas Village reopens its doors under this year's theme of "Oriental Winter Wonderland". Open from October 10, 2022, to January 8, 2023.
ABOUT BAGUIO CHRISTMAS VILLAGE
In order to help the local tourism business grow throughout the holiday season, Baguio Country Club established the annual Christmas Village with a variety of offerings each year. This way, visitors will have new sights to experience when choosing to spend a well-earned vacation in Baguio City.
The BCC Christmas Village, which has decorations made of recyclable materials, is one of Baguio Country Club's many eco-friendly projects.
WHAT TO EXPECT
The Baguio Country Club Christmas Village includes a nativity play, snow display, cosplay busking, live musical performances, picture taking with Santa Claus, Japanese and Korean characters, and a wishing wall.
BCC CHRISTMAS VILLAGE OPENING HOURS
Open from October 10, 2022, to January 8, 2023
10:00 AM to 10:00 PM Daily
LOCATION
The Christmas Village is located at Baguio Country Club, Country Club Road, Baguio City.
CONTACT INFORMATION FOR INQUIRIES
IMPORTANT INFORMATION
Make sure you have read all the information on these official posters from the Baguio Country Club before going to the Baguio Christmas Village.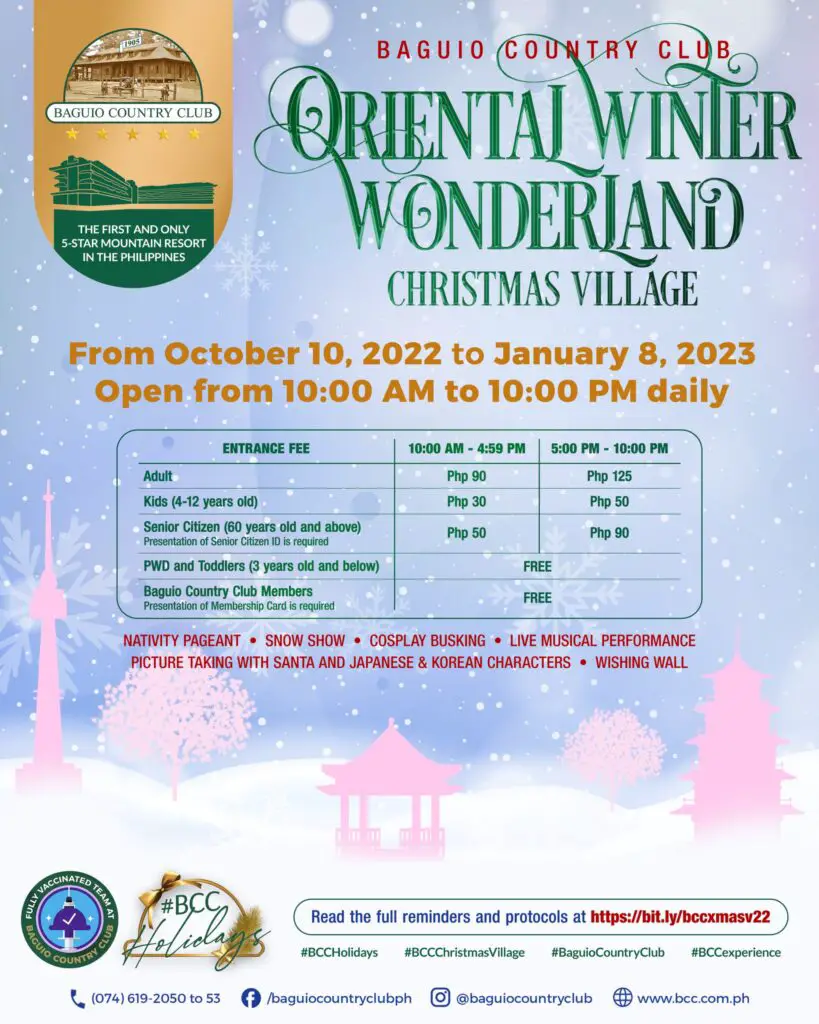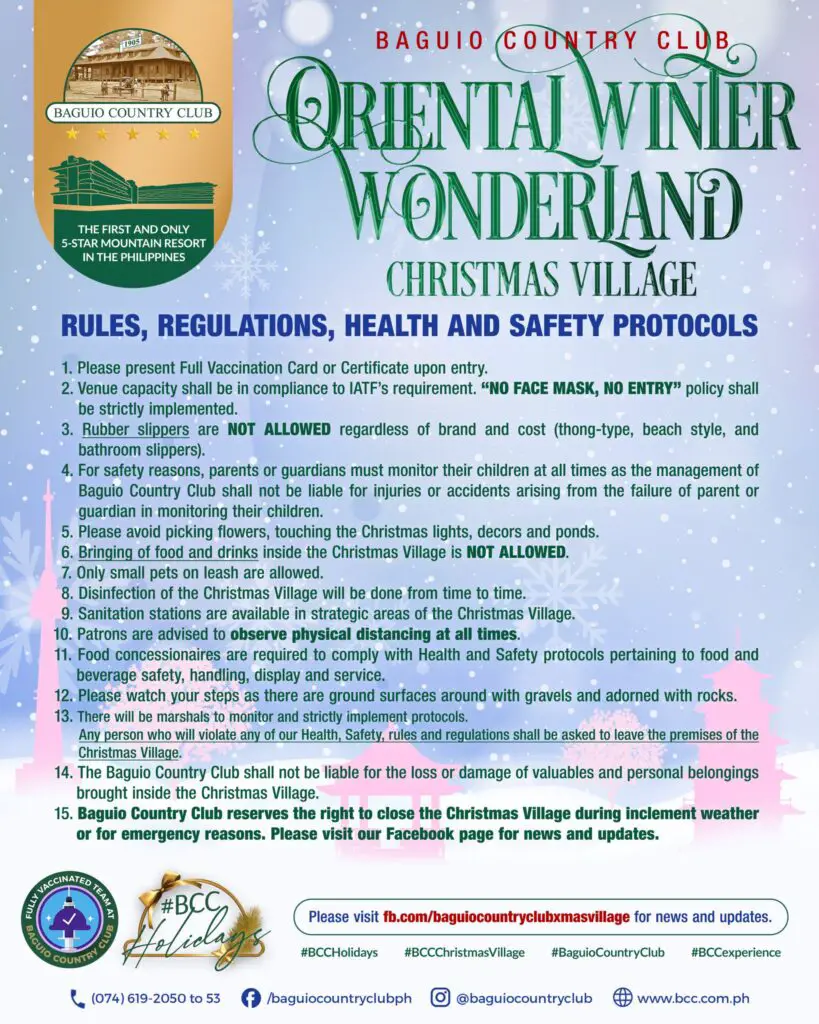 ABOUT BAGUIO COUNTRY CLUB
Baguio Country Club is the Philippines' first and only 5-star mountain resort.
The Baguio Country Club was established by William Cameron Forbes in 1905. It is a stunning sanctuary and historical place that may be found in Baguio City, the summer capital of the Philippines. The Club turned 100 on February 18, 2005, marking its existence for more than a century.
Baguio Country Club is your finest option if you're looking for a top-notch family or business-oriented establishment surrounded by tranquil, gorgeous, and romantic landscapes. Read more…
---
RELATED POSTS
Are you ready for an unforgettable adventure in the picturesque town of Sagada? Nestled in the Cordillera Mountains of the Philippines, Sagada offers a peaceful escape from the chaos of…

---