Bohol is the perfect destination for your next vacation. Explore the lovely beaches, take in the splendor of Chocolate Hills, and go on an adventure in the Loboc River.  Come explore the stunning tourist attractions in bohol.
LIST OF THE BEST TOURIST SPOTS IN BOHOL
Abatan River Firefly Tour
Alicia Panoramic Park
Alona Beach
Alona Beach
Baclayon Church
Baclayon Ecclesiastical Museum
Balay Kabilin
Balicasag Island and Virgin Island
Balilihan Watchtower
Bet n Choy Farms & Resort
Bilar Man-Made Forest
Blood Compact Monument
Bohol Countryside Mountain Bike Tour 
Bohol Habitat Conservation Center
Bohol National Museum
Bohol Quality Mall
Busay Falls
Cambuhat Village and River
Cambuyo Rice Terraces
Can-umantad Falls
Carlos P. Garcia Heritage Museum
Cathedral of San Jose
Chocolate Hills Adventure Park
Chocolate Hills Natural Monument
Danao Adventure Park
Danao Adventure Park
Fascination Farm
Hilltop 360 View Park
Hinagdanan Cave
Ingkumhan Falls
Island City Mall
Lamanoc Island
Loboc River
Loboc River Cruise
Magic Oceans Dive Resort
Mahogany Forest
Napaling Sardine Run
Pandanon Island
Pangangan Island
Philippine Tarsier Sanctuary
Quinale Beach
Quinale Beach
Rajah Sikatuna Protected Landscape
San Antonio Abad Church
Sevilla Hanging bridge
ShipHaus
Sipatan Twin Hanging Bridge
St Peter's Church
Tarsier Conservation Area
Tibaw Cave Pool
Zoocolate Thrills Theme Park
ABOUT BOHOL
Bohol is a paradise of lush, unspoiled beauty. Gentle coves and white sand beaches trace the island's shoreline. Bohol is noted for its coral reefs and other remarkable geological features like the Chocolate Hills. These about 1,200 symmetrical mounds on Carmen's main island turn cocoa-brown during the dry season, striking out against the jungle's lush vegetation.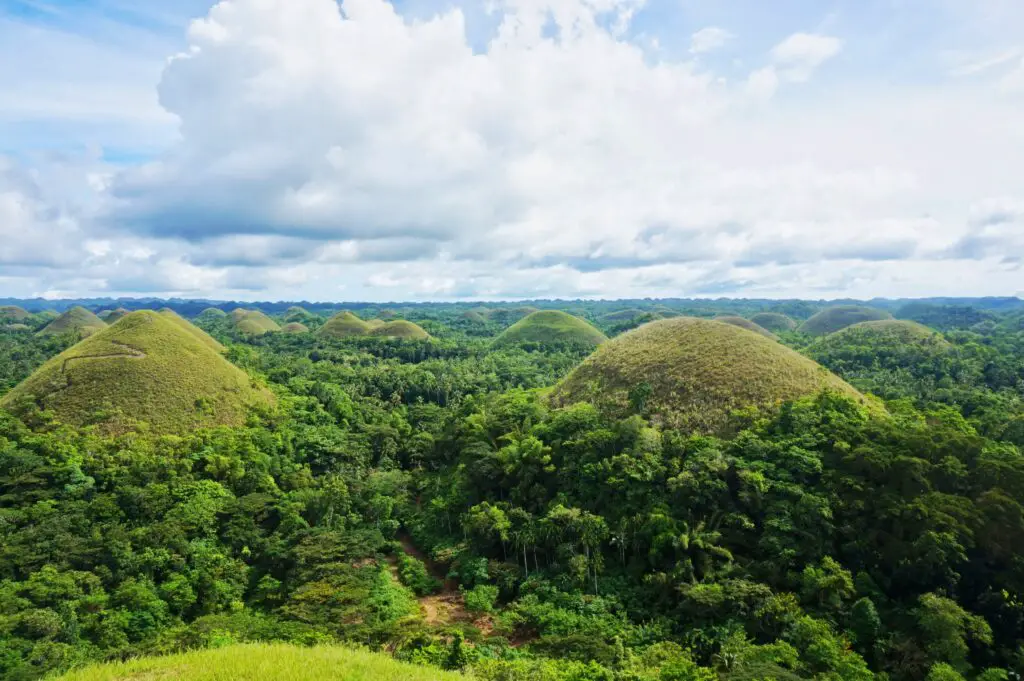 LOCATION OF BOHOL
Bohol is located in the center of the Philippines. It is located around 70 kilometers southeast of Cebu and roughly 700 kilometers south of Manila.
MUNICIPALITIES OF BOHOL
Alicia
Anda
Antequera
Baclayon
Balilihan
Batuan
Bien Unido
Bilar
Buenavista
Calape
Candijay
Carmen
Catigbian
Clarin
Corella
Cortes
Dagohoy
Danao
Dauis
Dimiao
Duero
Garcia-Hernandez
Guindulman
Inabanga
Jagna
Jetafe
Lila
Loay
Loboc
Loon
Mabini
Maribojoc
Panglao
Pilar
President Garcia
Sagbayan
San Isidro
San Miguel
Sevilla
Sierra Bullones
Sikatuna
Tagbilaran City
Talibon
Trinidad
Tubigon
Ubay
Valencia
ISLANDS UNDER THE JURISDICTION OF BOHOL
Alicia
Bagatusan
Bagong Banwa
Balicasag
Banacon
Banbanan
Bansaan
Batasan
Bay Sa Owak
Bilangbilangan
Bonbon
Bosaan
Buabuahan
Bugatusan
Busalian
Cabilao
Cabul-an
Cabantulan
Cabgan
Calangaman
Cancoslino
Calituban
Cataban
Catang
Cati-il
Cuaming
Gak-ang
Gaus
Guindacpan
Hambongan
Hingutanan
Inanoran
Jaguliao
Jandayan
Jao
Juagdan
Lapinig
Lapinig Chico (Tres Reyes)
Limasoc
Lumislis
Ma-agpit
Mahanay
Makaina
Makalingao
Malingin
Mantatao Daku
Mantatao Gamay
Maomauan
Maubay
Mocaboc
Take a quick ferry between Cebu and Bohol (Tagbilaran))with no hassles during booking 
Use the most convenient and comfortable route to reach the two top tourist spots in the Visayas region.
Take OceanJet, one of the Philippines' most respected ferry companies, to get there.
You can select the day and time that best suit your schedule since there are daily departures available.
Skip the line of the ticket booth when you get to the terminal.
Your seat is now assured as soon as you make a reservation, thanks to Instant Confirmation.
You may create your own timetable and see the best of Bohol by choosing this private car charter service provided by Klook.
Take your time, see the city in comfort, and do so without feeling rushed.
Selecting between a 4- or 8-hour charter tour will allow you to view the Chocolate Hills, the Loboc River, and more.
End your exploration of Bohol on a high note by being picked up and delivered to your hotel!
Get on board and take part in this group tour of Bohol's well-liked rural attractions. This tour is for individuals who enjoy the outdoors as well as cultural and historical sights, including the Chocolate Hills and a centuries-old Spanish-era church. Join on this full-day trip of Bohol's countryside to see some of the region's top tourist attractions.