Explore Ilocos Norte and discover its amazing tourist spots. From historical sites, beautiful beaches, to breathtaking views, the province has something unique for everyone. Get ready for a fun-filled adventure with friends and family.
ABOUT ILOCOS NORTE
Ilocos Norte is a province in the Philippines' northernmost region. Laoag City is its capital. It is located in the northwest corner of Luzon Island, with Cagayan and Apayao to the east and Abra and Ilocos Sur to the south. The South China Sea borders Ilocos Norte on the west and the Luzon Strait on the north.
The name Ilocos was derived from the local word "ylokos," which means "lowlands."
Pagudpud, located at the province's northernmost tip, is known for its beaches, such as Blue Lagoon, the bell-shaped Timmangtang Rock, and the towering Kabigan Falls.
LIST OF MUNICIPALITIES IN ILOCOS NORTE
Adams
Bacarra
Badoc
Bangui
Banna
Batac
Burgos
Carasi
Currimao
Dingras
Dumalneg
Laoag
Marcos
Nueva Era
Pagudpud
Paoay
Pasuquin
Piddig
Pinili
San Nicolas
Sarrat
Solsona
Vintar
HOW TO GET TO ILOCOS NORTE
BY BUS
Take a bus to Laoag from Cubao or Pasay (Partas Bus, Florida Bus, Fariñas Transit)
BY PRIVATE CAR
Use Google Maps or Waze for precise directions. It takes about 12 hours to travel by land from Manila.
BY PLANE
There are direct flights from NAIA to Laoag International Airport in Ilocos Norte. The journey takes one hour and ten minutes.
THE BEST TIME TO VISIT ILOCOS NORTE
The best time to visit Ilocos Norte is in the months of March, April, May, June, and July which are the peak season in Loaog.
This province has a dry season from November to April and a wet season from May to October. Tropical cyclones and storms pass through the province on occasion during the southwest monsoon season.
FESTIVALS IN ILOCOS NORTE
Ani Festival in Dingras (March)
Bac-bacarra Festival in Bacarra (November)
Empanada Festival in Batac (June)
Guling-guling Festival in Paoay (February)
Pamulinawen Festival in Laoag (February)
Panagabuos Festival in Banna (April)
Pinakbet Festival in Marcos (March)
LIST OF THE BEST TOURIST ATTRACTIONS IN ILOCOS NORTE
Anat Falls
Aqua Grand
Bacarra Church
Bangui Windmills
Bantay Abot Cave
Blue Lagoon
Cabongaoan Beach
Cape Bojeador Lighthouse
Church of the Immaculate Conception
Dos Hermanos Islands
Gov. Roque Ablan Sr. Shrine
Juan Luna Shrine
Kabigan Falls
Kapurpurawan Rock Formation
La Virgen Milagrosa de Badoc Church
Laoag Sinking Bell Tower
Madongan Dam
Malacanang Of The North
Marcos Museum and Mausoleum
Museo Ilocos Norte
Paoay Church

Paoay Lake National Park

Pasaleng Beach
Santa Monica Church Complex
Saud Beach Resort
St Augustine's Church
St. William's Cathedral
The Winding Patapat Bridge
Timangtang Rock
BEST THINGS TO DO IN ILOCOS NORTE
Admire the magnificent Kapupurawan rock formation.
Climb some steps to reach the Cape Bojeador Lighthouse.
Climb up to the Cape Bojeador Lighthouse.
Explore the Malacanang of the North.
Feel the breeze from Bangui's windmills.
Sandboard and ride a 4×4 in the sand dunes.
Stop by and enjoy the view from the Patapat Viaduct.
Try sandboarding.
Try ziplining and other activities at Blue Lagoon
Visit Ilocos Norte's largest church.
Visit the fourth-longest bridge in the country.
Visit the UNESCO World Heritage Church of Paoay.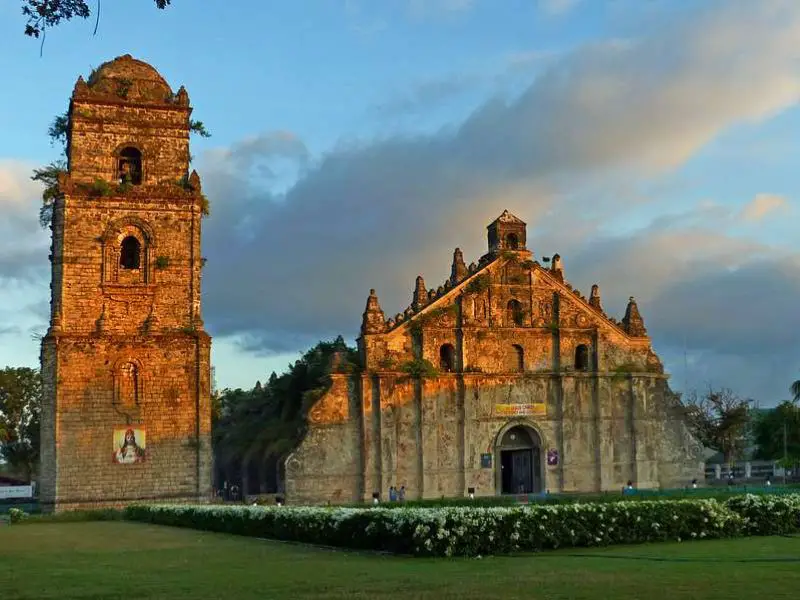 THE BEST MUST-TRY FOODS IN ILOCOS NORTE
Abrillantadas
A sugar-coated crystallized colored coconut candy.
Anakan
A meat dish that resembles pork kilawen.
Bagbagis
Crispy fried pork intestines. Bagis is Ilocano for intestine.
Batac Miki
Bulong Unas Dating
Dried fish (cutlassfish, a sword-like species) dipped in sukang Iloko (sugarcane vinegar with live, wriggly worms, which are edible).
Buridibud
Soup made from malunggay pods and sweet potatoes.
Callente
Boiled cow or carabao skin stewed in vinegar, ginger, salt, and a small amount of cow brain.
Crispy Dinuguan
Dinuguan made with bagnet slices.
Dinakdakan
Sisig-like dish with pig brain.
Dinemdem
Dinengdeng with malunggay pods.
Dinengdeng
Lowland vegetable stew in bagoong.
Dinoydoy
Sautéed squash and ampalaya in onions and broth.
Dudol
A toffee-like dark brown rice cake variety, also known as maja blanca Ilocana
Gamet soup
Soup with seaweed
Hibol
Ilocanos' version of mami and batchoy, a greenish, papaitan-like soup with pancit lusay or miki topped with innards.
Tamalis
Boiled ipon wrapped in banana leaf and steamed with onions and tomatoes.
Inartem nga kamas
Turnip strips or seasonal fruits steeped in saltwater.
Lomo-Lomo
Soup with beef tenderloin.
Padas
Bagoong made from fermented small ziganid fish.
Pinakbet or Pakbet
Bagoong-based eggplant, ampalaya, tomato, and okra stew.
Poqui-poqui
Grilled and peeled eggplant, tomatoes, onions, and boiled egg slices.
Sinanglaw
Ilocano goat spareribs with eggplant and okra; Ilocandia's papaitan.
Siniwsiwan
Native chicken soup with broth, bile, and ginger, spiced with native chilis.
Sukang Iloco
Cane vinegar.
Tupig
Sticky rice thinly spread and rolled in banana leaf, then grilled over hot oven embers.
Yusi
Soup of beef tenderloin with chives and gamet.
THE BEST PRODUCTS TO BUY IN ILOCOS NORTE
Ilocos Chichacorn
Bagnet
Empanada and
Miki from Batac
Raw garlic
Basi Wine
Sukang Iloco
Longganisa
Inabel (Woven Cloth)
Rice Coffee