The Beauty of Ilocos Sur: Discovering a Philippine Treasure
Introduction
The Philippines is a renowned tourist destination, known for its stunning beaches, rich culture, and hospitable people. One of the top destinations in the country is Ilocos Sur, a province located in the northern part of Luzon Island. With its picturesque landscapes, cultural heritage sites, and vibrant food scene, Ilocos Sur has become one of the must-visit places for both local and foreign tourists.
Brief Overview of Ilocos Sur as a Tourist Destination
Ilocos Sur is home to some of the most exquisite historical landmarks that date back to the Spanish colonial period. The province boasts well-preserved Spanish-era architecture that can be seen throughout Vigan City – it's capital city. It has become so popular that it was declared a UNESCO World Heritage Site in 1999.
The locals are very friendly and welcoming towards visitors which makes exploring this Philippine treasure a memorable experience. The region's unique cuisine which features dishes like bagnet (deep-fried pork belly), empanada (a stuffed pastry), and longganisa (a type of sausage) are not only delicious but also reflects the culture.
Historical and Cultural Sites
Vigan City: A UNESCO World Heritage Site Known for its Well-Preserved Spanish Colonial Architecture
Vigan City is one of the few remaining cities in the Philippines that has preserved its Spanish colonial past. The city was designated as a UNESCO World Heritage Site in 1999 because of its well-preserved architecture that dates back to the 16th century.
Walking around the city, visitors will marvel at the stone houses with red-tiled roofs and intricate wooden balconies that line the streets. The Calle Crisologo is a popular destination within Vigan City.
This narrow street lined with old houses gives visitors a glimpse of daily life during Spanish colonial rule. Horse-drawn carriages known as kalesas are commonly seen here, adding to the ambiance of the area.
Tourists can visit Syquia Mansion, an ancestral home turned museum that showcases antique furniture, art pieces, clothing, and other personal effects owned by former Philippine President Elpidio Quirino. The museum also highlights his political career and contributions to Philippine history.
Bantay Church and Bell Tower: A 16th-Century Church with a Bell Tower That Offers Panoramic Views of the City
Located in Bantay town just outside Vigan City, Bantay Church served as a watchtower during Spanish colonial rule. The church was built in 1590 using red bricks.
Visitors can climb up to the top for panoramic views of Vigan City and its surroundings. The bell tower also served as a lookout point during World War II when Japanese forces occupied Ilocos Sur.
Crisologo Museum: Showcases the Life and Works of Former Philippine Congressman Floro S. Crisologo
Crisologo Museum, located in Vigan City, is a must-visit for anyone interested in Philippine politics and history. The museum showcases the life and works of former Philippine Congressman Floro S. Crisologo, who played a significant role in Ilocos Sur's development during his time in office. Visitors can see his personal memorabilia, including photographs, awards, documents, and even the car he used during his campaigns.
The museum also features interactive exhibits that give visitors a glimpse of what life was like during Crisologo's time. There are replicas of houses and offices from that era as well as dioramas depicting significant events such as the Battle of Bessang Pass.
Ilocos Sur boasts several historical and cultural sites that give visitors a glimpse into its past. Vigan City's Spanish colonial architecture is awe-inspiring while Bantay Church's bell tower offers breathtaking views of the city.
The Crisologo Museum showcases one man's contributions to Ilocos Sur's development while highlighting significant events from its past. A visit to these sites is a worthwhile experience for anyone interested in Philippine history and culture.
Natural Wonders Ilocos Sur is known for its vast natural wonders, which offer a unique and unforgettable experience to visitors.
These natural attractions are some of the most popular tourist destinations in the area, and they draw in many visitors annually. From pottery-making to sand dunes, there's something for everyone in Ilocos Sur.
Pagburnayan Pottery Making: A Traditional Art Form
Pagburnayan Pottery Making is a must-visit attraction for any traveler interested in traditional art forms. This pottery-making process has been practiced by Ilocanos for centuries and remains a significant part of their culture.
Visitors can witness skilled potters make beautiful jars, pots, and other crafts using only clay, water, and a potter's wheel. One of the highlights of this experience is watching the potters shape the clay with their bare hands into intricate designs before firing them in underground kilns.
Visitors are encouraged to try their hand at making pottery themselves under the guidance of local artisans. Finished products can be purchased as souvenirs or gifts.
Hidden Garden: A Lush Paradise
The Hidden Garden is aptly named as it's tucked away behind high walls and trees. Once inside, visitors will find themselves surrounded by lush greenery consisting of various plant species including wild orchids, medicinal herbs, cacti & succulents collection along with exotic flowers such as hydrangeas & roses.
It's an ideal place for nature lovers looking to escape the hustle and bustle of city life while admiring beautiful landscapes that blend colonial architecture with verdant greenery. The garden offers many attractions including a Koi pond where visitors can feed fish while relaxing on benches shaded by large trees.
The garden also features an aviary filled with colorful birds that chirp cheerfully throughout the day. Visitors can buy plants at a reasonable price or enjoy a cup of coffee at the garden cafe which serves delicious food and refreshing drinks.
Food and Beverage Scene
Ilocano cuisine: A taste of the region's traditional dishes
One of the best things about traveling to a new place is trying out the local cuisine, and Ilocos Sur is no exception. The region is known for its unique array of dishes that are both flavorful and hearty. Make sure to try out bagnet, a dish made from deep-fried pork belly that's crispy on the outside yet tender on the inside.
Empanada is another popular dish – a stuffed pastry filled with meat, vegetables, and egg that makes for a perfect snack or light meal. And if you're looking for something savory, don't miss out on longganisa – a type of sausage that comes in different flavors such as garlic, sweet or spicy.
To fully immerse yourself in Ilocano cuisine, head over to Vigan City's Calle Crisologo where various street food vendors sell various typical snacks such as okoy (shrimp fritters), sinanglao (soup made from beef innards), and tinubong (rice cake cooked in bamboo tubes). Try some sinanglao with your bagnet or longganisa for an authentic taste of Ilocandia.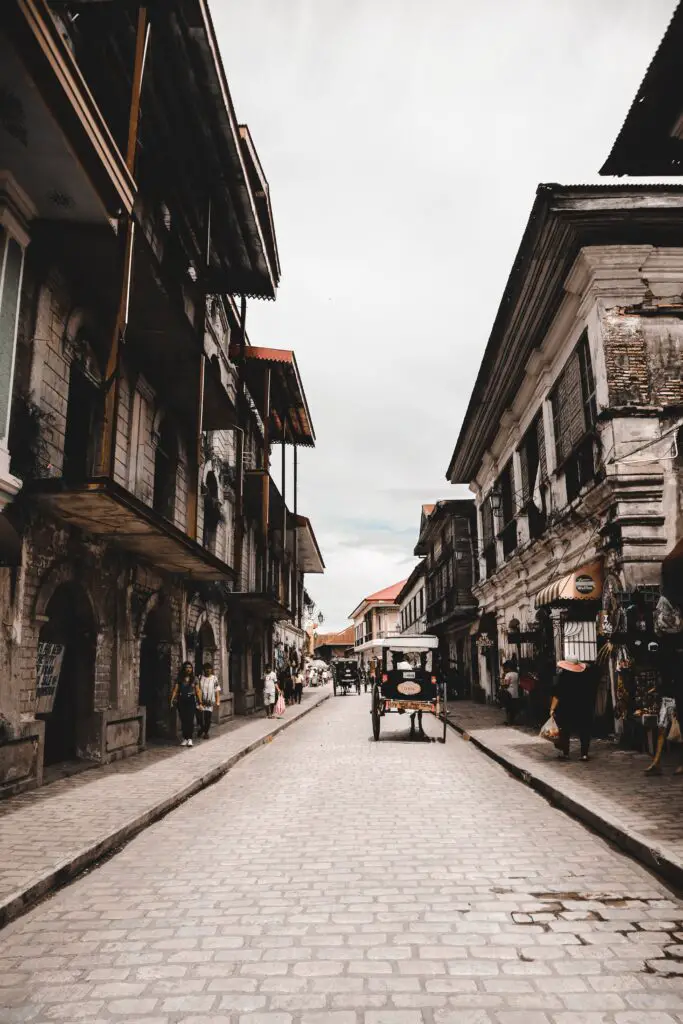 Conclusion
Ilocos Sur is a destination that offers visitors an authentic experience on many levels. From its historical sites, and natural wonders to its unique cuisine, there's something for everyone in this region.
Every place has its unique flavor and often it is the food that first introduces us to a different culture. Make sure to try out Ilcoano cuisine; it might just become your new favorite food.
Overall, Ilocos Sur is a destination worth visiting if you're looking for an authentic glimpse into Philippine culture and history.
So why not plan your trip today? You'll be sure to come away with memories that last a lifetime!