If you are planning a trip to the Philippines, one place you must visit is Cagayan. Located in the Northern Luzon region, Cagayan is a hidden gem that boasts stunning natural wonders, rich history, adventure activities, and delicious cuisine. It's a paradise for anyone seeking an off-the-beaten-path destination that offers unforgettable experiences.
A Brief Overview of Cagayan as a Tourist Destination
Cagayan has quickly gained popularity among tourists due to its diverse attractions that cater to different interests. The province is surrounded by beautiful mountains and waterways that provide visitors with breathtaking views and outdoor adventures, making it an ideal destination for nature lovers. The region also boasts unique cultural sites with Spanish colonial architecture and historical landmarks from World War II.
Despite being less traveled compared to other tourist destinations in the Philippines such as Boracay or Palawan, Cagayan has much to offer visitors. Its serene atmosphere combined with its fascinating history and captivating natural beauty makes it an idyllic escape from the hustle and bustle of daily life.
Natural Wonders
Palaui Island: A paradise for beach lovers and nature enthusiasts
Palaui Island is a beautiful gem located off the northeastern coast of Luzon. It is home to numerous white sand beaches, crystal-clear waters, and stunning landscapes that are sure to captivate every visitor. The island's rich biodiversity also makes it a favorite spot for nature enthusiasts who would love to explore the area's flora and fauna.
One of Palaui Island's most famous beaches is Cape Engaño, where visitors can enjoy picturesque views of the ocean and the surrounding mountains. The nearby lighthouse also offers a fantastic vantage point to appreciate the island's natural beauty fully.
For those who want to experience more than just sunbathing on a beach, Palaui Island offers various hiking trails that lead visitors through lush forests filled with native wildlife. One popular hike takes tourists through the dense jungle to reach the beautiful falls of Punta Verde.
Callao Cave: A unique cave system with impressive rock formations
Located in Peñablanca town, Callao Cave is one of the top tourist destinations in Cagayan province. It features seven massive chambers filled with stunning stalactites and stalagmites formations that have developed over thousands of years. The most popular chamber in Callao Cave is known as "The Chapel" due to its dome-shaped ceiling that resembles an altar-like formation.
This natural wonder has been used as an actual chapel where weddings and other religious ceremonies were held. Visitors can explore Callao Cave by descending 184 steps carved into its limestone walls which provide access through its chambers while marveling at wonderfully eroded rock formations illuminated by sunlight from above.
Anguib Beach: A secluded white sand beach perfect for relaxation
Anguib Beach is another gem located north along Luzon's coastline. It is known for its beautiful white sand beaches and crystal-clear waters, which provide an ideal spot for swimming or lounging in the sun. What sets Anguib Beach apart from other beaches in the area is its seclusion.
The beach is located in a secluded bay surrounded by lush forests and stunning cliffs, making it a perfect escape from the hustle and bustle of city life. The beach is accessible through a dirt road that leads visitors to its pristine shores.
Tourists can enjoy activities such as snorkeling, diving, kayaking, and even fishing in this area. There are also camping facilities available to those who would like to spend the night stargazing under the starry skies above.
Cagayan has several natural wonders that are worth visiting. From Palaui Island's white sand beaches and hiking trails to Callao Cave's breathtaking rock formations and Anguib Beach's seclusion, there are plenty of beautiful destinations that will satisfy every traveler's desire for adventure or relaxation.
Exploring Cagayan's Rich History: Historical Sites to Visit
St. James Church: A Testament to Spanish Colonial Architecture
Cagayan has a rich history dating back to the Spanish colonization period. One historical landmark that stands out is St. James Church, the oldest church in Northern Luzon with Spanish colonial architecture, located in the heart of Tuguegarao City. The church was built in 1604 and has undergone several renovations throughout history. Its unique 17th-century design features massive buttresses, thick walls, and semi-circular arches – all characteristic of the Baroque style. Visitors to St. James Church can marvel at its impressive facade made of adobe bricks and coral stones that have stood the test of time. Inside, one can admire intricate carvings on altars and religious artifacts showcasing Filipino craftsmanship and faith.
Tuguegarao Cathedral: A Historic Refuge During World War II
Another significant historical site worth visiting is Tuguegarao Cathedral, also known as Saint Peter Metropolitan Cathedral. The cathedral sits on a hill overlooking Tuguegarao City and is considered one of the top pilgrimage sites in Cagayan Valley. Built in 1761 by Dominican friars, Tuguegarao Cathedral has a rich history that includes serving as a refuge during World War II when Japanese forces bombed the city.
Today, visitors can admire its beautiful neo-classical facade adorned with an ornate rose window depicting biblical scenes. Inside, visitors will find stunning stained glass windows depicting saints and religious events along with intricately designed altars filled with religious icons that inspire awe from visitors.
Calvary Hills: A Pilgrimage Site With Life-Size Statues Depicting The Stations Of The Cross
For those seeking spiritual reflection or looking for stunning views of Cagayan Valley, Calvary Hills is an excellent destination. The pilgrimage site features life-size statues depicting the 14 Stations of the Cross, providing visitors with a unique opportunity to walk in Jesus' footsteps. The climb up to Calvary Hills may be steep and challenging, but once you reach the top, you'll be rewarded with panoramic views of Tuguegarao City and the surrounding valley.
Visitors can take their time admiring each statue while meditating on each station's significance. Overall, visiting historical sites in Cagayan is a must-do experience for any traveler looking to explore its rich history and culture.
From St. James Church's Spanish colonial architecture to Tuguegarao Cathedral's neo-classical facade and Calvary Hills' stunning panorama, there is something for everyone to enjoy. So next time you're in Cagayan, make sure to pay these historical landmarks a visit!
Adventure Activities
If you're someone who loves to get your heart racing, then Cagayan has some thrilling activities that will surely give you an adrenaline rush. From whitewater rafting to skydiving, these adventure activities will surely make your trip unforgettable.
Whitewater Rafting in Pinacanauan River: An Adrenaline-Pumping Experience for Thrill-Seekers
One of the most popular adventure activities in Cagayan is whitewater rafting. The Pinacanauan River offers Class III rapids that will make your heart race and your body feel alive. You'll be led by experienced guides who know the rapids like the back of their hand.
They'll ensure that you have a safe and enjoyable experience as you navigate through the river's twists and turns. The best time to go whitewater rafting in Pinacanauan River is during the rainy season from June to October when water levels are high.
However, it's important to note that there are risks involved with this activity, so it's crucial to listen carefully to your guide and follow all safety instructions. You don't need any prior experience in whitewater rafting to enjoy this activity, but it's important to be physically fit and comfortable with water.
It's also recommended that you wear proper gear such as a life jacket and helmet. Overall, whitewater rafting in Pinacanauan River is an exhilarating experience that shouldn't be missed if you're looking for adventure in Cagayan.
Trekking to Mt. Cagua: A Challenging Hike That Rewards With Breathtaking Views at The Summit
If hiking is more your style, then Mt. Cagua should definitely be on your list. Located in the town of Santa Praxedes, this mountain stands at over 1,600 meters above sea level and offers stunning views of the surrounding landscape.
The trek to the summit is challenging and takes around 6-7 hours to complete. You'll pass through dense forests, steep inclines, and rocky terrain.
It's important to be physically fit and have proper gear such as hiking boots and a backpack with essentials like water, snacks, and a first aid kit. Despite the difficulty of the hike, reaching the summit is an incredibly rewarding experience.
You'll be able to take in panoramic views of Cagayan's stunning landscape that stretches as far as your eyes can see. It's truly a bucket-list moment for any outdoor enthusiast.
Skydiving in Lal-lo Airfield: An Unforgettable Skydiving Experience with Panoramic Views of Cagayan
If you're looking for an activity that takes adventure to new heights – literally – then skydiving should definitely be on your list. The Lal-lo Airfield offers one of the most thrilling skydiving experiences in Cagayan.
As you soar up into the sky in a small plane, your heart will start racing with excitement and anticipation. Once you reach your desired altitude, it's time to jump out of the plane and freefall toward the ground at speeds over 200 km/hour!
The feeling of soaring through the air is indescribable – it's like nothing else matters except for that moment right there and then. As you parachute back down to earth, you'll be able to take in panoramic views of Cagayan's beautiful landscape from a whole new perspective.
Skydiving is definitely not for everyone – it requires courage and bravery beyond measure. But if you're willing to take the leap, it's an experience that you'll never forget.
Overall, adventure activities in Cagayan offer a unique and thrilling way to explore this stunning destination. Whether you're rafting through rapids, hiking up mountains, or jumping out of planes – these activities will make your trip unforgettable.
Food and Culture
Pancit Batil Patung and Other Local Delicacies: Discover the unique flavors of Cagayan cuisine
Cagayan is not just a destination for nature lovers and thrill-seekers. It is also a foodie's paradise.
One of its must-try dishes is Pancit Batil Patung, a hearty noodle dish topped with sautéed meat, vegetables, egg, and chicharon (pork crackling). The secret to its distinct flavor lies in the homemade noodles, which are made from scratch using rice flour and water.
Another local delicacy worth trying is Tupig, a sticky rice cake wrapped in banana leaves and grilled over charcoal. For those who crave something sweet, there's Ybanag Tuguegarao Toasted Siopao – a fluffy bun with a savory filling that's toasted until golden brown.
It's perfect for breakfast or as an afternoon snack. And if you're feeling adventurous, try the Bagnet – crispy deep-fried pork belly served with tomatoes and onions on the side.
Top Tourist Attractions in Cagayan
Palaui Island – a beautiful island with white sandy beaches, panoramic coves, and a century-old lighthouse.
Callao Cave – a seven-chamber cave with impressive rock formations and a chapel inside.
Pinacanauan River – a scenic river where visitors can swim, kayak, and enjoy the view.
St. Peter's Cathedral – a historic cathedral with a beautiful facade and intricate details.
Calvary Hills – a heritage site with a church and life-size Stations of the Cross, offering a panoramic view of the Cagayan River.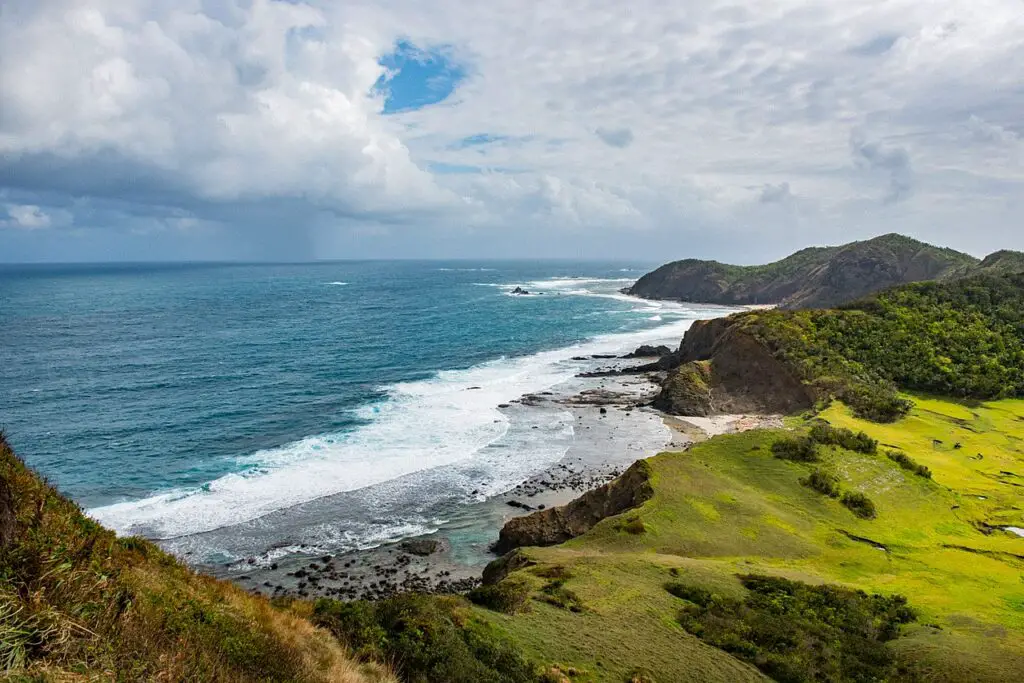 Conclusion
Cagayan may not be as popular as other tourist destinations in the Philippines, but it has so much to offer. From its stunning natural wonders, historical sites, and adrenaline-pumping adventure activities, to its unique cuisine and vibrant culture – Cagayan is worth discovering.
So if you're planning your next vacation, consider visiting this hidden gem in Northern Luzon. You won't regret it!