Antique is a province in the Philippines' Western Visayas region recognized for its rich cultural legacy and natural beauty. The region features an array of gorgeous tourist attractions to satisfy a wide range of interests and tastes, from its magnificent beaches to its jagged mountains and historical landmarks. The province's unique blend of tradition and modernity offers guests a one-of-a-kind travel experience, providing a glimpse into its rich history while still providing modern comforts and amenities. This article will look at some of the most popular tourist destinations in Antique, highlighting what makes each one special and providing insights into the province's rich cultural heritage and natural wonders.
Discover Stunning Tourist Attractions in Antique
A Hidden Gem in the Visayas
Antique, a province located in the Western Visayas region of the Philippines, is a hidden gem that has yet to be fully discovered by tourists. It boasts stunning natural attractions, historical and cultural sites, and adventure activities that are sure to leave a lasting impression on any traveler.
But before we dive into the various tourist spots this province has to offer, let us first have a brief overview of Antique as a province. It is situated on the western coast of Panay Island and is surrounded by Aklan, Capiz, and Iloilo provinces.
Its capital town is San Jose de Buenavista. Tourism plays a crucial role in the local economy of Antique.
The influx of visitors brings about job opportunities for locals and promotes their culture and heritage. The provincial government has been actively promoting tourism through various initiatives such as improving infrastructure and developing new attractions.
The Beauty Within
One of Antique's best-known tourist spots is Malumpati Cold Spring located in Pandan town. This natural spring boasts crystal clear waters coming from Madia-as Mountain Range. Visitors can enjoy swimming or relaxing while being surrounded by lush greenery.
Another attraction that shouldn't be missed when visiting Antique is Kawa Hot Bath in Tibiao town. Guests can soak themselves inside giant metal cauldrons filled with hot water infused with herbs while enjoying the picturesque view surrounding them.
If you're looking for adventure activities, then Bugang River in Pandan Town should definitely be included on your itinerary. You can try kayaking or canyoneering down its rapids that snake through forests and rock formations.
For those who want something more off-the-beaten-path experience, Seco Island is an isolated patch of paradise situated 50 kilometers offshore from Tibiao town. This uninhabited island offers pristine beaches and clear blue waters perfect for snorkeling or diving.
Hidden Gems Waiting to be Discovered
While the popular tourist spots in Antique are breathtaking, lesser-known destinations are well worth exploring too. One of these hidden gems is Mararison Island, located in Culasi town. The island's white sand beaches and turquoise waters make it a perfect spot for relaxation and beach hopping.
Sira-an Hot Spring in Anini-y town is another hidden gem that deserves attention. This natural spring is not as crowded as other hot springs in the country, making it an ideal place to unwind.
For those who love hiking and trekking, Binirayan Hills in San Jose de Buenavista town offers a challenging climb with a rewarding view at the top. Nogas Island located in Anini-y town provides excellent snorkeling opportunities with its abundant marine life and coral reefs.
Historical and Cultural Sites
Aside from its natural beauty, Antique also has significant historical and cultural sites that showcase its rich heritage. Anini-y Church and Ruins is one of these places that reflects Antique's Spanish colonial past. The ruins were declared as a National Cultural Treasure by the National Museum of the Philippines.
Patnongon Church is another historical site that dates back to 1864 during the Spanish era. It was declared a National Historical Landmark by the National Historical Commission of the Philippines due to its unique architecture style.
Antique Provincial Capitol Building, established in 1918 during American colonization, is another must-visit site for history enthusiasts. Its neoclassical design makes it stand out among other government buildings in the province.
Taste of Antique
No trip will be complete without trying out local delicacies such as KBL (Kadyos, Baboy, Langka) or Inubarang Manok (Chicken Stew). Coffee lovers can join Kape Maria's coffee plantation tour in Sibalom town to taste freshly brewed coffee while enjoying the lush greenery scenery. Antique is a province that offers a wide range of tourist attractions that cater to different interests.
Its natural beauty, historical and cultural sites, adventure activities, and local delicacies make it a destination worth visiting. So pack your bags and add Antique to your travel bucket list!
Popular Tourist Attractions in Antique
Antique is a province in the Philippines known for its natural beauty and unspoiled destinations. It is a hidden gem that has only recently started gaining attention from tourists.
With its serene beaches, enchanting waterfalls, and hot springs, Antique is an ideal destination for those who want to escape the hustle and bustle of city life. In this section, we will explore some of the popular tourist attractions in Antique.
Malumpati Cold Spring
Located in Pandan, Malumpati Cold Spring is a natural pool surrounded by lush greenery. The water comes from Mt. Madjaas and is said to be therapeutic due to its cold temperature and high mineral content. Visitors can swim or relax by the pool while enjoying the peaceful surroundings.
Kawa Hot Bath
The Kawa Hot Bath in Tibiao is an experience unlike any other. It involves soaking your body in a large cauldron filled with hot water and medicinal herbs while being surrounded by beautiful scenery. This unique activity can help relieve stress and muscle tension while also providing an opportunity to connect with nature.
Bugang River
Bugang River is another popular destination for tourists visiting Antique. It offers various activities such as kayaking, bamboo rafting, and canyoneering for thrill-seekers who want to experience a rush of adrenaline while enjoying stunning views of cascading waterfalls and towering limestone cliffs.
Seco Island
Seco Island is one of the most beautiful islands in Antique with crystal-clear waters that are perfect for snorkeling or swimming. Its powdery white sands make it ideal for sunbathing or just taking leisurely walks on the beach while enjoying a stunning sunset view.
Tibiao Fish Spa
For those looking for a unique and relaxing experience, Tibiao Fish Spa is a must-visit destination. It involves soaking your feet in a pool filled with small fish that will nibble on the dead skin cells, leaving your skin feeling soft and smooth.
While having a fish spa, you can also enjoy the beautiful view of rice terraces. These popular tourist attractions in Antique are just some of the many reasons why this province is becoming increasingly popular among travelers.
Each destination offers a unique experience that allows visitors to connect with nature while enjoying various activities. Whether you're looking for adventure or relaxation, Antique has something for everyone to enjoy.
Hidden Gems: Lesser-Known Tourist Spots
If you are looking for some off-the-beaten-path destinations in Antique, then look no further! Here are some hidden gems that you might want to add to your itinerary.
Mararison Island
Also known as Malalison Island, Mararison is a small island located in Culasi Bay. It boasts of crystal clear waters and white sand beaches, making it the perfect destination for those who want a quiet and relaxing time away from the crowds.
Visitors can also go hiking to the top of the island's hill for a panoramic view of the surrounding sea and neighboring islands. To get there, take a boat from Culasi Port or hire one from Tibiao town.
The boat ride takes about 15-20 minutes depending on the weather conditions. There are also homestays available on the island if you decide to stay overnight.
Sira-an Hot Spring
If you're looking for a unique experience in Antique, then you should definitely visit Sira-an Hot Spring. Located in Anini-y town, this natural hot spring is tucked away in a lush forested area surrounded by towering trees and bamboo groves. The hot spring water comes straight from the mountains and has healing properties that locals believe can cure various ailments.
You can soak your tired muscles in one of its three pool areas with temperatures ranging from warm to hot. There are also picnic huts where you can relax after your dip or buy some snacks from local vendors selling refreshments.
Binirayan Hills
Located in San Jose de Buenavista town, Binirayan Hills offers scenic views of nearby towns and rice paddies. Visitors can go trekking through its rolling hills while taking in the fresh air and enjoying the lush greenery. There are also picnic areas available where you can have a snack or lunch while appreciating the tranquil surroundings.
The easiest way to get to Binirayan Hills is by renting a motorcycle or hiring a tricycle from San Jose de Buenavista. It's also best to visit during the early mornings or late afternoons when the sun isn't too harsh.
Nogas Island
Nogas Island is located off the coast of Anini-y town and is known for its pristine white sand beaches, crystal clear waters, and colorful marine life. It's the perfect destination for snorkeling enthusiasts who want to see some of Antique's underwater treasures. Visitors can rent snorkeling gear from locals on the island or bring their own.
To get there, take a boat from Anini-y port or hire one from Tibiao town. The boat ride takes around 30 minutes depending on weather conditions.
These lesser-known tourist spots in Antique may not be as popular as Malumpati Cold Spring or Kawa Hot Bath, but they offer unique experiences that are definitely worth checking out. So make sure to add them to your itinerary!
Historical and Cultural Sites
Anini-y Church and Ruins: A Glimpse of the Spanish Colonial Era
Anini-y Church is considered one of the oldest churches in Antique. It was built by Augustinian friars during the Spanish colonial era in 1591. This church is known for its unique architecture, which features a blend of European and local influences.
Inside the church, you can see beautiful paintings that date back to the 18th century, as well as other religious artifacts that are still preserved today. Aside from its historical significance, Anini-y Church is also famous for its ruins.
The bell tower that stands beside the church was destroyed by a massive earthquake in 1948, but its remnants still stand today. This creates a picturesque scene that many visitors stop to admire and take photographs of.
Patnongon Church: A Unique Baroque-style Architecture
Another church worth visiting in Antique is the Patnongon Church. It has a unique architecture that features an impressive baroque-style façade with intricate designs and carvings. Built during the Spanish colonial era in 1580, this church has played a significant role in shaping Christianity in Antique.
The interior of Patnongon Church is equally stunning with its beautifully painted ceilings and walls adorned by biblical scenes. You can also see various religious relics such as wooden statues of saints dating back many centuries ago.
Antique Provincial Capitol Building: A Showcase of Political History
The Antique Provincial Capitol Building has been around since 1910 when it was constructed during American colonial rule in the Philippines. This building serves as both administrative office space for local government officials as well as a showcase of Antique's political history through various displays. Visitors can explore different exhibits inside showcasing various artifacts from different time periods relating to Antique history, including photographs and other documents.
The capitol building also offers guided tours that explain the significance of each artifact and how it relates to the history of this beautiful province. If you are a history buff, Antique is definitely worth visiting.
From Anini-y Church and Patnongon Church to Antique Provincial Capitol Building, there are so many historical sites to explore. Each site provides valuable insights into the cultural and political history of this region.
Adventure Activities in Antique
If you're an adrenaline junkie looking for your next adventure, look no further than Antique. This province has some of the most exciting outdoor activities in the Philippines!
From trekking to kayaking to scuba diving, there's something for everyone. Here are three top adventure activities in Antique:
Trekking to Mt. Madjaas
Mt. Madjaas is the highest peak in Antique, and it's a must-see destination for any hiker or mountaineer visiting the province. The trek to the summit is challenging but totally worth it for the stunning views at the top! You'll pass through tropical rainforests and cross crystal-clear streams before reaching the summit at 2,117 meters above sea level.
Make sure you bring plenty of water and snacks for this hike; it can take anywhere from 8-14 hours depending on your fitness level and pace. It's also recommended that you hire a guide if you're not familiar with the terrain.
Kayaking and Canyoneering at Bugang River
Bugang River is one of the best places in Antique for kayaking and canyoneering. The river winds through lush forests and rocky gorges, making it an unforgettable experience for thrill-seekers.
You'll start with a short hike upriver before putting on your life jacket and hopping into your kayak. From there, it's non-stop excitement as you navigate rapids and narrow channels carved out by centuries of erosion.
If kayaking isn't your thing, consider trying canyoneering instead! This activity involves rappelling down waterfalls and swimming through natural pools.
Scuba Diving at Sira-an Hot Spring
Sira-an Hot Spring is a hidden gem in Antique that's perfect for scuba diving. The hot spring itself is a series of underwater vents that release warm water into the ocean, creating a unique and surreal diving experience. The area around Sira-an is also home to an abundance of marine life, including colorful coral reefs and schools of tropical fish.
If you're lucky, you might even spot some sea turtles or reef sharks! Overall, Antique has no shortage of adventure activities for thrill-seekers.
Whether you're interested in hiking, kayaking, or scuba diving, there's something here for everyone. So pack your bags and get ready for an unforgettable trip to one of the Philippines' most exciting provinces!
Food and Beverage Tourism
The Tasty Local Delicacies of Antique
Antique is not just home to stunning tourist attractions, but also a gastronomic paradise for food lovers. Among the must-try local delicacies in Antique are KBL (Kadyos, Baboy, Langka) and Inubarang Manok (Chicken Stew). KBL is a soup made from kadyos beans, pork, and jackfruit that is simmered for hours to achieve a rich flavor.
On the other hand, Inubarang Manok is a chicken stew that features coconut milk as its base and spices such as ginger and lemongrass for extra zing. These dishes are perfect for those who want to get a taste of Antique's unique flavors.
Coffee Plantation Tours at Kape Maria
Coffee lovers also have something to look forward to in Antique. The province has several coffee plantations that offer tours where visitors can learn about the process of producing coffee beans from planting to harvesting. One of the most popular coffee plantations in Antique is Kape Maria located in the town of San Remigio.
Here, visitors can witness how they grow their own coffee beans organically without any chemicals or pesticides. Additionally, guests can taste different varieties of coffee while overlooking their beautiful plantation.
Other Foodie Finds in Antique
Aside from KBL and Inubarang Manok, there are other notable dishes worth trying in Antique such as Binakol na Manok (Chicken Coconut Soup) which uses freshly harvested coconut water; Batwan Fruit-based Soup which boasts an interesting sour flavor; and Adobo sa Puti which features chicken or pork cooked with vinegar instead of soy sauce resulting in a less salty adobo dish. For those with sweet tooth cravings, Biscocho de Jamon (buttery sweet bread with ham) and Baye-Baye (sticky rice cake with coconut) are perfect local desserts to indulge in.
Top 8 Tourist Attractions in Antique
Bugang River: The cleanest inland water in the Philippines, offering various eco-tourism activities.
Malalison Island (Mararison Island): A 55-hectare island with rolling hills, white sand beaches, and rock formations.
Kawa Hot Bath: A unique and relaxing experience in Tibiao, where visitors can soak in a hot bath in a large kettle-like tub.
Antique Rice Terraces: 200-year-old rice terraces built by the Iraynon-Bukidnon Indigenous Group, showcasing the province's rich agricultural heritage.
Seco Island: A sandbar surrounded by crystal-clear waters, perfect for swimming, snorkeling, and beach relaxation.
Pandan Beach: A beautiful beach destination with various accommodation options and activities.
Forest-clad mountains: Antique offers numerous hiking opportunities in its lush, forest-covered mountains.
Mystical caves: Explore the province's numerous caves and learn about the local legends and folklore.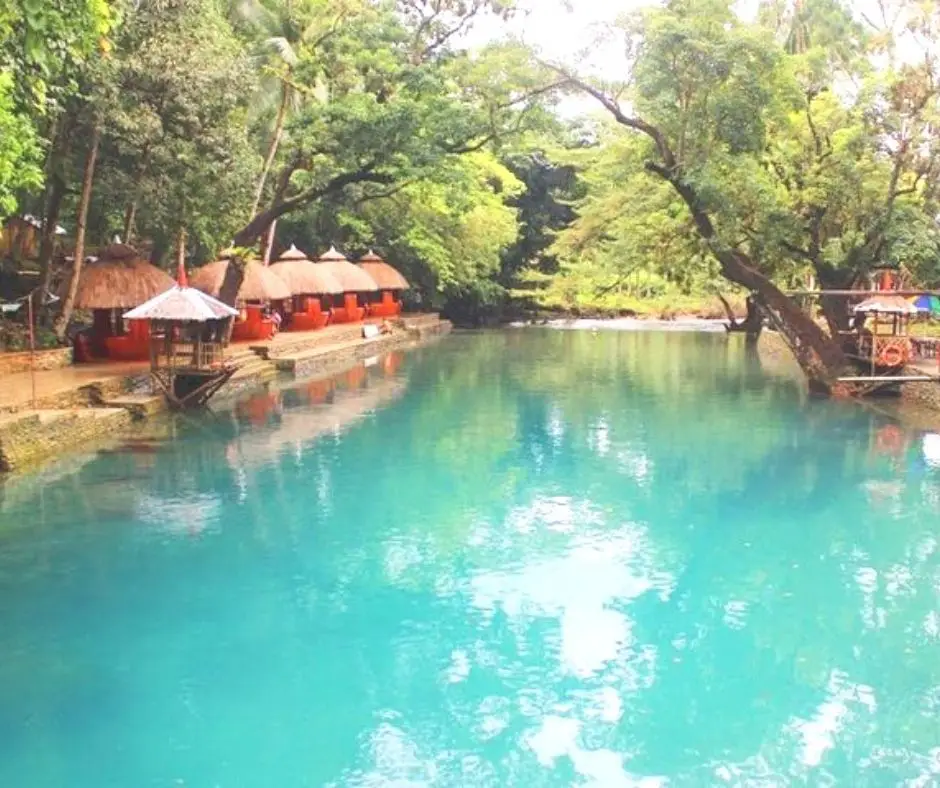 Conclusion
Recap of the variety of tourist attractions available in Antique
Antique may be an underrated province in the Philippines, but it certainly has a lot to offer to tourists. From its natural wonders such as Malumpati Cold Spring and Bugang River to its hidden gems like Mararison Island and Sira-an Hot Spring, there's something for everyone in Antique. For those interested in history and culture, there are also several sites to visit such as Anini-y Church and Ruins and the Antique Provincial Capitol Building.
And for adventure seekers, Mt. Madjaas offers a challenging trek while Bugang River provides opportunities for kayaking and canyoneering. The food and beverage scene in Antique is also worth exploring.
The local delicacies such as KBL (Kadyos, Baboy, Langka) and Inubarang Manok (Chicken Stew) are delicious and unique to the province. Coffee lovers can also take a tour of Kape Maria coffee plantation.
Encouragement to Visit this Underrated Province
Antique is often overshadowed by more popular tourist destinations in the Philippines, but that's what makes it even more special. With fewer crowds compared to other provinces, visitors can truly enjoy their experience without feeling overwhelmed or rushed.
The locals are friendly and welcoming, making tourists feel right at home. The laid-back vibe of the province is perfect for those looking to escape from city life and immerse themselves in nature.
So if you're looking for an adventure off the beaten path, head on over to Antique! With its stunning landscapes, rich history and culture, delicious food offerings, and warm hospitality from its people; you won't be disappointed.
Don't miss out on discovering this hidden gem of a province that offers so much potential for unforgettable experiences! Choosing Antique as your next travel destination will undoubtedly provide you with unique and memorable experiences.
With a wide range of attractions to choose from, there's always something new and exciting to discover in this underrated province. So pack your bags, grab your sunscreen, and get ready for an adventure you won't forget!