Explore the breathtaking natural beauty of Palawan with its stunning tourist attractions. From the white sand beaches to the unique underground river, discover what makes this island paradise one of the top tourist destinations in the Philippines.
ABOUT PALAWAN
Palawan is a province in the Western Visayas region of the Philippines. Known for its breathtaking natural landscapes, Palawan is an archipelago composed of more than 1,000 islands.
With over 1,000 islands, 70% of which are natural Marine Protected Areas, Palawan is considered the Philippines' best slice of paradise. As the Philippines' most diverse ecosystem, it's no surprise that Palawan is a popular destination for those looking for pristine beaches and unspoiled scenery. Palawan is the best place to be if you want to enjoy nature, pristine beaches, and enthralling culture. Find out more in this quick guide to Palawan.
What Makes Palawan Worth Visiting?
When it comes to diving or snorkeling, Palawan ranks among the world's best island destinations for underwater life. Despite not being known as a backpacker's haven like other parts of Southeast Asia, Palawan can be an ideal destination for travelers seeking tranquility. It has plenty of small hotels and private villas that are perfect for honeymooners or well-heeled families who want to escape it all in luxury.
LOCATION OF PALAWAN
Palawan Island is located in the southwesternmost part of the Philippines.
The Top Tourist Destinations In Palawan
One of the most stunning destinations on earth to travel to is Palawan. Read up on the top tourist destinations in Palawan to help you prepare for your future backpacking trip.
PUERTO PRINCESA
The capital of the island province of Palawan is Puerto Princesa. This coastal city is known for its beach resorts and seafood eateries. The Underground River, also known as the Puerto Princesa Subterranean River National Park, is a UNESCO World Heritage Site. It is a five-mile stretch of the Cabayugan River that passes through a massive limestone cave and into the West Philippine Sea. Its stunning limestone cliffs, blue waters, and towering cave formations will captivate tourists and nature enthusiasts alike.
Tubbataha Reefs Natural Park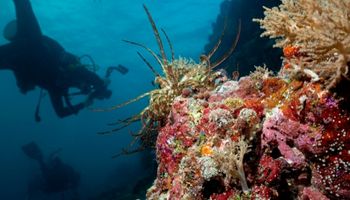 The Tubbataha Reef Marine Park spans 96,828 hectares and is made up of two massive coral atolls – the north and south atolls as well as the Jessie Beazley Reef, a smaller coral structure 20 kilometers north of the atolls. It's a one-of-a-kind atoll reef with a dense concentration of aquatic life.
Tubbataha Reef National Marine Park is home to some of the most stunning and unusual coral reefs on the planet. Birds and marine turtles use the North Islet as a breeding ground. More than 1,200 marine species call it home, including seagrasses and algae, corals, sharks, rays, fish, sea turtles, seabirds, and marine mammals. It is home to a variety of huge species, including white-tip and gray reef sharks. There are also plenty of mackerels, snappers, large groupers, and Napoleons.
Honday Bay Islands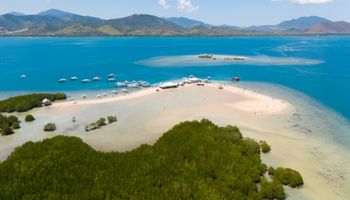 Honda Bay is a bay on Palawan's eastern shore near Puerto Princesa City. In the bay are numerous small islands, including Arrecife Island, which is home to an elegant resort.
The Spaniards gave the bay its name. Honda is a Spanish word that means "deep bay." It is a popular snorkeling and island-hopping destination. Some of the islands to visit include Pandan Island (also known as Makesi Island), Cowrie Island, Luli Island, and Starfish Island.
Puerto Princesa Subterranean River National Park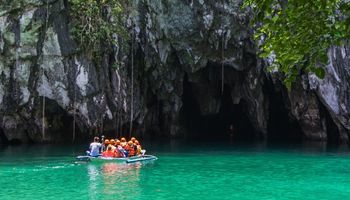 Puerto Princesa Subterranean River is located in the Saint Paul Mountain Range on the western coast of Palawan, some 80 kilometers north of the city of Puerto Princesa. It is a 2-hour trip from the city center of Puerto Princesa to Sabang, where you'll board a boat to the underground river. It has an underground river that runs straight to the sea.
The underground river is known for its stunning karst environment, which is made up of natural rock formations formed by the dissolving of limestones. Tourists can only see a 4.3-kilometer section of the 8.2-kilometer-long underground river, which features jaw-dropping cave formations, beautiful limestone cliffs, and clean waters.
Read More

Mangrove Ecotourism and Wildlife Park
Mangrove Ecotourism Wild Life Park is located in Iwahig, Puerto Princesa City, alongside the Old Iwahig Bridge on the National Highway. Witness a spectacular display of fireflies among the mangroves and trees that line the banks of the Sicsican and Iwahig Rivers.
Ugong Rock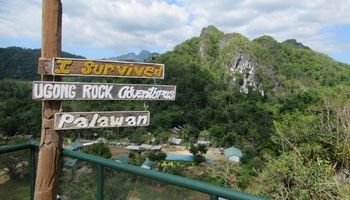 Ugong Rock is a 75-foot-high limestone rock formation. There are tunnels and tiny passageways inside that lead to an observation deck at the summit of the spectacular rock formation. When tapped, a hollow limestone inside the cave emits an ugong or echoing sound, hence the name.
Nagtabon Beach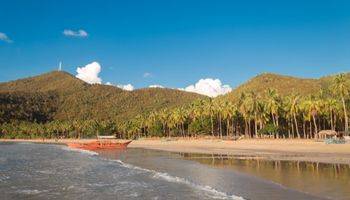 Nagtabon Beach is 30 kilometers from Puerto Princesa City on the west coast of Palawan. It is a beautiful stretch of white sand beach that is perfect for swimming.
EL NIDO
El Nido is a well-known tourist attraction on the Philippine island of Palawan. It is a strikingly gorgeous destination to explore, with scenic lagoons, white-sand beaches, towering limestone cliffs, charming inlets, magnificent coral reefs, and clear waters abundant with marine life.
Small Lagoon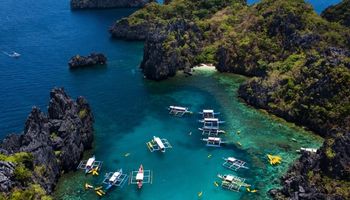 Small Lagoon is a beautiful, shallow bay on Miniloc Island's northern tip, about a 20-minute boat ride west of El Nido Town. It is approximately 150 meters long. It is surrounded by limestone cliffs that are partially covered in lush flora.
El Nido Beaches in Palawan
The name El Nido in Spanish means "the nest". The beaches in El Nido are known for their remarkable beauty and crystal-clear water. Some of the popular beaches to visit include Nacpan Beach, El Nido Airport Beach, Las Cabanas Beach, Hidden Beach, Papaya Beach, Seven Commando Beach, Payong-Payong Beach, Marimegmeg Beach, Duli Beach, Secret Lagoon Beach, Corong Corong Beach, Buena Suerte Beach, Pinagbuyutan Island, and Dolarog Beach
CORON
Coron is a tropical island in the Philippines' Palawan province. Beautiful beaches, crystal-clear freshwater lakes, abundant marine life, shallow-water coral reefs, turquoise lagoons, and limestone landscapes add to the area's secluded ambiance. Coron is also noted for its world-class WWII wreck diving and one of the country's cleanest lakes, Kayangan Lake.
Kayangan Lake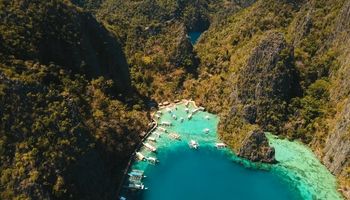 Kayangan Lake is a crystal-clear freshwater lake featuring underwater rock formations, tunnels, and islets near Coron. It is considered to be the cleanest lake in the Philippines, if not all of Asia. The water is so clear that it allows you to see the rock formations beneath it.
Coron Bay Shipwrecks
The shipwrecks in Coron Bay are a collection of spectacular wreck locations in Palawan for diving and snorkeling. There are 12 sunken warships at the bottom of the ocean which is the result of a US Navy aviation raid on the Imperial Japanese Navy in September 1944 during WWII.