Introduction
Metro Manila serves as the country's economic and entertainment center, as well as a significant educational hub. With a population of more than 14 million people, it is one of Southeast Asia's largest metropolitan areas.
There are 16 cities and one municipality in Metro Manila. The City of Manila, Quezon City, Caloocan, Las Pias, Makati, Malabon, Mandaluyong, Marikina, Muntinlupa, Navotas, Paranaque, Pasay, Pasig, San Juan, Taguig, and Valenzuela, as well as the municipality of Pateros, make up the metropolitan area. Metro Manila is a huge and bustling metropolis, however, there are many fascinating things to see and do in this massive metropolis.
A Glimpse into Manila's Vibrant Past
Steeped in a tapestry of cultures and influences, Manila has a captivating history that dates back centuries. Originally inhabited by indigenous tribes, it became a trading hub during the Spanish colonial era and later served as an important strategic location for American forces during World War II. Today, remnants of these periods can be explored through various historical sites scattered throughout the city.
Teaser of Breathtaking Attractions
Prepare to be amazed as we unravel some of Manila's most breathtaking attractions. Get ready to step back in time within the ancient walls of Intramuros – a well-preserved Spanish-era district boasting cobbled streets and magnificent architecture.
Marvel at the grandeur of Fort Santiago as you walk through its imposing gateways and learn about its haunting past. For art enthusiasts, the National Museum of the Philippines awaits open doors.
Admire famous masterpieces such as "The Spoliarium" by renowned Filipino artist Juan Luna or delve into the intricate gold collection showcasing Filipino craftsmanship at its finest. Nature lovers will find solace amidst urbanity at Rizal Park (Luneta), where sprawling green spaces provide respite from bustling city life.
Immerse yourself in tranquility within this urban oasis or witness an enchanting dancing fountain show that bedazzles visitors with its colorful synchronicity. For those with a gastronomic inclination, Binondo Chinatown beckons, offering a culinary adventure like no other.
Indulge in delectable dim sum feasts at Ying Ying Tea House or savor the crispy perfection of pork belly at Sincerity Café and Restaurant. Last but not least, dare to venture off the beaten path and discover hidden gems like Paco Park Cemetery.
This enchanting garden cemetery holds secrets within its walls and boasts an acoustic marvel known as the Whispering Wall. Stay tuned as we embark on a journey through Manila's breathtaking attractions, immersing ourselves in its vibrant history, cultural marvels, natural wonders, culinary delights, and hidden gems that make this city truly unforgettable.
Are you ready to explore? Let's dive in!
Must See Attractions in Manila
Metro Manila provides all the conveniences that any traveler might want, with its dense concentration of hotels, malls, and restaurants. Some of Asia's most well-known attractions are found in this region, including historic sites from colonial times. It also has a wealth of excellent museums and galleries featuring artwork from throughout Asia.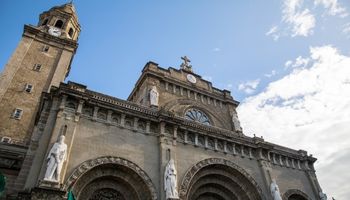 Intramuros
Quiapo Church
National Museum of the Philippines
San Agustin Church and Museum
Escolta
Luneta
Baywalk
Bonifacio Global City
Binondo
Newport City and Resorts World Manila
Greenbelt Chappel
Money Museum
Paco Park
Arroceros Park
Star City
Rizal Park
Yexel's Toy House
Poblacion Makati
Art in Island





The Best Shopping Malls
Metro Manila is a popular shopping destination for locals, tourists, and international visitors alike. People are frequently seen walking about with shopping bags packed with clothes or other items purchased from their favorite stores. The city's largest shopping malls include SM Malls, Ayala Malls, and Robinsons Malls.
The popularity of these shopping malls is attributed to their location and size. Most are located right in the heart of Manila and they have a wide range of shops that include international brands. This is a list of some of the largest and most popular shopping malls in metro Manila: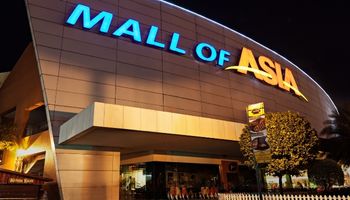 Mall of Asia
Robinsons Place Mall
SM Megamall
Venice Grand Canal Mall
Greenbelt Mall
The Podium
Robinsons Galleria
Evia Lifestyle Center
Festival Supermall
Alabang Town Center
Ayala Mall Manila Bay
Santolan Town Plaza
Newport Mall
Uptown Place Mall
Century City Mall
W.Mall
Shangri-La Plaza
Commercenter Alabang
Eastwood Mall
SM Light Mall
Starmall Alabang
Glorietta Mall
SM City Manila
Lucky Chinatown Mall



Shopping Street and Malls for Bargains
Bargain hunters from all over the world flock to Metro Manila every year. Clothing, household goods, gadgets, and food are just a few of the items that are discounted at numerous malls and retailers. There are many bargain shops in Metro Manila that you can explore with the help of this list. These shops are known for offering good products and services at a reasonable price.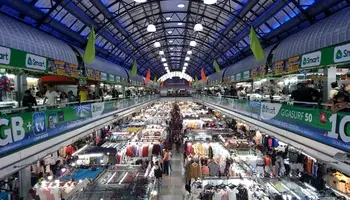 Divisoria Mall
168 Shopping Mall
Green Hills Shopping Center
Divisoria Market
Taytay Tiangge
Baclaran Market
Cartimar Shopping Center
Makati Cinema Square
Riverbanks Center
Quaipo Market
Market Market
Great Places for a Drink or a Meal
Metro Manila is a massive metropolis with a wide range of eateries to suit any occasion. There is something for everyone, whether you want a quick bite at one of the roadside kiosks or a sit-down meal at one of the many restaurants. While roaming around the streets at night, you will come across an unending number of street food stalls selling a variety of delectable and reasonably priced dishes. Here are some of the best spots to eat and drink in the city.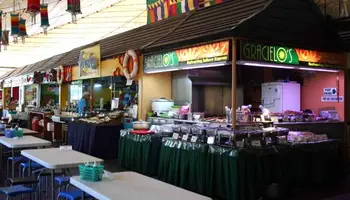 Buendia Food by The Court, San Isidro, Makati
Arkipelago Food Park, San Antonio, Makati
The Pallet, Poblacion, Makati
Le Village Lifestyle Park, E. Rodriguez, Quezon City
Z Compound, Malingap St., Quezon City
F7 Pop-Up, Quezon City 
Sagul Food Park, Quezon City
Maginhawa Food Park, Quezon City
Open Kitchen, Congressional Avenue, Quezon City
Devour Food Hub, E. Rodriguez, Quezon City
Sapphire Bloc, Pasig City
United Street, Kapitolyo, Pasig City
Better Living, Parañaque City 
Greenfield District, Mandaluyong City
Pilar Village, Las Piñas City
Eden Food Hall, Bonifacio Global City, Taguig
8 Missouri Street, San Juan City 
Recess Food Alley, Little Baguio, San Juan
Embracing Cultural Marvels
National Museum of the Philippines: Immerse yourself in art and history
When it comes to experiencing the vibrant culture and rich history of Metro Manila, a visit to the National Museum of the Philippines is an absolute must. This cultural haven, located in Manila's bustling Ermita district, offers a captivating journey through various art forms and historical periods. As you step into its grand halls, get ready to be transported to a world brimming with artistic beauty and fascinating stories.
Fine Arts Galleries: Admiring masterpieces by Filipino artists
The Fine Arts Galleries at the National Museum are a treasure trove of artistic brilliance. Here, you'll be captivated by awe-inspiring works created by Filipino masters throughout different eras.
From Juan Luna's masterpiece "Spoliarium" which depicts scenes from Roman gladiator contests to Fernando Amorsolo's radiant landscapes that evoke nostalgia for rural life, these galleries showcase the diverse talent that emanates from Philippine soil. As you wander through these halls adorned with carefully curated pieces, take your time to absorb the intricate details and emotions conveyed by each stroke of the brush.
The collection spans not only renowned painters but also emerging contemporary artists who encapsulate modern Filipino perspectives. Prepare to marvel at vibrant colors, thought-provoking themes, and artistic techniques that will leave an indelible impression on your soul.
Anthropology Exhibits: Learning about indigenous cultures and traditions
Adjacent to the Fine Arts Galleries lies another captivating realm within the National Museum – the Anthropology Exhibits. Here, you'll embark on an enlightening journey through time as you explore indigenous cultures and traditions deeply rooted in Philippine heritage.
Immerse yourself in displays showcasing ancient artifacts, traditional costumes, tribal tools, and religious artifacts that provide a window into the rich tapestry of Filipino culture. From the majestic Cordillera tribes in Northern Luzon to the vibrant ethnic groups in Mindanao, these exhibits celebrate the diversity and resilience of indigenous communities across the archipelago.
Learn about their unique belief systems, customary practices, and captivating folklore that have shaped their identities for centuries. This immersive experience will broaden your perspective and deepen your appreciation for the cultural mosaic that makes up the Philippines.
Ayala Museum: Delving into Filipino art, culture, and heritage
Nestled in the heart of Makati City, Ayala Museum offers an extraordinary exploration of Filipino art, culture, and heritage. With its modern architecture seamlessly blending with traditional design elements, this museum beckons you to embark on a journey through time to unlock the essence of what it means to be Filipino.
Diorama Displays: Witnessing key moments in Philippine history
One of Ayala Museum's highlights is its meticulously crafted diorama displays that bring key moments in Philippine history to life. Step back in time as you witness pivotal events like Lapu-Lapu's victorious battle against Ferdinand Magellan or Jose Rizal's impassioned speeches during the Propaganda Movement. These miniature scenes intricately recreate historical settings with astonishing attention to detail and accuracy.
As you observe these dioramas and listen to accompanying narratives, you'll gain a deeper understanding of how these events shaped Philippine society. It's like being transported into an immersive time capsule where you can almost feel the emotions that coursed through our ancestors' veins during significant turning points in our nation's story.
Gold of Ancestors Exhibit: Marveling at pre-colonial gold artifacts
Prepare to be awestruck by Ayala Museum's mesmerizing Gold of Ancestors exhibit. This collection showcases intricate pre-colonial gold artifacts that highlight the exceptional craftsmanship and artistic skill of our ancestors.
From intricately designed jewelry to ceremonial items, each piece tells a story of ancient Filipino cultures that revered gold not only for its aesthetic value but also for its symbolism. Gaze upon golden masks, diadems, and body adornments that reflect the opulence of our forebears.
These artifacts shed light on pre-colonial trade routes and cultural exchanges that existed long before colonial powers set foot on our shores. The Gold of Ancestors exhibit serves as a reminder of the wealth, ingenuity, and sophistication inherent in Filipino civilization even before external influences shaped our history.
Immersing oneself in the cultural marvels found within Metro Manila is a truly enriching experience. Whether it's wandering through the art-filled halls of the National Museum or delving into Philippine history at Ayala Museum, these institutions offer an opportunity to connect with Philippine heritage in meaningful ways.
From admiring masterpieces by Filipino artists to witnessing key moments in history through diorama displays or marveling at pre-colonial gold artifacts, these cultural gems provide a glimpse into what makes the Philippines truly unique. So don't miss out on exploring these stunning attractions and unraveling the rich tapestry of Metro Manila's hidden wonders.
Nurturing Nature's Beauty
Batanes-inspired landscapes at La Mesa Eco Park
Picture yourself stepping into an oasis of tranquility right in the heart of Metro Manila. Welcome to La Mesa Eco Park, where the breathtaking landscapes inspired by the picturesque province of Batanes will leave you in awe. As you stroll through this lush green haven, your eyes will be drawn to The Grand Lagoon, a serene body of water that offers a peaceful escape from the hustle and bustle of city life.
Hop aboard a boat and embark on a leisurely ride across The Grand Lagoon. Feel the cool breeze caress your face as you glide through crystal-clear waters, surrounded by towering trees and vibrant foliage.
Take this opportunity to immerse yourself in nature's embrace while appreciating the striking beauty that unfolds before your eyes. For those seeking a unique perspective, venture into the Canopy Walk at La Mesa Eco Park.
Ascend to treetop level and traverse suspended walkways that allow you to explore the park from an entirely different vantage point. As you wander through these elevated trails, you'll feel like you're walking among giants, with sweeping views of the park's lush canopy stretching out beneath your feet.
Pinto Art Museum in Antipolo City
In Antipolo City, just a short distance from Metro Manila lies Pinto Art Museum – a haven for art enthusiasts and seekers of serenity alike. This remarkable museum combines Mediterranean-inspired architecture with beautiful gardens that create an atmosphere ideal for reflection and appreciation of art.
Step into Pinto Art Museum's Mediterranean-inspired galleries and prepare to be captivated by its extensive collection of contemporary Philippine art. Meander through hallways adorned with thought-provoking paintings and sculptures created by talented Filipino artists.
Let your senses soak up every stroke, color, and texture as each artwork tells its own unique story. What sets Pinto Art Museum apart is not only its remarkable art but also its tranquil surroundings.
Take a leisurely stroll through the museum's serene gardens, where refreshing breezes rustle the leaves of lush foliage. Find a quiet spot amidst the verdant landscape to pause and reflect, allowing the natural beauty to wash over you.
Foodie Paradise: Savoring Manila's Culinary Delights
Binondo Chinatown: Embark on a Gastronomic Adventure through the Oldest Chinatown in the World
Imagine stepping into a vibrant and bustling neighborhood that is a melting pot of flavors and cultures. Binondo Chinatown, located in the heart of Manila, is not only known for its historical significance but also for being a food lover's paradise. As you walk through its colorful streets, you'll be greeted with the enticing aromas of sizzling street food and the sight of locals indulging in scrumptious delicacies.
Dim Sum Feast at Ying Ying Tea House
When it comes to authentic Chinese cuisine, no trip to Binondo would be complete without experiencing a dim sum feast at Ying Ying Tea House. This renowned establishment has been serving delectable dumplings and steamed buns since 1950.
As you enter this unassuming eatery, you'll find yourself surrounded by locals relishing their favorite bites. Start your culinary adventure with classic favorites such as siu mai (steamed pork dumplings) and har gow (shrimp dumplings).
The delicate flavors and perfectly folded wrappers will transport your taste buds to another realm. Don't forget to try their fluffy char siu bao (barbecue pork buns) which are filled with succulent chunks of marinated pork.
Crispy Pork Belly at Sincerity Café and Restaurant
If you're craving something more indulgent, make your way to Sincerity Café and Restaurant for their mouthwatering crispy pork belly. This beloved establishment has been satisfying meat lovers' cravings since 1956. Their secret recipe ensures that every bite is packed with flavor while maintaining that coveted crispy skin.
Sink your teeth into tender slices of juicy pork belly, perfectly complemented by a layer of melt-in-your-mouth fat. The accompanying dipping sauce adds a tangy kick that enhances the overall experience.
Pair this decadent dish with a bowl of steaming white rice to fully savor the rich flavors. Indulging in these culinary delights is an experience that will not only tantalize your taste buds but also immerse you in the vibrant culture of Binondo Chinatown.
So, embrace the hustle and bustle, explore hidden alleyways, and let your senses guide you through this gastronomic adventure. Binondo Chinatown offers an unforgettable journey for food enthusiasts seeking exceptional flavors and authentic experiences.
From savoring delectable dim sum at Ying Ying Tea House to indulging in crispy pork belly at Sincerity Café and Restaurant, you'll be treated to a symphony of tastes that showcases Manila's diverse culinary heritage. So, come with an empty stomach and an open mind as you embark on this foodie paradise escapade – it's a feast you won't want to miss!
The best Places to Stay in Metro Manila
Book your hotels on government-accredited accommodation. The purpose of hotel accreditation is to guarantee that the establishment meets government standards. A government quality mark can serve as a seal of approval for a company, as well as a guarantee of competence and integrity and a measure of quality. Hotels benefit from having an agreement because it helps them improve client satisfaction.
In conclusion, Manila is a city that never fails to impress visitors with its fascinating blend of ancient and modern landmarks, vibrant culture, and delectable cuisine. Whether you're a history buff, a foodie, or a fan of architecture, Manila has something for everyone. A visit to this bustling metropolis is truly an unforgettable experience. So, why not plan your next trip to Manila and discover this incredible city for yourself?
---
THE BEST TOURIST DESTINATIONS IN THE PHILIPPINES
Intramuros is the ancient heart of Manila, a walled city that showcases the rich history and Spanish architecture of Old Manila. Built by the Spaniards as their political and military…

---