Introduction to Okada Manila
Nestled within the vibrant Entertainment City in the Philippines, Okada Manila stands as a shining gem among world-class integrated resorts and casinos. From its awe-inspiring architectural marvels to its luxurious accommodations, this lavish destination promises an unforgettable experience for all who step foot on its grounds. With a rich history and strategic location, Okada Manila has established itself as a premier entertainment, leisure, and indulgence destination.
Overview of Okada Manila as a World-Class Integrated Resort and Casino
Okada Manila represents the epitome of opulence and grandeur in the realm of integrated resorts and casinos. Designed to captivate visitors with its sheer magnificence, every aspect of this establishment has been meticulously crafted to provide an unparalleled experience. Housing an extensive array of amenities all under one roof, Okada Manila seamlessly combines luxury accommodations, fine dining options, entertainment venues, retail outlets, and a state-of-the-art casino.
The resort's dedication to excellence is evident in every detail, from the exquisitely designed interiors adorned with crystal chandeliers to the stunning exterior inspired by the graceful movements of coral reefs and waves. With world-class facilities at their disposal and impeccable service offered by a highly trained staff, guests can indulge in sophistication and extravagance throughout their stay.
Brief History and Background of the Establishment
The story behind Okada Manila traces back to its visionary founder Kazuo Okada – renowned for his contributions to the gaming industry. Inspired by his passion for creating extraordinary leisure destinations that blend artistry with modernity, he embarked on a mission to bring his vision to life.
After years of meticulous planning and construction efforts involving thousands of skilled professionals from around the globe, Okada Manila officially opened its doors in December 2016. As the flagship property of the Universal Entertainment Corporation, Okada Manila has continually evolved and expanded since its inception.
It has become a symbol of innovation, luxury, and entertainment, attracting tourists from all corners of the world. The resort's commitment to elevating guest experiences is manifested in its ever-growing range of attractions and amenities, ensuring that each visit is filled with awe-inspiring moments.
Mention of Its Strategic Location in Entertainment City, Philippines
Strategically nestled within Entertainment City – a sprawling complex dedicated to leisure and entertainment – Okada Manila occupies a prime position on the glittering Manila Bay coastline. This strategic location offers guests breathtaking panoramic views of the bay and the iconic Manila skyline as they bask in an oasis of tranquility amidst bustling city life.
Entertainment City itself has emerged as a dynamic hub for luxurious resorts and casinos, making Okada Manila an integral part of this burgeoning destination. With proximity to major transportation hubs such as Ninoy Aquino International Airport and various prominent attractions nearby, including shopping centers, golf courses, and cultural landmarks, Okada Manila provides visitors with unparalleled convenience alongside its exceptional offerings.
With its unrivaled status as a world-class integrated resort and casino accompanied by a rich history rooted in visionary ambition, Okada Manila beckons travelers seeking unmatched indulgence amidst breathtaking surroundings. Its strategic location ensures that guests can immerse themselves in both serenity and excitement during their stay – truly an extraordinary invitation to experience grandeur at its finest.
Architectural Marvels and Design Elements
Description of the Iconic Exterior Design Inspired by Coral Reefs and Waves
Under the awe-inspiring Manila sky, Okada Manila stands as a testament to architectural grandeur. The exterior design of this majestic integrated resort is an artistic masterpiece inspired by the beauty of coral reefs and the graceful movement of ocean waves. The undulating lines that flow seamlessly across the façade mimic the ebb and flow of water, while the shimmering glass panels reflect sunlight like glistening droplets dancing on its surface.
This unique design concept embraces nature's harmonious allure, inviting guests into a world where elegance meets pristine natural elements. The coral reef-inspired structure not only captivates the eye but also symbolizes Okada Manila's commitment to sustainability and environmental preservation.
Just as coral reefs serve as vital ecosystems in our oceans, Okada Manila aims to play a significant role in promoting eco-friendly practices within its premises. Through innovative design choices, such as energy-efficient lighting systems and sustainable building materials, this architectural marvel sets an example for responsible development in entertainment resorts.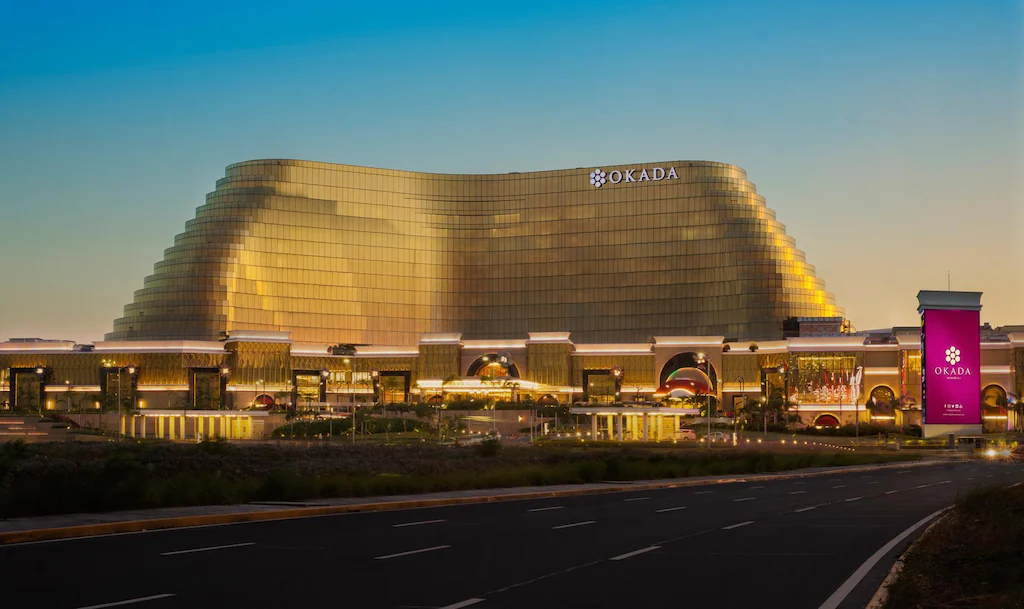 Exploration of Lavish Interior Spaces Adorned with Crystal Chandeliers, Intricate Artworks, and Lush Gardens
Stepping inside Okada Manila is like entering a realm of opulence beyond compare. The interior spaces are meticulously crafted to envelop guests in an atmosphere of unrivaled luxury.
Crystal chandeliers hang majestically from soaring ceilings, casting mesmerizing patterns of light throughout vast atriums and corridors. Each chandelier serves as a gleaming centerpiece that adds an air of sophistication to every space it graces.
In addition to these magnificent crystal adornments, intricate artworks from renowned international artists adorn the walls throughout Okada Manila's interior spaces. Paintings that tell stories with their vibrant colors and sculptures that evoke deep emotions are carefully placed to create a visual feast for guests.
The resort's commitment to showcasing fine art goes beyond mere aesthetics; it aims to provide an immersive cultural experience that engages and inspires visitors from all walks of life. As guests wander through the resort, they will encounter lush gardens that serve as tranquil oases amidst the bustling energy of the integrated entertainment complex.
These meticulously landscaped green spaces feature exotic plants, vibrant flowers, and serene water features. Whether enjoying a leisurely stroll or pausing for peaceful contemplation, these gardens offer a retreat from the hustle and bustle of everyday life, providing a sanctuary where one can reconnect with nature.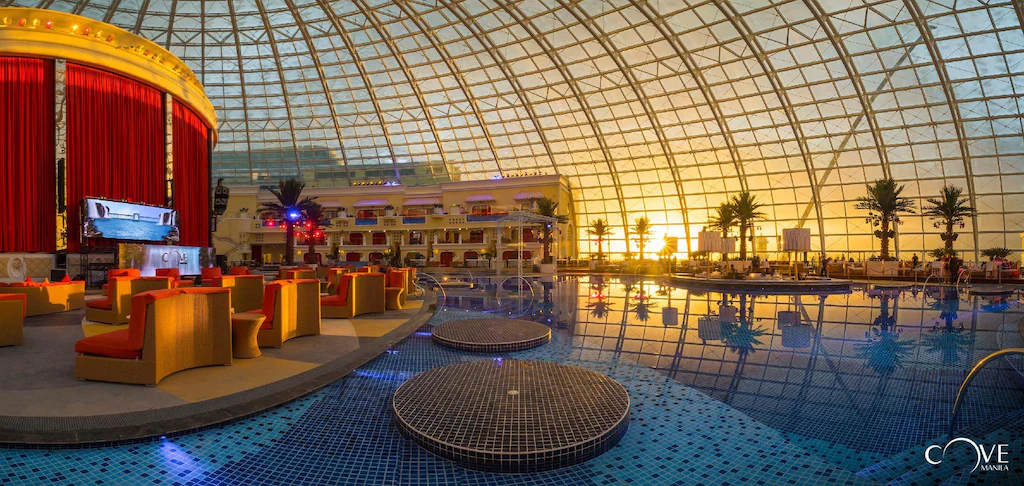 Highlighting the Integration of Advanced Technology Throughout the Resort for a Seamless Guest Experience
Okada Manila seamlessly merges timeless elegance with cutting-edge technology, ensuring guests' comfort and convenience. From the moment they arrive at this unparalleled destination, guests are greeted by an array of technological innovations designed to enhance their overall experience.
State-of-the-art smart check-in systems expedite registration processes while minimizing wait times. Guests can enjoy quick access to their lavish accommodations without any hassle.
Once settled in their rooms, they can effortlessly control various aspects using advanced automation systems – adjusting room temperature, controlling lighting settings, or even requesting personalized services with just a few taps on sleek touch-panel interfaces. Moreover, Okada Manila embraces the digital age by providing high-speed internet connectivity throughout its premises.
From lobbies to restaurants and even outdoor areas, guests can stay connected at all times. This integration of advanced technology extends beyond guestrooms; it permeates into entertainment venues as well.
Cutting-edge audiovisual systems ensure captivating performances in The Theatre while interactive displays enhance experiences within galleries and exhibitions. Okada Manila's architectural marvels make it an iconic landmark in Entertainment City.
The exterior's coral reef-inspired design harmonizes with its commitment to sustainability while inside lavish interior spaces adorned with crystal chandeliers, intricate artworks, and lush gardens create an atmosphere of pure indulgence. The resort's seamless integration of advanced technology ensures a truly extraordinary guest experience, setting new standards in the world of luxury hospitality.
Luxurious Accommodations
At Okada Manila, guests are treated to a truly extravagant and indulgent experience with its range of luxurious accommodations. Whether you are seeking a serene escape or a lavish getaway, this integrated resort offers an array of rooms and suites tailored to meet the diverse needs and preferences of discerning travelers.
Introduction to the various types of rooms and suites available at Okada Manila
Okada Manila presents guests with an impressive selection of accommodations designed to provide ultimate comfort and elegance. From spacious guest rooms to opulent suites, each option is meticulously appointed to create a sense of luxury that exceeds all expectations. The resort boasts several room categories including Deluxe Rooms, Premier Rooms, Executive Suites, Vice Presidential Suites, Ambassador Suites, and the exclusive Chairman Suite.
Deluxe Rooms: These tastefully decorated rooms offer a relaxing retreat with their contemporary design and plush furnishings. Guests can enjoy stunning views of either the picturesque bay or the dynamic cityscape while indulging in the utmost comfort.
Premier Rooms: Providing ample space for relaxation, Premier Rooms feature chic interiors adorned with upscale finishes. With floor-to-ceiling windows offering panoramic views, these rooms ensure an enchanting stay while providing all modern amenities for convenience.
Executive Suites: For those desiring more space and luxury during their stay at Okada Manila, they are an ideal choice. These well-appointed suites offer separate living areas for enhanced privacy along with exclusive access to VIP amenities that elevate the overall experience.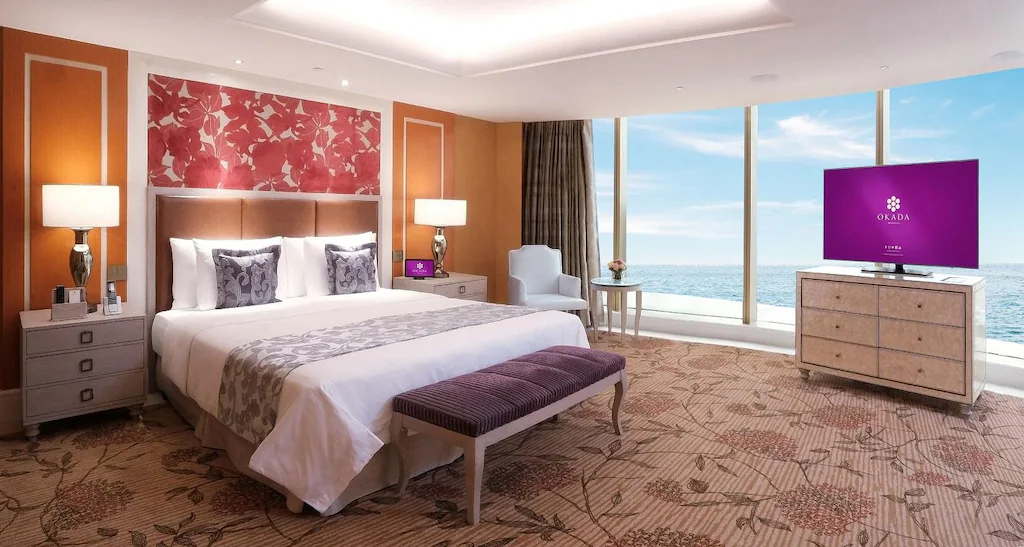 Detailed description of the opulent amenities provided in each room category
The luxurious accommodations at Okada Manila come replete with opulent amenities that cater to every indulgence. In each room category, guests can expect a plethora of features meticulously designed to enhance their stay and ensure unparalleled comfort.
Panoramic Views: Regardless of the room category, Okada Manila ensures that breathtaking vistas are always within sight. The resort's strategic location allows guests to enjoy sweeping views of either Manila Bay or the vibrant cityscape, providing a visual spectacle that adds to the overall enchantment.
Private Pools: Elevating the concept of luxury, select suites at Okada Manila boast private pools where guests can unwind and bask in lavish exclusivity. These serene pools offer a tranquil oasis within the confines of one's own accommodation, allowing for moments of serenity and rejuvenation.
Personal Butler Service: Exemplifying personalized attention to detail, Okada Manila offers guests an exceptional level of service with its dedicated team of professional butlers. Available round-the-clock, these highly trained personnel cater to every need, ensuring that no desire is left unattended throughout the stay.
Mentioning unique features like Japanese-inspired bathrooms with deep soaking tubs
A distinctive feature that sets Okada Manila apart is its exquisite Japanese-inspired bathrooms found in various room categories. These bathrooms go beyond mere functionality and embrace tranquility and rejuvenation as integral components of the guest experience. The highlight of these bathrooms is undoubtedly the deep soaking tubs meticulously crafted for ultimate relaxation.
Inspired by traditional Japanese onsen baths, these luxurious tubs allow guests to immerse themselves in warm water while enjoying stunning views through floor-to-ceiling windows. The combination of aromatic bath salts and gentle lighting creates an ambiance conducive to unwinding after a long day exploring all that Okada Manila has to offer.
The Japanese-inspired bathrooms also feature modern amenities including rain showers with soothing water pressure settings, high-quality toiletries, and plush bathrobes. With meticulous attention to detail, these bathrooms embody the resort's commitment to providing guests with an indulgent sanctuary within their own exquisite accommodations.
World-Class Entertainment Options
The Fountain: A Mesmerizing Spectacle
Take a moment to imagine being enthralled by the grandeur of one of the largest dancing water fountains in the world – The Fountain at Okada Manila. Nestled amidst an expansive man-made crystal-blue lake, this architectural marvel stands as a testament to human ingenuity and artistic prowess. As day turns into night, prepare to be captivated by its awe-inspiring performances synchronized with enchanting music and dazzling lights.
The choreographed dances of water, perfectly timed bursts of colors, and symphony of melodies create an immersive spectacle that leaves visitors breathless. The Fountain at Okada Manila showcases a diverse array of performances, each meticulously crafted to evoke different emotions within its audience.
From graceful ballet-like movements accompanied by classical symphonies to dynamic routines set to contemporary beats, every show is a mesmerizing fusion of artistry and technology. Witness the water gracefully soaring through the air in perfect synchronization with each musical note, forming intricate patterns that seem almost magical against the backdrop of the vibrant evening sky.
Cove Manila: A Nightlife Oasis
Step into Cove Manila, an extraordinary indoor beach club that immerses you in a vibrant nightlife experience like no other. This magnificent venue boasts an ambiance reminiscent of tropical paradise, complete with palm trees swaying gently under a starlit ceiling and soft white sand beneath your feet.
Fueling this atmosphere are internationally renowned DJs who elevate your spirits with their electrifying beats while you dance your night away. Cove Manila transcends traditional nightlife expectations by providing guests with an unforgettable beach party vibe without leaving the comfort of an indoor space.
Revel in poolside luxury as you dip into their sparkling azure pools or relax on plush cabanas while sipping on delectable concoctions from their bars that specialize in craft cocktails. To elevate your experience further, Cove Manila hosts themed events that transport you to different realms, ranging from glamorous masquerade balls to tropical fiestas.
The Theatre: A Haven for Grand-Scale Productions
Prepare to be swept off your feet by the extraordinary performances at The Theatre, Okada Manila's premier entertainment venue. This opulent theatre is a masterpiece in its own right, boasting lavish interiors adorned with ornate details and state-of-the-art technology. The venue plays host to grand-scale productions that rival those seen on Broadway or in iconic concert halls around the world.
Immerse yourself in the world of musicals, as The Theatre showcases spectacular Broadway shows complete with elaborate sets, intricate costumes, and the soaring voices of talented performers. Feel your heart race during electrifying concerts featuring internationally acclaimed artists who grace the stage with their soul-stirring performances.
The Theatre at Okada Manila is a haven where dreams come to life and where audiences are transported to realms of imagination. ,
Okada Manila offers a world-class entertainment repertoire designed to cater to diverse tastes and preferences. Whether you find yourself entranced by the rhythmic dance of water at The Fountain or indulging in an electrifying night at Cove Manila's beach club, you will discover experiences that ignite your senses and create lasting memories.
Moreover, immerse yourself in the grandeur of The Theatre where talent shines brightest and unparalleled performances leave audiences awe-inspired. Okada Manila is an oasis where artistry meets technology for an entertainment experience beyond compare
Gastronomic Delights
Presentation of Diverse Dining Options
At Okada Manila, culinary enthusiasts are treated to a remarkable array of dining options that cater to every palate and preference. From elegant fine dining establishments to vibrant casual eateries, the resort boasts a diverse selection of restaurants that leave guests spoilt for choice. Whether you're in the mood for a romantic dinner, a family-friendly meal, or a quick bite on the go, Okada Manila has it all.
Description of Signature Restaurants
Indulge in an extraordinary gastronomic journey as Okada Manila's signature restaurants showcase outstanding international cuisines crafted by world-class chefs. Dive into the refined flavors of Japanese cuisine at Enbu, where traditional dishes such as sushi, sashimi, and tempura are expertly prepared using only the freshest ingredients.
For lovers of Chinese cuisine, Red Spice offers an exquisite menu featuring authentic Cantonese specialties alongside contemporary favorites with a unique twist. For those craving Korean barbecue or delectable hotpots, Goryeo provides an immersive dining experience where guests can grill their own succulent meats while enjoying the vibrant atmosphere.
Taste the rich and comforting flavors of Italy at La Piazza Ristorante Italiano, where classic pasta dishes and wood-fired oven pizzas take center stage amidst warm Mediterranean-inspired surroundings. And if you're longing for familiar American favorites with an elevated touch, Medley Buffet boasts an extensive spread offering everything from juicy steaks to fresh seafood.
Exploration of Unique Culinary Experiences
Okada Manila goes beyond ordinary dining experiences by offering unique culinary encounters that delight all senses. Prepare to be amazed by teppanyaki shows at Yamazato Teppanyaki Restaurant where skillful chefs create dazzling displays while grilling premium meats and seafood right before your eyes. For those seeking interactive dining concepts, Kappou Imamura provides an intimate setting where guests can engage with the chefs, witnessing the creation of exquisite dishes from start to finish.
With a menu that changes daily based on fresh seafood and seasonal ingredients, this omakase-style experience offers an unforgettable journey through traditional and modern Japanese flavors.
Conclusion
Okada Manila stands as a remarkable destination that not only caters to those seeking thrilling entertainment and luxurious accommodations but also provides an exceptional culinary experience. With its diverse dining options ranging from fine dining restaurants to casual eateries, guests can embark on a gastronomic adventure exploring international cuisines such as Japanese, Chinese, Korean, Italian, American, and more. Moreover, Okada Manila's commitment to unique culinary experiences is evident through offerings like teppanyaki shows at Yamazato Teppanyaki Restaurant or interactive dining concepts at Kappou Imamura. By combining exceptional culinary delights with stunning architecture and world-class entertainment options, Okada Manila creates an enchanting haven where indulgence goes beyond expectations. For every food lover who visits Okada Manila, it is not just a resort; it is a palatable journey that immerses them in a world of flavors and tantalizes their taste buds with exquisite dishes prepared by renowned chefs. So whether you're seeking an unforgettable fine-dining experience or simply looking for delectable casual fare amidst lavish surroundings, Okada Manila's gastronomic delights are sure to satisfy even the most discerning palate. Bon appétit