Discover the captivating beauty of Cebu with its amazing tourist attractions. From pristine beaches to awe-inspiring waterfalls, experience the best of Cebu with its rich culture and stunning scenery. Explore and enjoy the wonders of this Philippines gem.
ABOUT CEBU
Cebu is the "hidden paradise" of the Philippines. The city of Cebu and its surrounding areas offer a wide range of vacation options, from water-based activities like diving and snorkeling to hiking, world-class shopping, and sightseeing at historic and cultural attractions.
How to Get to Cebu
Cebu is served by an international airport as well as direct flights from Manila and other local airports. You can also take ferries from Manila and other local destinations to Cebu. Regular ferry service to Cebu is provided by 2Go, Oceanjet, and Weesam Express from Manila, Dumaguete, Bohol, Iloilo, Leyte, Cagayan de Oro, and Butuan.
Make your journey easier by selecting from a variety of vehicles, taxis, and other airport transfer alternatives. Find out more…
The most popular Tourist Spots in cebu
Basilica del Santo Nino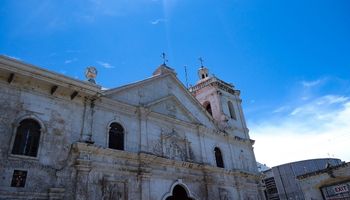 The Basilica Del Sto. Nino is the oldest Roman Catholic church in the Philippines. It is home to the original and oldest religious relic in the Philippines in honor of the Holy Child Jesus.
Magellan's Cross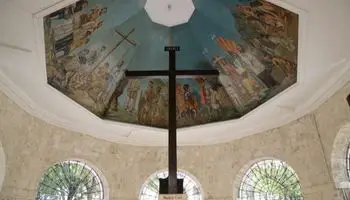 Magellan's Cross is a large wooden Christian cross commemorating the landing of Portuguese explorer Ferdinand Magellan on Cebu Island over 500 years ago. The ceiling is painted with a scene depicting Magellan's landing in Cebu in 1521 and the placement of the original cross on the shore. This is where Fr. Pedro Valderama baptized the first Christian Filipinos, Rajah Humabon and Queen Juana, as well as about 400 others. Magellan placed a cross in Cebu to commemorate an important event in the spread of the Roman Catholic faith.
Fort San Pedro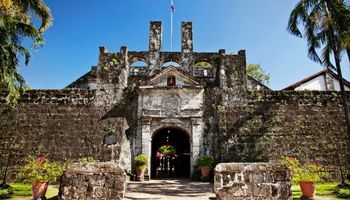 Fort San Pedro, the Philippines' oldest and smallest fort, is said to be the country's oldest and smallest fort. It is located in the city's pier district, in what is today known as Plaza Independencia.
Taoist Temple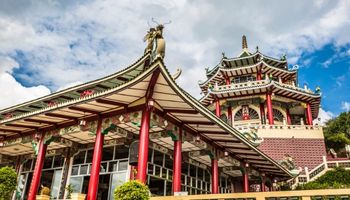 Cebu Taoist Temple was built by Cebu City's Chinese community in 1972. It is the center of the Taoist religion in Cebu. This temple perched 300 meters above sea level on the crest of a hill, offers a spectacular view of Cebu's cityscape.
Casa Gorordo Museum
Casa Gorordo is located in Cebu's ancient Parian area, the Philippines' oldest city. It is a historic site with a huge collection of artifacts and information on Cebu's history from the Spanish invasion to the late 1990s. Alejandro Reynes y Rosales previously owned the Gorordo House, which was erected in the 1850s. Isidro Gorordo, a trader from the Basque province of Vizcaya in Spain, purchased it.
Cebu Ocean Park
Cebu Ocean Park is the only marine-themed park in the city and the first in the Visayas and Mindanao. It is currently the Philippines' largest ocean park, three times larger than Manila Ocean Park. This 7-meter-deep oceanarium features a 360-degree viewing tunnel and houses some of the world's most remarkable underwater wildlife.
Anjo World Theme Park
Anjo World is Cebu's first theme park, with over a dozen world-class rides and attractions. It is located in Barangay Calajoan in Minglanilla, Cebu.
Cebu Metropolitan Cathedral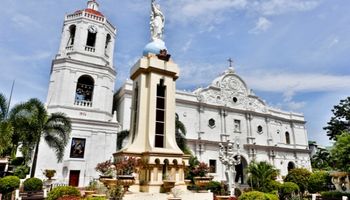 The Cebu Metropolitan Cathedral is a large Spanish colonial-style ecclesiastical edifice. This structure was constructed between the 17th and 20th centuries. It is located on Manila's oldest street,  Colon Street is a street. Cebu Metropolitan Cathedral is ecclesiastical the seat of the Cebu Metropolitan Archdiocese.
Colon Street
Colon Street, also known as Parian, is the Philippines' oldest street. It was constructed by Spaniards who landed in Cebu with Miguel Lopez de Legazpi's fleet in 1565.  Cristobal Colon  (Christopher Columbus) was the inspiration for the name. In Cebu City's downtown region, Colon Street is presently a very busy and crowded thoroughfare.
Crocolandia
Crocolandia is located in Biasong, Talisay City, roughly an hour away from Cebu City. The park is home to birds, lizards, snakes, and crocodiles. The park also has a museum, a library, gardens, and fish ponds. The Philippine crocodile and the sailfin lizard are among the endangered species raised at the park. The park's most renowned inhabitant is Lapu-Lapu, an estuarine crocodile. Other animals include civets, rufous hornbills, ostriches, monitor lizards, myna, iguanas, squirrels, turtles, peacocks, deer, and a Visayan warty pig. 
Yap-Sandiego Ancestral House
The Yap Sandiego Ancestral House is a museum dedicated to the Chinese settlements in the city. It is one of the country's oldest private houses, dating back to 1680, and constructed of wood and coral stone with Spanish and Chinese architectural elements. There are antiquities, exquisite furniture, and religious art.
Ayala Center Cebu
Ayala Center Cebu is a big shopping mall in Cebu City owned by Ayala Malls. It is located in the Cebu Business Park. It first opened its doors in November 1994. It is conveniently positioned in the heart of Cebu's busy commercial sector, just steps away from some of the city's best hotels.
Temple of Leah
A marble-and-brass structure in Busay, Cebu City, rests on a one-hectare plot. The Temple of Leah was created as a memorial to the owner's late wife and is a symbol of unending love. The shrine, which is owned by a wealthy Cebuano family, is a loving memorial to Teodorico Soriano Adarna's late wife and companion of 54 years, Leah Albino-Adarna. As Teodorico promised her before she died, the shrine will house Leah's belongings and treasures accumulated during her travels. He pledged to keep all of her belongings together under one roof.
Tops Lookout
Tops Lookout is a popular mountain observation point with casual dining options and panoramic city views. It takes around 30 minutes to drive up a mountain route from Cebu City. The Tops Lookout is about 600 meters above Cebu, providing a spectacular view of the City.
Sirao Garden-Little Amsterdam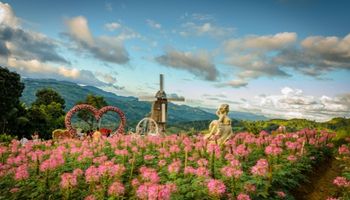 Sirao Garden, in Busay, Cebu, is a miniature version of Amsterdam. It is an 8,000-square-meter plot of hillside property owned by Alfredo and Elena Sy-Chua, who have been growing celosia flowers for a long time, harvesting them in time for All Souls' Day and Sinulog. 
Mountain View Nature Park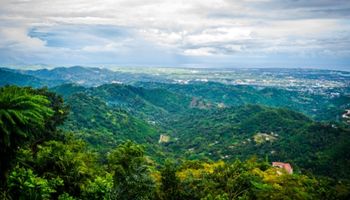 Mountain View Nature's Park is located in the heart of Busay Cebu. It's accessible to surrounding hotels and other Busay recreational sites. Mountain View is a romantic spot that is serene and calming. The resort provides rooms, cabins, a swimming pool, and a multifunctional facility.
Neri's Ville Selfie Corner
Neri's Ville Selfie Corner is located in Sitio Bombil, Barangay Lusaran, Cebu City. It is located away from the city center, but that does not deter visitors from visiting because they may take some fantastic photographs. The location is truly magical, making it ideal for selfies.
The Pyramid
The Pyramid is a classy bistro at the Cebu IT Park. It is inspired by the renowned architectural style of the Louvre in France. It's a wine and dine establishment as well as a lifestyle destination that offers far more than just a varied menu of cuisines. At night, the restaurant's innovative lighting system transforms the structure into a stunning landmark.
Cebu Safari and Adventure Park is ideal for animal and nature enthusiasts. It takes roughly two hours to travel from Mactan Cebu International Airport. The park's 170 hectares are home to around a thousand animals from 120 distinct species. It is the largest zoo in the Philippines. There are lions, zebras, orangutans, and a variety of other animals to see. There are also flower and orchid gardens, as well as a bird show, and a variety of other attractions. Cebu Safari and Adventure Park also offer an outdoor pool, a jacuzzi tub, and complimentary WiFi in public areas.
The Best Nature Attractions in Cebu
Oslob Whale Sharks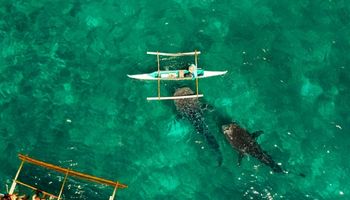 Oslob, Cebu is a small coastal town on Cebu's southernmost tip. It's a hive of activity, with a variety of tourist attractions to offer the hundreds of visitors who come to see it. It's most famous for being one of the best places in the world to swim with whale sharks. The Oslob, Cebu whale shark, also known as butanding or tuki, is the world's largest living species of fish. They can grow up to 15 meters long.
Bantayan Island White Sand Beaches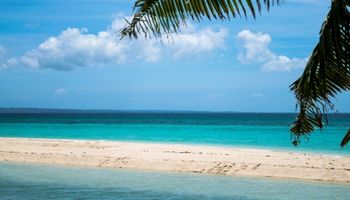 It is located on Cebu Island's northernmost tip. Bantayan Island is home to beautiful white-sand beaches, saltwater lagoons, mangrove boardwalks, cave pools, historic ruins, and eco-tourism spots where visitors may go sightseeing, swimming, cliff diving, island hopping, kayaking, and even skydiving.
Malapascua Island Thresher Sharks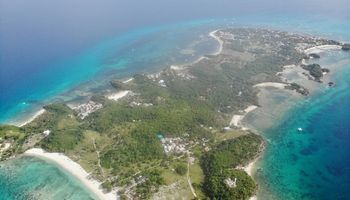 Malapascua Island is located on Cebu Island's northernmost tip. The underwater attractions are well-known. Monad Shoal is famous in Malapascua for its daily sightings of thresher sharks. The Pygmy Seahorses and other lovely creatures make the seas of Malapascua a diver's paradise. The underwater environment of Malapascua Island is alive with stunning corals and rock formations, making it excellent for divers, underwater photographers, and anybody curious about life under the sea. In addition, Malapascua has multiple beaches with powdery white sand that rival the best beaches in Cebu.
Kawasan Falls in Badian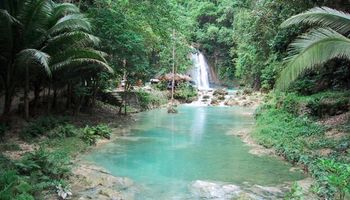 Kawasan Falls, located in Barangay Matutinao in the municipality of Badian, Cebu, is one of the most popular waterfalls in the Philippines. Kawasan Falls is well-known for its stunning turquoise water. It is a layered waterfall system with two main waterfalls with deep natural pools that are perfect for swimming. The cascade has two levels, the first of which is around 40 meters high and the second of which is approximately 20 meters high.
Sardine Run in Moalboal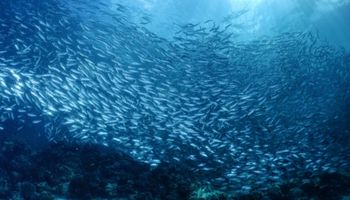 Moalboal is a small town on Cebu Island's south coast, around 90 kilometers south of Cebu City. The Sardines Run, a thriving coral habitat, and the opportunity to swim with whale sharks are all reasons to visit Moalboal. The Moalboal Marine Sanctuary, Compton Point, Tongo Point, and Talisay Wall are all excellent diving spots in Moalboal. 
Marine Flora and Fauna Species on Sumilon Island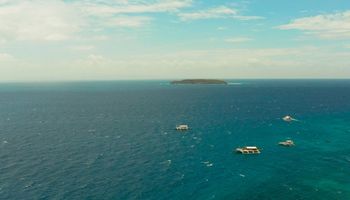 The island of Sumilon is located off the coast of the municipality of Oslob to the southeast. Sumilon Island, dubbed the country's first marine reserve, is home to hundreds of marine flora and fauna species, ensuring a genuinely unique diving experience. Sumilon Island's white sandbar is known for changing and shifting patterns depending on the season. Fishing, snorkeling, kayaking, mountain biking, and shark feeding are some of the activities available.
Aguinid Falls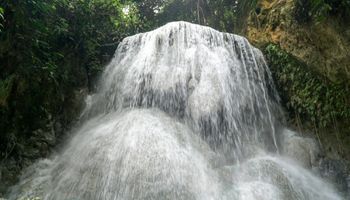 It is located beside the Tangbo River, which has a high calcium content, making the water turquoise and pleasant. The first five levels of Aguinid Falls are open to the general public. The entire route will require one to climb cliffs, rocks, and boulders, as well as upstream river trekking and rappelling. The fifth level of Aguinid Falls is the most spectacular, with a 25-meter-high wall of mushroom-like rock formations and a shallow turquoise-colored natural lake.
Tumalog Falls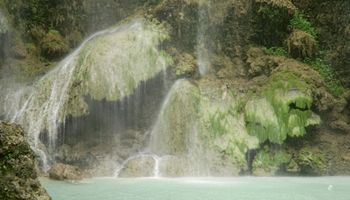 Tumalog Falls stands out among the Oslob waterfalls because of its massive size. It stands around 100 meters tall. When the water descends from the top, it collides with a number of jutting rock formations, resulting in a series of spectacular water cascades. Surrounded by thick jungle flora and sheer limestone cliffs, the waterfall is a sight to behold.
Where to Stay in Cebu
Top Things To Know About Cebu
Cebu is the home of the first Filipino hero, Lapu-Lapu.
Cebu is where Ferdinand Magellan set foot for the first time on Philippine soil.
Cebu is famous for its lechon, or roasted pig.
Malapascua Island in Cebu is the only place on the planet where you can dive with Thresher Sharks.
The oldest street in the country, Colon, can be found in Cebu City. In 1565, the Spaniards arrived in Cebu and founded the well-known Cebu street Colon. The street is named after the Italian explorer Christopher Columbus, also known in Spanish as Cristóbal Colón.
Cebu is home to the country's oldest Christian relic. Ferdinand Magellan presented the image of Santo Nino to Rajah Humabon and Queen Juana sometime in 1521.
Fort San Pedro in Cebu is the Philippines' smallest Spanish outpost.
Cebu City is the oldest Spanish city in the Philippines. The Spanish established their first capital here before moving to Manila.
Cebu is home to the oldest school in the Philippines and Asia. The University of San Carlos, formerly known as the Colegio de San Ildefonso, was founded in 1595 by Spanish Jesuits.
Tourists can swim with whale sharks in Oslob, Cebu.
Flights to Cebu
Travel Essentials & Deals!
Any tourist who decides to visit Cebu should be aware of the essential items and deals for a memorable trip.
Finally, Cebu is a treasure trove of breathtaking tourist attractions that offer a glimpse of the island's rich culture and natural beauty. Cebu is a must-see destination with breathtaking beaches, astonishing historical landmarks, and delectable cuisine. From the crystal-clear waters of Moalboal to the fascinating Magellan's Cross, Cebu's beauty is truly captivating. So, come discover Cebu's breathtaking tourist attractions and create memories to last a lifetime.
---
Hotels in Cebu City: Hotels in the center
Hotel
Stars
Discount
Price before and discount
Select dates
Hamersons Hotel

★★★

-11%

57 936

51 757
View hotel
Harolds Evotel Cebu

★★★★

-28%

4 875

3 515
View hotel
Golden Prince Hotel & Suites

★★★

-7%

75 339

70 237
View hotel
Hotel Elizabeth Cebu

★★★★

-59%

8 503

3 458
View hotel
Red Planet Cebu

★★★

-16%

5 499

4 592
View hotel
Quest Hotel & Conference Center - Cebu

★★★

-26%

4 932

3 685
View hotel
Cebu Parklane International Hotel

★★★

-8%

100 452

92 346
View hotel
Seda Ayala Center Cebu

★★★★★

-11%

6 463

5 782
View hotel
Waterfront Cebu City Hotel & Casino

★★★★

-25%

4 648

3 515
View hotel
Mezzo Hotel

★★★★

-17%

4 252

3 515
View hotel
RELATED POSTS
Indulge yourself to a luxurious staycation. Choose from one of the 10 most highly ranked 5 star hotels in Cebu.

---