Get ready to immerse yourself in the wonders of the sea at Manila Ocean Park, the premier marine-themed park in the Philippines. Whether you're looking to explore diverse aquatic life, experience thrilling activities, or indulge in mouth-watering cuisine, Manila Ocean Park has something for everyone. In this guide, we'll provide you with all the essential information you need to know about the Manila Ocean Park entrance fee, including the different packages available and what they offer.
We'll also take a closer look at the exciting attractions and shows that await you inside the park, and share some insider tips to help you make the most of your visit. So, let's dive in and discover all you need to know about Manila Ocean Park!
Brief Overview of Manila Ocean Park
Spend an exciting day discovering the wonders of the sea at Manila Ocean Park! The Manila Ocean Park is a thrilling way to discover the wonders of the sea.
Manila Ocean Park is an aquatic adventure that immerses visitors in the ocean's wonders. The park has a tank with sharks and rays, a tunnel with exotic fish, and a large aquarium with marine life from all over the world.
Since opening as the first marine-themed park in the Philippines, Manila Ocean Park has grown steadily into an exceptional place where business, play, and leisure coexist. A big entertainment destination with a timeless landmark status, a unique personality, and a growing range of activities are what you want to become.
You can expect a wide range of exciting, seductive, and informative experiences, such as fascinating marine life exhibitions, exciting food and leisure hotspots, unique conference and event venues, and mind-blowing multi-sensory wonders. The list of incredible activities at Manila Ocean Park will soon be enhanced by daring encounters, pleasant rides, and the best nightclubs as the park grows. 
All You Need To Know Before Visiting Manila Ocean Park
Manila Ocean Park Entrance Fee
from ₱680
Tickets are valid for one-time entry only.
For example, once you enter and exit the Oceanarium, you won't be able to enter the Oceanarium again using the same ticket. We advise all our guests to take their time and enjoy the attractions while they are inside.
Opening Hours
10 am to 6 pm Tuesday to Sunday and Public Holidays
Contacts
Location
Manila Ocean Park is at the back of the Quirino Grandstand stage, Luneta, Ermita, Manila.
Pets
Pets are not allowed in the park or the hotel due to the requirement for Manila Ocean Park's animals to abide by health quarantine requirements and to prevent cross infections.
Parking
Location:
South Parking (near Harbor View)
North Parking (near Manila Hotel)
Rates:
For Car/SUV
First three hours – P50.00
Succeeding hours or a fraction thereof – P30.00
For Motorcycle
6 am to 10 pm – P40.00 (flat-rate)
Succeeding hours or a fraction thereof – P40.00
Dining
Aqua Dining is open Fridays and Saturdays, 6:30 PM to 9:00 PM. Registration starts at 6:00 PM.
Rules and Regulations
Visitors must comply with certain rules when visiting Manila Ocean Park including dress code policy which prohibits wearing swimwear inside the premises except if one wants to participate in swimming activities at Liquid Pool & Lounge or if required for medical reasons. No food and drinks are allowed inside the facilities except for infants' bottled milk and water. Visitors are allowed to take photos within the premises but only for personal use and not for commercial purposes.
Main Attractions
The attractions that are currently accessible are the:
Oceanarium
The Oceanarium is home to 14,000 aquatic animals from 277 species, all indigenous to the Philippines and Southeast Asia. One of the largest and most diverse public aquariums in the entire world. Seven parts and 3,000 cubic meters of seawater make up the spectacular underwater exhibit known as the Oceanarium. The main attraction is a 220-degree curved walkway tunnel at the heart of a 55-meter journey into the Oceanarium with a spectacular underwater view of unique sea creatures swimming overhead. The Oceanarium's water supply is filtered Manila Bay water. A specific method is carried out to ensure the seawater is appropriate for marine life.

Trails to Antarctica (Penguin Exhibit & Christmas Village)
The nation's first penguin park facility. The Penguin Quest brings you closer to the world's coldest and most enigmatic location by tracing its paths to Antarctica. Travel to find a world unlike any other. It has a walk-through exhibit where visitors can find out more about the icy continent, a penguin display with real Humboldt penguins, and a Christmas village. All of these are contained in a fun family adventure zone.

Super Toy Collection
With the incredibly entertaining, beautiful, and interactive Super Zones, you may realize your dreams of becoming a superhero. Explore the Philippines' greatest assortment of toys featuring superheroes from your youth. The Supertoy Collection is perfect for kids and kids at heart.

Jellies Dancing Sea Fairies
Some of the most exquisite marine life includes jellyfish. They delicately float below and on the surface, earning them the nickname "dancing sea fairies." The Jellies Exhibit features a wide variety of species together with an intriguing presentation of multi-media elements and mesmerizing music. Learn more about these aquatic wonders that are translucent and have existed for millions of years.

World of Creepy Crawlies
Learn more about the significance of frequently disregarded critters and get informed on the scope of creepy crawlies, an umbrella term for insects, worms, spiders, bugs, and frogs. You'll be astounded at the superpowers creepy crawlies possess and have evolved, all for the purpose of survival, despite the fact that they are sometimes misunderstood and feared.

Sea Lion Show
Get to know the cute South American sea lions as they provide important knowledge on environmental preservation. The concert has up to 1,900 seats and runs four to six times daily. It is also a terrific performance for everyone, showcasing their specific talents and distinguishing qualities as well as an opportunity to kiss them for a keepsake photo.

All-Star Bird Show
Our wonderful feathery buddies perform great skills, amazing stunts, guest involvement, and an essential environmental message for their audience. These sophisticated birds comprise macaws, cockatoos, and eagles, delivering outstanding showmanship and high-flying thrills.
Educational Programs and Conservation Efforts
Marine Life Discovery Tour
One of the highlights of visiting Manila Ocean Park is the opportunity to join the Marine Life Discovery Tour, a guided excursion that allows visitors to delve into the fascinating world of marine species. Led by knowledgeable guides, these tours offer a unique educational experience for both children and adults alike.
Participants can learn about different marine species, their habitats, and their conservation needs. The tour begins with an informative briefing where visitors are introduced to the various marine ecosystems that exist within Manila Ocean Park.
From coral reefs to seagrass beds and mangrove forests, these diverse environments are discussed in detail, providing insights into their importance for marine life. Visitors are encouraged to ask questions and engage with the guides throughout the tour.
As visitors journey through each section of the park, they encounter interactive exhibits that allow them to get up-close with marine creatures. These exhibits feature feeding sessions where visitors can witness firsthand how certain species feed and interact with their environment.
Moreover, participants have the chance to touch some of these animals under supervision, creating a memorable experience that fosters appreciation for aquatic life. Throughout the Marine Life Discovery Tour, guides provide valuable information about specific species encountered along the way.
They discuss interesting facts about their biology and behavior while shedding light on conservation efforts being undertaken in order to protect these fragile ecosystems. By combining entertainment with education, this tour aims not only to captivate visitors but also raise awareness about the importance of preserving marine biodiversity.
Seal Lion Show
For those seeking entertainment intertwined with education at Manila Ocean Park, attending a Seal Lion Show is an absolute must. These charismatic creatures steal hearts as they showcase their incredible abilities through playful performances led by experienced trainers who emphasize conservation messages during each presentation. During the show, trainers provide insights into seal lion behavior patterns and how they adapt in their natural habitats.
Visitors learn about their diet, communication methods, and the stunning acrobatic skills they possess. Moreover, information regarding their conservation status is shared to highlight the need for efforts in protecting these lovable creatures.
The Seal Lion Show involves an array of tricks and stunts that both entertain and educate spectators. From flips to jumps and synchronized movements, the performances demonstrate the remarkable intelligence and agility of these creatures.
Through captivating displays, visitors gain a deeper understanding of the natural abilities of seal lions and how they contribute to marine ecosystems in the wild. By incorporating conservation messages throughout the show, Manila Ocean Park aims to inspire visitors to become more conscious about protecting marine life.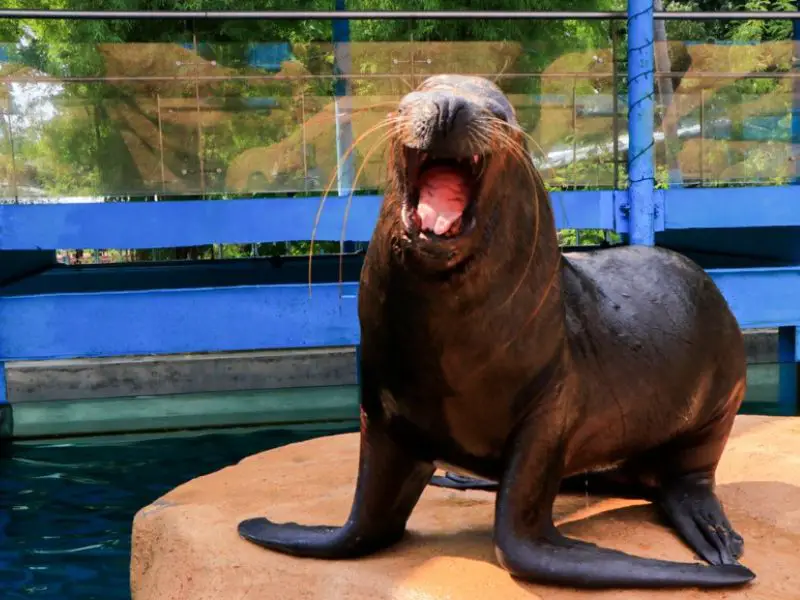 The trainers emphasize the importance of reducing plastic waste, supporting sustainable fishing practices, and conserving natural habitats as vital components in ensuring the survival of species like seal lions. Educational programs like Marine Life Discovery Tours provide an enriched experience at Manila Ocean Park by allowing visitors to gain knowledge about different species while interacting with them in a controlled environment.
Similarly, attending a Seal Lion Show not only entertains but also educates guests on seal lion behavior patterns and conservation efforts. These initiatives play a crucial role in raising awareness among individuals who can then contribute towards marine conservation efforts in their own daily lives.
Special Experiences for Visitors
Fish Spa
Imagine a one-of-a-kind spa experience where you dip your feet into a shallow pool only to be greeted by tiny, tickling sensations as little fish gently nibble away at your skin. At Manila Ocean Park, visitors can indulge in this unique treatment known as the Fish Spa. This innovative practice, also called ichthyotherapy, involves the use of Garra Rufa fish (also known as "doctor fish") that have a natural affinity for dead skin cells.
While it may sound peculiar, there are actually several benefits to this unusual spa therapy. The act of these small fish nibbling on the feet creates a gentle exfoliation process that helps remove dead skin cells, leaving behind smoother and softer skin.
It stimulates blood circulation in the feet and enhances relaxation by triggering the release of endorphins. Additionally, some proponents of this therapy believe that it may even help with certain foot conditions like calluses or dry skin.
Glass Bottom Boat Ride
For those seeking an exhilarating adventure, Manila Ocean Park offers an extraordinary opportunity to observe underwater life without getting wet – the Glass Bottom Boat Ride. Step aboard one of these specially designed boats with transparent bottoms and get ready for an awe-inspiring journey into the depths of marine wonders.
As you glide across crystal-clear waters, you will marvel at vibrant coral reefs teeming with colorful tropical fish darting between intricate formations. The glass bottom provides an unobstructed view of nature's aquatic masterpiece below while keeping passengers completely dry above water.
Trained guides accompany each boat tour, providing insightful commentary about the various marine species encountered during your expedition. It is truly an educational and immersive experience that allows visitors to develop a deeper appreciation for the fascinating world beneath the waves.
Manila Ocean Park Mega Online Sale
Choose from a variety of unique attraction passes that provide access to Manila Ocean Park's best-selling attractions.
Explore the park's many popular attractions and take part in a variety of interactive animal shows.
Tips for a Better Experience at Manila Ocean Park
To maximize your visit, it's best to come early in the morning when there are fewer crowds. It's also advisable to wear comfortable clothes and shoes since the park has a considerable area of exploration. Bring water bottles, sunscreen, and hats especially during warm weather since most attractions are outdoors.
To get the most out of your visit, check out show schedules as some shows only happen at specific times of day or days in a week. Manila Ocean Park offers an exciting adventure featuring various types of marine species and entertaining performances with their Sea Lion Show & Symphony Evening Show.
It is essential to know how to get there, operating hours, rules & regulations before visiting. Follow these tips to make your trip worthwhile; Manila Ocean Park is a perfect destination for families looking for adventure or anyone who wants to experience something new in Manila!
Conclusion:
Manila Ocean Park is a must-visit destination in the Philippines that offers a unique experience to visitors of all ages. The park boasts a variety of attractions, including the Oceanarium, Sea Lion Show, and Symphony Evening Show.
Knowing the entrance fee and other important details before visiting can help you plan your visit accordingly and make the most out of your time there. It is essential to note that each attraction comes with different admission fees, so be sure to check their website or contact them for updated information before planning your visit.
Additionally, it is recommended to arrive early or during weekdays to avoid long lines and crowds. By knowing all about Manila Ocean Park's rules and regulations beforehand such as dress codes, food and drink policies, and photography rules you can have an enjoyable experience while following the guidelines.
So why wait? Plan your visit today and witness firsthand the beauty of marine life at Manila Ocean Park!
---
Hotels in Manila: Hotels in the center
Hotel
Stars
Discount
Price before and discount
Select dates
Manila Grand Opera Hotel

★★★★

-7%

4 369

4 086
View hotel
Winford Manila Resort and Casino

★★★★★

-23%

13 846

10 725
View hotel
The Manila Hotel

★★★★★

-23%

5 902

4 540
View hotel
Go Hotels Otis - Manila - Multiple-Use Hotel

★★★

-19%

6 185

5 050
View hotel
Bayview Park Hotel Manila

★★★

-6%

21 563

20 372
View hotel
Manila Lotus Hotel - Multiple Use Hotel

★★★

-8%

34 161

31 437
View hotel
Eurotel Pedro Gil

★★★

-19%

13 278

10 838
View hotel
Leez Inn

★★★

-32%

11 463

7 831
View hotel
New Coast Hotel Manila (formerly New World Manila Bay Hotel)

★★★★★

-19%

5 675

4 540
View hotel
Sheraton Manila Bay

★★★★★

-19%

77 685

63 328
View hotel
Related Posts
Intramuros is the ancient heart of Manila, a walled city that showcases the rich history and Spanish architecture of Old Manila. Built by the Spaniards as their political and military…

---