Introduction
Intramuros, located in the heart of Manila, Philippines, is more than just a walled city; it is a symbol of the country's rich historical and cultural heritage. Steeped in Spanish colonial history, Intramuros boasts cobblestone streets, well-preserved architecture, and fascinating landmarks that transport visitors back in time. As one explores this enchanting enclave, they will find themselves immersed in a world where the past seamlessly intertwines with the present.
Brief overview of Intramuros as a historical and cultural landmark
Originally built by the Spanish colonizers in 1571, Intramuros served as the political, religious, and economic center during their rule over the Philippines. Enclosed within massive stone walls that stretch for 4.5 kilometers, this fortified city offers an intriguing glimpse into Manila's colonial past. Within these walls lie centuries-old structures such as Fort Santiago – a once formidable defense fortress turned national shrine – and San Agustin Church – a UNESCO World Heritage Site dating back to the 16th century.
As visitors navigate through Intramuros' narrow streets lined with bougainvillea-adorned walls and ancient trees that whisper stories from generations past, they cannot help but be mesmerized by its architectural marvels. From elegant ancestral homes like Casa Manila to grand cathedrals such as Manila Cathedral (or La Cathedral Cafe) — each building tells a tale of resilience and beauty.
Teaser on the gastronomic delights that await visitors in Intramuros
Beyond its historical significance lies another captivating aspect of Intramuros: its burgeoning food scene. Nestled within these historic walls are an array of restaurants that offer culinary delights to tantalize any palate.
One such gem is Patio de Conchita – an intimate courtyard restaurant that specializes in Filipino comfort food with modern twists. Here, visitors can indulge in dishes like binagoongan crispy pata and kare-kare while enjoying the cozy ambiance created by lush greenery and nostalgic decor.
For those seeking a panoramic view of Manila's skyline alongside their meal, Sky Deck View Bar offers both delectable cuisine and breathtaking vistas. Savor a sumptuous array of international dishes in this rooftop restaurant whilst being mesmerized by the twinkling city lights below.
Cafe Ilang-Ilang, located within the historic Manila Hotel, is an ideal choice for those looking to embark on an epicurean journey. With its grand buffet spread featuring cuisines from around the world, it promises a truly unforgettable dining experience.
To truly immerse oneself in Intramuros' colonial charm while indulging in traditional Filipino fare, 9 Spoons at The Bayleaf Intramuros is a must-visit. Situated atop a restored heritage hotel, guests can savor classic Filipino dishes such as sinigang na bagnet and lechon belly while enjoying sweeping views of the cityscape.
Intramuros indeed offers an enchanting fusion of history and gastronomy that is sure to captivate all who venture within its walls. Whether one chooses to dine at Belfry Café with its rustic charm or experience traditional Filipino cuisine at Ristorante Delle Mitre – known for its clerical lineage menu – Intramuros' restaurants promise to take visitors on an unforgettable culinary journey through time.
The Best Intramuros Restaurants for Unforgettable Dining
Barbara's Heritage Restaurant – Immerse Yourself in Filipino Culture through Food and Live Performances
If you're looking for not only exceptional food but also an immersive cultural experience, Barbara's Heritage Restaurant is an enchanting destination. Located within Intramuros' historic core, this restaurant exudes old-world charm while celebrating Philippine heritage through its extensive menu and live performances.
Their menu boasts an array of regional specialties that will tantalize your taste buds. Dive into kare-kare, a beloved Filipino dish featuring oxtail and tripe stewed in rich peanut sauce, paired with bagoong (shrimp paste) on the side.
For a tangy delight, try their sinigang, a sour soup with your choice of meat or seafood cooked in tamarind broth along with an assortment of vegetables. Crispy pata is another showstopper – deep-fried pork knuckles with irresistibly crunchy skin and tender meat inside.
As you savor these delectable dishes, be prepared to be entertained by live performances that showcase Philippine folklore through traditional dances. The rhythmic movements and vibrant costumes will transport you to a world of cultural richness while you enjoy your meal.
Ilustrado – Indulge in Elegant Fine Dining with a Modern Twist on Filipino Cuisine
When it comes to elegant fine dining within the walls of Intramuros, Ilustrado stands out as an exquisite destination. This restaurant offers refined dishes that embrace Filipino cuisine with a contemporary twist, elevating traditional flavors to new heights. Their innovative menu features tantalizing creations that marry classic Filipino ingredients and modern culinary techniques.
One must-try dish is their tinapa rolls with kesong puti mousse – smoked fish wrapped in delicate rice paper accompanied by creamy white cheese mousse made from local carabao's milk. The combination of smoky flavors and creamy textures will leave your taste buds craving for more.
For those seeking a delightful main course experience, Ilustrado's mango-glazed pork belly is sure to impress. This succulent piece of pork is glazed with a sweet yet tangy mango sauce that perfectly complements the richness of the meat.
Each bite will take you on a journey through layers of flavors. To complete your dining experience at Ilustrado, explore their curated wine list.
Each dish has been carefully paired with a selection of wines that enhance the flavors and elevate the overall dining experience. The knowledgeable staff is always ready to guide you through the perfect pairing, ensuring a truly memorable meal.
A Culinary Pilgrimage to Ristorante Delle Mitre
Nestled within the historic walls of Intramuros, Ristorante Delle Mitre offers a unique dining experience that combines sublime flavors with ecclesiastical aesthetics. This hidden gem is located within the compound of the Manila Cathedral, making it an ideal spot for those seeking a tranquil ambiance while enjoying delectable dishes.
Indulge in their sumptuous selection of Filipino and international cuisine, with standout dishes like binakol (chicken soup cooked in coconut water) and callos (stewed ox tripe). The restaurant's charming interior, adorned with religious artifacts and stained glass windows, adds to its enchanting atmosphere.
9 Spoons: A Rooftop Culinary Oasis
For panoramic views of Intramuros' stunning skyline combined with exceptional dining, 9 Spoons is a must-visit. Perched atop The Bayleaf Hotel, this rooftop restaurant offers an unmatched culinary experience.
Enjoy a fusion of Filipino and international flavors as you relish dishes like Vigan longganisa pasta and lechon kawali sisig. With its cozy yet modern ambiance accentuated by warm lighting and contemporary décor, 9 Spoons provides an elevated setting for unforgettable dining moments.
Cafe Ilang-Ilang: A Feast for the Senses
Located in the historic Manila Hotel just outside the walls of Intramuros lies Cafe Ilang-Ilang-a true haven for food enthusiasts seeking a luxurious buffet experience. From fresh seafood delicacies to succulent prime cuts of meat prepared by skilled chefs right before your eyes at live cooking stations, this gastronomic paradise leaves no taste bud unsatisfied.
Revel in the elegant interior adorned with chandeliers and plush seating, while being serenaded by live music as you savor a wide range of international and local cuisines. Make sure to leave room for their delectable dessert spread, featuring classics like leche flan and halo-halo.
Patio de Conchita: A Charming Garden Hideaway
Escape the bustling streets of Intramuros and step into the serene oasis of Patio de Conchita. Tucked away in a quaint courtyard, this hidden gem offers an intimate dining experience amidst cozy seating.
Feast on traditional Filipino fare like kare-kareng bagnet (crispy pork belly in peanut sauce) and chicken binakol while immersing yourself in the tranquil ambiance. The restaurant's rustic charm and attentive service elevate the overall experience, making it a beloved spot for food enthusiasts seeking an escape from the ordinary.
La Cathedral Cafe: A Blend of Culture and Cuisine
Discover La Cathedral Cafe—a charming establishment nestled within the grounds of San Agustin Church, a UNESCO World Heritage site. This café seamlessly combines the beauty of Intramuros' historical architecture with delectable treats for both the palate and eyes. Savor their selection of specialty coffee brewed from locally sourced beans, paired with indulgent desserts like bibingka cheesecake or suman latik tiramisu.
The café's picturesque setting inside a Spanish-era garden patio adds to its allure, providing visitors with a momentary respite amidst their exploration of Intramuros' cultural wonders.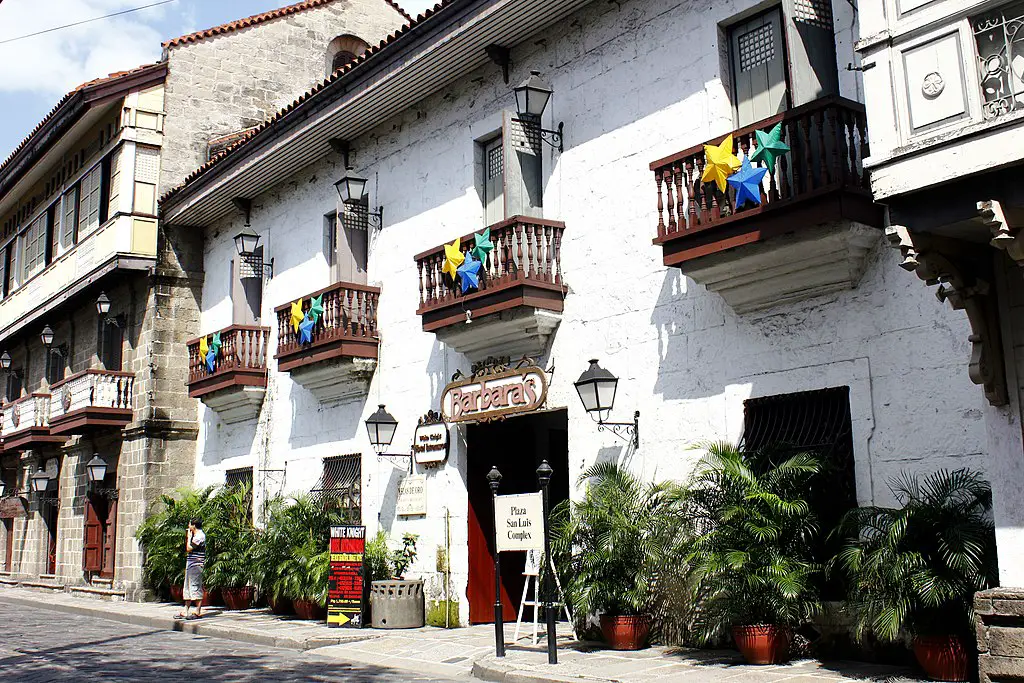 Conclusion
Intramuros is not only a magnificent historical treasure trove but also an exceptional culinary destination that caters to all palates. From hidden gems like Ristorante Delle Mitre offering exquisite dishes within ecclesiastical surroundings to rooftop delight 9 Spoons serving up breathtaking views alongside flavorful cuisine, each restaurant in Intramuros showcases the rich gastronomic heritage of the Philippines. Whether you opt for the elegant ambience of Ilustrado, the buffet indulgence at Cafe Ilang-Ilang, or the tranquil garden setting of Patio de Conchita, every dining experience is elevated by its unique charm.
As you revel in delightful flavors and immerse yourself in fascinating narratives, Intramuros becomes an even more enchanting place to explore. Embark on this journey through historic walls and tantalizing dishes, leaving with a satisfied heart and a deeper appreciation for both history and culinary arts.