Experience an underwater adventure like no other in Cebu Ocean Park. Get to know its entrance fee, attractions, and other essential information. Come and explore the largest aquarium in the Philippines and get ready for a day of exploration and discovery.
CEBU OCEAN PARK ENTRANCE FEE
Weekdays | Adults: ₱600, Kids: ₱549
Weekends | Adults: ₱800, Kids: ₱649
Children below 2 feet are free of charge.
Senior citizens and PWDs are entitled to a 20% discount on the regular non-promo rates. 
Parking is available on the premises for ₱800​ for the first 3 hours, with an additional P10 for the succeeding hours.
It's cheaper when you book online!
Cebu Ocean Park Opening Hours
Open Everyday 10 am to 6 pm
About Cebu Ocean Park
Cebu Ocean Park is Cebu's first and only marine-themed park, with a diverse array of sea creatures! This massive aquarium is home to hundreds of marine creatures of various species.
Cebu Ocean Park is the Philippines' largest oceanarium. Its goal is to provide a unique marine-life experience to visitors and the community to achieve the dream of educating, conserving, and inspiring.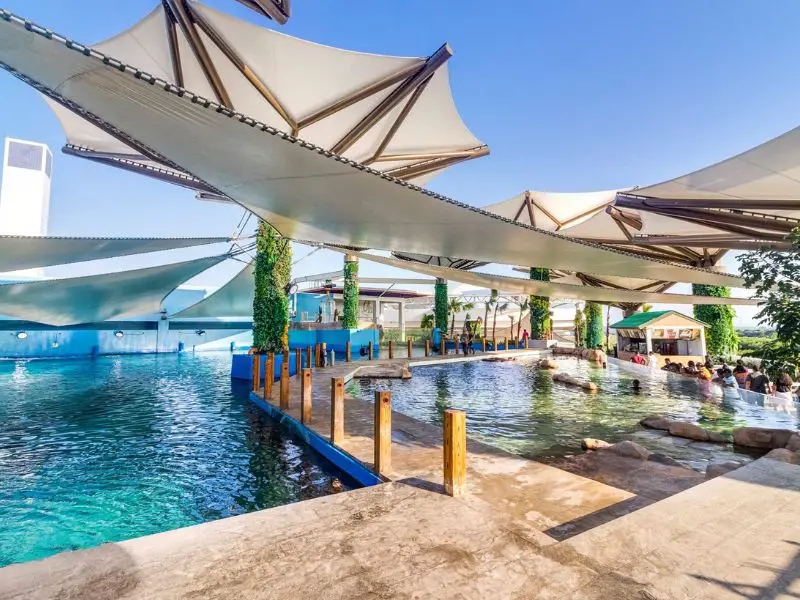 Cebu Ocean Park is Cebu's first and only marine-themed park, with a diverse array of sea creatures!
This massive aquarium is home to hundreds of marine creatures of various species. As you walk through its vibrant halls, you'll come across numerous tanks filled with specimens ranging from manta rays to schools of colorful reef fish. The SEA Trek allows you to walk alongside sea life in a tank, dive with a 14-foot saltwater crocodile, and fulfill your childhood dream of briefly becoming a mermaid!
Group Visits
Visiting Cebu Ocean Park with your family, coworkers, friends from school, church, sports, or any other group is an excellent way to make long-lasting memories. Allow your team to have a fun and educational day filled with interesting attractions and encounters.
If you come with a group of 100 or more people, you will receive special group rates and exclusive deals. Learn more…
Field Trips for Students
Students will enjoy visiting various attractions that showcase the Philippines and other parts of the world's rich biodiversity. Visitors can learn about marine life, the world of reptiles and insects, see birds of prey fly, discover and be amazed by some species of jellyfish found in our waters, learn about intelligent sea lions, and get up close and personal with Humboldt penguins. Learn more…
Location of cebu ocean park
Cebu Ocean Park SM Seaside Complex Mambaling, Cebu City Cebu, 6000.
Cebu Ocean Park is located in the SM Seaside Complex, directly across from SM Seaside!
How to Get There
By SM MyBus
A free MyBus ride from/to BDO Fuente Osmena is available. Alternatively, you can take any MyBus from Mactan Airport, SM City Cebu, Talisay, Mandaue City, or Parkmall. Check out the routes and schedules right here or here…
By Private Car:
Navigate using Waze or Google Maps, or follow these driving directions:
Driving Directions:
Follow Airport-Departure Rd and Lapu-Lapu Airport Rd to M.L. Quezon National Highway
Head east on Lapu-Lapu Airport Rd/Terminal Bldg Access Rd
Turn left onto Airport-Departure Rd
Airport-Departure Rd turns left and becomes Airport Access Rd/Lapu-Lapu Airport Rd
Turn right onto Lapu-Lapu Airport Rd/Terminal Bldg Access Rd. Continue on M.L. Quezon National Highway. Drive from Mandaue Causeway/Ouano Ave, Sergio Osmeña Jr Blvd, and Cebu South Coastal Rd to Cebu City
Turn left onto M.L. Quezon National Highway
Turn right onto Basak-Marigondon Rd/Maximo V. Patalinghug Jr. Avenue
Continue onto Osmeña Bridge
Continue onto Mandaue-Mactan Rd
Continue onto A. C. Cortes Ave
Turn left onto Jose L.Briones/Mandaue Causeway/Ouano Ave
Turn right onto A.Soriano Ave/Mandaue Causeway/Ouano Ave
Continue onto Sergio Osmeña Jr Blvd
Keep left to continue on CSCR Tunnel
CSCR Tunnel turns slightly left and becomes Cebu South Coastal Rd
What to Expect
Cebu Ocean Park offers more than just sea creatures. There's more to it than that! Consider it a mini-zoo where you will also encounter animals that do not live in the water.
These are the main attractions:
1. Jungle trek
Begin your adventure at Jungle Trek! Discover the interconnectedness of inland waters such as rivers and lakes to the ocean ecosystem and be fascinated by the role of freshwater faunas in the habitat's life cycle.
2. Creepy Critters
Get up close and personal with some of the most misunderstood animals, such as venomous snakes, colorful dart frogs, and tiny insects. Learn more about these commonly feared animals, as well as their role and significance in the ecosystem.
3. Lorries Loft
Lory Loft is a walk-in flight aviary designed to resemble a massive bird's nest. This feeding tower reaches right into the heart of the aviary and offers a 360-degree view of the area. More than three species of brilliantly colored lories and lorikeets live in this soaring structure.
4. Seven Seas
Coral reefs are among the most diverse ecosystems on the planet, home to tens of thousands of marine species. Explore the Seven Seas to see the colorful world of the Philippines' reef-dwelling fishes!
5. Bird Show
Our feathered friends dazzle the audience with amazing tricks, incredible stunts, audience participation, and an important environmental message. These intelligent birds, which include macaws and cockatoos, put on an incredible show and provide high-flying thrills.
6. Main Tank Gallery
Learn about what lies beneath the waves! The main tank gallery is 7.2 meters deep and set against a dramatic backdrop of a sunken ship. Watch the sea creatures swim by from the bleachers.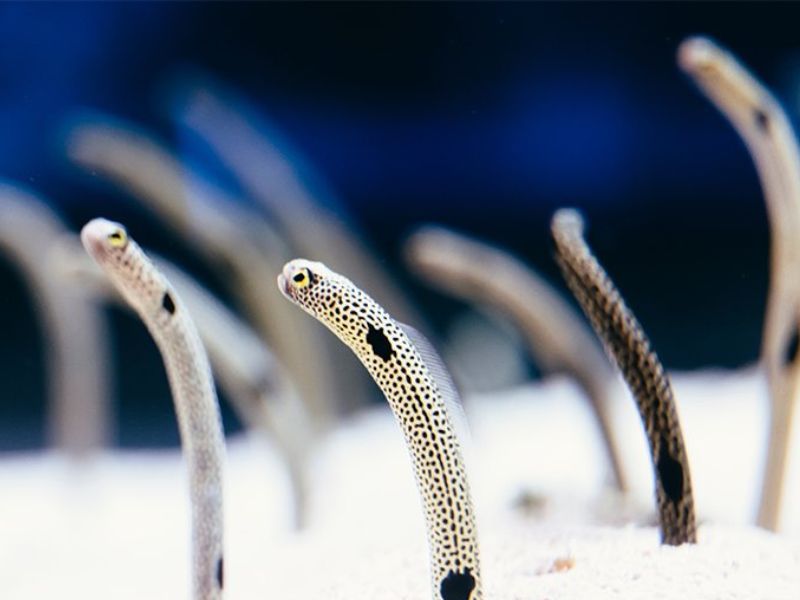 Attractions Map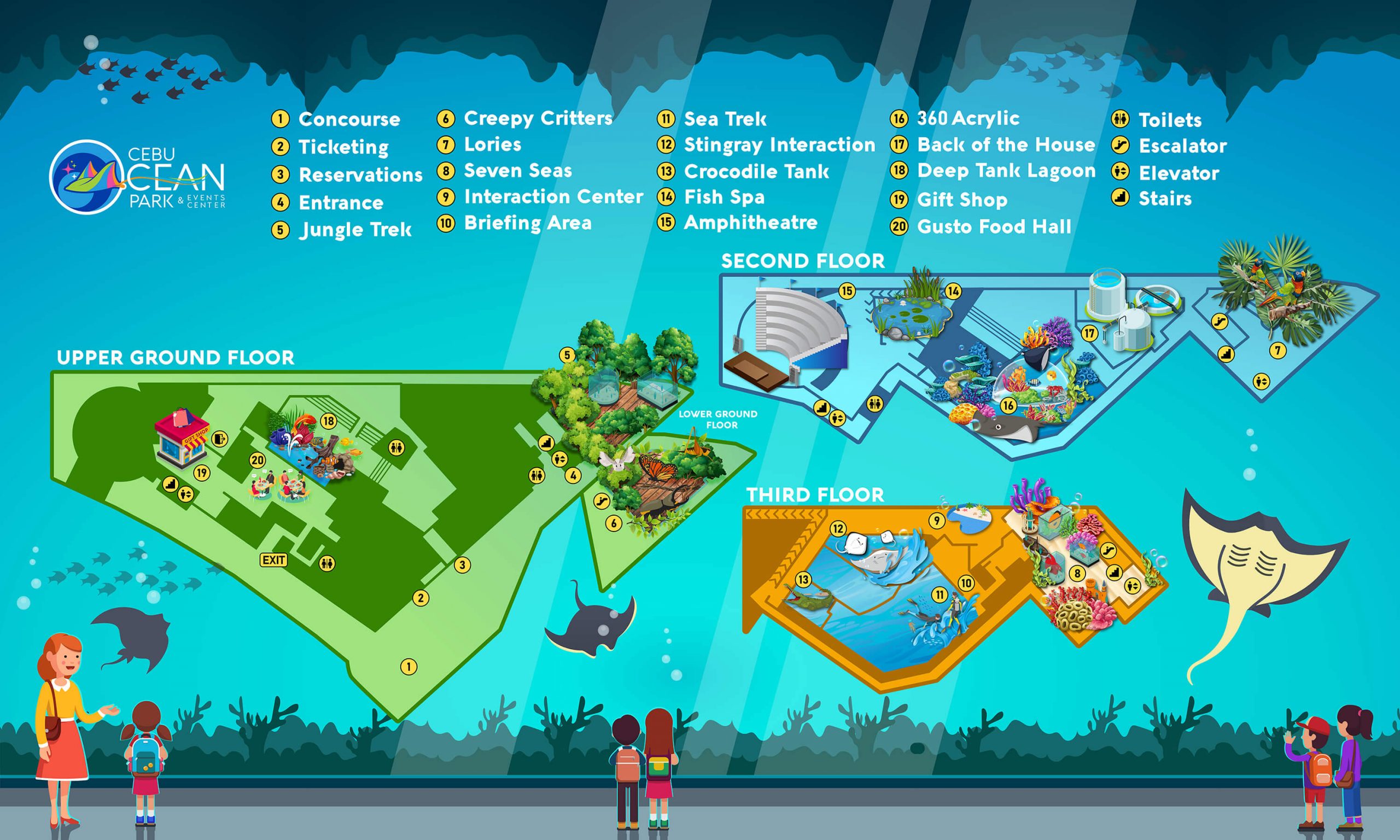 Featured Animals You Should Meet
Stone-fish
Lories & Lorikeets
Blacktip Reef Shark
Giant Grouper/
Eagle Ray
Sugar Gliders
Burmese Python
Red-bellied Pacu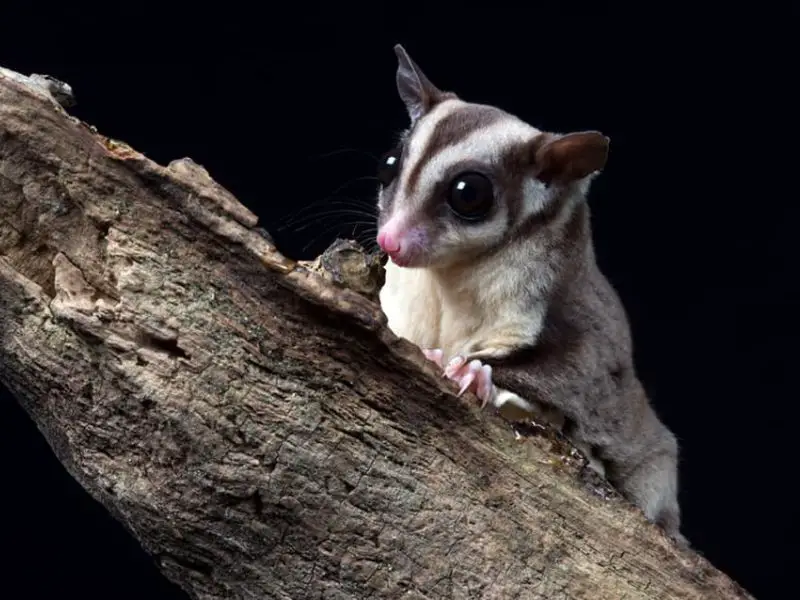 Events Schedule
Main Tank Gallery Feeding | 11 am and 2:30 pm
Bird Show, Meet & Greet | 1:30 pm, 3 pm, 4:30 pm
Dining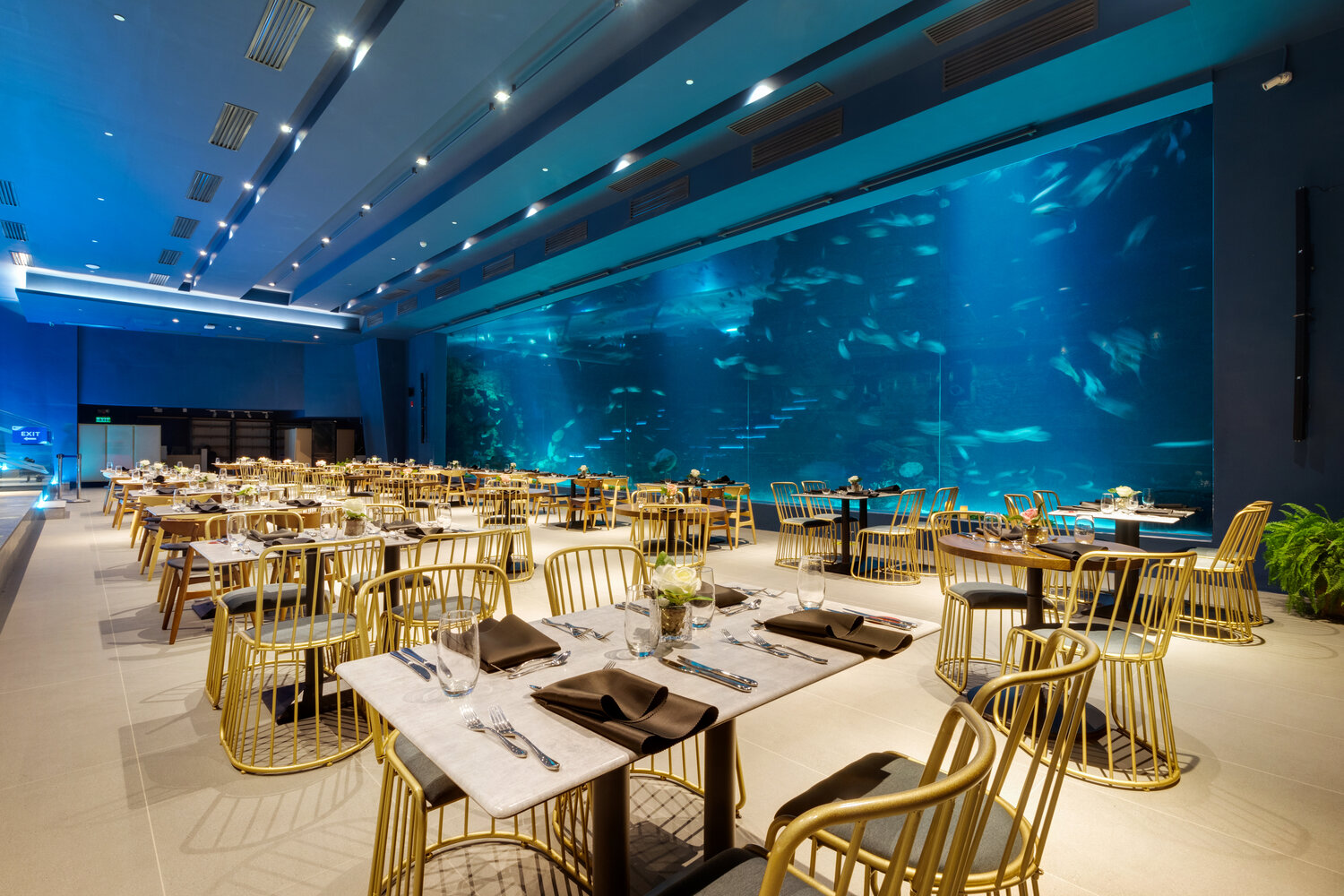 Cebu Ocean Park's Aqua Dining: A Magical Dining Experience Under the Sea. The only location in the Philippines where you can enjoy magical "Underwater Dining" in a safe environment. Aqua Dining combines delectable dining with an exclusive environment in an aquarium. Prepare yourself for a moving and beautiful gastronomical journey. Learn more…
Watch sharks, colorful reef fish, and rays while being enthralled by the magic of the big blue sea. World-class educational displays and interactive animal encounters will ensure that your visit is both enjoyable and educational. The entire family or barkada will enjoy admiring the biodiversity that makes up a large portion of the ocean.
FAQ'S ABOUT CEBU OCEAN PARK
This section was taken from the official website of Cebu Ocean Park. https://www.cebuoceanpark.com/faqs/
How long is the journey in Cebu Ocean Park?
The average time of visit in Cebu Ocean Park is 2/3 hours. This time could increase should you wish to stay and do some of our animal encounter programs
Can I touch & feed the animals?
The lorries are in a natural diet, please only feed them with nectar which is available at the Lorries booth.
Touchpool is located on the 3rd​ level. For the health & safety of the sea creatures in the pool, please ask for assistance before touching or handling them.
For all the other animals, we ask that our guests refrain from touching, handling, or feeding these delicate species.
What if I am already inside the park and wish to do other encounter programs?
There is an encounter reception inside the park where you can purchase an encounter program of your choice. Please note that the encounter programs are subject to availability, as there are limited sessions per day. We suggest to book in advance to avoid disappointment.
What are the preferred modes of payment?
Online – MC, Visa, AMEX, JCB
POS – MC, Visa, JCB, AMEX, UnionPay, Diners, WeChat and Alipay
Are tickets refundable?
Tickets sold are non-refundable even in cases of inclement weather. Rescheduling for animal encounters will be allowed if Cebu Ocean Park is not able to deliver the program.
Can I leave and re-enter the park?
Re-entry into Cebu Ocean Park is not allowed. 
Do I still need to go to the Ticket booth if I book online?
No need. Your online booking will generate a QR code required to enter the park. You may print and bring your voucher with the QR code. QR codes saved on your mobile phone are accepted.
Will I be able to bring in food and drinks to Cebu Ocean Park?
Outside food and beverages are not permitted inside the park.
Are pets and animals allowed within Cebu Ocean Park?
Pets or animals are not allowed within our premises. We are a wheelchair-friendly establishment! All attractions with the exception of our lorries bridge are accessible.
Is Cebu Ocean Park wheelchair friendly?
We are a wheelchair-friendly establishment! All attractions with the exception of our lorries bridge are accessible.
Is it possible for parties and special private events to be held within Cebu Ocean Park?
Yes. Please email your enquiry to sales02@cebuoceanpark.com
Mytourguide.ph's Review
Cebu Ocean Park offers more than just aquatic animals. This captivating facility exceeded our expectations and proved to be a must-visit destination for families with children. Read more…
---
Hotels in Cebu City: Hotels in the center
Hotel
Stars
Discount
Price before and discount
Select dates
Hamersons Hotel

★★★

-11%

57 936

51 757
View hotel
Harolds Evotel Cebu

★★★★

-28%

4 875

3 515
View hotel
Golden Prince Hotel & Suites

★★★

-7%

75 339

70 237
View hotel
Hotel Elizabeth Cebu

★★★★

-59%

8 503

3 458
View hotel
Red Planet Cebu

★★★

-16%

5 499

4 592
View hotel
Quest Hotel & Conference Center - Cebu

★★★

-26%

4 932

3 685
View hotel
Cebu Parklane International Hotel

★★★

-8%

100 452

92 346
View hotel
Seda Ayala Center Cebu

★★★★★

-11%

6 463

5 782
View hotel
Waterfront Cebu City Hotel & Casino

★★★★

-25%

4 648

3 515
View hotel
Mezzo Hotel

★★★★

-17%

4 252

3 515
View hotel
RELATED POSTS
Indulge yourself to a luxurious staycation. Choose from one of the 10 most highly ranked 5 star hotels in Cebu.

---