Manila Ocean Park is popular with both tourists and locals. It is a marine-themed park located in Manila, the Philippines, with a variety of activities and attractions for visitors of all ages. There is always something to see and do at this popular attraction, from engaging aquatic displays to thrilling animal presentations. However, the cost of admission is one of the most significant barriers to visiting Manila Ocean Park. But what if we told you there's a way to get free admission to this amazing location?
That is correct! In this blog post, we'll tell you how to get Manila Ocean Park tickets for free. Take advantage of Hotel H2O's Yuletide Getaway for a joyous urban staycation with free tickets at Manila Ocean Park!
HOW TO GET FREE TICKETS AT MANILA OCEAN PARK
For a merry, happy family reunion, celebratory feasts, and loads of fun and frills, make a direct reservation at Hotel H2O with its latest promo Yuletide Getaway which includes free Manila Ocean Park Tickets.
Yuletide Getaway Promo
Overnight accommodation (good for 2 adults and 2 children 11 years old and below)
Two (2) Complimentary Breakfast 
Two (2) Manila Ocean Park tickets
Two (2) Welcome drinks at White Moon Bar
Access to the Gym
Access to the Outdoor Jet Pool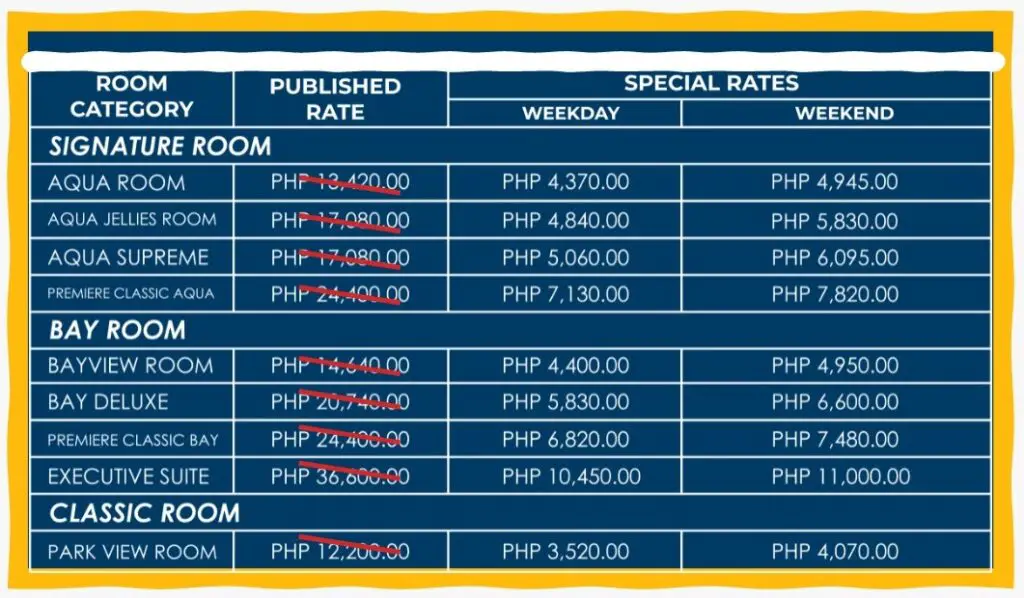 ABOUT MANILA OCEAN PARK
Manila Ocean Park is an aquatic adventure that immerses visitors in the ocean's delights. The park has a tank with sharks and rays, a tunnel with unique species, and an aquarium with marine life from all over the world.
Since its first debut as the nation's first marine-themed park, Manila Ocean Park has steadily grown to become a distinctive setting where business, play, and leisure all coexist. You want to make a name for yourself as a big entertainment center with a distinctive personality, enduring landmark status, and a wide range of activities.
ABOUT HOTEL H2O
Hotel H2O, which invites guests to commemorate life's milestones in a unique way, was inspired by the stunning deep blue ocean. The rooms are elegant yet affordably priced, and they have thoughtful amenities that make them ideal for gatherings or celebrations of any size.
---
RELATED POSTS
Related Posts