Boracay is one of the most popular tourist destinations in Southeast Asia, attracting millions of visitors each year. This article will provide you with all of the information you need to plan your vacation to this beautiful and tropical destination.
ABOUT BORACAY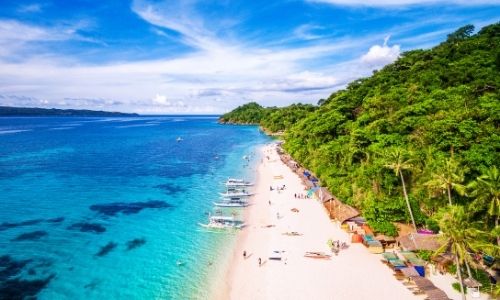 Boracay is known for being one of the world's top leisure locations. The international vacation journal Travel + Leisure named Boracay the Best Island in the World for 2012. Boracay is a small island that is located off the northwest coast of the island of Panay in the Western Visayas region of the Philippines. It is approximately 7 km long and the narrowest spot is less than one kilometer wide, with a total land area of 10.32 square km. The island consists mostly of white sand beaches, palm trees, and crystal clear water. Boracay is a popular vacation destination for tourism. It is known for its white-sand beaches, a wide variety of accommodations, and food that ranges from Western to local cuisine. Find out more in this quick guide to Boracay Philippines.
What Makes Boracay One of the Best Beaches in the World?
Boracay is a beach resort island in the Philippines. It's been continuously ranked as one of the best beaches in the world because of its white-sand beaches, turquoise waters, and laid-back vibe. The island has a rich culture with a diverse mix of Filipino and International cultures which is what makes it an exciting place to visit for both locals and tourists. Boracay provides plenty of activities that will keep you busy during your stay with water sports, fishing, hiking, biking as well as shopping. Boracay is also known for its luxurious resorts where you can stay with family or friends. You can choose from one or more star hotels or even rent rooms from villas on the shores of Boracay if you're looking for more privacy
Boracay Stands Out as the Best Tourist Spot
Boracay's undeniable appeal lies in its ability to cater to diverse traveler preferences while maintaining extraordinary natural beauty and cultural richness. From breathtaking sunsets that paint the sky with hues of fiery reds and oranges to panoramic views from Mount Luho that showcase nature's grandeur at its finest – every corner of Boracay exudes sheer beauty. Additionally, Boracay prides itself on its vibrant culture and warm hospitality.
The locals, known for their genuine smiles and helpful nature, welcome tourists with open arms. This cultural authenticity can be witnessed during traditional Filipino festivals such as the lively Ati-Atihan Festival.
Featuring colorful costumes and spirited dances, this festival celebrates the rich heritage of the Aklan region where Boracay is located. Moreover, Boracay offers a wide range of activities to suit every type of traveler.
Thrill-seekers can indulge in exhilarating water sports adventures like snorkeling or diving in Yapak Wall, exploring underwater caves teeming with vibrant marine life. For those who prefer land-based activities, trekking through Mount Luho Nature Reserve presents an opportunity to immerse in the island's lush greenery and bird-watching enthusiasts will find themselves captivated by rare species that call this reserve home.
Boracay stands out as the best tourist spot due to its extraordinary natural beauty, rich cultural heritage, diverse range of activities catering to all types of travelers, and world-class amenities that ensure a comfortable stay. Whether you seek relaxation or adventure, Boracay promises an experience that will leave you enchanted and longing to return again and again.
Boracay's Top Beach Attractions
Boracay's legendary beaches are renowned worldwide for their unrivaled beauty. Among them, White Beach stands as the crown jewel, attracting travelers from all corners of the globe. With its powdery white sand and crystal-clear turquoise waters, stepping onto this stretch of coastline feels like entering a dreamscape.
The sand itself is incredibly fine and soft, which makes walking barefoot along the shore an absolute delight. The beach stretches for approximately four kilometers, providing ample space to lounge under the warm sun or take leisurely strolls while breathing in the refreshing sea breeze.
White Beach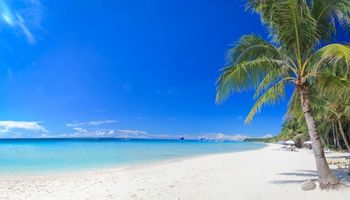 It has been ranked as one of the world's most beautiful beaches over the years. Boracay's White Beach, which is approximately 4 kilometers long, is the island's most popular attraction. Its beautifully white and silky sand strand is lined with resorts and hotels. The beach is divided into three sections: Station 1, Station 2, and Station 3. The majority of the budget hotels, as well as a few relics of Old Boracay, lie south of Station 3. Station 2 is a lively and commercial sector. The majority of the high-end hotels are located on a magnificent stretch of coastline north of Station 1. 
Puka Shell Beach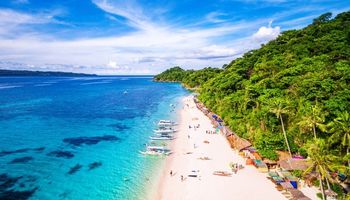 Puka Shell Beach, Boracay's second largest beach, is also known as Puka Shell Beach because of its abundance of white seashells. Puka Beach is 800 meters long and is bordered on one side by a large cliff and on the other by a forest. Because of the small coral bits mixed in with the sand, it is rougher than White Beach. It's also worth mentioning that the water depth rapidly increases, so stay close to the beach if you're unsure of your swimming abilities.

Tambisaan Beach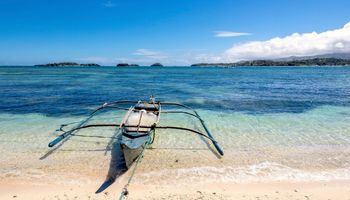 The island's southernmost beach is Tambisaan. The sand isn't as fine and white as other beaches, and the sea isn't as clear. Visitors may relax and enjoy the peace and quiet of the laid-back, inviting local community and the natural surroundings because it is away from the commercialized hustle of White Beach.


Balinghai Beach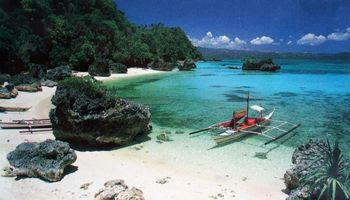 Boracay Island's Balinghai is a quiet beach resort. A peaceful, hidden location with a clear blue sea, fluffy white sand, and nature all around you. Although it is a private beach owned by the Balinghai Beach Resort, you do not need to stay at the resort to enjoy this lovely expanse of white sand. A limited number of non-resort guests are permitted entrance every day, and tickets are allocated on a first-come, first-served basis.
Diniwid Beach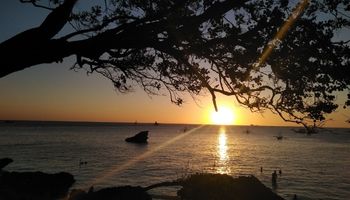 This leisurely beach is the perfect contrast to Boracay's White Beach's frantic visitor activity. A considerably less crowded beach is ideal for people seeking peace and quiet while remaining close to the more bustling White Beach region. 




THE BEST TIME TO VISIT BORACAY
Boracay is best visited in the months of December, January, February, March, and April when the weather is pleasant and there are plenty of activities on the island.
HOW TO GET TO BORACAY
There is no airport on the island of Boracay. Travelers board a boat ferry to Boracay after their plane lands in the small town of Caticlan which is located at the northernmost tip of Panay island. There is a second airport in Kalibo, which is significantly farther away from Boracay. Learn more…
THE 10 BEST TOURIST SPOTS IN BORACAY PHILIPPINES
Explore the best of Boracay's breathtaking beauty and diverse attractions with our top 10 list of must-visit tourist spots.
Ariel's Point
Bulabog Beach
Crystal Cove Island
D'Mall
Diniwid Beach
Ilig-Iligan Beach
Mount Luho
Puka Shell Beach
White Beach
Willy's Rock
THE BEST THINGS TO DO IN BORACAY
Get ready to make the most of your Boracay vacation with our list of the best things to do, including everything from dining and nightlife to beach activities and more.
Discover Punta Bunga and Banyugan Beach.
Discover the Underwater World and Marine Life
Discover White Beach
Eat and Shop at D'Mall
Escape the Crowd at Ilig-Iligan Beach 
Experience Thrilling Water Sports
Explore Bulabog Beach and try the High-Altitude Activities
Explore the Island by Speedboat
Go cliff diving at Ariel's Point
Have a Romantic Dinner at Balinghai Beach
Hike Mount Luho
Participate in a Sunset Yacht Cruise
See Diniwid Beach's Sunset
See Flying Foxes at Puka Beach and Go, Island Hopping,
Take a Panoramic Helicopter Tour
Take part in a Boracay Pub Crawl
Try an Indoor Shooting Range
Visit Manoc-Manoc and Cagban beaches.
Visit neighboring provinces on a side trip
THE MOST POPULAR ACTIVITIES IN BORACAY
To give you a taste of what's in store, we've selected some of the most popular activities in Boracay Philippines. Learn more…
Where to Stay in Boracay
Discover the best places to stay in Boracay with our accommodation guide, which includes everything from luxury beachfront resorts to budget-friendly hotels and hostels.
Discover the enchantment of Boracay and its breathtaking tourist attractions. Take a stroll along White Beach's powder-white sands, or explore the hidden gems of Diniwid Beach and Ilig-Iligan Beach. Explore the island's vibrant nightlife or the scenic beauty of Mount Luho and the Butterfly Garden. Boracay has something for everyone, from thrilling water sports to relaxing sunset cruises. As you soak in the tropical ambiance, indulge in the island's local cuisine or sip a refreshing cocktail. Make plans to visit Boracay and create unforgettable memories with your loved ones. Book now and start your adventure!
Further Reading
---
Uncover the charm of the Philippines with these irresistible offers
This list offers irresistible great deals that allow budget-conscious travelers to experience the beauty of the Philippines without breaking the bank. Discover the country's breathtaking attractions and vibrant culture and prepare to embark on an unforgettable trip to the Philippines with these low-cost options.
Discover mouthwatering deals! Enjoy Foodpanda Philippines' September 2023 discounts and promos. Savor the savings today!

---
Explore the Best of Philippines: Must-See Tourist Destinations
The Philippines is a stunning cluster of islands brimming with breathtaking natural wonders and cultural treasures. With over 7,000 islands, the country offers a diverse range of destinations to explore, from bustling urban centers to tranquil shorelines, and historical landmarks to breathtaking terrains. The Philippines caters to every traveler's needs, whether it's seeking an adventurous escapade, unwinding on a serene beach, or delving into cultural experiences. This guide presents a curated list of must-see tourist destinations in the Philippines, each of which offers a distinct and charming experience. So, prepare to embark on an adventure to discover the best of the Philippines.
Intramuros is the ancient heart of Manila, a walled city that showcases the rich history and Spanish architecture of Old Manila. Built by the Spaniards as their political and military…

---

Discover the stunning Bolinao Falls in Pangasinan – a natural paradise that promises a breathtaking experience. Immerse yourself in the serene ambiance and witness the beauty of nature at its finest.

---

Discover the captivating natural wonders of the Philippines, from underground rivers to majestic hills. Explore beauty that astounds!

---

Discover the best places to visit in the Philippines this July, from vibrant Manila to stunning Boracay and off-the-beaten-path gems. Unforgettable adventures await!

---

Discover the top 10 must-visit destinations in the Philippines, from Boracay's white sand beaches to Palawan's stunning landscapes.

---

Discover the best of Bohol Island with a full-day tour covering must-see attractions like the Chocolate Hills, Tarsier Sanctuary, and Loboc River Cruise.

---

Discover the ticket prices and tips to save money when visiting Pinto Art Museum. Explore all galleries and exhibits with this helpful guide.

---

Discover the best places to visit in the Philippines this June! From white sand beaches to scenic mountains, festivals and delicious food.

---

Discover the beauty of El Nido through island hopping and off-the-beaten-path tours. Find insider tips for choosing the right tour in this detailed guide.

---

Located in the southern region of the Philippines, Mount Matutum boasts of its scenic beauty, captivating landscapes, and diverse flora and fauna. With its majestic peaks, verdant forests, and cascading waterfalls, this destination is perfect for nature lovers and adventure enthusiasts. Get ready to explore the unspoiled wilderness, trek through challenging trails, and immerse yourself…

---

The serene and beautiful Lake Sebu is situated in the heart of South Cotabato. The lake, which is a favorite spot for both locals and tourists, is home to a variety of fauna.

---

Discover the beauty of Lake Holon – a hidden gem located in the Philippines. Learn about its history, culture, and conservation efforts.

---

Discover the beauty and significance of Osmeña Peak in Cebu, Philippines. Learn about its history, trails, flora/fauna, and local community. Plan your visit now!

---

Discover the beauty and charm of Dasol Pangasinan! Explore its stunning beaches, rich culture, cuisine, and more in this detailed travel guide.

---

Discover the top places to visit in the Philippines this May! From white sand beaches to cultural sites and adventure destinations, find your perfect getaway.

---

Discover Manila Zoo entrance fees and other important information you need to know before visiting. Get tips to make the most out of your trip.

---

Escape to paradise on Camotes Island! Explore hidden caves, swim in crystal-clear waters, and soak up the sun on some of the world's most beautiful beaches.

---

Embark on an unforgettable adventure at Dahilayan Forest Park. Our guide provides essential info, including the entrance fee, to help plan your visit.

---

Experience the ultimate thrill ride on the first Alpine Coaster in the Philippines. Twist and turn through hairpin curves and steep drops while enjoying breathtaking views of the surrounding landscape. This exhilarating adventure is perfect for thrill-seekers and nature lovers alike. Get ready to take on the challenge and ride the Philippines' first Alpine Coaster…

---

Experience an underwater adventure like no other in Cebu Ocean Park. Get to know its entrance fee, attractions, and other essential information. Come and explore the largest aquarium in the Philippines and get ready for a day of exploration and discovery.

---

Cabongaoan Beach is a kilometer-long golden-white sand beach on the western coast of Burgos, Pangasinan.

---

Anjo World is the perfect destination for all of your entertainment needs. Boasting an impressive array of attractions, activities, and entertainment, Anjo has something for everyone.  Anjo World experiences are sure…

---

Discover the natural beauty of Tinipak River in Rizal, Philippines. Immerse yourself in crystal-clear waters, and lush greenery. Experience breathtaking sights of beautiful rock formations, and natural pools. Join us and create unforgettable memories today.

---

Explore the best of Puerto Galera with our expertly curated guide to its top tourist spots. From stunning beaches to breathtaking vistas, uncover the wonders of this tropical paradise and plan your perfect getaway. Start your adventure today!

---

Discover the stunning tourist spots in Mindanao! From surfing in Siargao to hiking Mount Apo, explore the hidden gems and off-the-beaten-path destinations.

---

El Nido is a popular tourist destination on the Philippine island of Palawan. It is a breathtakingly beautiful place to visit, with scenic lagoons, white-sand beaches, towering limestone cliffs, charming inlets, magnificent coral reefs, and clear waters teeming with marine life.

---

Explore the most thrilling water activities to try in the Philippines during the summer season. Our guide covers the best water sports including diving, snorkeling, surfing, and kayaking, revealing the top experiences available in this tropical haven. Join us as we delve into paradise, and learn how to make the most of your visit to…

---

In this blog post, we'll tell you how to get Manila Ocean Park tickets for free. Take advantage of Hotel H2O's Yuletide Getaway for a joyous urban staycation with free tickets at Manila Ocean Park!

---

Sagada in Mountain Province is without a doubt one of the most serene tourist destinations in the Philippines. Take some time to relax and take in the beauty of nature…

---

Seven Seas Waterpark is the Philippines' first world-class pirate-themed waterpark. The waterpark, which opened in November 2017, features over 12 thrilling slides, a 5,000 square meter twin wave pool, a 400-meter long lazy river, and many more family-friendly activities and services.

---