Introduction
Nestled amidst the verdant landscapes of the Philippines lies a hidden gem that beckons intrepid travelers seeking an escape from the bustling tourist hotspots. Bolinao Falls, located in the municipality of Bolinao, Pangasinan, is a captivating oasis that showcases nature's splendor at its finest.
Away from the crowds and commercialization, this enchanting destination offers a serene retreat for those craving a harmonious connection with the natural world. Bolinao Falls embodies tranquility and beauty in every drop of water cascading down its limestone formations.
Its allure lies not only in its pristine waters but also in the surrounding picturesque setting. The falls are encompassed by lush greenery, creating a surreal environment that feels like stepping into an ethereal paradise.
Brief Overview of Bolinao Falls
Bolinao Falls is a beautiful waterfall tucked away in a peaceful location. The different heights of the Balingasay River create a short cascade and the waterfalls to a pool at a lower level. The waterfall system is part of a stream that flows from the Balingasay River to the West Philippine Sea.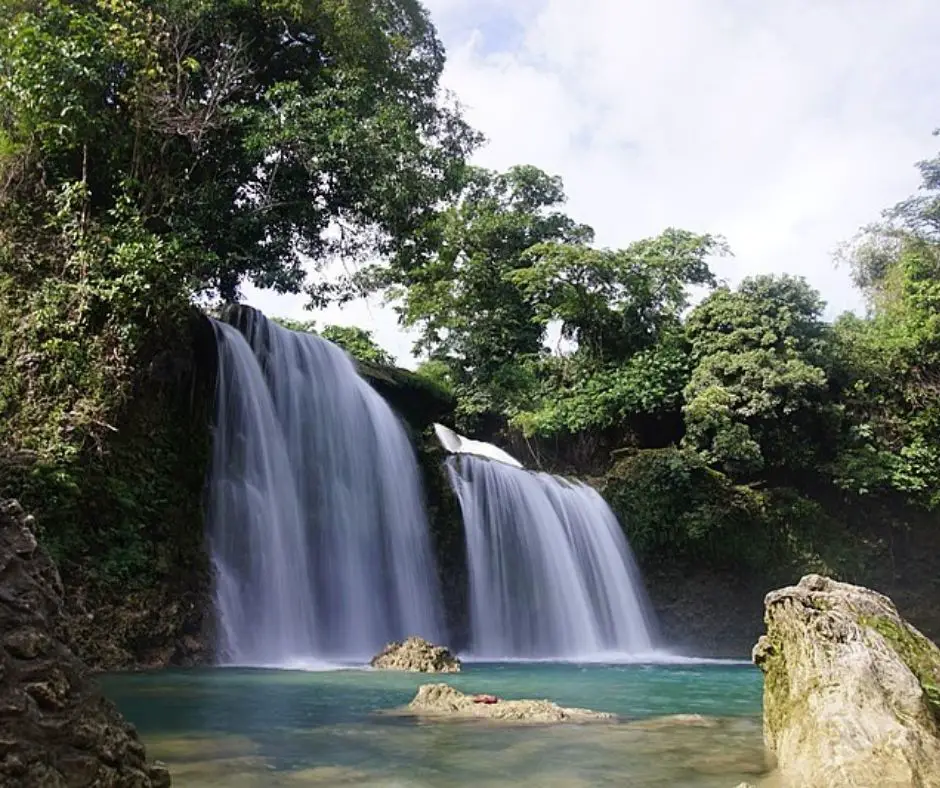 Location and Geographical Features
Bolinao Falls is a breathtaking natural wonder situated in the municipality of Bolinao, Pangasinan, Philippines. This hidden gem is nestled amidst lush greenery and surrounded by magnificent limestone formations that create a picturesque backdrop. Its secluded location adds to the charm and allure of this enchanting destination, making it an ideal escape for nature lovers and adventure enthusiasts alike.
Address of Bolinao Falls
Samang Norte, Bolinao Trail, Bolinao, Pangasinan, Philippines.
What to Expect
Bolinao Falls is a series of cascading waterfalls.  Expect to see beautiful greenery and rock formations surrounding the falls as they trickle down with crystal-clear water. The landscapes provide a calm and peaceful atmosphere that is ideal for relaxing and unwinding. Visitors can also enjoy swimming in the refreshing waters, cliff diving, and exploring the nearby caves. The falls are truly a natural wonder that will leave visitors in awe of the beauty of nature.
The Three Stunning Falls of Bolinao
Bolinao Falls in Pangasinan has three stunning waterfalls: Bolinao Falls 1, Bolinao Falls 2, and Bolinao Falls 3.
BOLINAO FALLS 1
The highest of the three falls. It has a shallow catch basin yet is large enough to swim in. Because of its height, this waterfall is great for cliff diving.

BOLINAO FALLS 2
Its water basin is larger than that of Bolinao Falls 1 and features a succession of shallow blue rockpools with water rushing down the polished limestone cliffs, giving families plenty of room to swim about. It's also a popular place to do a medium-height cliff jump.

BOLINAO FALLS 3
This waterfall has high cliffs perfect for diving as well as a huge and deep catch basin where you can swim. Bolinao Falls 3 combines the preceding two falls. Before reaching this third waterfall, visitors must descend a short set of cemented stairs. Bolinao Falls 3 is an excellent site for adrenaline seekers to do cliff jumping, as well as an open area for rafting and swimming.
Everything You Need to Know Before You Go
Bolinao Falls Entrance Fee
The entrance fee to each waterfall in Bolinao Falls is ₱50.00
How to Get There
Take a Five Star bus to Bolinao from Cubao or Pasay.
Best Time to Visit
The average temperature at Bolinao in April, May, June, and July is around 30 degrees Celsius, making it an ideal time to visit. With the air being somewhat humid, the weather is excellent for being outside. This is certainly one of the best times to visit Bolinao, as well as the peak tourist season.
Best Hotels near Bolinao Falls
Agoda has a great selection of hotels near Bolinao Falls. Agoda is a market leader in the hotel booking sector, with over two decades of experience. Customers can anticipate inexpensive costs as well as a variety of booking options.
Activities at Bolinao Falls: Beyond Swimming
Exploring Wonderful Cave's Hidden Chambers
In addition to the breathtaking beauty of Bolinao Falls 1, another captivating aspect of this natural wonder is its connected cave system. As you venture deeper into the cave, a world of hidden chambers and intriguing stalactite formations awaits. The darkness envelopes you, and your senses heighten as only the sound of water droplets hitting the ground breaks the silence.
The first chamber you encounter is awe-inspiring, with towering stalactites hanging from the ceiling like chandeliers in a grand ballroom. These mineral formations have taken centuries to grow and create an ethereal atmosphere within the cave.
As your flashlight illuminates each delicate formation, it feels as though you are witnessing nature's artwork firsthand. As you continue your exploration, carefully maneuvering through narrow passages and slippery rocks, you reach another chamber that opens up into a larger space.
Here, you discover ancient rock formations that have been shaped by water erosion over time. The intricate patterns on these rocks tell stories of geological history and remind us of our planet's fascinating evolution.
Intriguing Stalactites: Nature's Icicles
The most captivating features within Wonderful Cave are undoubtedly its stalactites—nature's icicles formed by mineral-rich water slowly dripping from the cave roof over thousands of years. These stunning formations hang like delicate chandeliers suspended from above, glistening with moisture and glittering under the beam of your flashlight.
Each stalactite has its own unique shape and size—some slender and tapering while others appear more robust and bulbous. Gazing upon these natural wonders instills a sense of wonderment as one contemplates just how long it took for nature to sculpt such intricate forms.
It is a reminder of the immense patience and artistry found in every corner of our world. As you admire these stalactites, consider the delicate balance required to keep them intact.
They are vulnerable to human touch, so it is vital to appreciate their beauty while respecting their fragility. Let us marvel at nature's artistic endeavors and leave these formations unharmed for future generations to enjoy.
Visit Bolinao, Pangasinan, and learn about its natural and historical wonders. Begin your outdoor adventure by visiting Bolinao Falls 1, 2, or 3, where you can cool off in the clear turquoise waters. Visit the town's iconic landmarks, such as St. James Parish and Cape Bolinao. Patar's unique rock formations and unspoiled beaches will captivate you. When you book this tour, you will receive convenient round-trip transfers from Manila.
Check Rates…

About BOLINAO, Pangasinan
Bolinao is a municipality in the province of Pangasinan. It is well-known for its white-sand beaches and rock formations. There are also many interesting locations to explore, such as rivers, several gorgeous Bolinao Falls, caves such as the Enchanted Cave, the Wonderful Cave, and Cindy's Cave, and also a centuries-old cathedral and a lighthouse.  Some of the most popular beach spots in Bolinao are Cabongaoan, Tambobong, Hundred Islands, Tondol, Agno, and Bolinao Patar.
Anyone interested in visiting Bolinao Falls should be prepared to do a lot of walking if they want to see everything. It will be an adventurous day, but rest assured that it is worth all the effort. You might need some stamina and determination, but you will come out of the entire experience as a better person, not to mention a happier one as well.
RECOMMENDED: Philippine Adventures