Introduction
Paradise on Earth: Exploring the Enchanting Charms of Cebu
Nestled in the heart of the Philippines, Cebu is an enchanting island province that beckons travelers from near and far with its captivating beauty and vibrant cultural heritage. Renowned for its pristine beaches, crystal-clear waters, and warm hospitality, Cebu has secured its place as one of the most popular tourist destinations in Southeast Asia. With a rich blend of history, natural wonders, and modern amenities, it comes as no surprise that discerning travelers are drawn to this tropical paradise.
Cebu Hotels: An Overview
Cebu, known as the Queen City of the South, is a vibrant and bustling tourist destination in the Philippines. With its rich cultural heritage, stunning beaches, and warm hospitality, it has become a magnet for travelers from all over the world. When visiting Cebu, choosing the right hotel is crucial to ensure a comfortable stay that aligns with your preferences and budget.
Categorizing hotels based on location and price range
Cebu offers a wide range of hotels that cater to different budgets and preferences. The first categorization is based on price range: luxury, mid-range, and budget. Luxury hotels in Cebu are renowned for their opulence, exquisite services, and top-notch amenities.
These establishments are often situated in prime locations with breathtaking views of the ocean or cityscape. Mid-range hotels provide a balance between affordability and comfort.
They offer well-appointed rooms with modern amenities such as fitness centers, swimming pools, and business facilities. These hotels are usually located near popular tourist attractions or shopping centers in Cebu City.
For budget-conscious travelers seeking affordable accommodations without compromising comfort, there are numerous budget hotels scattered throughout Cebu. These establishments may not offer extravagant facilities but provide all the essentials needed for a pleasant stay at an affordable price.
Highlights of popular hotel districts in Cebu City
Mactan Island
Mactan Island is one of the most sought-after hotel districts in Cebu City due to its stunning beaches and proximity to Mactan-Cebu International Airport. Here you will find luxury resorts like Shangri-La's Mactan Resort & Spa offering private villas with direct access to pristine white sands. The island also boasts water sports activities such as snorkeling and diving for adventurous travelers.
Ayala Center
Another prominent hotel district is Ayala Center located in downtown Cebu City. This area is a bustling commercial and business hub, making it an ideal choice for both leisure and business travelers.
Ayala Center houses renowned hotels like Radisson Blu Hotel, conveniently connected to a premier shopping mall. Guests can enjoy world-class dining options, spa treatments, and easy access to entertainment venues.
Introduction to unique hotel features and amenities found in Cebu
Cebu hotels are known for their ability to cater to the diverse needs of travelers by offering unique features and amenities. Many luxury hotels in Cebu provide private pools or jacuzzis overlooking stunning panoramic views, allowing guests to indulge in ultimate relaxation and tranquility.
If you're a food enthusiast, some hotels in Cebu are renowned for their fine dining restaurants that serve a fusion of local and international cuisines prepared by world-class chefs. These establishments often have extensive wine selections to complement the culinary delights.
For those seeking wellness escapes, numerous hotels in Cebu offer spa facilities with rejuvenating treatments inspired by traditional Filipino healing techniques. Pamper yourself with therapeutic massages or try indigenous therapies utilizing local herbs and organic ingredients.
In addition, several upscale hotels feature executive lounges that offer exclusive services such as personalized check-in/check-out, complimentary refreshments throughout the day, and private meeting spaces for business travelers. With its diverse range of hotel options catering to different budgets and preferences, along with unique features like private pools, fine dining experiences, rejuvenating spas, and executive lounges—the Cebu hotel scene ensures an unforgettable stay that meets every traveler's desires.
Luxury Hotels in Cebu
When it comes to luxury and opulence, Cebu is home to some of the most exquisite hotels in the world. These high-end establishments offer an unparalleled level of comfort and sophistication, ensuring that guests have an unforgettable stay.
Shangri-La's Mactan Resort & Spa
Tucked away on the pristine shores of Mactan Island, Shangri-La's Mactan Resort & Spa stands as an iconic symbol of luxury in Cebu. This lavish hotel boasts a range of world-class amenities, including private pools where guests can indulge in serene relaxation.
The resort's CHI, The Spa offers rejuvenating treatments inspired by traditional Asian healing techniques, ensuring a truly indulgent experience. Additionally, Shangri-La's Mactan Resort & Spa delights its guests with an array of fine dining options.
From delectable international cuisine at Tides Restaurant to authentic Cantonese dishes at Tea of Spring, every culinary desire is catered for. The staff members at this prestigious hotel are renowned for their exceptional service, attending to every need with unwavering dedication.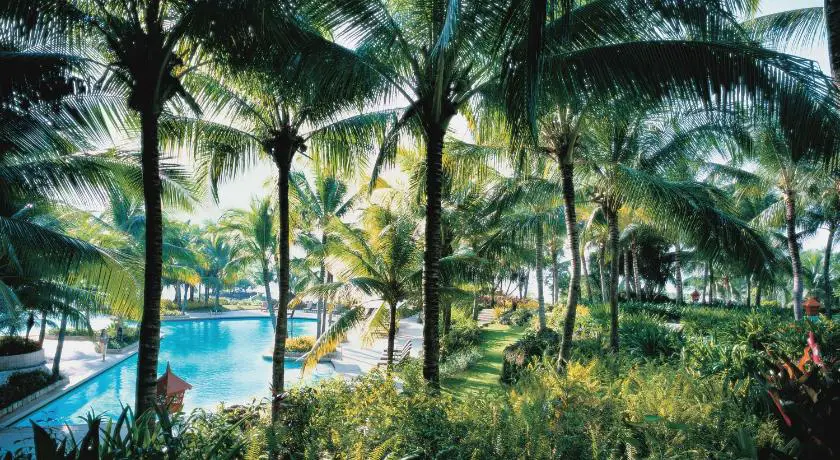 The Henry Hotel
A fusion of elegance and charm awaits visitors at The Henry Hotel. Situated in Cebu City's lively district, this boutique hotel showcases sophisticated interiors adorned with vintage-inspired furniture and quirky art pieces. Its luxurious amenities include private pools that provide a tranquil oasis amidst the bustling cityscape.
To enhance the guest experience further, The Henry Hotel offers a wide range of spa facilities designed to promote relaxation and well-being. Pamper yourself with invigorating massages or indulge in soothing facials tailored to your specific needs.
Furthermore, the hotel prides itself on its outstanding dining options – from garden-to-table experiences showcasing local delicacies at Rica's Café to innovative cocktails at Henry's Bar. One of the standout features of luxury hotels in Cebu is their exceptional service.
The staff members are meticulously trained to anticipate guests' every need, ensuring a seamless and personalized stay. Whether it's arranging exclusive tours around the city or providing insider recommendations for local attractions, the dedicated team at these high-end hotels goes above and beyond to make your stay truly unforgettable.
Luxury hotels in Cebu present a world of indulgence and sophistication for discerning travelers. Shangri-La's Mactan Resort & Spa and The Henry Hotel are among the prominent establishments that offer unmatched opulence.
From private pools to spa facilities and exquisite dining options, these hotels provide an extraordinary experience. Furthermore, their commitment to exceptional service sets them apart from the rest, ensuring that every moment spent in their luxurious embrace is nothing short of extraordinary.
Find out more Luxury Hotels in Cebu…
Mid-Range Hotels in Cebu
An Oasis of Comfort and Affordability
Waterfront Cebu City Hotel & Casino
This charming hotel combines warm Filipino hospitality with world-class facilities.
The rooms offer a cozy ambiance with comfortable beds and stunning city views. Business travelers will appreciate the well-equipped business center, complete with meeting rooms and secretarial services.
For leisure activities, guests can take advantage of the hotel's swimming pool or try their luck at the on-site casino. Moreover, culinary enthusiasts will be delighted by the diverse dining options ranging from international cuisine to local delicacies.
Waterfront Cebu City Hotel & Casino is just a stone's throw away from historical landmarks such as the Magellan's Cross and Fort San Pedro, allowing guests to immerse themselves in Cebu's rich cultural heritage. Mid-range hotels in Cebu offer a compelling combination of comfort, affordability, and convenience.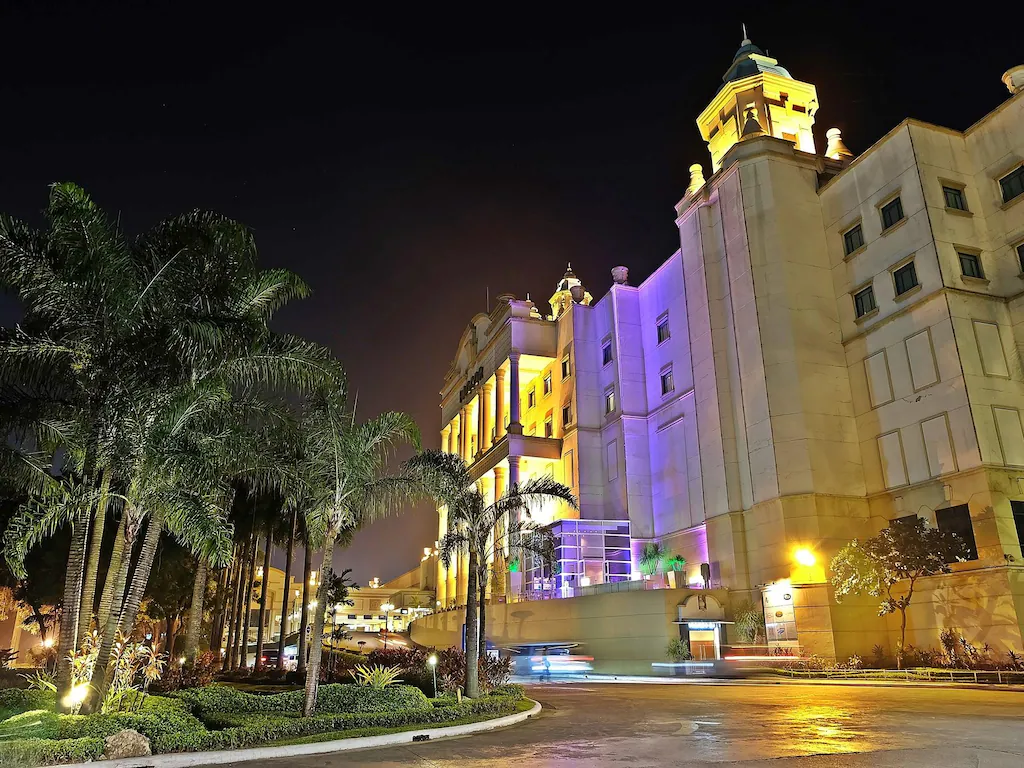 Budget Hotels in Cebu
Catering to budget-conscious travelers looking for affordable accommodations without compromising comfort
Cebu, known for its rich cultural heritage and stunning beaches, offers a wide selection of budget-friendly hotels that cater to the needs of thrifty travelers. For those seeking comfortable accommodations without breaking the bank, Cebu provides an array of options that maintain high standards of comfort and convenience.
Describing popular budget-friendly hotels
Red Planet Hotel and Sampaguita Suites
Red Planet Hotel and Sampaguita Suites are two popular choices among budget travelers in Cebu. Red Planet Hotel offers modern rooms at an affordable price, ensuring a comfortable stay with amenities such as air conditioning, free Wi-Fi, flat-screen TVs, and en suite bathrooms.
The hotel's prime locations near transportation hubs like Mactan-Cebu International Airport or city centers make it convenient for exploring the city's attractions. Sampaguita Suites is another well-regarded option for budget-conscious visitors.
With several branches across Cebu City, Sampaguita Suites provides cozy rooms equipped with essential amenities including air conditioning, cable TV, private bathrooms, and complimentary Wi-Fi. The friendly staff ensures a warm welcome while offering assistance with local recommendations or tour bookings.
Find out more affordable hotels in Cebu…
Mentioning convenient locations near transportation hubs or city centers
Budget hotels in Cebu are strategically located near transportation hubs or within easy access to the city's vibrant centers. This facilitates seamless exploration of the surrounding attractions while minimizing commuting time. Travelers can effortlessly explore popular spots such as Magellan's Cross or Fort San Pedro without worrying about long journeys.
Additionally, being close to transportation hubs like Mactan-Cebu International Airport allows guests staying at these budget hotels to conveniently reach their accommodation upon arrival. This time-saving aspect allows visitors to start their Cebu adventure promptly, ensuring a stress-free travel experience.
Highlighting basic amenities offered at reasonable rates
Although budget hotels may not provide extravagant luxuries, they ensure that guests are comfortable during their stay by offering essential amenities. These often include well-maintained rooms with comfortable beds, clean bathrooms, and reliable room service. Moreover, budget hotels in Cebu frequently feature common areas such as lobbies or terraces where guests can relax and socialize.
Complimentary Wi-Fi access is commonly available, enabling travelers to stay connected with loved ones or plan future travel itineraries. Some budget hotels also offer complimentary breakfasts or have on-site dining options at affordable rates.
Conclusion
Cebu is an ideal destination for budget-conscious travelers seeking affordable yet comfortable accommodations. With a range of options like Red Planet Hotel and Sampaguita Suites offering convenient locations near transportation hubs and city centers, visitors can easily explore the beauty and cultural richness of Cebu without compromising on comfort.
These budget hotels may not provide lavish amenities but ensure a pleasant stay through their commitment to cleanliness, friendly service from staff members, and essential facilities. Embrace the value-for-money experience that Cebu's budget-friendly hotels offer while creating lasting memories in this enchanting paradise.
---
Hotels in Cebu City: Hotels in the center
Hotel
Stars
Discount
Price before and discount
Select dates
Cebu R Hotel Capitol

★★★

-16%

17 233

14 399
View hotel
Hamersons Hotel

★★★

-11%

57 936

51 757
View hotel
Harolds Evotel Cebu

★★★★

-28%

4 875

3 515
View hotel
Golden Prince Hotel & Suites

★★★

-7%

75 339

70 294
View hotel
Hotel Elizabeth Cebu

★★★★

-59%

8 503

3 515
View hotel
Red Planet Cebu

★★★

-15%

3 628

3 118
View hotel
Quest Hotel & Conference Center - Cebu

★★★

-26%

4 932

3 685
View hotel
Cebu Parklane International Hotel

★★★

-8%

100 452

92 346
View hotel
Seda Ayala Center Cebu

★★★★★

-7%

6 406

5 952
View hotel
Waterfront Cebu City Hotel & Casino

★★★★

-22%

4 535

3 515
View hotel
RELATED POSTS
Indulge yourself to a luxurious staycation. Choose from one of the 10 most highly ranked 5 star hotels in Cebu.

---