The Jewel of Central Visayas
Bohol Island, located in the heart of the Philippines, is a true jewel of Central Visayas. With its crystal clear waters, pristine beaches, lush forests, and unique geological wonders, it has become one of the top tourist destinations in the country. Bohol is known for its natural beauty and rich cultural heritage, making it a favorite among both local and international travelers.
Why Bohol?
The island is home to a myriad of attractions that cater to different interests. For nature lovers, there are stunning geological formations such as the famous Chocolate Hills and verdant forests where exotic wildlife thrives.
For beach-goers, there are white sand beaches and turquoise waters perfect for swimming or snorkeling. For those interested in history and culture, some centuries-old churches and museums offer a glimpse into Bohol's colorful past.
A Full-Day Tour: The Best Way to Explore Bohol
Planning a full-day tour covering must-see attractions is highly recommended to make the most out of your visit to Bohol Island. While it may initially seem daunting to fit everything into one day, experienced tour guides can expertly design an itinerary that takes you around all significant sights without feeling rushed or overwhelmed.
A full-day tour provides convenience for travelers who have limited time on the island but still want to see as much as possible. By booking a guided tour package ahead of time with reputable providers such as Island Trek Tours or Klook Travel Services Philippines Inc., visitors will be able to maximize their time on the island with ease.
In addition to convenience and efficiency, taking part in a full-day tour also ensures that you won't miss out on any of the must-see sights that Bohol has to offer. With a well-planned itinerary, you can visit everything from the historical Blood Compact Shrine and Baclayon Church and Museum to the stunning Chocolate Hills and Loboc River Cruise without worrying about how to get there or where to go next.
Overall, a full-day tour is not only a practical choice for time-strapped travelers but also an excellent way to experience all that Bohol Island has to offer. By allowing a professional guide to lead you around the island's top attractions, you'll be able to sit back, relax, and fully immerse yourself in Bohol's natural beauty and rich cultural heritage.
Morning Tour
Blood Compact Shrine: Historical significance of the site and beautiful view of the sea and surrounding area
The Blood Compact Shrine is a historical site located in Tagbilaran City, Bohol. It commemorates the Sandugo or blood compact between Spanish explorer Miguel López de Legazpi and Datu Sikatuna, a native chieftain.
This event symbolized the first international treaty of friendship between two nations. The shrine offers a breathtaking view of the sea and surrounding area, making it an ideal spot for taking pictures.
According to historical accounts, the blood compact was conducted on March 16, 1565. To seal their alliance, Legazpi made a small cut on his arm and allowed some drops of his blood to mix with the wine which was then drunk by Sikatuna.
This ritual signifies that they have become blood brothers who will help each other in times of need. The Blood Compact Shrine is a popular tourist attraction in Bohol Island since it offers visitors an opportunity to learn about Philippine history while enjoying scenic views at the same time.
LUNCH
Loboc River Cruise: Scenic Dining Experience
A leisurely boat ride along Loboc River provides an opportunity to relax and enjoy picturesque scenery while listening to local music and dance performances and dining on traditional Filipino dishes. This river has been dubbed "the cleanest inland body of water in Central Visayas," making it an ideal spot for nature lovers.
The floating restaurants offer buffet-style meals while navigating downriver. Aboard these boats, guests can enjoy entertainment from local musicians playing acoustic guitars or singing traditional folk songs.
Afternoon Tour
Exploring the Enchanting Bohol Man-made Forest: A Green Tunnel of Tranquility
When visiting the captivating island of Bohol in the Philippines, a stop at the famous Bohol Man-made Forest is an absolute must. This unique destination, located in the town of Bilar, offers a truly awe-inspiring experience as you immerse yourself in a breathtaking natural wonder.
As you approach the Bohol Man-made Forest, you'll be greeted by a stunning landscape dominated by a dense and majestic canopy of towering mahogany trees. Stretching across a two-kilometer stretch of the highway, these trees form a picturesque green tunnel, creating a sense of tranquility and enchantment.
Walking through the forest, you'll feel a noticeable drop in temperature as the shade from the trees provides a cool respite from the tropical heat. The dense foliage overhead filters the sunlight, casting beautiful patterns on the forest floor. The symphony of rustling leaves and chirping birds add to the serene ambiance, making it a perfect escape from the hustle and bustle of daily life.
The Bohol Man-made Forest is not only a feast for the eyes but also a testament to the island's commitment to reforestation and environmental conservation. This man-made forest is the result of a successful reforestation project that aimed to restore the natural beauty and biodiversity of the area.
As you explore the forest, you'll have ample opportunities to capture stunning photographs, with the towering trees providing a dramatic backdrop. Nature enthusiasts will also appreciate the opportunity to spot various bird species, butterflies, and other small creatures that call this forest their home.
Tarsier Sanctuary: Home to the world's smallest primate, the tarsier; the opportunity to see these rare creatures up close in their natural habitat
The Tarsier Sanctuary is a conservation center located in Corella, Bohol. This sanctuary is an ideal place to see tarsiers up close since they are difficult to find in their natural habitats due to their small size and nocturnal lifestyle.
Tarsiers are considered one of the smallest primates in the world. They have large eyes that help them see clearly at night and can turn their heads 180 degrees.
They live mostly on insects, which they catch by leaping between branches using their long hind legs. Visitors can take guided tours around the sanctuary which covers approximately 7.4 hectares of lush forested land.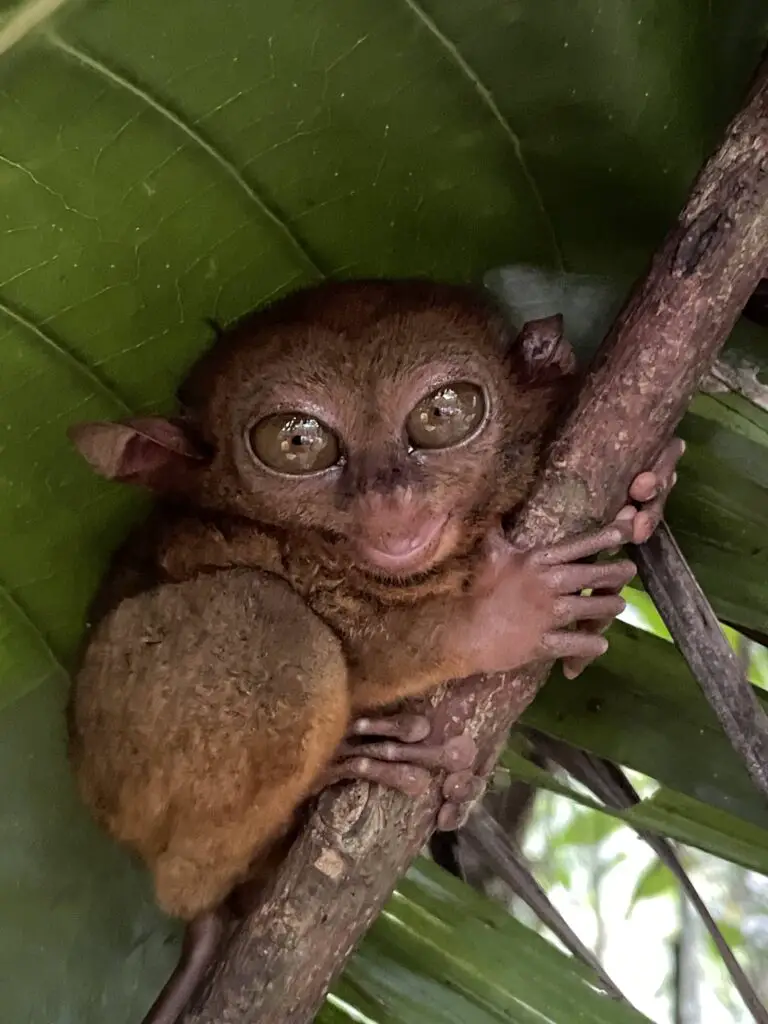 The tour guide will provide information about tarsiers including their behavior, habitat, and feeding habits. Visiting Tarsier Sanctuary offers a unique opportunity for visitors to witness these amazing creatures up close while learning more about their behavior and habitat.
Chocolate Hills: The Geological Wonder of Bohol
Bohol's most famous attraction, the Chocolate Hills, is a geological formation located in the town of Carmen. Consisting of over 1,000 cone-shaped hills spread across an area of 50 square kilometers, these unique geological formations derive their name from their resemblance to chocolate mounds during the dry season. To witness the stunning panoramic views from the observation deck situated at one of the hills' peaks is an experience that should not be missed when exploring Bohol.
From Carmen town proper, a winding road leads up to a viewing platform where visitors can take in breathtaking views of this natural wonder.
Baclayon Church and Museum: One of the oldest churches in the Philippines with intricate architecture and design; the museum showcases religious artifacts and relics
Baclayon Church is one of the oldest churches in the Philippines. It was built during the Spanish colonial period using coral stones that were quarried from nearby areas.
The church features intricate architecture with baroque designs that reflect European influence. Inside Baclayon Church is a museum showcasing religious artifacts and relics such as ancient vestments, gold embroidered ecclesiastical pieces, antique missals from different parts of Asia, old books with carvings made from palm leaves known as "lubok", ivory statues dating back to the 17th century, among others.
Visiting this museum provides an excellent opportunity to learn about the evolution of Philippine religious art and culture. Baclayon Church is a must-see attraction in Bohol Island, not only because it is one of the oldest churches in the country, but also because it represents a significant part of Philippine history and culture.
Sunset at Panglao
The Beauty of a Boholian Sunset
As the day winds down, head to Panglao Island to witness one of the most breathtaking sunsets you will ever see. The island's pristine white sand beaches and clear turquoise waters make for a stunning backdrop as the sun sets below the horizon. The sky transforms into a spectrum of oranges, pinks, and purples, creating a dramatic view that captivates every visitor's heart.
Activities during Sunset Viewing
There are various activities to enjoy while watching the sunset at Panglao Island. Relax and unwind on one of the many beach loungers while sipping on some fresh coconut water or indulge in some local delicacies sold by vendors along the beach. You can also walk along the shorelines with your loved ones or take an evening swim before returning to your hotel.
Panglao's Nightlife Scene
After enjoying a picturesque sunset, stay on Panglao Island to experience its vibrant nightlife scene fully. Local bars and clubs come alive after dark with live music performances by talented musicians and DJs spinning lively tunes that will make you dance until dawn. Enjoy refreshing cocktails or local beers while socializing with locals and other tourists.
Conclusion
A full-day tour covering Bohol's must-see attractions is a perfect way to maximize your visit to this beautiful island. From the historical sites at Blood Compact Shrine and Baclayon Church to the unique geological landform of Chocolate Hills, Loboc River Cruise's scenic dining experience, and finally the colorful world of Bohol Butterfly Conservation Center.
These attractions provide an opportunity for visitors to experience all that this remarkable island has to offer. Planning such a day tour will help you make the most of your trip and create incredible memories that will last long after you leave Bohol.
Bohol is undoubtedly one of the most beautiful islands in the Philippines that offers a wide array of attractions to visitors from all over the world. By planning your full-day tour well, you can maximize your time on this enchanting island by exploring its landscapes, discovering its rich culture and heritage, indulging in its delicious cuisine, witnessing breathtaking sunsets, and experiencing thrilling outdoor adventures.
With so much diversity within this small island province, it's easy to fall in love with Bohol quickly – from its pristine beaches to its lush forests. A trip here will give you some of the most cherished memories of your lifetime.
Bohol's people, culture, and natural wonders are sure to leave a lasting impression on anyone who visits. So don't hesitate; book your trip today and create unforgettable memories that you'll cherish for years to come!
---
RELATED ARTICLES
Discover the perfect blend of luxury and affordability at Modala Beach Resort in Panglao, Bohol. Escape the crowds and indulge in a tranquil haven that promises a remarkable getaway. Explore the resort's future expansion plans, delightful dining options, tasteful design, streamlined check-in process, exceptional staff, and more.

---

shorten to 160 : Join MyTourGuide.ph on a captivating adventure as we explore the breathtaking beauty and warm hospitality of Bohol. From seamless travel arrangements to remarkable resort stays and unforgettable tours, immerse yourself in the wonders that make Bohol a truly enchanting destination.

---

Discover the best of Bohol Island with a full-day tour covering must-see attractions like the Chocolate Hills, Tarsier Sanctuary, and Loboc River Cruise.

---