In this comprehensive article, we will share our firsthand experiences, practical tips, and must-visit attractions, ensuring that your visit to Bohol is nothing short of extraordinary. We invite you to join us on an immersive journey through the captivating province of Bohol. Prepare to be captivated by stunning landscapes, rich cultural heritage, and the warm hospitality of the local people.
Introduction
MyTourGuide.ph perceives Bohol as a captivating representation of the Philippines, where diverse landscapes and rich cultural heritage are on full display. With its scenic residential areas, expansive rice fields, and captivating attractions, Bohol perfectly captures the essence of the country, inviting visitors to experience the overall beauty and charm that define the Philippines.
Getting There: A Seamless Travel Experience
Our Bohol adventure began with a scenic two-hour ferry ride from Cebu, thanks to our pre-booked tickets from Klook. The Oceanjet ferry not only offered impeccable service but also provided breathtaking views of the Cebu-Cordova Bridge as we departed. This seamless travel arrangement ensured a hassle-free journey, setting the tone for the remarkable experiences that awaited us.
The Cebu Port
The waiting facility has undergone notable enhancements, boasting well-air-conditioned premises, ample seating arrangements, clean restroom facilities, a variety of food stalls, and streamlined check-in procedures. However, the most significant aspect of our experience was the punctuality of departures, ensuring a timely journey. Oceanjet Ferry exceeded our expectations, delivering commendable service and prioritizing timeliness as a crucial factor.
Traveling by Air
Alternatively, travelers can opt for the airport in Tagbilaran, which offers budget-friendly ticket options. This booking app provides a convenient and cost-effective choice for those seeking to reach Bohol with ease.
Arriving at Tagbilaran Port: Vibrant, Yet Room for Improvement
Stepping ashore at Tagbilaran Port, we were greeted by a vibrant atmosphere that instantly immersed us in the local culture. One aspect that caught our attention was the need for enhanced facilities at the port.
Upon disembarking, the baggage is unloaded from the rear of the boat, conveniently located just beside the vessel. We were fortunate enough to have our items unloaded swiftly and easily retrievable. However, for others, it could pose a potential inconvenience as the crowd gathers to retrieve their belongings.
As we made our way toward the exit, we observed some uneven walkways that required us to lift our heavy luggage. It would be beneficial for the port facility team to address this issue. We encourage them to experience the walk with heavy, wheeled luggage to truly understand the challenges it presents. Nevertheless, upon reaching the exit, our pre-arranged vehicle awaited us, with the driver readily identifying us by waving our names.
Notably, the drivers in Bohol exhibited exceptional manners and hospitality, consistently opening and closing the vehicle doors for us. It is worth mentioning that they did not expect tips, at least the drivers assigned to us, which added to the overall positive experience.
Despite these areas for improvement, the warm welcome from the locals and the efficiency of our pre-arranged transportation helped us transition smoothly from the port to our next destination.
The Resort: Tranquility and Promise
For our stay in Bohol, we chose the newly established Modala Beach Resort. Nestled in a serene location, it offered a peaceful escape from the bustling city life. The resort, still in its expansion phase, showed great promise with its well-appointed rooms and delightful amenities. What truly impressed us was the adjacent strip mall, a promising sign of future development. We couldn't wait to see how it flourishes in the coming years. To learn more about our complete resort review, visit MyTourGuide.ph.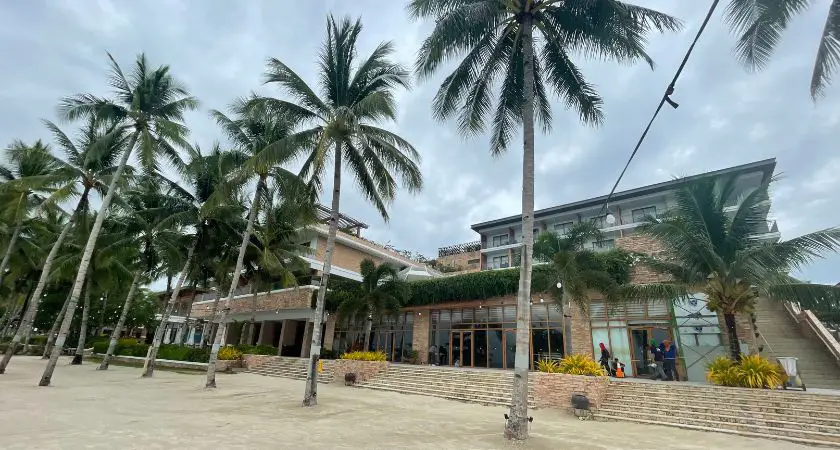 Unveiling Bohol's Treasures: A Tour to Remember
Our journey through Bohol wouldn't be complete without exploring its iconic attractions. Our knowledgeable driver, a local expert, crafted an itinerary that took us to Lemur and Butterfly, Loboc River Cruise, Man-made Forest, Tarsier Sanctuary, Chocolate Hills, and Baclayon Church. Each stop offered a unique glimpse into Bohol's rich cultural tapestry and natural beauty.
The highlight of our tour was the Loboc River Cruise, an officially endorsed attraction by the local government. Gliding along the tranquil river, we were treated to stunning views of the lush surroundings. The captivating performances and delectable local cuisine made it an unforgettable experience that truly showcased Bohol's charm. The warm hospitality extended to us throughout the cruise left an indelible mark on our hearts.
CAUTION: Please ensure you communicate your preference for the Loboc River Cruise to your driver as there are other floating restaurants in Bohol. The official endorsement by the local government makes the Loboc River Cruise a standout highlight of the entire tour, at least from my perspective.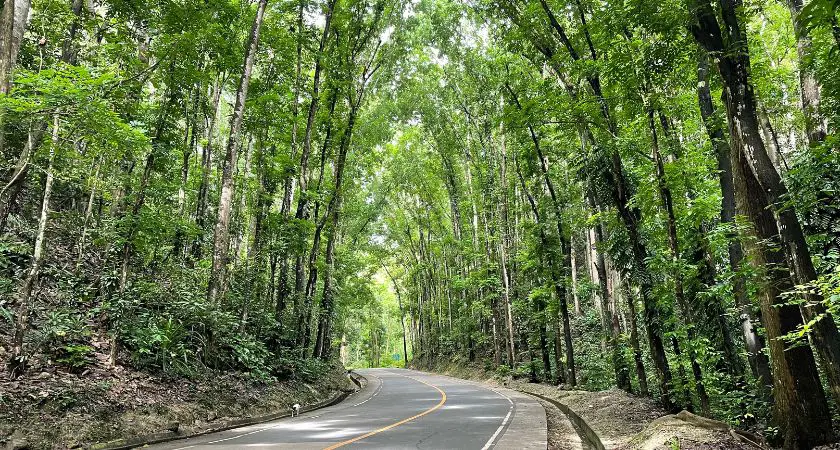 The tour commenced at 10 am and concluded at dusk. The distances between each destination were considerable, prompting the driver to increase speed, which, admittedly, caused some discomfort. However, the breathtaking views along the way more than made up for it, making it a minor concern.
Among the must-visit attractions are the captivating man-made forest, the iconic Chocolate Hills, the enchanting Tarsier Sanctuary, and, of course, the unforgettable Loboc River Cruise. Families with children will also enjoy the Butterfly and Lemur experiences, although it's worth noting that other butterfly sanctuaries in Bohol may offer even more enticing attractions. In our case, we were taken to Lemur and Butterfly, which may not have been my preferred choice, but it was truly remarkable to witness the genuine enthusiasm and excitement expressed by the kids on our team. Their own words of wonder and joy truly highlighted the unique and captivating experience offered by this attraction.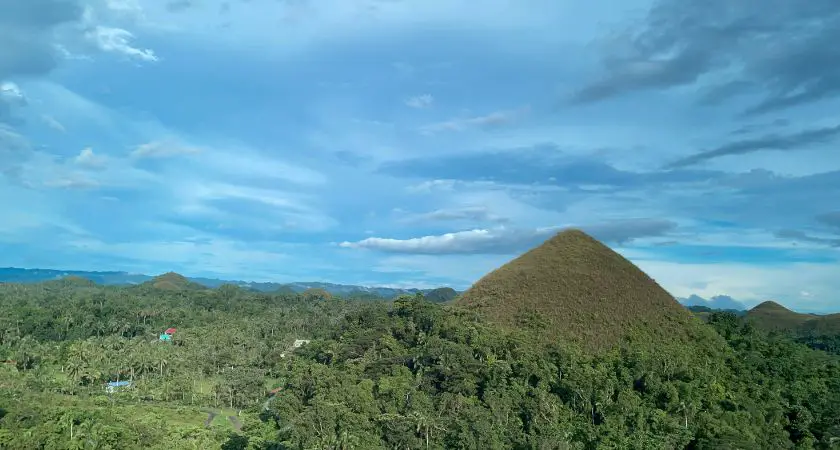 Here's a recommended one-day tour itinerary for you. Just remember to visit the aforementioned essential attractions, and you're all set for a memorable experience.
Exploring Beyond: Indulging in Nature's Embrace
While our tour of Bohol introduced us to the province's iconic attractions, we were pleasantly surprised to find that there is so much more to discover beyond these well-known sites. Bohol boasts a plethora of hidden gems and lesser-known destinations that are waiting to be explored.
Therefore, we highly recommend setting aside additional days during your visit to Bohol to truly unwind and savor the resort experience. Take advantage of the resort's inviting pool, where you can relax and soak up the sun while enjoying refreshing dips. The resort's beachfront location provides the perfect opportunity to bask in the beauty of Bohol's coastal scenery and indulge in leisurely walks along the shore. Immerse yourself in the tranquil atmosphere, feel the gentle sea breeze against your skin, and let the soothing sound of waves wash away your worries.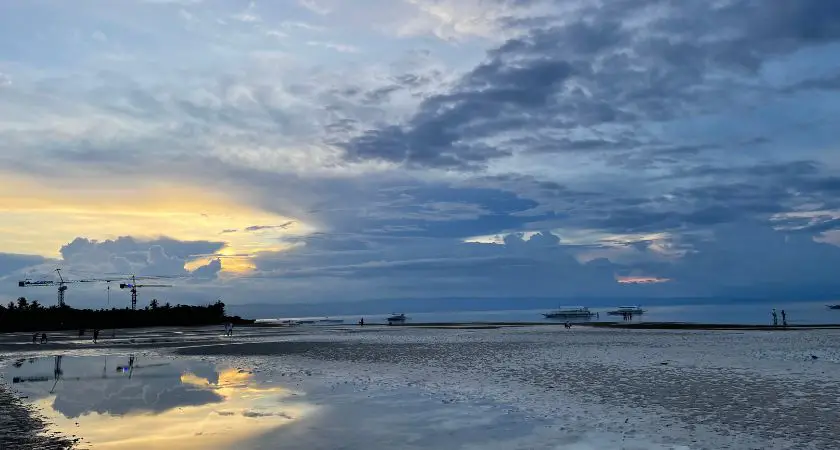 By extending your stay at the resort, you'll have the chance to indulge in various activities and amenities it offers. Engage in thrilling water sports, rejuvenate with spa treatments, savor delectable cuisine at the resort's restaurants, or simply lounge by the poolside with a good book in hand. The resort provides a serene and idyllic backdrop for relaxation and rejuvenation, allowing you to create unforgettable memories and recharge your energy.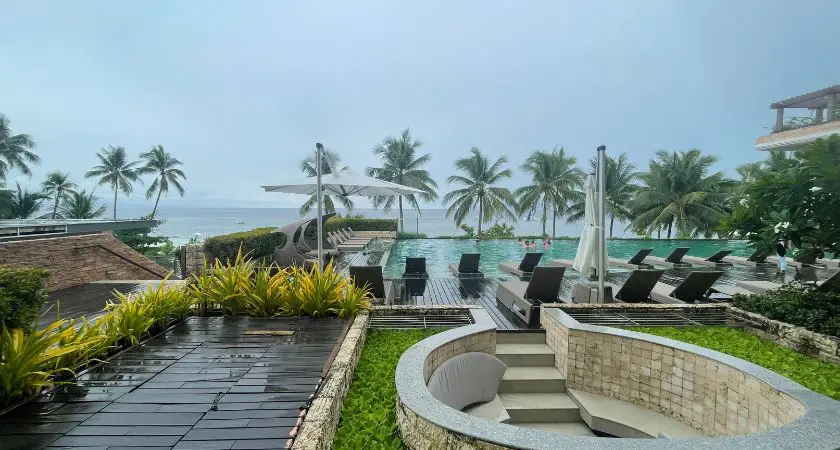 Practical Considerations: Pricing, Tips, and More
To make the most of your Bohol adventure consider the practical aspects of your journey. A one-day tour typically costs around 3500 pesos. Don't forget to budget for entrance fees and show appreciation to the talented performers, guides, and drivers who make your experience exceptional. We recommend exploring the tour packages available on Klook, as they provide attractive options and cost savings.
Klook Tours
Klook offers tours based on duration, and it presents an appealing option due to its affordability. Based on our experience, you can explore all the aforementioned attractions within an 8-hour timeframe. This makes it an enticing choice for travelers looking to make the most of their time while enjoying cost savings.
Oceanjet Ferry
Booking our Oceanjet ferry ticket through Klook was undoubtedly one of the best decisions we made for this trip. While it may have been slightly more expensive than purchasing tickets at the port, it saved us from the hassle and inconvenience. The ticketing outlets at the port did not appear very inviting, which reinforced our satisfaction with the Klook booking platform. We appreciated the detailed instructions and information provided by Klook, as it demonstrated the strength of this booking platform.
Departing from Tagbilaran Port
We were extremely thankful for making our ticket arrangements through Klook, as it ensured a seamless and hassle-free check-in experience at Tagbilaran Port. However, as observant travelers, we would like to share some constructive feedback based on our observations at the port.
While the ticketing and check-in area was adequately covered, we believe that reducing its transparency would be beneficial in shielding passengers from the intense sunlight, thus enhancing their overall comfort.
Furthermore, we suggest increasing the availability of chairs and, if feasible, providing a fan to improve the ticketing and check-in area for travelers. It is worth mentioning that during our visit, we noticed that all the male urinals were simultaneously out of order, highlighting the need for upgrades and maintenance at Tagbilaran Port. By addressing these areas for improvement, the port authorities can elevate the overall experience for visitors, ensuring a more pleasant and efficient journey for all.
Conclusion: Unleash the Magic of Bohol
In conclusion, our enchanting journey through Bohol with MyTourGuide.ph revealed a destination brimming with natural wonders, cultural treasures, and warm hospitality. While there are areas for improvement at the ports, the seamless travel arrangements, remarkable resort experiences, and unforgettable tours made our visit truly extraordinary.
Embrace the allure of Bohol and allow MyTourGuide.ph to be your trusted companion. With our firsthand experiences and practical insights, we ensure that your journey through Bohol exceeds your expectations. Unveil the beauty, immerse in the culture, and create cherished memories that will last a lifetime. Let Bohol's enchantment weave its way into your heart, leaving you with a yearning to return to this captivating destination.
Begin planning your Bohol adventure today, and let MyTourGuide.ph guide you to a world of captivating beauty and unforgettable experiences. Bohol awaits you with open arms!
---
RELATED ARTICLES