Welcome to the Pinto Art Museum
Located in Antipolo City, Philippines, the Pinto Art Museum is a must-visit destination for art lovers and anyone who appreciates beauty. The museum is situated amidst lush greenery and boasts scenic views of the Sierra Madre Mountains. Visitors are transported into a world of art, culture, and history as they explore the galleries that showcase contemporary Philippine art.
What is Pinto Art Museum?
Pinto Art Museum is a three-hectare property that houses more than 300 pieces of contemporary Philippine art. The museum has six galleries that feature various forms of visual art such as paintings, sculptures, mixed media installations, and other contemporary artworks.
The place has a Mediterranean-inspired architecture that complements its natural surroundings. The ambiance of the place is tranquil and relaxing; it's like being in an oasis away from the hustle and bustle of city life.
The Importance of Visiting Pinto Art Museum
Art museums are essential not just for artists but for everyone else as well. They offer visitors an opportunity to understand different perspectives and cultures through visual arts. By visiting museums like Pinto Art Museum, people can gain insights into important historical events or social issues through artistic expression.
Pinto Art Museum specifically showcases contemporary Philippine art that reflects the country's rich cultural heritage. It offers visitors an opportunity to appreciate not only the beauty but also the complexities and richness of Philippine culture.
Moreover, visiting art museums can be therapeutic for individuals who may be dealing with stress or anxiety. Studies have shown that looking at artwork can reduce stress levels significantly; it provides an escape from daily routines by immersing oneself in appreciating something aesthetically pleasing.
Visiting Pinto Art Museum is not just about admiring beautiful artworks—it's about gaining insights into different cultures, appreciating the country's rich cultural heritage, and finding solace in the beauty of art. So go ahead, plan a visit to Pinto Art Museum, and immerse yourself in an experience that will enrich your mind and soul.
Ticket Price:
If you're planning a visit to the Pinto Art Museum, one of the first things you might be wondering is how much it will cost. The good news is that compared to other museums and art exhibits, tickets are generally affordable and won't break the bank.
General admission fee:
As of 2021, the general admission fee for Pinto Art Museum is Php250. This price includes access to all galleries and exhibitions within the museum complex. You can spend as much time as you want in each area, so feel free to take your time and explore every nook and cranny.
Discounted rates for students and senior citizens:
Seniors who are 60 years old and above can avail of a discounted ticket price of Php200. Students with valid school IDs can also enjoy discounted tickets at Php200. These discounts allow more people to enjoy the museum's offerings without having to worry too much about expenses.
Free admission for children under 3 years old:
One of the best things about Pinto Art Museum is that it offers free admission for children under three years old. This allows families with young kids to enjoy all that the museum has to offer without worrying too much about expenses. It's worth noting that these prices may change over time, so make sure to check their website or social media pages for any updates before planning your visit.
Overall, the ticket prices at Pinto Art Museum are reasonable considering all that you get access to. Plus, if you're a student or senior citizen or have young kids in tow, there are discounted rates or even free admission available so everyone can appreciate art together at any age!
What's Included in the Ticket Price?
Access to All Galleries and Exhibits
When you purchase a ticket to Pinto Art Museum, you're not just paying for access to one or two galleries. You'll have the opportunity to explore all six exhibits, each with its own unique theme and aesthetic.
From contemporary art installations to traditional Filipino artifacts, there's something for everyone at Pinto Art Museum. One of the most popular galleries is the Silangan Garden, which features sculptures and installations set amidst a lush botanical garden.
You can also wander through the Natin Gallery, which showcases traditional Filipino art such as paintings, sculptures, and textiles. The museum's newest exhibit, Luntian: A Tropical Garden Show features living plants in an indoor setting.
Use of Amenities such as Restrooms, Parking, and Wi-Fi Access
Pinto Art Museum is more than just an art gallery – it's also a full-service facility with amenities that make your visit comfortable and enjoyable. When you arrive at the museum, you'll find ample parking space for your car or motorcycle.
There are also clean restrooms throughout the premises available for visitors to use. If you need to take a break during your visit or just want some fresh air after exploring exhibits indoors there are outdoor patios where you can relax.
Additionally, visitors have access to free Wi-Fi while inside The Cafe Rizal the museums premises is a great place for visitors seeking refreshments or light meals. Overall Pinto Art Museum ticket price includes more than just viewing wonderful works of art!
Tips on getting the best value for your money
Visiting during weekdays or non-holidays to avoid crowds
Visiting the Pinto Art Museum during weekdays or non-holidays can save you both time and money. Crowds can be overwhelming and cause long lines, which is why it's best to go when fewer people are around. Plus, you'll have more time and space to appreciate the art installations.
Weekdays are generally less crowded than weekends, so if you have a flexible schedule, plan your trip accordingly. Another advantage of visiting during off-peak days is that you can get better deals on tickets and other expenses such as accommodations and transportation.
Hotels, restaurants, and taxi services may offer lower rates when demand is low. You can also take advantage of last-minute deals or special promotions that are available only on certain days.
Bringing your own food and drinks to save on expenses
The museum has several cafes and restaurants where visitors can purchase food and drinks. However, prices at these establishments may be higher than average due to location markups and other factors. If you want to save some money while enjoying a picnic outdoors or inside one of the galleries, consider bringing your own snacks or drinks.
There are no restrictions against bringing food into the museum as long as they don't require heating or cooking appliances such as stoves or microwaves. You can pack sandwiches, chips, fruits, nuts, bottled water, or juice boxes in a small cooler bag that won't take up too much space in your backpack.
Availing of group discounts for bigger parties
If you're planning a trip with friends or family members who share your love for art and culture, consider availing of group discounts offered by Pinto Art Museum. Group rates apply to parties of 10 persons or more who pay together in one transaction. The discount amounts vary depending on the size of the group and other factors, so it's best to inquire directly with the museum's management.
In addition to discounted admission fees, groups can also avail of guided tours, educational talks, and other activities that are not available to individual visitors. Group reservations should be made at least two weeks in advance to ensure availability and avoid conflicts with other events that may be taking place at the museum.
The Bottom Line
To make your trip to the Pinto Art Museum more enjoyable and affordable, consider visiting during less crowded days such as weekdays or non-holidays. Bring your own snacks or drinks if you want to save on food expenses or have dietary restrictions.
If you're traveling in a group of 10 or more persons, inquire about special discounts and packages that may be available exclusively for your party. Whatever you do, make sure you have plenty of time to explore all the galleries and exhibits and take lots of photos!
Opening hours
Tuesday – Sunday
10 am – 6 pm 
Location
Pintô Art Museum
1 Sierra Madre St. Grand Heights Rd,
Antipolo, Rizal, Philippines
Contacts
tel: +63 2 697 1015
pintoartmuseum@yahoo.com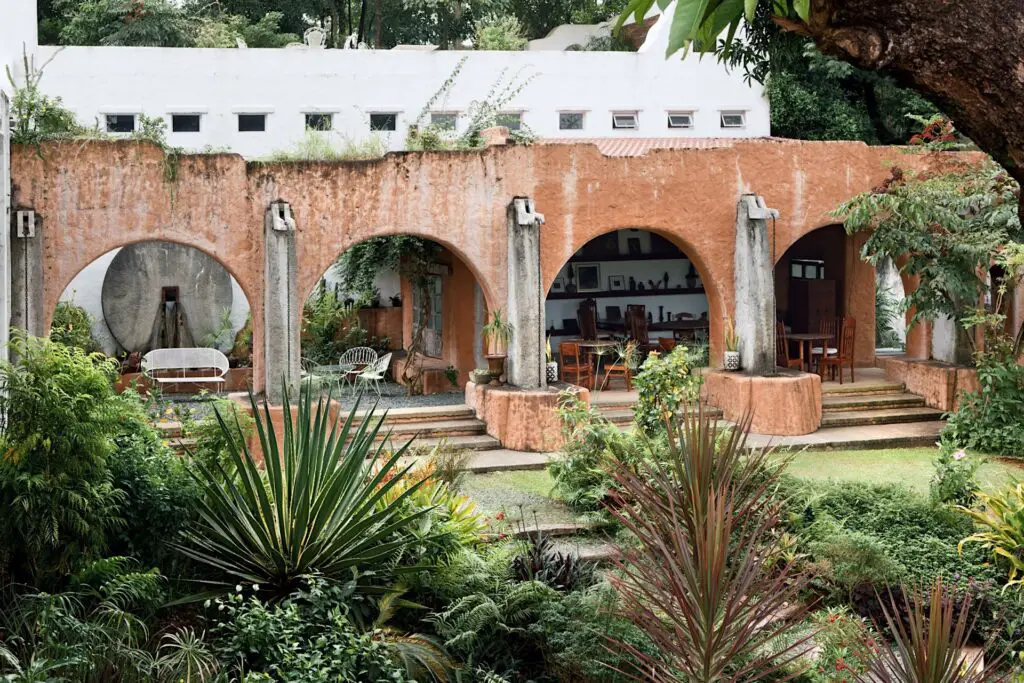 Conclusion
Recap of the Importance of Visiting Pinto Art Museum
After discussing the ticket price and what it includes, it's important to remember why visiting the Pinto Art Museum is worth your time. The museum boasts a collection of over 1,000 pieces of contemporary Philippine art, spread across six different galleries and exhibits. It's rare to find such a diverse range of art styles and mediums in one place.
From paintings to sculptures and installations, there's something for anyone who appreciates art. Moreover, the museum is situated atop a hill in Antipolo City, which provides a stunning view of Manila Bay and Rizal province.
The architecture of the buildings itself is also worth admiring; inspired by Mediterranean-style villas with white-washed walls, terra cotta roofs, and intricate details that add character to each structure. In short, visiting Pinto Art Museum isn't just about appreciating art — it's also about immersing yourself in an environment that engages all your senses.
Encouragement to Visit Soon
If you're still on the fence about visiting Pinto Art Museum (or maybe you've already decided you want to go), here are some reasons why now is a great time: Firstly, because the museum covers a vast area consisting of various indoor galleries as well as outdoor pavilions surrounded by lush greenery – social distancing guidelines can be easily observed even when there are crowds present. Secondly, those who appreciate discounted rates would be pleased to know that they offer senior citizen discounts which opens the door for our older friends and family members to have more opportunities for meaningful experiences.
but not least importantly – going through difficult times can cause us all levels of stress. Taking time off from our usual routine could be vital in helping us relax mentally while still staying safe during these times.
As such, immersing oneself in the world of art and nature can be therapeutic. All things considered, Pinto Art Museum is a must-visit for anyone looking to experience contemporary Philippine art whilst also basking in the beauty of nature.
The museum's affordable ticket price and diverse collection make it accessible to a wide range of visitors. So go ahead and plan your visit – you won't regret it!
Explore the Best of Philippines: Must-See Tourist Destinations
The Philippines is a stunning cluster of islands brimming with breathtaking natural wonders and cultural treasures. With over 7,000 islands, the country offers a diverse range of destinations to explore, from bustling urban centers to tranquil shorelines, and historical landmarks to breathtaking terrains. The Philippines caters to every traveler's needs, whether it's seeking an adventurous escapade, unwinding on a serene beach, or delving into cultural experiences. This guide presents a curated list of must-see tourist destinations in the Philippines, each of which offers a distinct and charming experience. So, prepare to embark on an adventure to discover the best of the Philippines.
Honda Bay Palawan in the Philippines is a stunning destination that offers a plethora of natural wonders and exciting experiences. This coastal paradise is known for its crystal-clear turquoise waters,…

---