The Delicious World of Maginhawa Restaurants
The Rise of a Foodie Haven
Maginhawa Street, located in Quezon City, has become a popular destination for foodies and travelers alike. With its diverse restaurant options, Maginhawa has earned its reputation as a bustling hub for food enthusiasts. But how did this street transform into one of the city's most famous food destinations?
It all started in the early 2000s when Maginhawa was primarily known for its residential homes and small businesses. However, with the growing demand for dining establishments, entrepreneurs saw an opportunity to open restaurants along this stretch, offering something unique and delicious to customers.
The arrival of new restaurants sparked interest among local residents and visitors from across the metro who came flocking to try these new gastronomic offerings. The area eventually became known as "Maginhawa Food Street" or simply "Maggie" by locals.
A Diverse Array of Restaurant Options
Today, Maginhawa boasts an impressive array of dining options that cater to every palate and budget. From fast-food chains to specialty restaurants that serve gourmet meals made from locally-sourced ingredients, Maginhawa has something for everyone.
For those who love burgers with customizable toppings, The Burger Project is a must-visit. Their juicy patties come with different add-ons like bacon strips or onion rings that will leave you feeling satisfied.
Meanwhile, dessert lovers should not miss out on The Lost Bread – an ice cream parlor where you can indulge in decadent treats such as French toast smothered with Nutella sauce or their famous Milkshake topped with whipped cream and sprinkles.
These are just some of the many restaurants that line Maginhawa Street, each one with its own unique flavor and personality.
Whether you're in the mood for pizza, pasta, Japanese food, or Filipino classics – odds are there's a restaurant on Maginhawa that serves it up. So why not take a stroll down Maginhawa and discover your next favorite meal?
Popular Restaurants in Maginhawa
Buen Comer Poquellas
Buen Comer Poquellas is a Mexican restaurant located at 48 Mapagkawanggawa, Quezon City, Metro Manila, Philippines. It is rated highly and ranks as one of the top restaurants in Quezon City.
The restaurant is known for its Mexican cuisine and has been praised for its perfectly cooked Caesar salads, kare-kare, and salad rolls. It also offers good ice cream. The staff at Buen Comer Poquellas is known for their high level of quality and fast service. The restaurant is also recognized for its homey atmosphere. It has a Google rating of 4.7 and a Zomato rating of 4.8 out of 5​.
Some of the frequently mentioned items in reviews include rice pilaf, kare-kare burrito, peri-peri, cilantro sauce, fries wrap, chicken quesadilla, and Mexican food​. There's also a special off-menu item called the "Hangover Wrap," which includes steak, crunchy liempo, two fried eggs, fried rice, and chili garlic, and is recommended as a meal after a night of drinking.
Garlic Kitchen
Garlic Kitchen is a fine dining spot especially popular among garlic lovers, offering a unique culinary experience with its variety of garlic-infused dishes. One of the notable dishes mentioned is the Garlic Infused Lechon Baka. They also offer a house blend iced tea with a hint of garlic, which is said to be a unique and refreshing choice.
The establishment's ambiance is cozy and welcoming, with an al fresco dining area that provides a nature-inspired atmosphere. The interior design is vibrant and rustic, contributing to the overall charm of the place. Prices are affordable, with the range per person listed as PHP 550 – PHP 1,400.
Friuli Trattoria
Friuli Trattoria is a well-known Italian restaurant located in Quezon City, Philippines. With its location at 79A Maginhawa, this establishment is known for its delightful Italian and pizza offerings. The restaurant operates from 11 AM to 9 PM every day of the week.
Friuli Trattoria is appreciated for its variety of dishes and is particularly popular for the quality of its pizza. It has a significant online presence, reflected in its ratings: a 4.2 on Zomato with 383 reviews, a 4.3 on Google with 1.1k reviews, and a 4.3 on Facebook with 204 reviews.
Pino Resto Bar
Pino Resto Bar offers a variety of dishes and drinks, including gluten-free and vegan options. The restaurant has several branches, including one in Trinoma Mall and another on Malingap Street in Teacher's Village. The menu features Filipino comfort food with a modern and healthy twist. Customers can dine al fresco, pick up their orders, or have them delivered. The restaurant also serves tamarind juice, which has received positive reviews. Pino Resto Bar is open daily from 10 am to 10 pm.
The restaurant is particularly praised for dishes such as the Bagnet Fusion, Sizzling Laing, Mini Sisig Tacos, Nori Cheese Sticks, Bagnet Kare-Kare, Sarsi Chicken, and Pinakbet. The Kare-kareng Bagnet and the coffee-crusted beef are frequently highlighted in the reviews.
Pino Resto Bar has received a rating of 83 out of 100 based on 1410 ratings and reviews​, with positive reviews on platforms such as Google, TripAdvisor, Foursquare, Facebook, and Zomato​.
Talisay the Garden Cafe
Talisay The Garden Cafe is a cozy restaurant at 44 Maginhawa Street, Teachers Village, Quezon City, Philippines. It is open daily from 11 a.m. to 10 p.m. The cafe is housed in a converted 1960s split-level type bungalow with wide, open windows that allow the restaurant to flow out into the open garden.
The ambiance of the restaurant is reminiscent of a family home, and the small garden outside adds to the welcoming atmosphere. The menu at Talisay The Garden Cafe features Filipino cuisine with dishes inspired by the owner's childhood memories and travels. 
Some of the dishes you can expect to find at the cafe include paella, chicken curry, and beef rendang. They also offer desserts like cheesecakes and chocolate cakes.
Provenciano
Provenciano Restaurant is at 110 Maginhawa St., Teachers Village, Quezon City, Philippines. It is a popular destination for those who want to indulge in authentic Filipino cuisine in a lovely setting. The restaurant has a warm ambiance, delicious food, and reasonable prices. 
The restaurant offers a wide range of Filipino dishes, with bibingka and puto bumbong being some of the most popular items on the menu. Other dishes include kare-kare (oxtail and tripe stewed in a rich peanut and toasted ground rice sauce), laing (taro leaves in coconut cream with pork and chili), and cocidong lapu-lapu (a Bicolano specialty soup dish). They also have a sauce bar where you can choose your favorite vinegar and sauces.
The interior of Provenciano is a blend of Filipino and Spanish influences, with a stationary Kalesa in front. You can dine either by the Kalesa or in the indoor area, depending on your preference. The restaurant is known for its Instagram-worthy interiors and food presentation.
Roberta Flavors of Asia
Roberta Flavors of Asia is an Asian restaurant located at 45B Maginhawa Street, UP Village, Quezon City, Philippines. The restaurant serves a variety of Asian fusion dishes, including Chinese, Filipino, Japanese, Korean, and Thai dishes. Some of the must-try dishes at Roberta Flavors of Asia include Tinola sa Pakwan, Balinese Veggies, Binagoongan Lechon, and Phat Thai. 
Theo's Kitchen & Cafe
Theo's Kitchen & Cafe is a restaurant located at 106-C Maginhawa, Quezon City, Metro Manila, Philippines. The restaurant offers both American and Filipino cuisine and is particularly known for its nicely cooked tapas, beef tenderloin, and spaghetti carbonara, as well as tasty biscuits, egg waffles, and brownies.
The restaurant also serves beverages such as matcha, espresso, and vanilla latte. Visitors to the restaurant have commended the competent staff, good service, and the terrific decor and spectacular atmosphere. Google users have rated the restaurant 4 stars​
Fat Cousins
Fat Cousins' Diner is a restaurant located at 112, 114 Maginhawa, Quezon City, Metro Manila, Philippines. It is well-known for its dishes like roast beef, rib steaks, and pork ribs. For dessert or a sweet treat, they serve tasty ice cream. The diner also serves beverages like iced tea, lemonade, and milkshakes. The staff is known to be appealing and provides fine service, which guests appreciate. The restaurant has both indoor and outdoor seating options, with a calm ambiance and cute decor.
Snack Shack
Snack Shack in Maginhawa, Quezon City, Philippines, is a crowd favorite known for its high-quality burgers that are budget-friendly. Depending on your appetite, you can choose between a Quarter Pounder (P80) or a Half-Pounder (P155). Both burgers come with a 100% beef grilled patty, tomatoes, onions, lettuce, cheese, and condiments.
If you want to customize your burger, you have the option to add jalapeño, barbeque sauce, cream cheese, and garlic chips for an additional P25 per item. Extra cheese and vegetables can also be added for a small fee. The restaurant is located near the University of the Philippines campus and is popular with students and locals alike.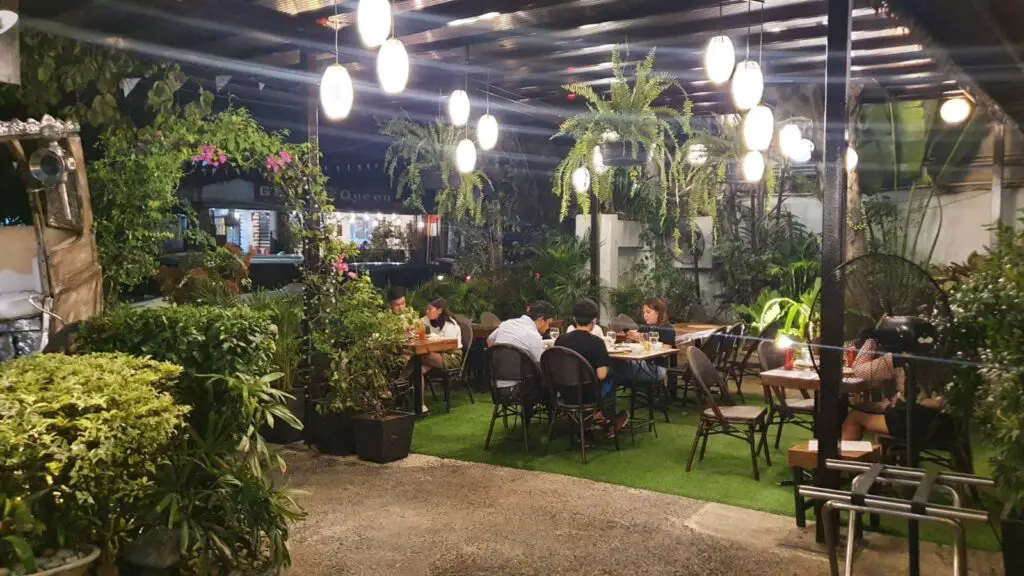 Conclusion
Maginhawa, a vibrant street located in Quezon City, Philippines, is indeed a food lover's paradise. This bustling hub of culinary creativity offers a wide variety of cuisines and dining experiences that cater to diverse palates and budgets.
Whether you're a local resident or a visitor to Quezon City, the food scene in Maginhawa is sure to leave a lasting impression. From local favorites to international fare, there's something for everyone in this lively food haven.
---
RELATED POSTS