The Joy of Bowling: A Look into Metro Manila's Bowling Scene
A Brief History of Bowling in Metro Manila
Bowling has been around in the Philippines since the early 1900s. During that time, it was considered a sport exclusively for the elite, with only members of exclusive clubs having access to bowling alleys.
In fact, it wasn't until after World War II that bowling became more accessible to the masses as more and more commercial centers began installing alleys. In Metro Manila specifically, bowling grew in popularity during the 60s and 70s.
It was during these years that Filipinos started building their own alleys and creating leagues for both amateur and professional bowlers alike. The sport became particularly popular among young professionals who saw it as a way to de-stress after work or bond with friends over drinks.
Why Bowling is a Popular Sport and Leisure Activity in the City
Today, bowling remains one of the most popular sports and leisure activities in Metro Manila. One reason for its enduring appeal is its accessibility – you can find a bowling alley almost everywhere in the city, from malls to standalone establishments. Another reason is its versatility- whether you're looking for something fun to do with family or friends or you want to join competitive leagues, there's something for everyone.
Plus, unlike other sports that require specific physical attributes like height or speed, anyone can play bowling regardless of age or body type. Let's not forget about the fun factor!
Although some take it seriously as a sport or even a career path, many find joy in simply playing casually with friends while enjoying some food and drinks on the side. There's just something about seeing those pins fall down that gives one an inexplicable feeling of satisfaction.
With all these factors combined- accessibility, versatility, and pure enjoyment- it's no wonder bowling has become such a beloved pastime in Metro Manila. In the following sections, we'll take a closer look at some of the best places to bowl in the city and what makes them stand out from the rest.
SM Bowling Center (Mall of Asia)
Location and Accessibility
SM Bowling Center is located at the Mall of Asia, one of the biggest shopping malls in all of Asia. The mall is situated along Manila Bay, providing a scenic view that adds to the pleasure of bowling.
You can easily get to SM Bowling Center by car or public transportation such as buses, jeepneys, and taxis. It's also a short walk from the MRT/LRT stations.
Features and Amenities
SM Bowling Center boasts some impressive features and amenities that make it stand out among other bowling alleys in Metro Manila. The center has 34 lanes equipped with state-of-the-art Brunswick scoring systems.
They offer a variety of ball sizes so you can find one that fits your grip perfectly. Plus, they have comfortable seating areas where you can relax after your games.
If you're looking for something more exciting than regular bowling, SM Bowling has an Xtreme Bowling area with black lights, music videos, and disco balls that create a club-like atmosphere. They also have KTV rooms for those who want to sing their hearts out after bowling.
Rates and Packages
The rates at SM Bowling Center are very reasonable considering its top-notch facilities. Prices start at Php175 per game per person on weekdays before 6 PM and Php190 on weekends/holidays or after 6 PM on weekdays.
They also offer attractive packages such as the "Barkada Package" (Php1,999) which includes three hours of unlimited bowling for up to six people plus drinks and snacks; or the "Party Package" (Php4,499) which includes four hours of unlimited bowling for up to ten people plus food and drinks. If you're a frequent bowler, consider getting an SM Bowling privilege card which entitles you to discounts, free games, and other perks.
Paeng's Bowling Center (Greenbelt 5)
Unique Features and Design
Paeng's Bowling Center in Greenbelt 5 is not your average bowling alley. This bowling center is named after the legendary bowler Paeng Nepomuceno, who happens to be a five-time world champion and six-time Philippine Open champion. The moment you step inside the bowling center, you will notice that everything from the interior design to the ball return system is unique.
The alley has ten lanes with state-of-the-art technology that ensures an accurate scorekeeping system. The lighting system is also designed to give off a relaxing ambiance, making it an ideal place for unwinding after a long day at work.
One of the most unique features of Paeng's Bowling Center is its "cosmic" bowling experience. Cosmic bowling allows customers to enjoy a fun-filled bowling experience under black lights, with neon balls and pins that glow in the dark.
Services Offered
Paeng's Bowling Center offers a wide range of services suitable for both beginners and advanced bowlers. They have professional instructors on standby who can teach you how to bowl like a pro or guide you in improving your skills if you're already experienced.
Apart from regular open-play games, they also offer league games for those who want a more competitive environment. They have different leagues that cater to different skill levels – novice up to advanced leagues is available.
And if you're looking for some fun team-building activities or even birthday party ideas, they offer group packages too! They also provide shoe rentals for both adults and kids who don't have their own shoes yet.
Food and Drinks Available
You can't go wrong with good food while playing some friendly games of bowling! Paeng's Bowling Center offers delicious food options such as pizza slices (or whole pies), hotdogs, burgers, nachos, and fries. They also have a variety of refreshing drinks – from soda to beer.
Want something stronger? They have cocktails too!
Their menu is reasonably priced so you can enjoy your meal without breaking the bank. If you're not in the mood for eating inside the alley, there are plenty of other dining options nearby.
Greenbelt 5 has dozens of restaurants to choose from – all within walking distance from Paeng's Bowling Center. Paeng's Bowling Center is definitely worth checking out if you're looking for a unique and enjoyable bowling experience.
From their unique design to their exceptional service and delicious food options – this place has it all! So whether you're a seasoned bowler or new to the sport, give Paeng's Bowling Center a try!
E-Lanes Bowling & Billiards (Quezon City)
Affordable Rates: Perfect for Budget-Conscious Bowlers
Bowling is a great way to unwind and have fun with family and friends, but it can be costly at some establishments. However, at E-Lanes Bowling & Billiards in Quezon City, you'll be able to enjoy the sport without breaking the bank.
Their rates are very affordable compared to other bowling centers in Metro Manila. You can rent a lane for only PHP 250 per hour on weekdays and PHP 275 per hour during weekends.
This already includes shoe rental for everyone in your group. Plus, they offer packages that include food and drinks, so you won't have to worry about bringing your own snacks.
Family-Friendly Atmosphere: A Great Place for Everyone
E-Lanes Bowling & Billiards is also known for its family-friendly atmosphere. The place is well-lit and spacious enough to accommodate large groups of people.
They also have bumpers available for kids who are just learning how to bowl. Additionally, their staff members are always willing to assist customers who need help with scoring or selecting the right size ball.
The establishment has a laid-back vibe that makes it perfect for families who want to bond over a game of bowling while enjoying each other's company. They also have billiards tables that you can use if you want to switch up your activities.
League Games and Tournaments: For Serious Bowlers
If you're a serious bowler looking to join league games or tournaments, E-Lanes Bowling & Billiards has got you covered too! They regularly host league games that cater to different levels of skills – from beginners up until expert bowlers.
Tournaments are also held here every now and then where winners get cash prizes or freebies. These competitions are usually open to everyone who wants to compete, so it's a great opportunity to meet other bowlers and test your skills.
World of Fun Bowling Center (SM City North EDSA)
Great for beginners
If you're new to bowling or just want a fun night out with friends, the World of Fun Bowling Center at SM City North EDSA is the perfect place for you. With its welcoming atmosphere and helpful staff, beginners are sure to have a great time here. The lanes are well-maintained and there are plenty of ball sizes to choose from so you can find one that fits your hand comfortably.
The lights are dimmed just enough to create a cozy ambiance while still being able to see what you're doing. They also offer bumpers for kids or anyone who needs a little extra help hitting those pins.
Fun arcade games available
Aside from bowling, World of Fun also has a variety of arcade games available for those who want a break from the lanes. You can challenge your friends to air hockey, basketball shooting, or even racing games. The arcade is located right next to the bowling alley so it's easy to switch back and forth between activities.
Plus, winning tickets means you get prizes! It's like having two fun activities in one place.
Affordable rates
One thing that sets World of Fun apart from other bowling alleys in Metro Manila is its affordable rates. You won't break the bank here but still get an enjoyable experience that's perfect for groups or families on a budget. Rates start at Php 100 per game per person during weekdays and Php 120 per game during weekends and holidays.
Shoe rental is separate at Php 50 per pair but that's standard across most bowling alleys in Manila. Overall, World of Fun offers an enjoyable night out without putting too much strain on your wallet while still giving you great value for your money.
Playdium Bowling Center (Ortigas)
Large space with 30 lanes
Playdium Bowling Center boasts a massive space with 30 lanes, making it a great destination for groups and events. The well-maintained and modern facilities are perfect for hosting parties or corporate events. Not only that, but the spacious layout allows bowlers to focus on their game without feeling cramped or crowded.
Perfect for group events or corporate parties
Looking for the perfect venue to host your next birthday party, team-building event, or corporate gathering? Playdium Bowling Center has got you covered.
With its expansive space and range of amenities, this bowling center can accommodate any type of group event. Plus, their staff is always ready to assist with anything you need, from setting up decorations to providing food and drinks.
Offers cosmic bowling on weekends
If you're looking for a unique and exciting bowling experience, look no further than Playdium Bowling Center's cosmic bowling nights. Every weekend, the center transforms into a neon-lit wonderland complete with black lights and upbeat music. It's the perfect way to let loose after a long week of work or simply enjoy a fun night out with friends.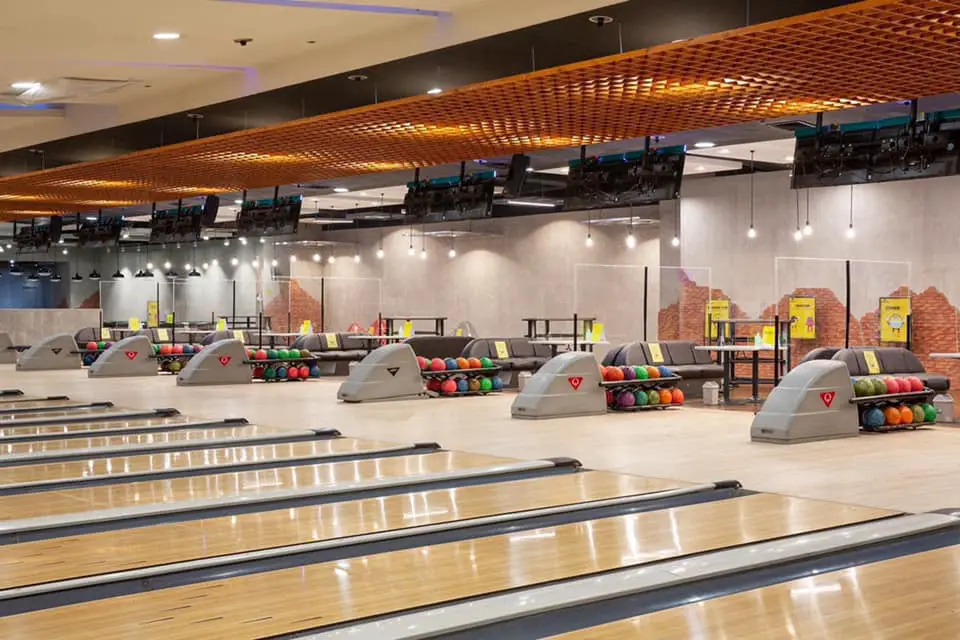 Conclusion
Whether you're an avid bowler or just looking for a fun way to spend an evening with friends, Metro Manila has plenty of options when it comes to top-notch bowling centers. From SM Bowling Center at Mall of Asia to Paeng's Bowling Center at Greenbelt 5 and everything in between – there's something for everyone here! If you're planning an event or simply want to try your hand at one of the world's most beloved sports – these centers have got you covered.
So what are you waiting for? Grab your shoes and hit the lanes today!
---