Cebu Pacific Piso Fare Promo is a special offer that allows travelers to book flights at incredibly low prices. With this promotion, customers can save money while still enjoying a comfortable and enjoyable travel experience with Cebu Pacific.
This discount is available for a limited time and applies to a wide range of destinations. Whether you're planning a beach vacation in Palawan or a cultural tour of Cebu, Cebu Pacific Piso Fare Promo can help you get there without breaking the bank.
What's great about Cebu Pacific Promo is that it doesn't compromise quality or service. You'll still enjoy the same level of comfort and convenience that you would with a full-price ticket.
So if you're looking for an affordable and stress-free way to travel, consider booking a flight with Cebu Pacific Promo. With its unbeatable prices and exceptional service, you can explore the world without worrying about your budget.
Brief Overview of Cebu Pacific
Cebu Pacific, also known as Cebu Air Inc., is a Filipino low-cost airline that was established in 1988. It is the largest carrier in the Philippines, serving both domestic and international flights. With its headquarters situated in Pasay City, Metro Manila, it operates flights to over 60 destinations worldwide.
Over the years, Cebu Pacific has grown and expanded its services by incorporating advanced technology to provide travelers with comfortable and convenient travel experiences at affordable prices. The airline has a fleet consisting of Airbus A320s, A321neos, A330s, and ATRs.
HOW TO BOOK CHEAP FLIGHTS AT CEBU PACIFIC
Book directly at cebupacificair.com
To get the best price, search for cheap flights and compare plane tickets from all major travel agencies and airlines, including Cebu Pacific at Skyscanner!
Skyscanner makes it simple to plan your next trip. Search for flights, hotels, and car rental deals anywhere in the world while you're on the go. You can also save time and money by comparing and booking from your favorite travel brands in one place. There are no booking fees or hidden costs, only the best prices. 
Fly to your favorite destinations!
Here are all the seats on sale per route!
PISO FARE & OTHER NEW CEBU PACIFIC PROMOS
Fly to your favorite destinations! Find all available seats on sale by route here. Check out this page for other ongoing seat sales to the Philippines, the number of seats available, and seat sale FAQs.
1. CEBU PACIFIC PISO FARE PROMO
The term Piso Fare is used by Cebu Pacific to indicate that the base fare is only 1 Peso. The total amount you must pay to complete your booking is the sum of all taxes and other fees. These incredibly low-cost flight promotions happen only a few times a year. Domestic roundtrip tickets can sometimes be purchased for less than 1000 pesos all in during a Piso fare promotion! Check for available seat sales here.
2. Cebu Pacific Promo 25 Pesos
The 25 Pesos promo is one of Cebu Pacific's most thrilling promotions. Yes, you read that correctly: flights for as little as 25 Pesos! This promotion is only available for certain domestic destinations and travel dates. Seats, however, are limited and available on a first-come, first-served basis. Please keep in mind that the total amount you must pay to finalize your booking is the sum of all taxes and additional fees. Check for available seat sales here.
3. Cebu Pacific Promo 99 Pesos
Cebu Pacific's 99 Pesos deal is another popular promotion. This promotion is also available for certain domestic destinations and travel dates. Seats are once again restricted, so book your flights as soon as possible. Check for available seat sales here.
4. Cebu Pacific Promo 199 Pesos
Cebu Pacific has announced P199 one-way special base rates for domestic flights from May to September. The promotional fares will be available from April 26 to 30, 2023, and will cover flights from May 1 to September 30, 2023. Check for available seat sales here.
5. Cebu Pacific Promo Code 2023
You can use a Cebu Pacific promo code to gain further discounts on top of the already reduced tickets. Simply input the coupon code during the booking process, and the discount will be automatically applied. Book now!
6. CEBU PACIFIC DOMESTIC FLIGHTS PROMO 2023
Cebu Pacific is currently offering a number of domestic flight promotions to entice travelers to visit different locations in the Philippines. Passengers can purchase these promo fares using the Cebu Pacific website, mobile app, or ticketing office, but keep in mind that they are subject to availability and are non-refundable.
Cebu Pacific Promo Manila to Davao
Cebu Pacific also has a promo for flights from Manila to Davao. This promo is available for selected travel periods and can be booked through their website. Check the Manila to Davao seat sale here…
Cebu Pacific Promo Manila to Bacolod
Cebu Pacific is offering a promotional rate for travelers traveling from Manila to Bacolod. You can check their website for available promotional deals and book your flights online. Check the Manila to Bacolod seat sale here…
Cebu Pacific Promo Manila to Tacloban
If you're considering a trip from Manila to Tacloban, you might be interested in the Cebu Pacific promotion. The discount fares are available for specific travel dates and may be found on the Cebu Pacific website. Check the Manila to Tacloban seat sale here…
NEW CEBU PACIFIC PROMO!
---
Tips for Booking Cebu Pacific Promos:
Book during Midnight or Early Morning Hours
One of the best tips for booking Cebu Pacific promos is to do it during midnight or early morning hours. This is because the airlines often release their promo fares during these times. So, if you want to grab the best deals, prepare yourself and stay up late or wake up early to book your flight.
Subscribe to Cebu Pacific's Newsletter
Another effective way of getting updates about Cebu Pacific's promos is by subscribing to their newsletter. With this, you'll receive regular email notifications from them regarding upcoming seat sales and other promotions. Plus, they also offer exclusive deals and discounts for subscribers only.
Follow Their Social Media Accounts
Cebu Pacific is also active on various social media platforms such as Facebook, Twitter, and Instagram. By following their accounts, you'll be updated with their latest news and announcements as well as real-time seat sales information. Additionally, some of their promos are exclusively offered through social media channels so make sure you don't miss out on those.
ABOUT CEBU PACIFIC AIR
Cebu Pacific Air is the Philippines' largest airline, offering the most affordable flights to over 60 destinations in Asia, the Pacific, and the Middle East.
Cebu Pacific, the country's aviation industry's innovator, and creative leader was the first to introduce web check-in, E-ticketing, and seat selection in the Philippines. It recently launched GetGo, its newest lifestyle rewards program, to reward frequent fliers with additional benefits and free flights. 
Cebu Pacific also collaborated with WWF-Philippines on a climate adaptation program, as well as with various online hotel reservations companies, car rental companies, travel insurance providers, and entertainment ticketing services to provide its passengers with a more convenient travel experience.
Cebu Pacific Online Booking
It is simple and quick to book Cebu Pacific flights online. Simply visit their website, enter your travel information, and select your preferred flights. You can also pay for your reservation using a credit or debit card online or at one of several payment locations. Book online now!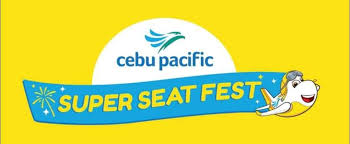 CEBU PACIFIC CONTACT AND SOCIAL SITES
BEST FLIGHT BOOKING APPS
It is unnecessary to visit each airline's website separately to find the best flight times and prices. Flight booking apps can scan all brands and recommend the best option based on your travel requirements. There are many airlines in the Philippines, and using one of the booking apps on this list will help you find the best deal for your flight. The most well-known international and domestic flight search websites are Skyscanner, Hopper, and Kayak. Philippine Airlines and Cebu Pacific are the country's two largest airlines, with the most flights booked.
Hopper
Kayak
Cebu Pacific
Philippine Airlines
In conclusion, the Cebu Pacific Piso Fare Promo of 2023 is a fantastic travel offer that provides savvy passengers with an unbeatable value proposition.  This limited-time promotion provides an excellent opportunity for adventure-seekers, business travelers, and holiday-makers to explore new destinations and make unforgettable memories.
The Piso Fare Promo's affordable base fares give tourists the opportunity to save money on air travel and gain unmatched access to fascinating locations both inside and outside of the Philippines. Cebu Pacific's unwavering commitment to passenger comfort, safety, and satisfaction ensures that travelers can experience a seamless and hassle-free journey every time they fly.
This promotion underscores Cebu Pacific's status as a leading player in the Philippine airline industry, setting new standards for innovation, customer service, and affordability. As the company continues to expand its reach and enhance its services, travelers can expect even more exceptional travel experiences in the years to come.
Overall, the Cebu Pacific Piso Fare Promo of 2023 is an excellent example of a travel promotion that combines affordability, accessibility, and comfort to offer the best possible value to travelers. Whether you're planning a leisurely vacation or a business trip, this promotional offer is a deal that you simply can't afford to miss.
---
Uncover the charm of the Philippines with these irresistible offers
This list offers irresistible great deals that allow budget-conscious travelers to experience the beauty of the Philippines without breaking the bank. Discover the country's breathtaking attractions and vibrant culture and prepare to embark on an unforgettable trip to the Philippines with these low-cost options.
Discover mouthwatering deals! Enjoy Foodpanda Philippines' September 2023 discounts and promos. Savor the savings today!

---
Explore the Best of Philippines: Must-See Tourist Destinations
The Philippines is a stunning cluster of islands brimming with breathtaking natural wonders and cultural treasures. With over 7,000 islands, the country offers a diverse range of destinations to explore, from bustling urban centers to tranquil shorelines, and historical landmarks to breathtaking terrains. The Philippines caters to every traveler's needs, whether it's seeking an adventurous escapade, unwinding on a serene beach, or delving into cultural experiences. This guide presents a curated list of must-see tourist destinations in the Philippines, each of which offers a distinct and charming experience. So, prepare to embark on an adventure to discover the best of the Philippines.
Intramuros is the ancient heart of Manila, a walled city that showcases the rich history and Spanish architecture of Old Manila. Built by the Spaniards as their political and military…

---

Discover the stunning Bolinao Falls in Pangasinan – a natural paradise that promises a breathtaking experience. Immerse yourself in the serene ambiance and witness the beauty of nature at its finest.

---

Discover the captivating natural wonders of the Philippines, from underground rivers to majestic hills. Explore beauty that astounds!

---

Discover the best places to visit in the Philippines this July, from vibrant Manila to stunning Boracay and off-the-beaten-path gems. Unforgettable adventures await!

---

Discover the top 10 must-visit destinations in the Philippines, from Boracay's white sand beaches to Palawan's stunning landscapes.

---

Discover the best of Bohol Island with a full-day tour covering must-see attractions like the Chocolate Hills, Tarsier Sanctuary, and Loboc River Cruise.

---

Discover the ticket prices and tips to save money when visiting Pinto Art Museum. Explore all galleries and exhibits with this helpful guide.

---

Discover the best places to visit in the Philippines this June! From white sand beaches to scenic mountains, festivals and delicious food.

---

Discover the beauty of El Nido through island hopping and off-the-beaten-path tours. Find insider tips for choosing the right tour in this detailed guide.

---

Located in the southern region of the Philippines, Mount Matutum boasts of its scenic beauty, captivating landscapes, and diverse flora and fauna. With its majestic peaks, verdant forests, and cascading waterfalls, this destination is perfect for nature lovers and adventure enthusiasts. Get ready to explore the unspoiled wilderness, trek through challenging trails, and immerse yourself…

---

The serene and beautiful Lake Sebu is situated in the heart of South Cotabato. The lake, which is a favorite spot for both locals and tourists, is home to a variety of fauna.

---

Discover the beauty of Lake Holon – a hidden gem located in the Philippines. Learn about its history, culture, and conservation efforts.

---

Discover the beauty and significance of Osmeña Peak in Cebu, Philippines. Learn about its history, trails, flora/fauna, and local community. Plan your visit now!

---

Discover the beauty and charm of Dasol Pangasinan! Explore its stunning beaches, rich culture, cuisine, and more in this detailed travel guide.

---

Discover the top places to visit in the Philippines this May! From white sand beaches to cultural sites and adventure destinations, find your perfect getaway.

---

Discover Manila Zoo entrance fees and other important information you need to know before visiting. Get tips to make the most out of your trip.

---

Escape to paradise on Camotes Island! Explore hidden caves, swim in crystal-clear waters, and soak up the sun on some of the world's most beautiful beaches.

---

Embark on an unforgettable adventure at Dahilayan Forest Park. Our guide provides essential info, including the entrance fee, to help plan your visit.

---

Experience the ultimate thrill ride on the first Alpine Coaster in the Philippines. Twist and turn through hairpin curves and steep drops while enjoying breathtaking views of the surrounding landscape. This exhilarating adventure is perfect for thrill-seekers and nature lovers alike. Get ready to take on the challenge and ride the Philippines' first Alpine Coaster…

---

Experience an underwater adventure like no other in Cebu Ocean Park. Get to know its entrance fee, attractions, and other essential information. Come and explore the largest aquarium in the Philippines and get ready for a day of exploration and discovery.

---

Cabongaoan Beach is a kilometer-long golden-white sand beach on the western coast of Burgos, Pangasinan.

---

Anjo World is the perfect destination for all of your entertainment needs. Boasting an impressive array of attractions, activities, and entertainment, Anjo has something for everyone.  Anjo World experiences are sure…

---

Discover the natural beauty of Tinipak River in Rizal, Philippines. Immerse yourself in crystal-clear waters, and lush greenery. Experience breathtaking sights of beautiful rock formations, and natural pools. Join us and create unforgettable memories today.

---

Explore the best of Puerto Galera with our expertly curated guide to its top tourist spots. From stunning beaches to breathtaking vistas, uncover the wonders of this tropical paradise and plan your perfect getaway. Start your adventure today!

---

Discover the stunning tourist spots in Mindanao! From surfing in Siargao to hiking Mount Apo, explore the hidden gems and off-the-beaten-path destinations.

---

El Nido is a popular tourist destination on the Philippine island of Palawan. It is a breathtakingly beautiful place to visit, with scenic lagoons, white-sand beaches, towering limestone cliffs, charming inlets, magnificent coral reefs, and clear waters teeming with marine life.

---

Explore the most thrilling water activities to try in the Philippines during the summer season. Our guide covers the best water sports including diving, snorkeling, surfing, and kayaking, revealing the top experiences available in this tropical haven. Join us as we delve into paradise, and learn how to make the most of your visit to…

---

In this blog post, we'll tell you how to get Manila Ocean Park tickets for free. Take advantage of Hotel H2O's Yuletide Getaway for a joyous urban staycation with free tickets at Manila Ocean Park!

---

Sagada in Mountain Province is without a doubt one of the most serene tourist destinations in the Philippines. Take some time to relax and take in the beauty of nature…

---

Seven Seas Waterpark is the Philippines' first world-class pirate-themed waterpark. The waterpark, which opened in November 2017, features over 12 thrilling slides, a 5,000 square meter twin wave pool, a 400-meter long lazy river, and many more family-friendly activities and services.

---