Cebu Pacific Piso Fare Promo is a special offer that allows travelers to book flights at incredibly low prices. With this promotion, customers can save money while still enjoying a comfortable and enjoyable travel experience with Cebu Pacific.
This discount is available for a limited time and applies to a wide range of destinations. Whether you're planning a beach vacation in Palawan or a cultural tour of Cebu, Cebu Pacific Piso Fare Promo can help you get there without breaking the bank.
What's great about Cebu Pacific Promo is that it doesn't compromise on quality or service. You'll still enjoy the same level of comfort and convenience that you would with a full-price ticket.
So if you're looking for an affordable and stress-free way to travel, consider booking a flight with Cebu Pacific Promo. With its unbeatable prices and exceptional service, you can explore the world without worrying about your budget.
HOW TO BOOK CHEAP FLIGHTS AT CEBU PACIFIC
Book directly at cebupacificair.com
To get the best price, search for cheap flights and compare plane tickets from all major travel agencies and airlines, including Cebu Pacific at Skyscanner!
Skyscanner makes it simple to plan your next trip. Search for flights, hotels, and car rental deals anywhere in the world while you're on the go. You can also save time and money by comparing and booking from your favorite travel brands in one place. There are no booking fees or hidden costs, only the best prices. 
Fly to your favorite destinations!
Here are all the seats on sale per route!
PISO FARE & OTHER NEW CEBU PACIFIC PROMOS
Fly to your favorite destinations! Find all available seats on sale by route here…
Check out this page for other ongoing seat sales to the Philippines, the number of seats available, and seat sale FAQs.
WHAT IS A PISO FARE
The term Piso Fare is used by Cebu Pacific to indicate that the base fare is only 1 Peso. The total amount you must pay to complete your booking is the sum of all taxes and other fees.
These incredibly low-cost flight promotions happen only a few times a year. Domestic roundtrip tickets can sometimes be purchased for less than 1000 pesos all-in during a piso fare promotion!
NEW CEBU PACIFIC PROMO!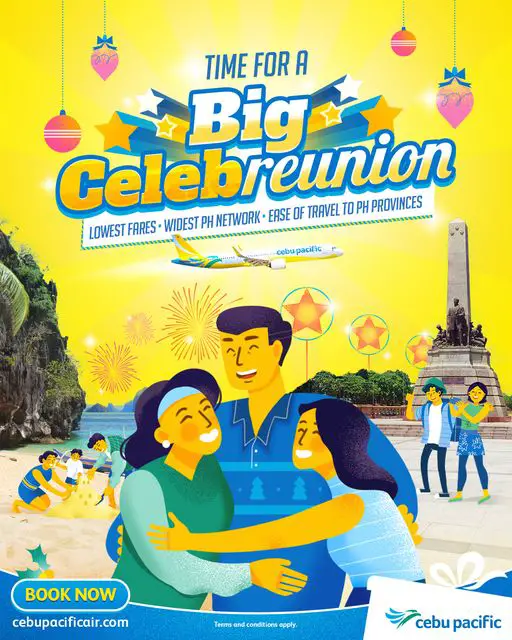 ---
ABOUT CEBU PACIFIC AIR
Cebu Pacific Air is the Philippines' largest airline, offering the most affordable flights to over 60 destinations in Asia, the Pacific, and the Middle East.
Cebu Pacific, the country's aviation industry's innovator, and creative leader was the first to introduce web check-in, E-ticketing, and seat selection in the Philippines. It recently launched GetGo, its newest lifestyle rewards program, to reward frequent fliers with additional benefits and free flights. 
Cebu Pacific also collaborated with WWF-Philippines on a climate adaptation program, as well as with various online hotel reservations companies, car rental companies, travel insurance providers, and entertainment ticketing services to provide its passengers with a more convenient travel experience.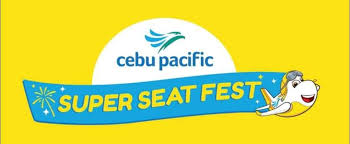 CEBU PACIFIC CONTACT AND SOCIAL SITES
BEST FLIGHT BOOKING APPS
It is not necessary to visit each airline's website separately to find the best flight times and prices. Flight booking apps can scan all brands and recommend the best option based on your travel requirements. There are many airlines in the Philippines, and using one of the booking apps on this list will help you find the best deal for your flight. The most well-known international and domestic flight search websites are Skyscanner, Hopper, and Kayak. Philippine Airlines and Cebu Pacific are the country's two largest airlines, with the most flights booked.
Hopper
Kayak
Cebu Pacific
Philippine Airlines
The Cebu Pacific Piso Fare Promo of 2023 is a fantastic travel offer that provides savvy passengers with an unbeatable value proposition.  This limited-time promotion provides an excellent opportunity for adventure-seekers, business travelers, and holiday-makers to explore new destinations and make unforgettable memories.
The Piso Fare Promo's affordable base fares give tourists the opportunity to save money on air travel and gain unmatched access to fascinating locations both inside and outside of the Philippines. Cebu Pacific's unwavering commitment to passenger comfort, safety, and satisfaction ensures that travelers can experience a seamless and hassle-free journey every time they fly.
This promotion underscores Cebu Pacific's status as a leading player in the Philippine airline industry, setting new standards for innovation, customer service, and affordability. As the company continues to expand its reach and enhance its services, travelers can expect even more exceptional travel experiences in the years to come.
Overall, the Cebu Pacific Piso Fare Promo of 2023 is an excellent example of a travel promotion that combines affordability, accessibility, and comfort to offer the best possible value to travelers. Whether you're planning a leisurely vacation or a business trip, this promotional offer is a deal that you simply can't afford to miss.
---
PHILIPPINE DESTINATIONS
Experience the ultimate thrill ride on the first Alpine Coaster in the Philippines. Twist and turn through hairpin curves and steep drops while enjoying breathtaking views of the surrounding landscape. This exhilarating adventure is perfect for thrill-seekers and nature lovers alike. Get ready to take on the challenge and ride the Philippines' first Alpine Coaster for a unique and unforgettable experience.

---