Introduction
Boracay, with its pristine beaches and turquoise waters, has long captured the imagination of wanderers seeking paradise. Nestled in the central region of the Philippines, this small island has emerged as a coveted tourist destination that offers an idyllic escape from bustling cities and mundane routines. With its powdery white sands stretching along the coastline and a vibrant nightlife scene, Boracay has become synonymous with tropical bliss.
A brief overview of Boracay as a popular tourist destination
Renowned as one of the world's best islands, Boracay boasts three main stations that cater to different types of visitors.
Station 1 is known for its upscale resorts and quieter ambiance – perfect for those seeking tranquility amidst breathtaking natural beauty. Station 2 bustles with activity as it houses D'Mall, where tourists can shop for souvenirs or indulge in delicious local delicacies at various restaurants. Meanwhile, Station 3 offers a more laid-back atmosphere where guests can unwind while enjoying beachfront massages or engaging in water sports activities such as kiteboarding or paddleboarding.
The island's enchanting sunsets are legendary; each day ends with a spectacular display of colors streaking across the sky – an awe-inspiring sight not to be missed.
Importance of knowing how to get there efficiently and conveniently
As Boracay continues to captivate travelers worldwide, knowing how to reach this tropical haven efficiently and conveniently becomes paramount. The journey to Boracay can sometimes be a bit complex due to the island's location and transportation logistics.
Understanding the best routes, modes of transportation, and necessary procedures ensures a seamless travel experience, allowing visitors to maximize their time on the island. Additionally, being well-informed about the various options available empowers travelers to make informed decisions based on their individual preferences, budget constraints, and time constraints.
By knowing how to get to Boracay efficiently and conveniently, travelers can make the most of their vacation by avoiding unnecessary travel delays or confusion at transportation hubs. This knowledge enables them to plan ahead, organize their itineraries more effectively, and allocate their resources wisely.
In this comprehensive guide, we will explore in detail the different transportation options available for reaching Boracay Island. Whether you prefer air travel or an alternative route via sea connections, we will provide you with valuable insights and recommendations that will help you embark on your journey with confidence and ease.
The Location and Geographical Context of Boracay Island in the Philippines
Nestled approximately 315 kilometers (196 miles) south of Manila, the capital city of the Philippines, Boracay is easily accessible to both domestic and international travelers. More specifically, Boracay belongs to the province of Aklan and is part of the Malay municipality.
The island itself spans an area of only 10.32 square kilometers (4.00 square miles), but its allure extends far beyond its modest size. From lush greenery to picturesque landscapes, Boracay offers a diverse range of natural wonders that captivate visitors from all corners of the globe.
Boracay's location enhances its appeal as it lies within the warm waters of the Sulu Sea in the northern part of Panay Island. This strategic positioning blesses Boracay with a tropical climate characterized by two distinct seasons: dry season (from November to April) and wet season (from May to October).
However, even during periods classified as "rainy," visitors can still enjoy pleasant temperatures and occasional showers that do little to dampen their experience. Given its geographical location near major international airports and transportation hubs in the central Philippines—such as Cebu City's Mactan-Cebu International Airport—the journey to Boracay becomes more convenient for both local and foreign tourists seeking an unforgettable beach getaway.
Airports in Boracay
There is no airport on the island of Boracay. Travelers board a boat ferry to Boracay after their plane lands in the small town of Caticlan which is located at the northernmost tip of Panay island. There is a second airport in Kalibo, which is significantly farther away from Boracay Island.
Caticlan or Kalibo Airport: Deciding the Best Route to Boracay
CATICLAN AIRPORT
Caticlan Airport (Godofredo P. Ramos Airport), also known as Boracay Airport, offers a more convenient route to Boracay and is significantly closer. From the airport, take a 10-minute boat ride to Boracay. Caticlan Airport operates fewer flights and is more expensive than Kalibo Airport.
PROS:
Closer to Boracay
No land transfers required
Jetty Port to Boracay Island is within walking distance from Airport
CONS:
Fewer Flights
More expensive airfare
Serves domestic flights only
KALIBO AIRPORT
It takes roughly 2.5 hours to get from Kalibo Airport to the Jetty Port on Boracay Island. There are flights accessible internationally. There are many ways to get about, including taxis, buses, and vans. Vans are the most common type of transportation, however, if one is not allocated for private travel, capacity problems make the trip uncomfortable. Select larger buses to make your journey more convenient. Any of the many vans and buses that are available for hire at reasonable rates can carry visitors arriving at the Caticlan Jetty Port. The cost of flights from Kalibo Airport is often lower than those from Boracay Airport. These airlines operate frequent services to and from Kalibo.
PROS
More flights
Less expensive airfares
International Aiport
CONS
More distant from Boracay Island
It takes about 2.5 hours by land to get to Jetty Port to Boracay Island.
Conclusion
Because you're on vacation, consider the most convenient option to get to Boracay. Given the proximity of Caticlan Airport to Boracay, it is strongly advised to choose this airport when booking. Despite the airport's lack of international airport capability, a stop in one of the major Philippine cities, such as Cebu or Manila, which are both popular tourist destinations, is not a bad idea. If you go this route, you will have a truly authentic Filipino experience.
| Criteria | Caticlan Airport (Boracay Airport) | Kalibo Airport |
| --- | --- | --- |
| Proximity to Boracay | Closer to Boracay | More distant from Boracay Island |
| Land Transfers | No land transfers required | Approximately 2.5 hours by land |
| Accessibility to Boracay | 10-minute boat ride to Boracay | Journey to Jetty Port required |
| Airfare | More expensive | Less expensive |
| Flights | Fewer flights | More flights |
| International Flights | Serves domestic flights only | International Airport |
| Transportation Options | Limited options available | Taxis, buses, and vans |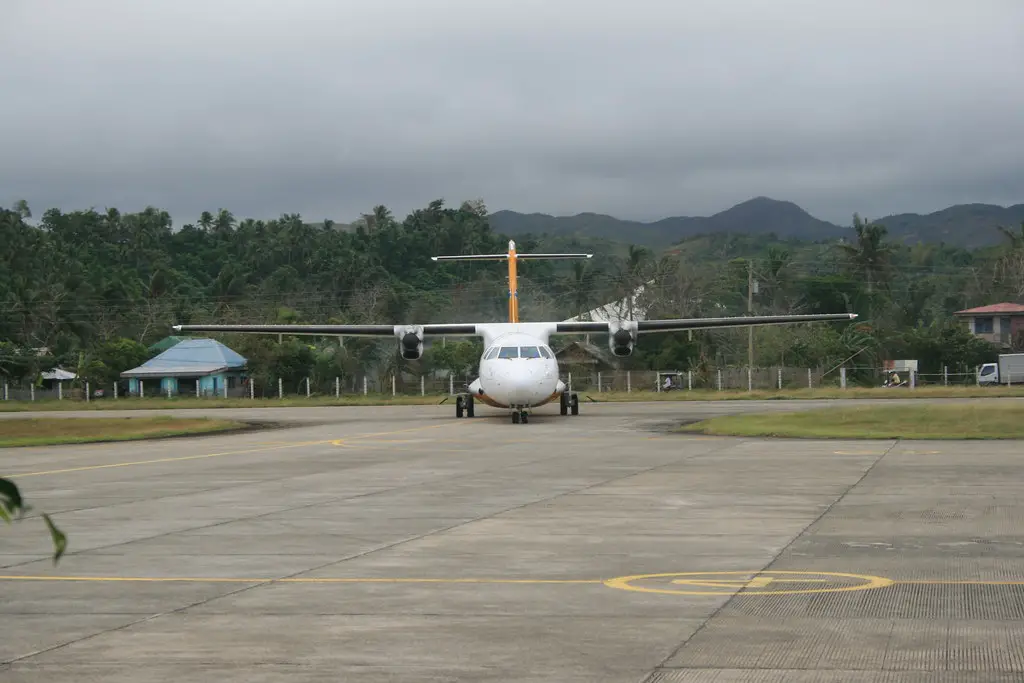 ---
Hotels in Boracay Island: Hotels in the center
Hotel
Stars
Discount
Price before and discount
Select dates
The Piccolo Hotel of Boracay

★★★

-8%

31 179

28 628
View hotel
The District Boracay

★★★★

-10%

65 362

58 616
View hotel
Le Soleil de Boracay Hotel

★★★★

-8%

7 993

7 313
View hotel
Lime Hotel Boracay

★★★

-6%

20 408

19 274
View hotel
Agos Boracay Rooms + Beds

★★★

-42%

32 256

18 707
View hotel
Boracay Holiday Resort

★★★

-19%

4 252

3 401
View hotel
Deparis Beach Resort

★★★

-16%

37 074

31 292
View hotel
Boracay Haven Resort

★★★

-21%

4 252

3 345
View hotel
Shore Time Hotel Boracay

★★★

-31%

4 365

3 004
View hotel
Boracay Mandarin Island Hotel

★★★★

-46%

9 921

5 329
View hotel
RELATED ARTICLES
Choose the best landing location. Which airport should you fly into when traveling to Boracay in the Philippines? Caticlan or Kalibo?

---