Boracay is home to a number of premium hotel chains that provide outstanding accommodation and activities. Boracay boasts an array of options to suit to your sophisticated preferences, from hidden retreats to beachfront oases, and boutique hotels to renowned resorts. Join us on a trip to find the best hotel brands in Boracay that exemplify professionalism, luxury, and unrivaled hospitality. Prepare to experience new levels of pleasure and make lasting memories in this tropical paradise.
Top Boracay Hotels
Here is a list of the top hotel brands that operate in Boracay, Philippines.
Shangri-La Boracay:
Shangri-La Boracay is a luxury hotel brand. It is a member of the prestigious Shangri-La Hotels and Resorts group, which is noted for its world-class accommodations and outstanding service. Shangri-La Boracay emanates tropical island elegance in a secluded harbor on Boracay's beautiful northern coastline and was named one of the Best Resorts in Asia in Conde Nast Traveler's 2021 Readers' Choice Awards. It includes 219 rooms and villas decorated in a contemporary design with Filipino characteristics. From every vantage point, the resort's layout provides stunning views of lush green countryside and azure seas. Your seaside haven with two secluded beaches. Outstanding arrival experience and personalized care Villa experiences and luxuriously fitted rooms.
La Carmela de Boracay:
La Carmela de Boracay is a popular hotel brand in the Philippines' world-famous Boracay Island. It is noted for its low prices and accessible position near Station 2 of White Beach, which is known for its bustling environment and diverse food and entertainment options. La Carmela de Boracay has a variety of room options to suit different budgets, ranging from regular rooms to family suites. In addition, the hotel has an outdoor pool, several dining options, and a variety of leisure activities such as water sports and island hopping tours. La Carmela de Boracay, one of the island's newest resort hotels, provides beachside convenience at a reasonable price.
Crimson Boracay:
Crimson Resort and Spa Boracay is a luxury hotel brand on the Philippine island of Boracay. It is a member of the Crimson Hotels & Resorts chain, which is noted for its luxury lodgings and extensive facilities. For guests seeking a premium experience, Crimson Resort, and Spa Boracay provide a tranquil and sumptuous getaway. Elegant rooms and suites with modern conveniences, private balconies or terraces, and stunning views of the ocean or the resort's lush gardens are available at the resort. The accommodations are created with contemporary aesthetics to provide guests with a fashionable and comfortable stay. The Crimson Resort and Spa Boracay also provides a variety of dining alternatives, such as world cuisines, seafood specialties, and beachfront dining experiences.
Movenpick Boracay:
Situated on a private beach in Station 1, Movenpick Boracay is a premium resort known for its contemporary design and exquisite culinary offerings. The resort features spacious rooms, a stunning pool, and a private beach club. Enjoy complimentary Wi-Fi and welcome amenities in their 312 modern hotel rooms and suites with amazing views of our tropical paradise. Seven distinct restaurants and bars serve International, Korean, Japanese, Italian, and pub fare, while the Sol Marina Beach Club is the spot to dance with international DJs and artists. Our dedicated spaces can accommodate weddings, meetings, and other events. If you're a couple or family looking for a mix of entertainment, adventure, and relaxation on the beach, Mövenpick Resort & Spa Boracay has everything you could want for your tropical island vacation.
Astoria Boracay:
Astoria Boracay is a well-known hotel brand on the Philippine island of Boracay. It is a member of the Astoria Hotels and Resorts group, which is noted for its beautiful and modern rooms with a hint of Filipino hospitality. Astoria Boracay is ready to make your dream holiday a reality, staying true to the brand's promise of magnificent retreats, unparalleled hospitality, and breathtaking surroundings. The resort offers a secluded experience, nestled in the calmer and more relaxing Station 1 of Boracay, with a spacious pool, restorative spa, and two restaurants to highlight the experience of a pristine island retreat.
Discovery Shores Boracay:
A luxury boutique resort in Station 1, Discovery Shores Boracay is renowned for its exceptional service and top-notch facilities. The resort features stylish suites, an infinity pool, and a range of dining options. After obtaining the Certificate of Excellence for five years in a row, Discovery Shores Boracay was accepted into TripAdvisor's Hall of Fame in 2015. It was also named the No. 1 Hotel Spa in Asia in Travel + Leisure's (T+L) prestigious 17th annual World's Best Awards compilation of the world's best hotels, destinations, and travel companies. The resort was also placed No. 5 on the list of the Top 100 Hotels in the World and No. 2 on the list of Top Resorts in Asia. In the 2020 Readers' Choice Awards, DestinAsian Magazine ranked the resort as one of the top ten best hotels in the Philippines.
The Lind Boracay:
The Lind Boracay is a 5-star, 119-room luxury hotel located on the premium section of Station 1 in White Beach. It is one of the finest tropical hotel resorts in the Philippines, consistently listed among the top hotels in the country. The Lind, designed by Manny Samson & Associates, effortlessly integrates the grandeur of Boracay's world-famous coastline into its interiors. The hotel provides convenient access to one of the world's greatest white sand beaches while preserving the exquisite luxuries that only a 5-star hotel can provide. The hotel's dynamic crew is capable of organizing personalized memorable moments, milestones, and thrilling events across the hotel's many venue options, including The Lind ballroom, beachfront, and Infinity.
Belmont Hotel Boracay:
At the Belmont Hotel Boracay, we believe in defining and providing unforgettable experiences. Moments that transport you to a world of exhilarating adventures, extraordinary encounters, and energizing connections. Here, the hotel offers a plethora of new and intriguing venues, solutions, and connections to assist you in creating possibilities and putting together that perfect moment. Sleep peacefully in one of our 442 well-appointed rooms, including 6 accessible rooms. Choose from our simple and cozy rooms for singles and couples, or our big and magnificent suites for large groups and families.
Hue Hotel Boracay:
Hue Boracay strives to mix the laid-back island lifestyle with the tranquility and serenity of its natural surroundings. Hue Hotels & Resorts Boracay's facilities offer a modern twist on dining and wellness, making it the ideal location for your trip. Hue is a self-contained paradise for the modern visitor, with a vast choice of handpicked establishments at Station X. Hue's superb location between Station I and Station II puts you at the heart of the island's vibrancy! Make the most of your island holiday by taking advantage of the Hue Hotels & Resorts Boracay services.
Savoy Hotel Boracay:
You will immediately feel at ease as you enter the Savoy Hotel Boracay. Each suite's stunning design-led ambiance will then mesmerize you. Each has been created to simultaneously inspire, delight, and calm. They are sumptuous yet compact, soft yet environmentally sustainable, and high-tech yet cozy. The Savoy Hotel Boracay rooms are a feast for the senses and the essence of exceptional island living standards. Our hotel offers four distinct types of accommodations that are great for relaxing and recovering after a day in the sun. Each is uniquely adorned in a contemporary and vivid manner.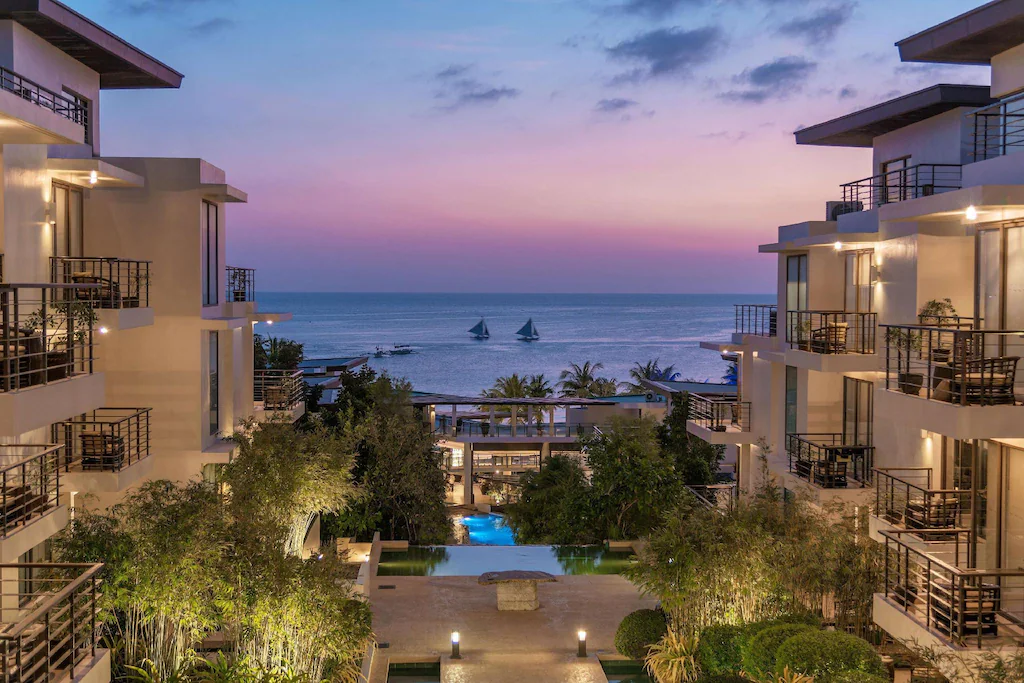 To summarize, Boracay is a genuinely magnificent location in the Philippines, and the island is home to several outstanding hotel brands. Boracay has a wide range of options to suit your needs, whether you want a peaceful retreat, a beachfront sanctuary, a fashionable boutique experience, or a resort with top-of-the-line amenities. You can anticipate world-class service, luxurious rooms, and a memorable stay at renowned hotel brands like as Shangri-La Hotels and Resorts, Discovery Shores Boracay, Crimson Resort & Spa Boracay, and The Lind Boracay. So pack your luggage, get to Boracay, and prepare to enjoy the finest that these excellent hotel brands have to offer. Your ideal vacation awaits
---
Enjoy magnificent accommodations, world-class amenities, and great service at the best hotel brands in Boracay, Philippines. Discover the ideal destination for your tropical paradise journey, from calm beachfront resorts to modern boutique hotels.

---
Enjoy magnificent accommodations, world-class amenities, and great service at the best hotel brands in Boracay, Philippines. Discover the ideal destination for your tropical paradise journey, from calm beachfront resorts to modern boutique hotels.

---

Boracay is a fantastic destination to visit this summer. To give you a taste of what's in store, we've selected some of the most popular activities in Boracay Philippines.

---

Enjoy the island's finest shorelines, white sand beaches, and crystal clear waters with these budget-friendly accommodation packages.

---

The Philippines Department of Tourism lists all DOT-accredited hotels in Boracay. This list is compiled from the official tourism website so you can be sure of the accuracy and authenticity of the information.

---

One of the most practical transportation options is the ferry from Batangas to Boracay. In this article, we'll explain how it operates, what the timetable looks like, and why it's our preferred method of getting to the island of Boracay.

---

This list includes the top 20 best value hotels in Boracay that will not cost you a fortune!

---

Find the best flight deals from Manila to Boracay with our partners. Compare prices between different airlines and find your best deal.

---

Choose the best landing location. Which airport should you fly into when traveling to Boracay in the Philippines? Caticlan or Kalibo?

---

Boracay is well-known for being one of the world's top vacation destinations. Boracay was named the Best Island in the World for 2012 by the international vacation publication Travel +…

---