Introduction
Welcome, avid shoppers and curious explorers! Manila, the bustling capital city of the Philippines, is not only renowned for its rich history and vibrant culture but also for its exceptional shopping scene. With an array of shopping malls scattered throughout the city, Manila has transformed into a shopaholic's paradise.
From luxurious boutiques to bargain-filled markets, there is something for every taste and budget. Let us embark on a journey to uncover the hidden gems and top-notch shopping destinations that make Manila a shopaholic's haven.
Manila, a melting pot of cultures and flavors, offers an extensive range of shopping options that cater to all preferences. The city boasts an impressive selection of malls that rival those found in other cosmopolitan cities around the world. Whether you're seeking the latest fashion trends, electronic gadgets, or unique local handicrafts, Manila's diverse retail landscape has got you covered.
Shopping enthusiasts will discover that each district in Manila has its own distinct character when it comes to retail therapy. From the upscale neighborhoods of Makati City to the vibrant streets of Divisoria Market in Tondo, every corner offers a different shopping experience.
For those with discerning tastes who crave designer labels and luxurious ambiance, Makati City is where dreams come true. This prominent commercial district is home to Greenbelt Mall—where high-end fashion boutiques like Louis Vuitton, Gucci, and Prada congregate amidst beautifully manicured gardens and tranquil fountains.
If you prefer immersing yourself in Filipino culture while hunting for bargains or unique souvenirs, head over to Divisoria Market—a chaotic yet vibrant hub brimming with stalls offering everything from clothing and accessories to crafts and household items at unbelievably low prices. Negotiating skills are a must here, as the art of haggling reigns supreme.
Importance of Shopping Malls in Manila's Culture and Economy
Shopping malls hold more significance in Manila than mere commercial spaces. They have become integral to the fabric of Filipino culture, serving as gathering places for families and friends to socialize, dine, and enjoy entertainment options beyond retail therapy. In a country where the scorching tropical heat can be unforgiving, shopping malls offer a welcome respite.
With their air-conditioned interiors and wide range of amenities, they provide convenient and comfortable spaces for people to escape the heat while engaging in leisurely activities. Furthermore, shopping malls play a vital role in Manila's economy, providing employment opportunities for thousands of Filipinos across various sectors such as retail, food services, entertainment, and maintenance.
These establishments contribute significantly to the city's revenue through taxes and attract tourism by showcasing the diverse offerings available within their walls. Moreover, shopping malls often serve as venues for cultural events and festivals that celebrate Filipino traditions.
From Christmas bazaars featuring local delicacies to fashion shows highlighting indigenous craftsmanship, these events not only promote local businesses but also preserve and showcase the rich cultural heritage of Manila. ,
the vibrant city of Manila offers an exceptional shopping experience that goes beyond just purchasing goods. The combination of diverse retail destinations catering to different tastes and budgets reflects the city's dynamic character.
Shopping malls not only provide economic opportunities but also foster social connections while promoting Filipino culture. Stay tuned as we delve deeper into some of the best shopping malls in Manila—each with its unique charm and offerings that are sure to captivate even the most discerning shoppers.
A high-level overview of the best shopping malls in Manila
SM Mall of Asia – Where Shopping Dreams Come True
When it comes to shopping malls in Manila, the SM Mall of Asia undoubtedly steals the spotlight. This behemoth of a mall proudly boasts its status as the largest mall in the Philippines.
With its expansive size and wide range of offerings, it's no wonder why locals and tourists flock here for their retail fix. Step inside this retail paradise, and you'll be greeted by a dazzling array of international and local brands.
From renowned fashion labels like Zara and H&M to popular local boutiques showcasing Filipino craftsmanship, there's something for every style and budget. But shopping is just one part of the experience at SM Mall of Asia; entertainment options are aplenty as well.
Catch the latest blockbuster movies at their state-of-the-art cinemas or get your adrenaline pumping at their indoor amusement park, complete with thrilling rides that will leave you breathless. Of course, all that shopping and excitement are bound to work up an appetite.
Luckily, SM Mall of Asia has an extensive range of dining choices to satisfy any craving. Whether you're in the mood for international cuisines or local delicacies, you'll find numerous restaurants offering delectable dishes that will tantalize your taste buds.
Greenbelt – The Epitome of Elegance
Nestled in Makati City, Greenbelt stands as a bastion of sophistication amidst bustling urbanity. This upscale mall is every fashion enthusiast's dream come true with its collection of high-end fashion boutiques and luxury brands from around the world. Stroll through its elegant corridors adorned with lush greenery, and you'll feel transported into a serene haven where exquisite taste meets refined style.
The ambiance alone makes Greenbelt a delightful place to wander while admiring beautifully curated shopfronts. Fashion, however, is just the beginning.
Greenbelt also offers a unique alfresco experience with its garden setting, providing an ideal spot for relaxation and people-watching. Take a leisurely walk or find a cozy corner to unwind while enjoying the soothing sound of water fountains and the gentle rustling of leaves.
When it's time to satisfy your cravings, Greenbelt holds no punches in delivering gastronomic delights. From fine dining establishments serving gourmet meals to trendy cafes offering artisanal coffee blends and mouthwatering pastries, every culinary desire can be fulfilled within this luxurious haven.
Ayala Center – A Shopper's Paradise
Ayala Center is not just a single mall but rather a sprawling complex that encompasses multiple interconnected malls such as Glorietta and SM Makati. This retail mecca offers diverse shopping experiences that cater to both the affordable and high-end segments of the market. Glorietta, one of Ayala Center's prominent malls, stands as an epitome of variety.
Here you'll find an incredible range of fashion brands, lifestyle stores, electronics shops, home furnishing outlets, and everything in between. It truly lives up to its reputation as a one-stop destination for all your shopping needs.
If you're seeking more upscale options within Ayala Center, head over to SM Makati where luxury brands reign supreme. Indulge in opulent finds from renowned designers or immerse yourself in exclusive collections that exude sophistication and elegance.
Beyond shopping alone, Ayala Center is also known for its vibrant entertainment scene. Catch live performances by local artists or enjoy cultural events held within its premises throughout the year.
And when hunger strikes after an exhilarating day at the mall, Ayala Center offers an abundance of dining options ranging from casual eateries to fine dining establishments specializing in various cuisines. These top-tier shopping destinations in Manila – SM Mall of Asia, Greenbelt, and Ayala Center – showcase the city's unwavering commitment to providing a remarkable retail experience.
Whether you seek international brands, high-end fashion, affordable finds, or simply wish to immerse yourself in a world of shopping and entertainment, these malls undoubtedly deliver on all fronts. So go ahead and embark on a shopping spree that will leave you with unforgettable memories and fabulous purchases!
Exploring Unique Architectural Features
The Podium
When it comes to unique architectural features, The Podium undoubtedly stands out in Manila's shopping scene. This remarkable mall is known for its iconic floating glass box design, which not only captures the attention of passersby but also creates a stunning visual experience for shoppers.
Located in Mandaluyong City, The Podium houses a variety of retail stores that cater to different styles and tastes. From fashion boutiques to specialty shops, visitors can enjoy browsing through an array of offerings while being captivated by the mall's distinctive architecture.
Venice Grand Canal Mall
Prepare to be transported from the bustling streets of Manila to the romantic city of Venice at the Venice Grand Canal Mall. Inspired by its Italian namesake, this exceptional mall boasts an indoor canal where visitors can take gondola rides, creating an enchanting atmosphere reminiscent of Venice's waterways.
As you stroll through the mall's cobblestone walkways and admire its charming architecture adorned with colorful facades and arched bridges, you'll feel as though you've been whisked away to an entirely different world. Whether you're seeking a unique shopping experience or simply looking for a picturesque spot to capture Instagram-worthy photos, Venice Grand Canal Mall won't disappoint.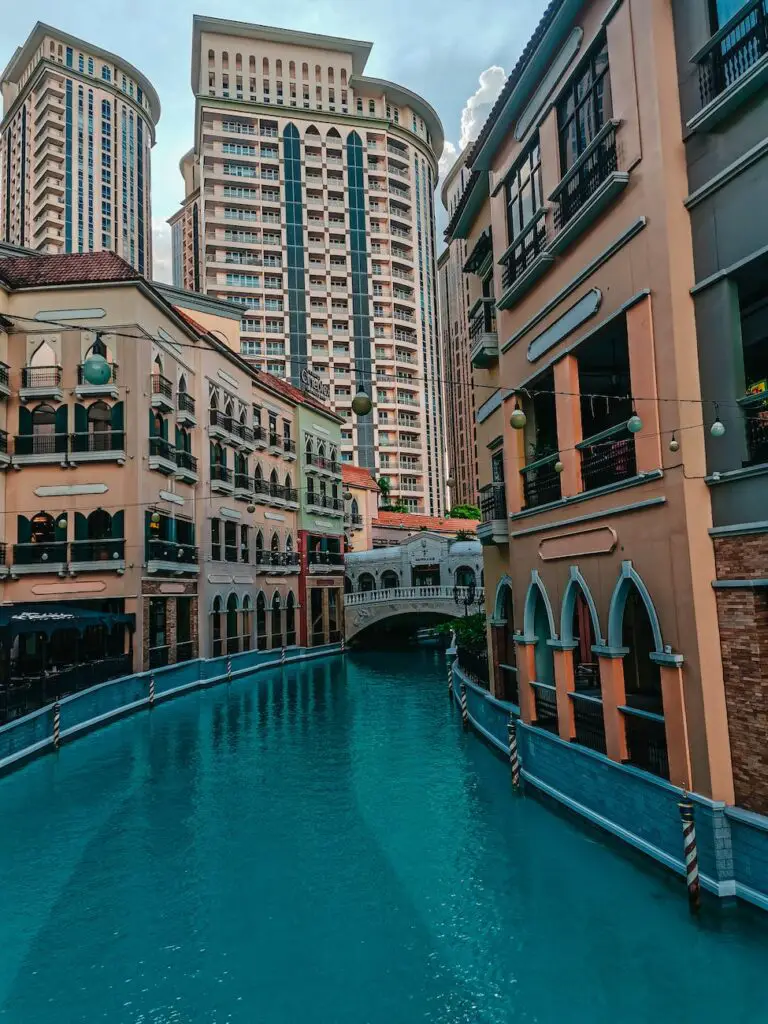 Specialized Malls Catering to Specific Interests
Divisoria Market
For bargain hunters seeking wholesale goods at unbeatable prices, Divisoria Market is a treasure trove waiting to be explored. Located in Manila's bustling Chinatown district, this lively market is renowned for its vast selection of clothes, accessories, home items, and more.
The sheer variety and affordability of products make it a haven for shoppers on a budget or those looking to score excellent deals on bulk purchases. Be prepared for crowded alleys and haggling with friendly vendors, as Divisoria Market offers a unique shopping experience unlike any other in Manila.
Greenhills Shopping Center
If you enjoy the thrill of bargaining and finding affordable items, then Greenhills Shopping Center is the place to be. This popular shopping destination in San Juan City is famous for its tiangge concept, where numerous stalls offer a wide range of products at competitive prices.
From electronics and gadgets to clothing replicas and accessories, Greenhills caters to various interests and budgets. Whether you're a tech enthusiast looking for the latest gadgets or a fashion-savvy individual searching for trendy pieces without breaking the bank, Greenhills has something for everyone.
Hidden Gems Off the Beaten Path
Estancia Mall
Nestled away in Capitol Commons Pasig City lies Estancia Mall, a hidden gem that offers a delightful departure from conventional shopping experiences. This boutique-style mall embraces elegance through its curated selection of shops focusing on fashion-forward trends and unique finds. With its upscale atmosphere, Estancia Mall attracts discerning shoppers who appreciate quality craftsmanship, refined aesthetics, and personalized service.
Explore fashionable boutiques showcasing both local and international brands or indulge yourself at one of the mall's stylish dining establishments. Estancia Mall promises an exclusive retail journey that truly sets it apart from mainstream shopping centers.
Conclusion
In Manila's vibrant shopping landscape, there is no shortage of exciting destinations catering to diverse preferences. From malls with striking architectural designs such as The Podium and Venice Grand Canal Mall to specialized hubs like Divisoria Market and Greenhills Shopping Center offering unbeatable deals on various goods – there is something for every taste and budget in this bustling metropolis. What makes it even more thrilling are the hidden gems like Estancia Mall that provide an elevated retail experience, focusing on fashion-forward trends and unique finds.
These lesser-known destinations offer a refreshing change from the typical mall experience, allowing shoppers to indulge in curated selections and discover new treasures. So, whether you're a window shopper, bargain hunter, or a connoisseur of style, Manila's shopping malls have much to offer.
Embrace the diversity of choices and embark on your retail journey with enthusiasm. Delve into these distinct shopping experiences and let the vibrant energy of Manila's malls leave you with memories and newfound treasures that will make your visit truly unforgettable.