ABOUT TAYTAY RIZAL
Taytay is a first-class municipality in the Philippine province of Rizal. Taytay is known as the Garment Capital of the Philippines, with 75% of its population employed in the garment industry. The majority of the residents' jobs are related to providing low-cost garment-related items such as blouses, pants, dresses, and the garment itself.
Taytay is located 12 kilometers from Pasig City. It is reachable from Metro Manila via Ortigas Avenue Extension, Manila East Road, Felix Avenue (formerly Imelda Avenue), A. Bonifacio Avenue, Manggahan Floodway, and Sumulong Highway.
ABOUT TAYTAY TIANGGE
Taytay Tiangge, a collection of small stalls that typically sell lower-priced items, is regarded as a haven for those seeking affordable clothing and dresses, earning the town the title of Philippines Garments Capital. The majority of fabricators started their businesses on the ground floor or silong of their homes, where they also sewed.
Many informal enterprises were enticed to integrate into the mainstream formal economy as a result of the institutionalization, earning Taytay the 2015 Galing Pook Award for its Local Garments Industry Institutionalization.
Today, the local government promotes Taytay's garment trade as an example of the tourism industry in the Philippines and around the world.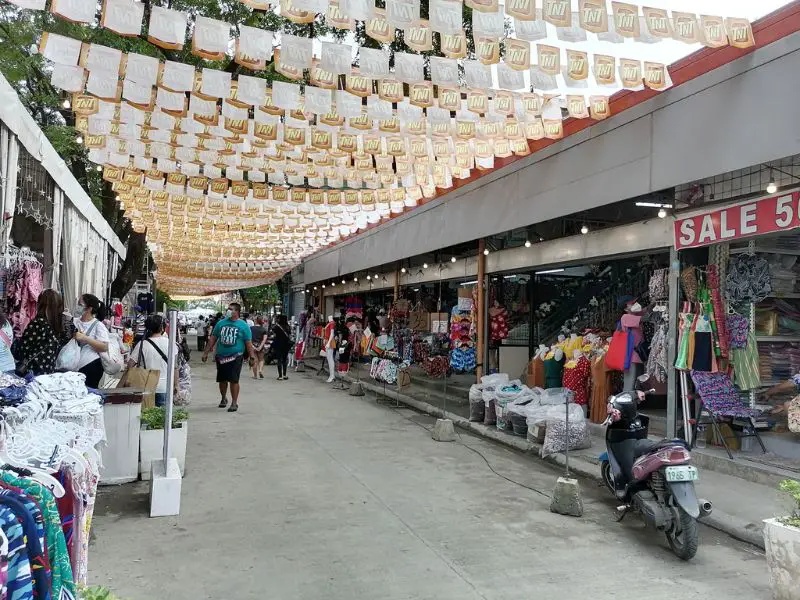 taytay tiangge address
BEST TIME TO GO TO TAYTAY TIANGGE
The greatest days of the week to go shopping are Monday and Thursday because that is when new goods are delivered.
The ideal time to explore is at the end of the day at around 6 PM when most of the stalls are open.
is taytay tiangge open today
Yes. There is always a tiangge that is open at any day of the week. Check the full schedule below.
LIST OF TIANGGES IN TAYTAY
taytay tiangge open hours
ALLSTAR TIANGGE
Taytay offers quality clothing all day and night. This Taytay Tiangge Schedule was updated in 2022 to help you determine the best time to shop.
Monday: 8:00 AM to Midnight (Night Market)
Tuesday: 8:00 AM to 9:00 PM
Wednesday: Closed
Thursday: 8:00 AM to Midnight (Night Market)
Friday: 8:00 AM to 9:00 PM
Saturday: 8:00 AM to 9:00 PM
Sunday: 8:00 AM to 9:00 PM
BAGPI GARMENT CENTER
Monday – 10:00 AM to 2:00 AM of the following day (Night Market)
Thursday – 10:00 AM to 2:00 AM of the following day (Night Market)
Saturday – 7:00 AM to 7:00 PM
EMF TIANGGE
Monday: 9:00 AM to 1:00 AM of the following day (Night Market)
Thursday: 9:00 AM to 1:00 AM of the following day (Night Market)
Friday: 11:00 AM to 11:00 PM
Saturday: 8:00 AM to 10:00 PM
FREEDOM BAZAAR
Wednesday: 7:00 AM to 6:00 PM
Friday: 7:00 AM to 6:00 PM
Saturday: 7:00 AM to 6:00 PM
Sunday: 7:00 AM to 6:00 PM
IGPAI GARMENTS CENTER
Monday – 8:00 AM to 12 midnight (Night Market)
Tuesday – 8:00 AM to 9:00 PM
Wednesday – Closed
Thursday – 8:00 AM to 12 midnight (Night Market)
Friday – 8:00 AM to 9:00 PM
Saturday – 8:00 AM to 9:00 PM
Sunday – 8:00 AM to 9:00 PM
OCTAGON FASHION STRIP
Monday – 10:00 AM to 10:00 PM (Night Market)
Thursday – 10:00 AM to 10:00 PM (Night Market)
Saturday – 8:00 AM to 7:00 PM
Sunday – 8:00 AM to 7:00 PM
TAYTAY MEGA TIANGGE (TMT)
Monday: 8:00 AM to 10:00 PM
Tuesday: 8:00 AM to 10:00 PM
Wednesday: Closed
Thursday: 8:00 AM to 10:00 PM
Friday: 8:00 AM to 10:00 PM
Saturday: 8:00 AM to 10:00 PM
Sunday: 8:00 AM to 10:00 PM
TIANGGE NG TAYTAYENOS
Monday 4:00am to 8:00pm
Thursday 4:00am to 8:00pm
MAP OF TAYTAY TIANGGE