Introduction
Welcome to Ayala Malls Manila Bay, an exquisite shopping haven nestled in the vibrant urban landscape of the Manila Bay area. With its unrivaled elegance, diverse array of retail stores, and a plethora of entertainment options, this magnificent mall stands as a testament to Ayala Malls' commitment to providing world-class shopping experiences.
As one of the premier shopping destinations in the Philippines, Ayala Malls Manila Bay offers a unique blend of luxury, style, and convenience. Situated in close proximity to major transportation hubs such as airports and seaports, this magnificent mall attracts both local shoppers and tourists alike.
The importance of exceptional shopping destinations cannot be overstated within urban areas. Beyond being mere commercial spaces, they serve as cultural landmarks that shape the overall ambiance and identity of a city.
They provide opportunities for social interaction and leisure activities while showcasing the latest trends in fashion, art, and cuisine. Ayala Malls Manila Bay exemplifies these qualities by offering an unparalleled experience that goes beyond traditional retail therapy.
Brief Overview of Ayala Malls Manila Bay
Ayala Malls Manila Bay spans over a vast area with multiple floors dedicated to various retail categories. From high-end luxury brands to specialty stores showcasing local craftsmanship and global fashion giants, there is something for everyone's discerning taste. The meticulously designed layout ensures effortless navigation through its expansive corridors.
What sets Ayala Malls Manila Bay apart is its dedication to creating an environment where nature meets architecture. The mall seamlessly blends indoor spaces with outdoor elements like lush gardens and cascading water features, transporting visitors into a tranquil oasis amidst the hustle and bustle of city life.
This remarkable architectural marvel captures your attention from every angle—whether it's the grand entrance adorned with captivating artworks or stunning vistas created by the interplay of natural lighting and modern design. Ayala Malls Manila Bay is a testament to the meticulous attention to detail that Ayala Malls consistently delivers
Shopping Experience
Wide Range of Retail Stores Catering to Various Interests and Budgets
When it comes to shopping, Ayala Malls Manila Bay leaves no stone unturned. With its vast array of retail stores, there is something to cater to everyone's interests and budgets.
From the moment you step inside, the mall welcomes you with a plethora of shopping options. Whether you are a fashion enthusiast seeking high-end luxury brands or someone looking for affordable yet stylish clothing, this mall has got you covered.
High-End Luxury Brands for Fashion Enthusiasts
For those with discerning tastes and an eye for opulence, Ayala Malls Manila Bay boasts an impressive selection of high-end luxury brands. From world-renowned fashion houses like Louis Vuitton and Gucci to esteemed jewelry outlets such as Cartier and Bulgari, here you can indulge in the finest craftsmanship and latest fashion trends. Immerse yourself in a world of elegance as you explore these upscale boutiques that showcase exquisite designs and impeccable quality.
Local Boutiques Showcasing Filipino Craftsmanship
Ayala Malls Manila Bay takes pride in supporting local talent by featuring boutiques that showcase Filipino craftsmanship. These unique stores offer a treasure trove of handcrafted products that embody the rich cultural heritage of the Philippines.
Discover beautifully woven textiles, intricately designed accessories, and one-of-a-kind art pieces created by skilled artisans who have mastered their craft over generations. By patronizing these local boutiques, shoppers not only acquire exceptional products but also contribute to the preservation of Filipino traditions.
Popular International Brands for a Global Shopping Experience
As an international shopping destination, Ayala Malls Manila Bay brings together popular global brands under one roof. Indulge in an unparalleled retail experience as you explore stores like Zara, H&M, and Uniqlo, which offer trendy and affordable fashion options. From renowned beauty brands like Sephora to tech giants such as Apple, the mall ensures that shoppers have access to an extensive range of international products, enriching their shopping experience with a touch of cosmopolitan flair.
Specialty Stores Offering Unique Products and Services
What sets Ayala Malls Manila Bay apart is its dedication to providing unique products and services through specialty stores. These establishments cater to niche markets and offer a distinct shopping experience. Whether you are searching for rare collectibles, artisanal gourmet treats, or personalized gifts, you will find it here.
Immerse yourself in specialty bookstores with rare editions or visit concept stores that showcase innovative designs by emerging artists. These specialty stores add depth and character to your shopping journey at Ayala Malls Manila Bay.
Fashion
Cole Haan
Defy convention and define your style with Cole Haan. This premium brand offers footwear, accessories, and outerwear for both men and women. Elevate your fashion game with their timeless pieces.
Levi's
Since inventing the blue jean in 1873, Levi's has been a symbol of quality apparel. From the iconic 501® jeans to collections like Commuter and Revel, Levi's continues to offer classic and stylish denimwear.
Parfois
Complete your outfits with stylish accessories from Parfois, Europe's famous chain. They have a wide selection of trendy pieces that will add a touch of elegance to any ensemble.
Fred Perry
Fred Perry's laurel wreath is a symbol of streetwear excellence. Explore their range of clothes that generations have worn with pride and confidence.
Unica Hija
Unica Hija is your go-to Filipino retailer for casual apparel tailored to the modern, stylish, and confident woman. Discover their latest collections that exude elegance and style.
Beauty and Health
Watsons
As the leading health and beauty chain, Watsons offers a vast array of cosmetics, perfumery, and health products. Find everything you need to look and feel your best.
Ideal Vision Center
Ideal Vision Center pioneers in eye care and eyewear retail. They offer quality care services and products to keep your eyes healthy and stylish.
FitFlop
For shoes that look good and feel great, explore FitFlop. They combine 11 years of biomechanics, comfort, and fashion to provide comfortable yet stylish footwear.
The Body Shop
The Body Shop is renowned for its ethical and sustainable bath and body products. Discover their wide range of products that help you look good while doing good for the planet.
Healthy Options
Live a longer, healthier life with Healthy Options. They offer premium and natural food, healthy products, and supplements to support your well-being.
Electronics and Gadgets
Digital Walker
Digital Walker is the country's largest premium gadgets and accessories retailer. They select the best brands that combine function and aesthetics, ensuring you get the latest tech trends.
Samsung
Samsung is a global leader in mobile phones, tablets, TVs, wearable devices, and digital appliances. Experience innovation and world-renowned design at their store.
Xiaomi
Xiaomi goes beyond mobile phones, offering a range of products from TVs to laptops and accessories that bring convenience and style to your home.
Power Mac Center
For all your Apple needs, trust only Power Mac Center. They are the country's premier Apple partner, ensuring that your Mac products are in expert hands.
Books and Hobbies
Biblio
Biblio offers a variety of over 100 million pre-owned, rare, and out-of-print books and merchandise. This specialty bookstore and café also serves coffee from different parts of the Philippines.
Typo
For all your novelty stationery needs, check out Typo. They offer the hippest items for gifting, housewear, stationary, and even gadget accessories.
Hobbiestock Collectibles
Hobbiestock offers authentic, hard-to-find collectibles at affordable prices. Find unique pieces to add to your collection or the perfect gift for a friend!
Common Room
Common Room hosts over 200 local crafters and brands, showcasing unique handmade goods, notepads, craft supplies, knick-knacks, and more.
Jewelry and Accessories
Pandora
Pandora crafts hand-finished and contemporary jewelry sold in more than 100 countries. Explore their exquisite pieces that tell your unique story.
Acme Jewelry
Known as one of the premiere jewelry stores in the country, Acme Jewelry showcases innovatively designed and expertly crafted pieces from award-winning Filipino designers.
Royal Gem
Make a statement or tell a beautiful story with Royal Gem's selection of fine jewelry. Discover their exquisite pieces suitable for every occasion.
Imono Jewelry
For everyday luxury, Imono Jewelry is the trendsetter for lifestyle surgical steel jewelry. They offer classic and contemporary designs since 2006.
Banks and Services
Metrobank
Metrobank, the second largest bank in the Philippines, offers a full range of banking and financial products and services. Trust your finances with a reliable institution.
BDO
BDO Unibank, Inc. is a full-service universal bank in the Philippines with over 1,000 operating branches and more than 4,000 ATMs nationwide. Your financial needs are in safe hands.
China Bank
China Bank offers deposit, financing, investment, remittance, insurance products, and other financial services. Experience personalized banking solutions for your financial journey.
Security Bank
Security Bank, one of the leading universal banks in the Philippines, offers personalized banking solutions for its clients. Secure your financial future with them.
Home and Lifestyle
Furniture Republic
Bring the best craftsmanship into your home with pieces from Furniture Republic. They are committed to providing high-end furniture at reasonable prices.
Papemelroti
Papemelroti has been producing original, eco-friendly gifts, stationery, and home decor in the country since 1967. Explore their unique and environmentally conscious products.
Beabi
Beabi makes a wide variety of storage and travel accessories and solutions for the modern traveler. Stay organized and stylish on your journeys.
Zen Zest
Zen Zest offers a line of scented personal and body care products as well as specially made home fragrances. Create a soothing and aromatic atmosphere in your home.
Entertainment and Games
Toys R Us
Toys R Us is a world-renowned toy store with a massive portfolio of toy brands and a selection of toys, games, learning aids, and more. Explore their wonderland of play.
Datablitz
Whether it's computer and video games, consoles, computer accessories, and more, Datablitz is your one-stop shop for your gaming needs. Level up your gaming experience.
Rookie USA
Rookie USA is a premium retail store specializing in kids' clothing. They carry brands like Nike, Adidas, New Balance, and more, ensuring your little ones are fashion-forward.
Diverse Dining Options to Satisfy Every Palate
Fine Dining Restaurants with Renowned Chefs
Ayala Malls Manila Bay understands the importance of culinary excellence in creating a holistic shopping experience. With an array of fine dining restaurants helmed by renowned chefs, food enthusiasts are in for a treat.
Indulge your taste buds with carefully curated menus featuring exquisite dishes crafted using premium ingredients. From Michelin-starred restaurants offering gastronomic delights to chic eateries serving fusion cuisine, every bite is guaranteed to be a delightful journey into the world of flavors.
Casual Eateries Serving Local Delicacies
For those seeking authentic local flavors or simply looking for a quick bite amidst their shopping spree, Ayala Malls Manila Bay offers an assortment of casual eateries serving Filipino delicacies. Sample traditional favorites like adobo and sinigang or explore regional specialties from different parts of the Philippines—all prepared with passion and expertise. These lively eateries provide a vibrant atmosphere where you can savor the true essence of Filipino cuisine.
International Cuisines from Around the World
Ayala Malls Manila Bay embraces diversity, even in its culinary offerings. Prepare your taste buds for a global journey as you explore international cuisines from around the world.
From Italian trattorias serving authentic pasta to Japanese sushi bars offering fresh sashimi, there is an abundance of choices to cater to every craving. Embark on a culinary adventure and let your palate be delighted by the flavors of Thailand, India, Mexico, and beyond—right within the walls of this remarkable shopping destination.
Restaurants in Ayala Mall Manila Bay
Bistro Charlemagne
For a taste of European and Asian fusion, Bistro Charlemagne is the place to be. Their diverse menu features delectable dishes that blend flavors from both continents, creating a unique and unforgettable dining experience.
Botejyu
Satisfy your cravings for Japanese comfort food at Botejyu. They're renowned for their okonomiyaki, a savory pancake filled with a variety of ingredients, creating a delightful explosion of flavors.
Cibo
Cibo offers Italian comfort food with a contemporary twist. From pasta to pizza, their menu is filled with dishes made from the finest ingredients, ensuring a delightful dining experience.
Fat Fook
Indulge in Taiwanese street food favorites at Fat Fook. From their famous Xiao Long Bao to crispy chicken chops, you'll experience the vibrant flavors of Taiwan.
Genki Sushi
Enjoy a fun and interactive dining experience at Genki Sushi. This Japanese restaurant offers a unique conveyor belt system where you can grab your favorite sushi as it passes by.
Hawker Chan
Experience Michelin-starred dining at Hawker Chan. Their specialty, the Singaporean-style Soya Sauce Chicken Rice, is a must-try for food enthusiasts seeking an unforgettable culinary adventure.
Hokkaido Ramen Santouka
Experience the rich and savory flavors of Hokkaido at Ramen Santouka. Their ramen bowls are known for their exceptional taste, making it a must-visit for ramen enthusiasts.
King Chef
Savor authentic Chinese cuisine at King Chef. Their extensive menu includes classic dishes that will transport you to the heart of China, right in the heart of Manila.
Mango Tree Cafe
Mango Tree Cafe offers a taste of modern Thai cuisine. Enjoy a fusion of traditional Thai flavors with contemporary twists in a cozy and stylish setting.
Rong Hua Bah Kuh Teh
Delight in the flavors of Singaporean cuisine at Rong Hua Bah Kuh Teh. Their specialty, Bah Kuh Teh, is a fragrant and flavorful herbal soup that's perfect for a comforting meal.
Shou La Mien Hand-Pulled Noodles
Savor the artistry of hand-pulled noodles at Shou La Mien. Enjoy authentic Chinese cuisine with a variety of noodle dishes prepared right before your eyes.
Shrimp Bucket
Get your seafood fix at Shrimp Bucket. Dive into a mouthwatering selection of shrimp dishes prepared in various flavorful sauces that will leave your taste buds craving for more.
The Alley by Vikings
Indulge in an exquisite buffet experience at The Alley by Vikings. Feast on an array of international cuisines, from Asian favorites to Western classics, all in a stylish and modern setting.
The Food Club
Embark on a culinary journey at The Food Club. With a buffet that offers an international selection of dishes, you'll have the opportunity to explore a world of flavors in one place.
Tuan Tuan Chinese Brasserie
Discover the essence of Hong Kong cuisine at Tuan Tuan Chinese Brasserie. Their menu showcases a range of dishes inspired by the vibrant streets of Hong Kong.
Res|Toe|Run
Res|Toe|Run is a restaurant-themed shoe store offering a line of select brands. It's owned and operated by the Primer Group, providing stylish and comfortable footwear.
Entertainment Facilities for All Ages
Modern Cinemas with State-of-the-Art Technology
Movies have always been an integral part of leisure activities, and Ayala Malls Manila Bay ensures an exceptional cinematic experience for its visitors. The mall boasts modern cinemas equipped with state-of-the-art technology that enhances audiovisual quality.
Immerse yourself in comfortable seats as you enjoy the latest blockbuster or critically acclaimed film on a sprawling screen with crystal-clear resolution and immersive surround sound. The cinema experience at Ayala Malls Manila Bay is nothing short of extraordinary.
Family-Friendly Amusement Centers with Interactive Games
Families visiting Ayala Malls Manila Bay are in for hours of entertainment at its family-friendly amusement centers. These vibrant spaces are filled with interactive games that engage both children and adults alike. Test your skills at arcade classics or challenge one another in exhilarating virtual reality experiences.
Watch as young ones giggle with delight on merry-go-rounds and thrilling rides designed just for them. These amusement centers provide endless fun-filled moments that create lasting memories for families.
Live Performances, Concerts, or Art Exhibitions in Dedicated Spaces
Ayala Malls Manila Bay recognizes the importance of culture and art in enriching the shopping experience. The mall features dedicated spaces where live performances, concerts, and art exhibitions take place regularly.
Immerse yourself in the vibrant world of music as talented musicians grace the stage with captivating performances. Explore thought-provoking art exhibitions that showcase works by both established and emerging artists.
These cultural events add a touch of sophistication and intellectual stimulation to your visit, elevating it beyond mere retail therapy. By offering a wide range of retail stores catering to various interests and budgets, diverse dining options to satisfy every palate, and entertainment facilities for all ages, Ayala Malls Manila Bay ensures that visitors are immersed in a truly unforgettable shopping experience that goes beyond traditional retail therapy.
Special Features and Amenities
Luxurious Lounges and Relaxation Areas for Shoppers' Comfort
Step into Ayala Malls Manila Bay, and you will be transported to a world of comfort and luxury. The mall boasts exquisite lounges and relaxation areas, meticulously designed to provide shoppers with a serene retreat amidst the bustling shopping experience.
Sink into plush sofas, surrounded by tasteful decor that exudes elegance and sophistication. These lounges offer a respite from the shopping frenzy, allowing visitors to recharge and rejuvenate before continuing their retail exploration.
Exclusive VIP Services such as Personal Shopping Assistants
At Ayala Malls Manila Bay, the VIP treatment extends beyond luxurious surroundings. Exclusive VIP services are available for discerning shoppers seeking an elevated experience. Experience bespoke assistance from personal shopping assistants who possess an impeccable sense of style and knowledge of the latest trends.
These dedicated professionals cater to your every need, curating personalized shopping itineraries tailored to your preferences. Whether you require fashion advice or assistance with finding the perfect gift, these experts are at your service.
Childcare Facilities to Cater to Families with Young Children
Families with young children will find Ayala Malls Manila Bay particularly accommodating. Recognizing that parents deserve a stress-free shopping experience, the mall provides well-equipped childcare facilities staffed by trained professionals who ensure the safety and happiness of little ones while their parents indulge in retail therapy. From engaging play areas filled with toys and games to comfortable nap rooms for babies, these facilities offer peace of mind for families who want their children well taken care of during their visit.
Wellness Centers Offering Spa Treatments, Yoga Classes, etc.
Ayala Malls Manila Bay understands the importance of holistic wellness amidst a fast-paced urban lifestyle. To cater to this need, they have dedicated wellness centers that offer a range of services designed to rejuvenate both body and mind. Unwind with indulgent spa treatments that melt away stress and leave you feeling refreshed.
Participate in invigorating yoga classes conducted by expert instructors, setting the perfect tone for relaxation and inner harmony. From fitness studios to meditation spaces, these wellness centers provide an oasis of tranquility within the bustling mall.
Description of the Mall's Strategic Location in Manila Bay Area
Nestled in the vibrant heart of Manila Bay, Ayala Malls Manila Bay serves as a testament to the city's bustling energy and cosmopolitan flair. This expansive shopping destination is strategically positioned within the sprawling Entertainment City complex, a prime area known for its world-class resorts, casinos, and entertainment venues. With its location at Diosdado Macapagal Boulevard corner Aseana Avenue, this mall effortlessly captures the attention of both locals and tourists seeking an unforgettable retail experience.
Ayala Malls Manila Bay benefits from its proximity to several key landmarks and attractions in the area. Just a stone's throw away lies the famous SM Mall of Asia, one of Asia's largest shopping centers.
This close proximity allows shoppers to conveniently explore multiple retail destinations within a single trip. Moreover, being situated near major thoroughfares such as Roxas Boulevard and EDSA grants easy access to visitors coming from different parts of Metro Manila.
Proximity to Major Transportation Hubs
One of Ayala Malls Manila Bay's greatest advantages is its unparalleled proximity to major transportation hubs. For those arriving by air, Ninoy Aquino International Airport (NAIA) is just a short drive away from the mall.
Travelers can seamlessly transition from their flight to an exciting shopping experience without enduring long commutes or heavy traffic congestion. Additionally, for those arriving by sea or planning island excursions during their visit, the mall stands near important seaports like Pier 15 at South Harbor and Manila North Harbor.
These ports serve as gateways for both domestic and international travelers seeking maritime adventures or exploring nearby provinces like Cavite or Batangas. Ayala Malls Manila Bay boasts excellent connectivity due to its proximity to major highways that link it with other parts of Metro Manila.
The mall is easily accessible via Roxas Boulevard, Coastal Road, and the Manila-Cavite Expressway (CAVITEX). Such convenient access to well-connected road networks allows shoppers to reach their preferred destination with utmost ease and convenience.
Availability of Parking Spaces
Recognizing the importance of providing hassle-free parking options, Ayala Malls Manila Bay boasts ample parking spaces for visitors. The mall features multi-level parking facilities that efficiently accommodate private vehicles, ensuring a stress-free shopping experience from arrival to departure.
With designated areas for people with disabilities and families with young children, the mall prioritizes inclusivity and accessibility. Moreover, to enhance the parking experience further, Ayala Malls Manila Bay implements modern technologies such as real-time parking guidance systems.
This cutting-edge feature guides motorists to available slots quickly, minimizing time spent searching for a space. To top it off, well-trained security personnel ensure the safety of both vehicles and pedestrians within the premises.
Public Transportation Options
For those opting for public transportation instead of driving, Ayala Malls Manila Bay offers excellent connectivity via various modes of transit. The mall is accessible through buses plying major routes in Metro Manila.
Additionally, visitors can utilize ride-hailing services conveniently available at their fingertips or simply hail traditional taxis directly from dedicated stands located near entrances. To provide convenience and accessibility for commuters coming from different areas in Metro Manila, Ayala Malls Manila Bay is also served by several jeepney routes that pass through or near its vicinity.
These colorful public utility vehicles are an iconic mode of transportation in the Philippines and afford tourists a unique cultural experience during their visit. Ayala Malls Manila Bay's strategic location within the bustling landscape of Manila Bay offers visitors unparalleled access to major transportation hubs such as airports and seaports while providing ample parking spaces for those who prefer driving.
Moreover, its proximity to major highways ensures easy connectivity with other parts of Metro Manila. Not to mention, a wide range of public transportation options caters to the diverse needs of shoppers, making Ayala Malls Manila Bay an easily accessible haven for retail therapy.
Architectural Marvel
Overview of the mall's design concept and architectural features
Ayala Malls Manila Bay stands as a testament to architectural brilliance, captivating visitors with its awe-inspiring design concept. The mall's architecture seamlessly blends contemporary aesthetics with traditional Filipino elements, creating a harmonious visual experience.
The design concept revolves around the idea of coexistence between nature and urban development, resulting in a unique shopping destination that effortlessly integrates with its surroundings. Every aspect of the mall's architecture has been meticulously planned to provide an unparalleled shopping experience.
Its spacious interiors boast high ceilings adorned with intricate designs, allowing natural light to flood in and illuminating the vibrant atmosphere within. The use of premium materials, such as polished marble and glass facades, adds an elegant touch to the overall aesthetic.
Integration of nature-inspired elements and sustainable practices
Ayala Malls Manila Bay takes sustainability seriously by incorporating nature-inspired elements throughout its structure. Lush greenery cascades from carefully placed vertical gardens, creating pockets of natural beauty amidst the bustling retail spaces.
These green spaces not only enhance the mall's aesthetic appeal but also contribute to its eco-friendly initiatives by improving air quality and promoting a sense of tranquility. In line with Ayala Land's commitment to sustainability, Ayala Malls Manila Bay incorporates various environmentally friendly practices into its operations.
The mall utilizes energy-efficient lighting systems that reduce energy consumption without compromising on illumination quality. Additionally, recycling bins are strategically placed throughout the premises to encourage visitors to practice responsible waste disposal.
Highlighting iconic structures or landmarks within the mall
Within Ayala Malls Manila Bay lies a collection of iconic structures and landmarks that add both charm and cultural significance to this modern marvel. One notable feature is "The Cube," an avant-garde structure that serves as a centerpiece for artistic exhibitions and events. Its contemporary design, characterized by clean lines and a futuristic aesthetic, often intrigues visitors and serves as a backdrop for memorable photographs.
Another noteworthy landmark within the mall is the "Garden Wing," an architectural gem that seamlessly integrates nature with modern design. The Garden Wing houses a sprawling garden-like space adorned with lush plants, creating an enchanting oasis that provides a breath of fresh air amidst the bustling shops.
This area serves as an ideal spot for visitors to relax, unwind, or simply admire the beauty of their surroundings. Ayala Malls Manila Bay's architectural marvel is evident in its meticulous design concept and incorporation of nature-inspired elements.
The integration of sustainable practices further solidifies its commitment to environmental stewardship. With iconic structures and landmarks scattered throughout the mall, Ayala Malls Manila Bay offers visitors not only a delightful shopping experience but also an opportunity to immerse themselves in the beauty of art and nature.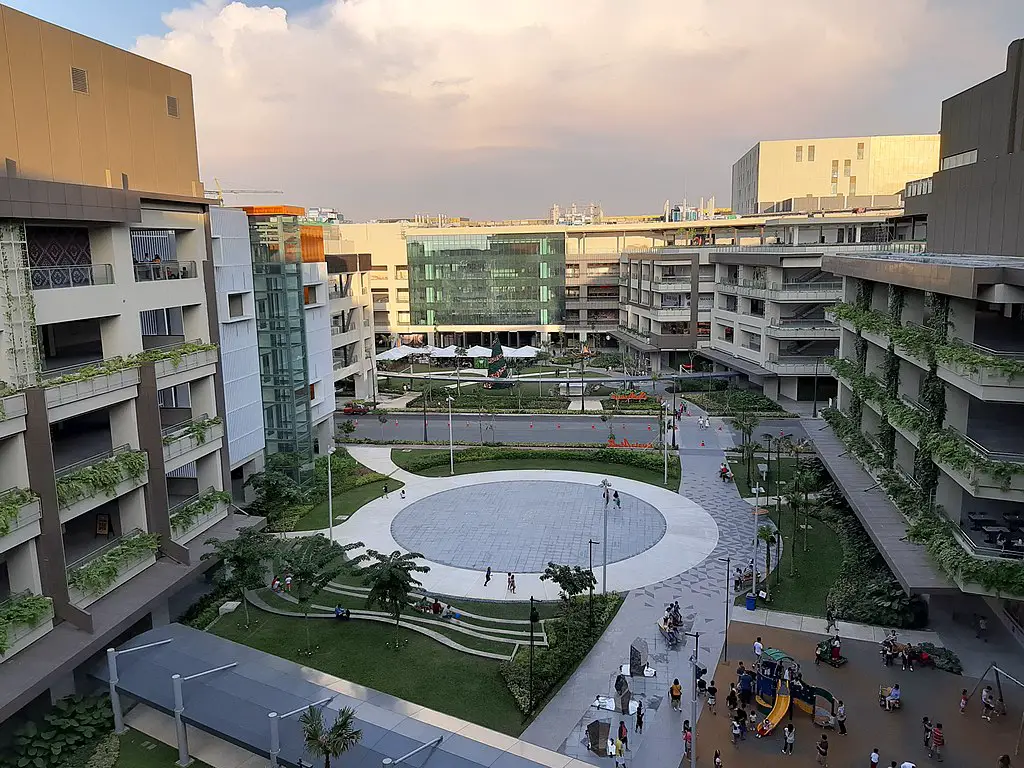 Conclusion
Ayala Malls Manila Bay truly exemplifies the epitome of a premier shopping destination. With its luxurious lounges, exclusive VIP services, childcare facilities, and wellness centers, it caters to every aspect of shoppers' needs. This remarkable mall ensures that visitors are enveloped in a world of comfort, sophistication, and convenience as they browse through a diverse array of retail stores and indulge in delectable dining experiences.
Ayala Malls Manila Bay is more than just a shopping haven; it is a sanctuary where shoppers can escape from the chaos of everyday life and immerse themselves in an unparalleled retail paradise. So why wait?
Embark on a journey filled with style, relaxation, and delight at Ayala Malls Manila Bay – your ultimate shopping destination. (Note: The conclusion should leave readers feeling excited about visiting Ayala Malls Manila Bay and highlight the unique aspects that set it apart from other shopping destinations.)