Introduction
Din Tai Fung, a name that resonates with food enthusiasts all around the world, is a renowned Taiwanese restaurant chain that has captivated the taste buds of millions. With its humble beginnings as a small dumpling shop in Taipei, Din Tai Fung has grown into an international culinary phenomenon, renowned for its delicate xiao long bao (steamed soup dumplings) and exquisite Taiwanese cuisine. The story of Din Tai Fung began in 1958 when Bingyi Yang and his wife turned their oil shop into a humble eatery to make ends meet.
Little did they know that their expertise in creating exceptional dishes would lay the foundation for what would eventually become a world-renowned restaurant chain. It was their unwavering commitment to quality and attention to detail that quickly garnered them a loyal customer base.
Over the years, Din Tai Fung's reputation spread like wildfire, attracting food enthusiasts from near and far. With numerous accolades and recognition from prestigious institutions such as Michelin Guide, it comes as no surprise that Din Tai Fung has earned its place among the world's top restaurants.
Din Tai Fung's Expansion to the Philippines
As word of mouth about Din Tai Fung's extraordinary dining experience continued to spread, it became clear that its expansion beyond Taiwan was not only inevitable but essential. Thus, began an exciting journey as Din Tai Fung ventured into various countries across Asia and beyond. One such destination was the vibrant archipelago of the Philippines.
With its rich culinary landscape and discerning food culture, the Philippines provided an ideal market for Din Tai Fung to satisfy the growing demand for authentic Taiwanese cuisine. In 2015, much to the delight of Filipino food enthusiasts, Din Tai Fung opened its first branch within Manila's bustling business district of Bonifacio Global City (BGC).
This marked a significant milestone in the expansion of Din Tai Fung's global presence. The decision to open its doors in the Philippines was driven by various factors.
Firstly, the country's flourishing economy and thriving food scene presented a promising opportunity for Din Tai Fung to establish its foothold and cater to a diverse audience. Secondly, Filipinos' appreciation for quality dining experiences and their adventurous palates made them receptive to the unique flavors and culinary techniques that Din Tai Fung had to offer.
Since its inception in the Philippines, Din Tai Fung has received an overwhelming response from both locals and tourists alike. The restaurant's commitment to upholding its core values of quality, consistency, and exceptional service has resonated with Filipino diners seeking memorable gastronomic experiences.
Today, Din Tai Fung continues to expand its presence within the country, captivating taste buds in major cities such as Manila, Makati, Quezon City, and beyond. Din Tai Fung's journey from a small dumpling shop to an internationally acclaimed restaurant chain is a testament to its unwavering dedication towards culinary excellence.
With its expansion into the Philippines, diners have been fortunate enough to experience the perfect marriage of Taiwanese flavors and Filipino appreciation for remarkable food. Join us as we embark on a gastronomic adventure through this article exploring Din Tai Fung's locations and mouthwatering menu offerings available across the archipelago.
History and Background of Din Tai Fung
Origins in Taiwan and the Founding Story of Din Tai Fung
Din Tai Fung, a name that has become synonymous with exceptional Taiwanese cuisine, has a rich history that dates back to 1958. The story begins in Xinyi District, Taipei, where Bingyi Yang and his wife, Mingyi Yang, opened a small stall selling cooking oil. Little did they know that this humble stall would eventually transform into one of the most renowned restaurant chains in the world.
In the early 1960s, Bingyi and Mingyi's son, Yong Kang, took over the business and had a vision to diversify. Inspired by his love for food and culinary creativity, he decided to shift the focus from cooking oil to handmade soup dumplings.
This decision marked a turning point for Din Tai Fung as it gained recognition for its exquisite xiao long bao (steamed soup dumplings). The restaurant's reputation spread like wildfire throughout Taiwan.
People flocked to Din Tai Fung's original location on Xinyi Road to experience these delectable treasures filled with flavorful broth and tender meat. The combination of meticulous craftsmanship and dedication to using only the finest ingredients set Din Tai Fung apart from its competitors.
The Restaurant's Philosophy and Commitment to Quality
Din Tai Fung prides itself on its unwavering commitment to quality at every step of their culinary journey. Their philosophy revolves around four core principles: delivering exceptional taste through perfectly balanced flavors; utilizing high-quality ingredients sourced responsibly; employing skilled artisans who master the art of dumpling-making; and ensuring an enjoyable dining experience for each customer. When it comes to taste, Din Tai Fung adheres strictly to maintaining harmony between flavors.
Each ingredient is carefully selected with precision so that no single element overpowers the others. The result is a symphony of flavors that dance on your palate with every bite.
To uphold its commitment to quality, Din Tai Fung meticulously sources the finest ingredients available. From hand-picked vegetables to premium cuts of meat and seafood, every ingredient used in their dishes must meet stringent standards.
Their dedication to sourcing responsibly not only ensures the tastiest dishes but also reflects their ethical responsibility toward promoting sustainability. The artistry of dumpling-making lies at the heart of Din Tai Fung's success.
The restaurant employs highly skilled artisans who undergo rigorous training to master the delicate craft of creating xiao long bao. Each dumpling is expertly pleated with precisely measured folds, ensuring that it is not only visually appealing but also holds the perfect amount of savory broth inside.
Din Tai Fung places great emphasis on providing an enjoyable dining experience for its customers. The ambiance in each branch is carefully curated to create a welcoming and comfortable atmosphere where patrons can savor their meals in peace.
The friendly and efficient service adds an extra layer of warmth, making each visit a memorable one. Din Tai Fung's history is one rooted in passion and culinary innovation.
Their philosophy revolves around delivering exceptional taste through balanced flavors, sourcing high-quality ingredients responsibly, employing skilled artisans, and ensuring an enjoyable dining experience for all. These principles have not only made them a household name in Taiwan but have also catapulted them into international fame as they continue to expand across the globe.
Expansion to the Philippines
Date and Location of the First Din Tai Fung Branch in the Philippines
In a momentous milestone for both Taiwanese cuisine enthusiasts and foodies in the Philippines, Din Tai Fung made its grand entrance into the country on December 8, 2015. Located in Manila's vibrant Bonifacio Global City, this initial branch captivated diners with its striking modern interior design and sleek ambiance. Nestled within a bustling commercial district, this prime location provided easy accessibility for locals and tourists alike, fueling their curiosity to experience the acclaimed culinary offerings of Din Tai Fung.
Reasons for Choosing the Philippines as a New Market
The decision to expand to the Philippines was not arbitrary; rather, it stemmed from a carefully calculated strategy devised by Din Tai Fung's management team. The Philippines proved to be an attractive market due to several key factors.
Firstly, Filipinos are renowned for their deep appreciation of diverse cuisines and their willingness to explore new flavors. This culinary adventurousness made them an ideal audience for Din Tai Fung's authentic Taiwanese fare.
Secondly, with its rapidly growing economy and increasing disposable income among Filipinos, there was a rising demand for high-quality dining experiences that offered exceptional value for money. Recognizing this emerging trend, Din Tai Fung seized the opportunity to provide an elevated dining experience at competitive prices—a winning formula that resonated with Filipino consumers.
But equally significant, the warm hospitality embedded within Filipino culture aligned seamlessly with Din Tai Fung's commitment to excellent customer service. By upholding their core values of attentiveness and genuine care towards guests' needs and preferences, Din Tai Fung forged strong connections with customers on an emotional level—an essential aspect that contributed greatly to their success in the Philippine market.
Success and Popularity of Din Tai Fung in the Country
Since its inception in the Philippines, Din Tai Fung has experienced an impressive surge in popularity and garnered a loyal following. In a relatively short span of time, it has managed to establish itself as one of the most sought-after dining destinations for both locals and tourists. The overwhelming response from Filipino diners has been attributed to various factors.
First and foremost, Din Tai Fung's commitment to culinary excellence remains unrivaled. Their meticulous attention to detail in every stage of food preparation, coupled with the use of premium ingredients sourced domestically and internationally, ensures that each dish served meets the highest standards.
Moreover, Din Tai Fung's consistent adherence to their signature dishes—particularly their world-famous Xiao Long Bao—has created a sense of familiarity among patrons. This dedication to maintaining authenticity has resonated deeply with Filipinos, who appreciate both tradition and innovation in their culinary experiences.
Additionally, Din Tai Fung's emphasis on providing exceptional customer service has played a pivotal role in sustaining its success. The attentive staff members go above and beyond to make diners feel welcomed and valued, further enhancing the overall dining experience.
The positive word-of-mouth spread quickly across social media platforms and through personal recommendations. Soon enough, it became common knowledge that visiting Din Tai Fung meant embarking on an unforgettable gastronomic journey—a testament to its immense success within the Philippine market.
To cater to the growing demand, Din Tai Fung gradually expanded its presence across major cities like Makati and Quezon City while consistently maintaining their reputation for excellence across all branches. As a result, they continue to enjoy unwavering support from enthusiastic patrons who eagerly await new menu offerings and innovative culinary creations.
Since venturing into the Philippines' vibrant dining scene, Din Tai Fung has embedded itself as a household name synonymous with impeccable Taiwanese cuisine. By selecting strategic locations that appeal to diverse demographics alongside delivering an outstanding dining experience, Din Tai Fung has solidified its position as a culinary gem in the hearts and palates of Filipinos.
Locations in the Philippines
Din Tai Fun Locations in the Philippines
When it comes to bringing the ultimate Taiwanese dining experience to the Philippines, Din Tai Fung has strategically established its branches in several key cities. This allows food enthusiasts and loyal fans of the brand to indulge in their mouth-watering offerings conveniently.
Din Tai Fung Bonifacio Global City
BONIFACIO GLOBAL CITY L/G C1, Bonifacio High Street Central, Taguig, Metro Manila
0919.078.5209
Din Tai Fung Greenbelt
2F, Greenbelt 3 Ayala Center, Makati
0919.084.5370
Din Tai Fung Rockwell
Makati, Unit R1 152-153 Powerplant Mall Amorsolo Dr
0919.084.5732
Din Tai Fung SM Megamall
G/F Mega Fashion Hall, SM Megamall, Ortigas Center, Mandaluyong, Metro Manila
0956.413.0207
Branch-Specific Features: Catering to Diverse Preferences
While each Din Tai Fung branch in the Philippines shares a commitment to exceptional culinary experiences, they also feature branch-specific elements that cater to diverse preferences. From exclusive private dining areas for intimate gatherings to spacious banquet halls designed for larger celebrations, the branches pay meticulous attention to detail. Additionally, some branches offer outdoor seating options for those seeking an al fresco ambiance.
Din Tai Fung's strategic choice of locations in Manila, Makati, Taguig, and Quezon City ensures accessibility for diners from various corners of the metropolis. Whether you seek a contemporary setting in Manila or an urban retreat in Makati or Quezon City, each branch promises an unforgettable dining experience infused with Taiwanese culinary excellence.
Delightful Menu at Din Tai Fung
When it comes to delectable dining experiences, Din Tai Fung stands out as a culinary gem. Let's take a closer look at some of their delectable offerings:
Appetizers:
Seaweed Salad (₱185): A refreshing start to your meal with the crispness of seaweed and a delightful dressing.
Sautéed String Beans (₱215): These beans are perfectly sautéed to crispy perfection and seasoned to excellence.
Din Tai Fung House Special (₱185): A house specialty that's a must-try, offering a burst of flavor in every bite.
Spicy Pickled Cucumber (₱165): If you love a spicy kick, these cucumbers will tantalize your taste buds.
Eggplant With Minced Pork (₱280): A savory delight featuring eggplant and flavorful minced pork.
Taiwanese Kao Fu (₱285): A unique Taiwanese dish that's a true delight for your senses.
Xiaolongbao:
Indulge in the world of Xiaolongbao, the famous soup dumplings that Din Tai Fung is renowned for. Here's a selection:
Pork and Roasted Garlic Xiaolongbao: 5pcs (₱195) / 10pcs (₱365)
Green Squash and Shrimp Xiaolongbao: 5pcs (₱195) / 10pcs (₱365)
Chicken Xiaolongbao: 5pcs (₱185) / 10pcs (₱355)
Pork Xiaolongbao: 5pcs (₱195) / 10pcs (₱365)
UNI AND PORK XIAOLONGBAO: 5pcs (₱395) / 10pcs (₱770)
Pork and Kimchi Xiaolongbao: 5pcs (₱225) / 10pcs (₱305)
Crab Roe And Pork Xiaolongbao: 5pcs (₱365) / 10pcs (₱675)
Chili Crab and Shrimp Xiaolongbao: 5pcs (₱385) / 10pcs (₱760)
Truffle And Pork Xiaolongbao (Per Piece): ₱170
Foie Gras And Chicken Xiaolongbao (Per Piece): ₱155
Pot Stickers and Snacks:
Chili Crab and Pork Buns (₱195)
Chicken and Mushroom Buns (₱170)
Braised Beef Buns (₱170)
Crispy Vegetarian Mushroom Wontons (₱230)
Deep-Fried Chicken and Shrimp Spring Roll (₱175)
Golden Prawn Cake (₱265)
Pork And Roasted Garlic Buns (₱165)
Crispy Shrimp and Pork Wontons (₱190)
Chicken Wings In Shrimp Paste (₱295)
Dumplings, Wontons, and Shao Mai:
Shrimp and Pork Wontons with House Special Spicy Sauce (₱225)
Shrimp and Pork Wontons with House Soy Sauce (₱225)
Steamed Shrimp And Pork Shao Mai: 5 pcs (₱255) / 10 pcs (₱470)
Vegetable Dishes:
Stir-fried Chinese kangkong (₱185)
Stir-Fried Organic Spinach with Garlic (₱275)
Winged Bean In Toasted Sesame Oil & Garlic (₱255)
Stir-fried Chinese Bok Choy (₱210)
Stir-Fried Watercress (₱220)
Stir-Fried Organic Kale (₱295)
Fried Rice:
Chicken Chop Fried Rice (₱395)
Shredded Pork Fried Rice (₱245)
Fried Rice with Sweet Garlic and Scallions (₱160)
Mushroom Fried Rice (₱225)
Pork Chop Fried Rice (₱395)
Truffle Mushroom Fried Rice (₱345)
Shrimp Fried Rice (₱265)
Fried Rice with Salted Fish (₱225)
Featured Dishes:
Explore a range of delectable dishes for solo or sharing:
Salted Egg Yolk Prawns: Solo (₱445) / Sharing (₱840)
Sweet and Sour Pork: Solo (₱295) / Sharing (₱545)
Sweet and Sour Prawns: Solo (₱420) / Sharing (₱815)
Three Cup Chicken: Solo (₱285) / Sharing (₱545)
Stir-Fried Beef with Scallions: Solo (₱325) / Sharing (₱555)
Crispy Chicken Cutlet with Special Sauce: Solo (₱300)
Sweet and Sour Chicken: Solo (₱260) / Sharing (₱520)
Hot Garlic Spareribs: Solo (₱405) / Sharing (₱805)
Hot Prawn Salad with Mango and Pineapple: Solo (₱440) / Sharing (₱920)
Black Pepper Beef: Solo (₱445) / Sharing (₱885)
Fried Chicken Chop: Solo (₱295)
Fried Pork Chop: Solo (₱295)
Crispy Beef Strips: Solo (₱280) / Sharing (₱540)
Soups and Noodle Soups:
Braised Beef Noodle Soup (₱430)
Shrimp and Pork Wonton Noodle Soup (₱290)
Deep-fried Pork Chop Noodle Soup (₱360)
Vegetarian Mushroom Wonton Noodle (₱300)
House Steamed Chicken Soup w/ Noodles (₱260)
Din Tai Fung Hot and Sour Soup – Solo: ₱205 / Sharing: ₱400
House Steamed Chicken Soup: ₱195
Sauced & Fried Noodles:
Fried Noodles with Seafood (₱315)
Machang Noodles With Sesame And Peanut Sauce (₱210)
Fried Noodles with Beef (₱245)
Fried Noodles with Vegetables (₱210)
Dan Dan Noodles with Spicy Sesame and Peanut Sauce (₱210)
Crispy Noodles with Seafood (₱385)
Dry Noodles with Spicy Shrimp and Pork Wontons (₱295)
Noodles With House Special Spicy Sauce (₱195)
Noodles With Minced Pork Sauce (₱230)
Desserts:
Mango Sago with Pomelo (₱135)
Chocolate Lava Xiaolongbao (₱155)
Golden Lava Salted Egg Yolk Buns (₱125)
Black Lava Buchi (₱125)
Drinks:
Coke (₱85)
Black Milk Tea (₱135)
Brown Sugar Pearl Milk (₱155)
Wintermelon Rock Salt & Cheese (₱155)
Classic Iced Tea (₱90)
White Wine (₱1550)
Jasmine And Rose Milk Tea (₱145)
Lemongrass Juice (₱80)
Oolong Passion Fruit Tea (₱155)
Passion Fruit Green Tea (₱155)
Iced Rose Tea (₱90)
Oolong Rock Salt & Cheese (₱155)
Coke Zero (₱85)
Taiwan Gold Medal Beer (330ml – ₱195 / 600ml – ₱260)
RED WINE (₱1550)
Bottled Water (₱70)
Canned Soda (₱95)
Din Tai Fung Tea (₱85)
Sprite (₱85)
Din Tai Fung offers a delightful culinary journey, promising a feast for the senses. Whether you're a fan of dumplings, savory dishes, or sweet treats, there's something for everyone on their extensive menu. Visit Din Tai Fung and savor the flavors of Taiwan in every bite.
Menu Highlights: Steamed Dumplings (Xiao Long Bao)
Introduction to Xiao Long Bao, a signature dish at Din Tai Fung
Xiao Long Bao, often referred to as soup dumplings, is an exquisite and iconic dish that has catapulted Din Tai Fung to international acclaim. These delicate steamed dumplings are meticulously handcrafted, showcasing the culinary artistry for which the restaurant is renowned.
Each Xiao Long Bao encapsulates a burst of savory broth and perfectly balances flavors and textures within their thin, translucent wrappers. It is this attention to detail that sets Din Tai Fung's Xiao Long Bao apart from any other.
Description of different flavors available (e.g., pork, chicken, crab roe)
At Din Tai Fung, diners can enjoy a diverse range of Xiao Long Bao flavors that cater to various palates. The classic and most popular option is the pork, Xiao Long Bao.
Within its delectable bundle lies a rich filling made from minced pork mixed with carefully selected seasonings like ginger and fragrant Chinese wine. This traditional variation embodies the essence of authentic Taiwanese cuisine.
For those seeking alternatives or exploring different tastes, Din Tai Fung offers variations such as chicken Xiao Long Bao. Here, tender chicken meat blends harmoniously with aromatic herbs and spices for a lighter yet equally satisfying experience.
Another notable flavor choice is the crab roe Xiao Long Bao which adds a luxurious touch to this beloved dish. The delicate sweetness of fresh crab roe melds seamlessly with perfectly seasoned minced meat inside these sumptuous dumplings.
Elaboration on how Xiao Long Bao is made with precision and care
The creation of each Xiaolongbao at Din Tai Fung is an intricate process that demands meticulous precision from start to finish. It begins with a selection of premium ingredients, including the finest cuts of meat, delicate dough, and flavorful broths.
The skilled chefs at Din Tai Fung adhere to strict guidelines when crafting these dumplings to ensure consistent quality. The dough is meticulously rolled into thin, uniform wrappers that encase the delectable fillings.
The filling itself is a blend of fresh ingredients expertly mixed by hand, ensuring an even distribution of flavors. To achieve the characteristic burst of soup within each Xiao Long Bao, the chefs use a specially crafted broth-gelatin mixture.
This innovation allows the broth to solidify slightly while maintaining its liquid state during steaming. Once assembled with precision and care, these dumplings are arranged in bamboo steamers and cooked to perfection over high heat.
The result is a culinary masterpiece: delicate dumplings that are tender yet firm enough to hold their shape until they reach your eager palate. The moment you bite into a Din Tai Fung Xiao Long Bao, you experience an explosion of flavors as the savory broth mixes harmoniously with the succulent filling—a true testament to the artistry and dedication employed in every step of their creation process.
Din Tai Fung's signature dish—Xiao Long Bao—epitomizes excellence in Taiwanese cuisine. From its introduction as an exquisite steamed dumpling filled with fragrant broths and carefully selected ingredients to its meticulous crafting process performed with exactitude and skill, there is no doubt why it has become a beloved staple for diners around the world.
With various flavors available such as pork, chicken, and crab roe, there is an option for every discerning palate at Din Tai Fung. Indulging in these little parcels of culinary delight offers not only gastronomic pleasure but also a glimpse into the rich heritage and dedication that defines this exceptional restaurant chain.
Other Must-Try Dishes at Din Tai Fung
The Delights of Noodle Dishes
Prepare your taste buds for an explosion of flavors with Din Tai Fung's delightful noodle dishes. One standout is the Dan Dan Noodles, a Sichuan-style dish featuring springy noodles tossed in a savory and mildly spicy sauce, topped with minced pork and crushed peanuts.
The combination of textures and the balance of flavors make this dish a crowd favorite. Another noodle dish that should not be missed is the Braised Beef Noodle Soup.
Slurp your way through rich and aromatic beef broth, accompanied by tender chunks of braised beef, garnished with green onions and cilantro. The noodles in this dish are perfectly cooked to maintain their chewiness, creating an irresistible bowl of comfort.
Appetizing Starters to Whet Your Appetite
Begin your dining experience at Din Tai Fung with their delectable appetizers. The Spicy Pickled Cucumber offers a refreshing burst of tangy and spicy flavors that awaken your palate.
Crisp cucumber slices marinated in vinegar, chili oil, garlic, and fragrant spices create a harmonious blend that complements the main dishes. For those seeking a taste of the ocean, the Seaweed Salad is an excellent choice.
This vibrant salad combines various seaweed varieties dressed in a light sesame vinaigrette that adds complexity to each bite. The umami notes from the seaweed create a delightful contrast against the crisp vegetables.
Main Courses for Culinary Enthusiasts
Indulge yourself in tantalizing main courses offered at Din Tai Fung to experience true culinary bliss. Feast on their succulent Kurobuta Pork Chop – tender slices of premium Japanese black pork marinated to perfection and lightly seared for a crispy exterior.
Each bite reveals a burst of juicy, flavorful goodness that will leave you wanting more. If you're a fan of seafood, the Shrimp Fried Rice is a must-try.
Delicate shrimp are wok-tossed with fragrant rice, complemented by the subtle flavors of green onions and egg. This dish showcases Din Tai Fung's expert ability to balance flavors while highlighting the freshness of quality ingredients.
Special Menus and Seasonal Offerings
Overview of Special Menus
In addition to their regular menu, Din Tai Fung offers special menus throughout the year, providing diners with exciting seasonal dishes. From festive holiday specials to limited-time collaborations with renowned chefs, these exclusive offerings bring new dimensions to your dining experience at Din Tai Fung.
Chinese New Year Prosperity Feast
During Chinese New Year, Din Tai Fung presents their Prosperity Feast – an extravagant menu featuring symbolic dishes believed to bring good luck and blessings for the coming year. Indulge in traditional delicacies such as prosperity dumplings, whole fish symbolizing abundance, and sticky rice cake for sweet beginnings.
Chef Collaborations: A Gourmet Adventure
Din Tai Fung often collaborates with esteemed chefs to introduce innovative creations inspired by different culinary traditions from around the world. These limited-time menus offer an opportunity to explore unique flavor combinations crafted by masters of their craft. Keep an eye out for these special events that elevate your dining experience.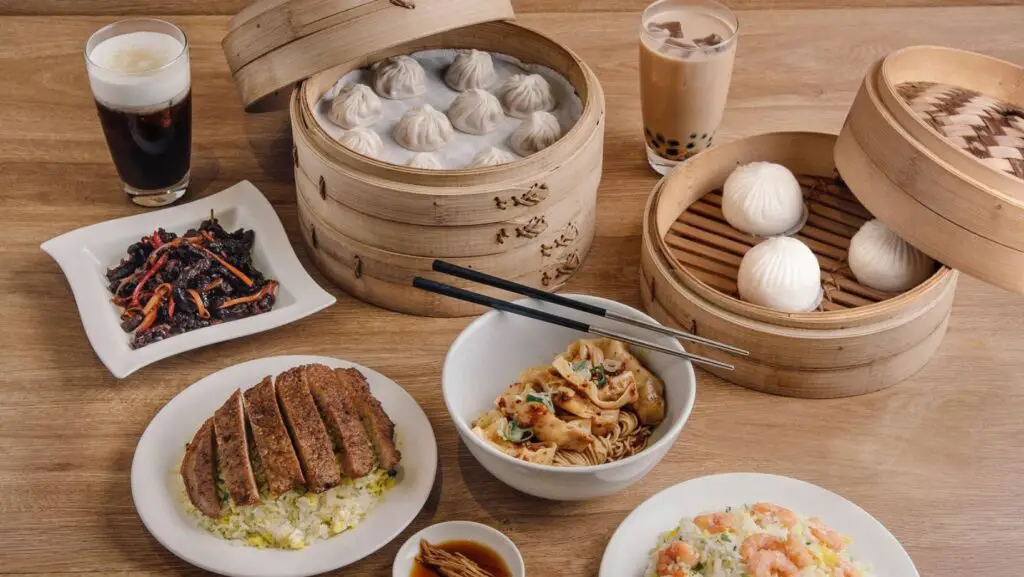 Conclusion
Dining at Din Tai Fung is an exceptional journey into Taiwanese cuisine's culinary delights in the heart of the Philippines. From their famous steamed dumplings to a wide range of noodle dishes and delectable mains, every bite at Din Tai Fung is crafted with precision and passion. With their special menus and seasonal offerings, Din Tai Fung continues to surprise and captivate diners with new flavors and experiences.
A visit to any of Din Tai Fung's branches promises an unforgettable gastronomic adventure that will leave you savoring every moment. So, embark on this culinary journey, relish the mouth-watering dishes, and create cherished memories at Din Tai Fung Philippines.