Dinagyang festival is annually held in Iloilo City, Philippines, on the fourth Sunday of January. The event not only commemorates the birth of Jesus but also showcases the rich culture and history of Iloilo City.
DINAGYANG FESTIVAL 2023 SCHEDULE OF EVENTS AND ACTIVITIES
January 13, 2023 (Friday 1 PM – 6 PM): Grand Opening Salvo
Location: Iloilo Freedom Grandstand
 
January 18, 2023 (Wednesday 6 pm): Miss Iloilo
Location: Iloilo Convention Center

January 19 – 22, 2023 (Thursday to Sunday): Iloilo Dinagyang Food Festival
Location: Downtown Area | Iloilo City Mall

January 20, 2023 (Friday 2 PM – 6 PM): Sto. Niño Fluvial Procession & Solemn Foot Procession
Location: Muelle Loney

January 21, 2023 (Saturday)

Kasadyahan sa Kabanwahanan (8 AM – 12 PM)
Location: Iloilo Freedom Grandstand | Muelle Loney St. Iloilo City (3 other stages)

Sponsor's Mardi Gras (1:30 PM – 5:30 PM)
Location: Iloilo Freedom Grandstand

Dinagyang Ilomination (6 PM – 9 PM)
Location:Iloilo City Diversion Road Proposed Routes: Atria Park – SM City – Megaworld
Dinagyang Floats Parade of Lights (6 PM – 9 PM)
Location: Iloilo City Diversion Road Proposed Routes: Atria Park – SM City – Megaworld
January 22, 2023 (Sunday 8 AM – 12 PM)

Dinagyang Sa Barangay Tribes Competition
Location:Iloilo Freedom Grandstand
Dinagyang Awarding Ceremony
Location:Iloilo Freedom Grandstand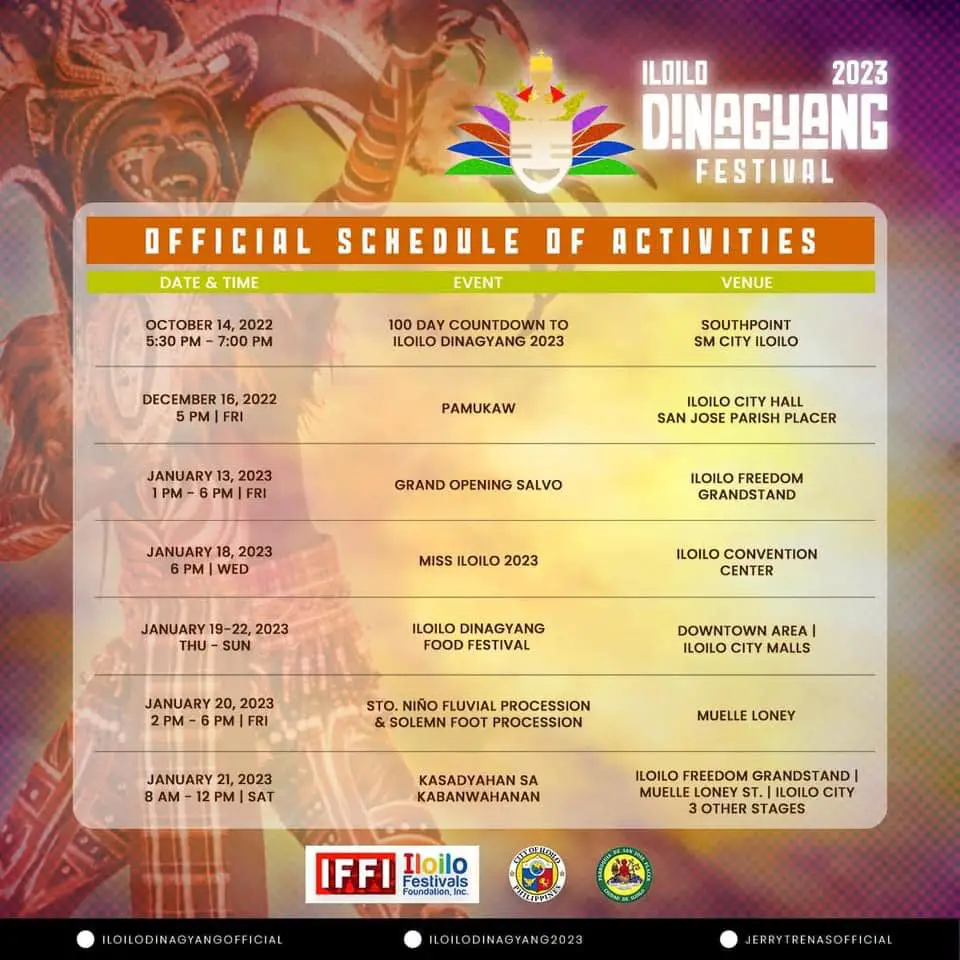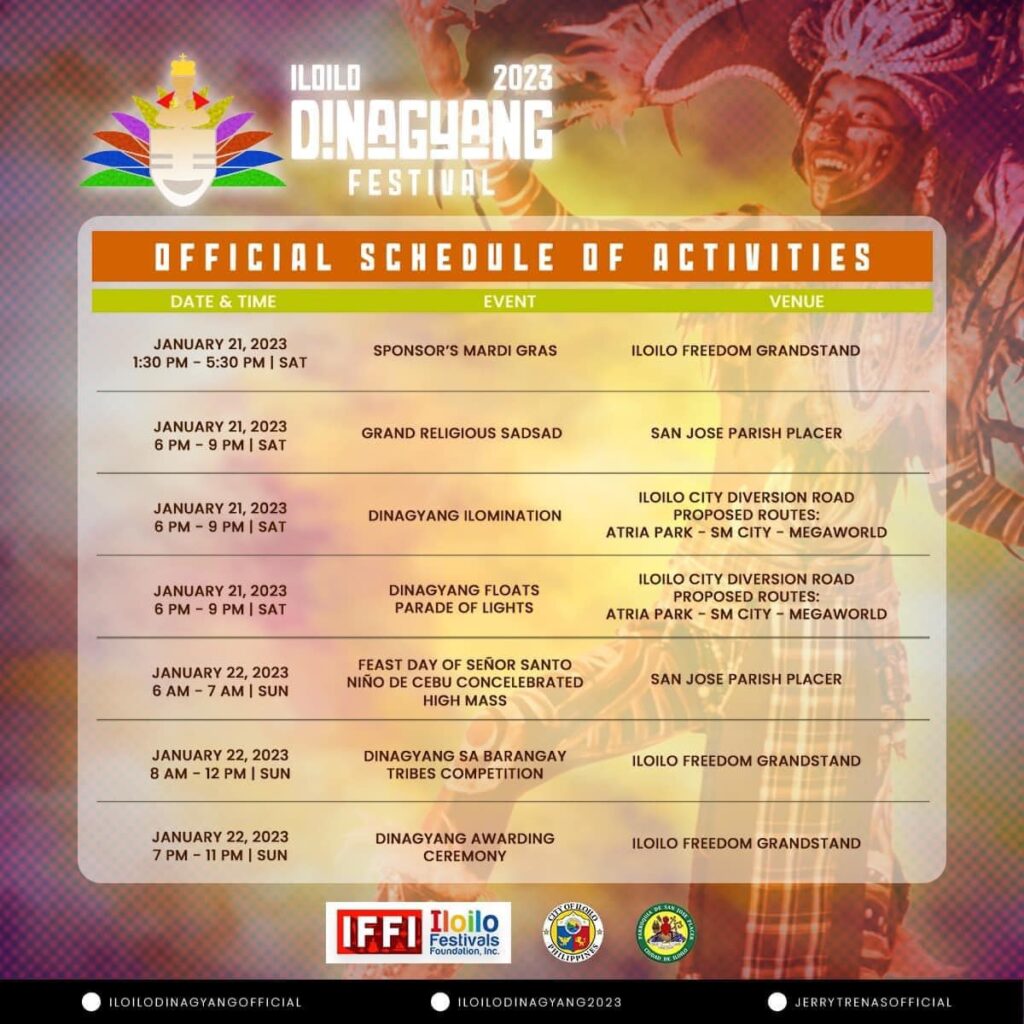 ABOUT DINAGYANG FESTIVAL
Dinagyang is a Hiligaynon term derived from dagyang, which means "merry-making." It commemorates the Infant Jesus' feast as well as the contract between the Datus and the villagers. During the celebration, locals dress up in bright costumes and masks and dance to rhythmic deafening music. The festival also includes three important events where traditional competitions are held:  the Ati Tribe Competition, the Kasadyahan Cultural Dance Competition, and the Miss Dinagyang Competition.
In Ilonggo, the word "dinagyang" means "revelry," and the festival dates back to 1967, when a replica of the Senor Santo Nino was transported to Iloilo City from Cebu. Currently, the celebration features street parties, firework displays, and competitions in tribal dancing.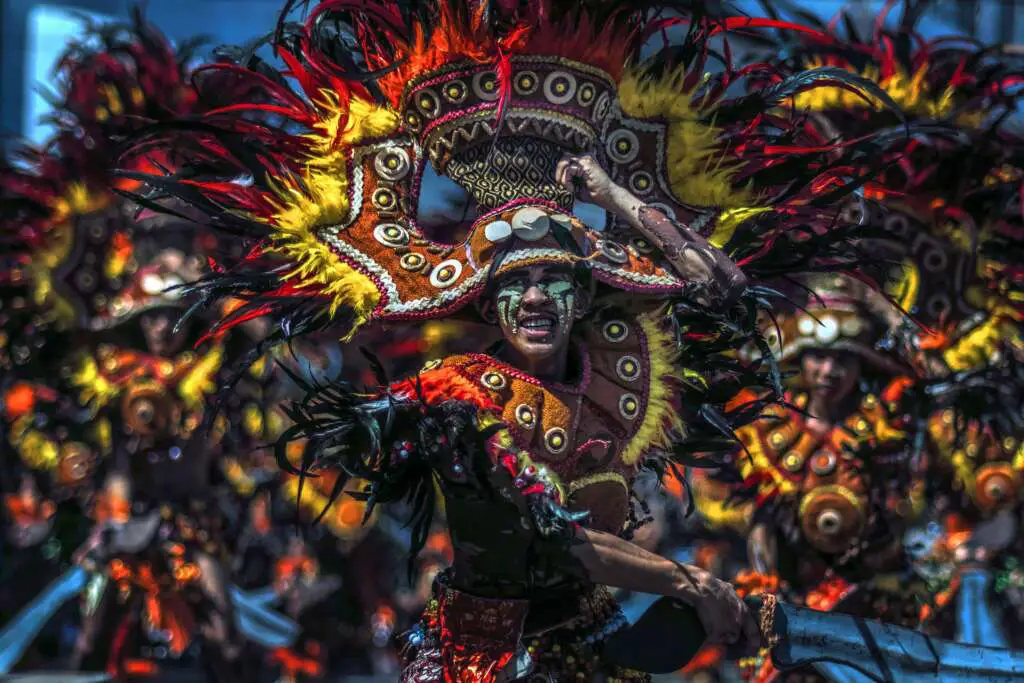 WHAT DATE IS DINAGYANG FESTIVAL
Fourth Sunday of January
ABOUT ILOILO
Iloilo is located in the center of the Philippine archipelago. The island-province of Guimaras borders the province, which is located on the southeasterly tip of Panay Island. A prominent urban hub is the City of Iloilo, the provincial capital of the Philippines' Iloilo province. People call it "The Heart of the Philippines".
One of the most significant provinces in the country has always been Iloilo. Even before the arrival of the Spaniards, traders from China and India had been doing business with the Ilonggos.  Iloilo continued to be a significant commerce hub even during the Spanish and American colonial periods. Iloilo has a lovely harbor with peaceful, placid waters that are safe to navigate because Guimaras Island shields it from the open sea.
You can still see the historic buildings, including luxurious residences, majestic century-old churches, and historic office buildings that, interestingly enough, were influenced by both European and American architecture.