Find the Palawan Pawnshop Branches in Metro Manila, Philippines, that is the closest to you. Locate a Palawan Pawnshop branch near you using the list below.
Palawan Pawnshop is one of the Philippines' most dependable, fastest-growing, and leading pawnshops. Palawan Pawnshop, which began as a pawnbroker, has expanded its services to include money remittance as Palawan Express Pera Padala. After more than 30 years in the industry, we now offer our loyal customers other products and services such as international money remittance, foreign currency exchange, e-loading, bill payment, and accident insurance in all of our branches across the country.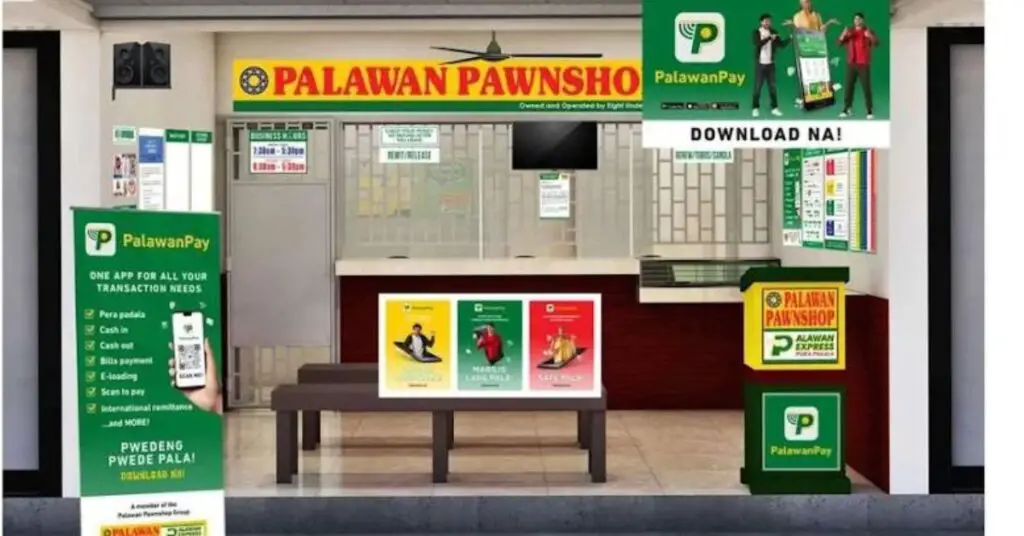 Here is a complete list of Palawan Pawnshops in Metro Manila. You can use this Branch Finder to verify and locate the address on a map.
TIP: If you are far from the Branch, contact Palawan Pawnshop first to confirm availability.
List of Palawan Pawnshop (Express Padala) Branches in Metro Manila, Philippines
BINONDO
CALOOCAN
ERMITA
PEDRO GIL
1003 PEDRO FIL COR SAN MARCELINO ZONE 73 Barangay 675
8:00 AM – 5:30 PM
LAS PINAS
MAKATI
MALABON
MALATE
MANILA
MANDALUYONG
ST FRANCIS ORTIGAS
Ground Floor Unit GI-003 St Francis Square Bank Drive Julia Vargas District 27 Barangay Wack Wack Greenhills East Ortigas
10:00AM-09:00PM
BONI
Stall #3, Ground Floor, #779 Mayon St. Corner Boni Ave District 16 Barangay MalamigM-F
8:00AM-6:30PM/Sat-Sun 8:00AM-5:30PM
SHAW LITTON
Liberty Center Puregold Supermarket Shaw Boulevard District 23 Barangay Pleasant Hills
09:00AM-6:30PM
BARANGKA DRIVE
419-B Barangka Drive District 3 Barangay Barangka DriveM-F
8:00AM-6:30PM/Sat-Sun 8:00AM-5:30PM
KALENTONG
#85 General Kalentong District 9 Barangay Daang BakalM-F
8:00AM-6:30PM/Sat-Sun 8:00AM-5:30PM
KALENTONG 2
Unit 2 Ground Floor Delfritz Building 17 Pag Asa Street District 12 Barangay Harapin Ang Bukas
8:00AM-5:30PM
F.MARTINEZ
432-F F Martinez Street District 22 Barangay Plainview
8:00AM-5:30PM
PLANVIEW
606 E Boni Avenue District 22 Barangay Plainview
8:00AM-5:30PM
IBABA
No.1 P.Oliveros Street District 4 Barangay Barangka Ibaba
8:00AM-5:30PM
PINEDA
121 Masilang Street District 1 Barangay Pineda
8:00AM-5:30PM
SHAWBOULEVARD
L G/F Shaw Plaza 1 Shaw Boulevard District 27 Barangay Wack wack
08:00AM-05:30PM
SAN RAFAEL
1087 San Rafael Dsitrict 22 Barangay Plainview
08:00AM-05:30PM
GOMEZ VILLE
383 Shaw Boulevard corner Gomez ville District 1 Barangay Addition Hills
08:00AM-05:30PM
MARIKINA
MUNTINLUPA
NAVOTAS
PARANAQUE
PASAY
PASIG
PATEROS
Pateros
52 Morcilla Street Barangay Poblacion
8:00AM-5:30PM
Pateros 2
111 M.Almeda Street Barangay San Roque
8:00AM-5:30PM
QUEZON CITY
QUIAPO
QUINTA
SPACE 206-1 CARLOS PALANCA COR P DUCOSST ZONE 030 Barangay 306
8:00 AM – 5:30 PM
SAMPALOC
SAN JUAN
STA ANA
STA CRUZ
STA MESA
V. MAPA
4036 RAMON MAGSAYSAY BLVD. ZONE 58 Barangay 587
8:00 AM – 5:30 PM
PUP STA.MESA
248 TERESA ST DISTRICT 6 Barangay 591
8:00 AM – 5:30 PM
PUREZA
1-A G/F RM 101 SQUARE RAMON MAGSAYSAY BLVD COR. D. AMPIL ST ZONE 064 Barangay 631
8:00 AM – 5:30 PM
TAGUIG
TONDO
VALENZUELA