Find the nearest Palawan Pawnshop branch to your location in Metro Manila or anywhere in the Philippines. Our comprehensive list of Palawan Pawnshop locations in Metro Manila will help you find the perfect branch for your money transfer needs. With a single click, you can also find the nearest Palawan Pawnshop branch to you! Simply click the button link to access our branch finding tool and quickly find the Palawan Pawnshop branch closest to you.
FIND PALAWAN PAWNSHOP BRANCHES NEAR YOU
Find the Palawan Pawnshop branch that is closest to you! Click the button below.
TIP: If you are far from the Branch, contact Palawan Pawnshop first to confirm availability.
Here is a complete list of Palawan Pawnshops in Metro Manila. You can use this Branch Finder to verify and locate the address on a map.
Palawan Pawnshop (Express Padala) Branches in Metro Manila
BINONDO
CALOOCAN
ERMITA
PEDRO GIL
1003 PEDRO FIL COR SAN MARCELINO ZONE 73 Barangay 675
8:00 AM – 5:30 PM
LAS PINAS
MAKATI
MALABON
MALATE
MANILA
MANDALUYONG
ST FRANCIS ORTIGAS
Ground Floor Unit GI-003 St Francis Square Bank Drive Julia Vargas District 27 Barangay Wack Wack Greenhills East Ortigas
10:00AM-09:00PM
BONI
Stall #3, Ground Floor, #779 Mayon St. Corner Boni Ave District 16 Barangay MalamigM-F
8:00AM-6:30PM/Sat-Sun 8:00AM-5:30PM
SHAW LITTON
Liberty Center Puregold Supermarket Shaw Boulevard District 23 Barangay Pleasant Hills
09:00AM-6:30PM
BARANGKA DRIVE
419-B Barangka Drive District 3 Barangay Barangka DriveM-F
8:00AM-6:30PM/Sat-Sun 8:00AM-5:30PM
KALENTONG
#85 General Kalentong District 9 Barangay Daang BakalM-F
8:00AM-6:30PM/Sat-Sun 8:00AM-5:30PM
KALENTONG 2
Unit 2 Ground Floor Delfritz Building 17 Pag Asa Street District 12 Barangay Harapin Ang Bukas
8:00AM-5:30PM
F.MARTINEZ
432-F F Martinez Street District 22 Barangay Plainview
8:00AM-5:30PM
PLANVIEW
606 E Boni Avenue District 22 Barangay Plainview
8:00AM-5:30PM
IBABA
No.1 P.Oliveros Street District 4 Barangay Barangka Ibaba
8:00AM-5:30PM
PINEDA
121 Masilang Street District 1 Barangay Pineda
8:00AM-5:30PM
SHAWBOULEVARD
L G/F Shaw Plaza 1 Shaw Boulevard District 27 Barangay Wack wack
08:00AM-05:30PM
SAN RAFAEL
1087 San Rafael Dsitrict 22 Barangay Plainview
08:00AM-05:30PM
GOMEZ VILLE
383 Shaw Boulevard corner Gomez ville District 1 Barangay Addition Hills
08:00AM-05:30PM
MARIKINA
MUNTINLUPA
NAVOTAS
PARANAQUE
PASAY
PASIG
PATEROS
Pateros
52 Morcilla Street Barangay Poblacion
8:00AM-5:30PM
Pateros 2
111 M.Almeda Street Barangay San Roque
8:00AM-5:30PM
QUEZON CITY
QUIAPO
QUINTA
SPACE 206-1 CARLOS PALANCA COR P DUCOSST ZONE 030 Barangay 306
8:00 AM – 5:30 PM
SAMPALOC
SAN JUAN
STA ANA
STA CRUZ
STA MESA
V. MAPA
4036 RAMON MAGSAYSAY BLVD. ZONE 58 Barangay 587
8:00 AM – 5:30 PM
PUP STA.MESA
248 TERESA ST DISTRICT 6 Barangay 591
8:00 AM – 5:30 PM
PUREZA
1-A G/F RM 101 SQUARE RAMON MAGSAYSAY BLVD COR. D. AMPIL ST ZONE 064 Barangay 631
8:00 AM – 5:30 PM
TAGUIG
TONDO
VALENZUELA
ABOUT PALAWAN PAWNSHOP
One of the greatest pawn businesses in the Philippines right now, Palawan Pawnshop is growing quickly. On August 17, 1985, Mr. Bobby and Mrs. Angelita Castro publicly inaugurated the business's first branch in Puerto Princesa City.
In addition to its primary focus on pawn brokering, the company currently offers money transfer services under the name Palawan Express Pera Padala. After more than 30 years in the business, Palawan Pawnshop now provides more goods and services to its loyal customers in important cities, small towns, and rural areas around the nation. Bill payment, accident insurance, e-loading, currency conversion, and international money transfers are some of them.
Palawan Pawnshop is a trusted name in the Philippines' pawnshop industry, known for its reliable and efficient services. What began as a simple pawnbroker has now evolved into a comprehensive financial services provider, offering Palawan Express Pera Padala for fast and secure money remittance. With over three decades of experience, our commitment to customer satisfaction has led us to expand our offerings, including international money remittance, foreign currency exchange, e-loading, bill payment, and accident insurance. You can find our branches located throughout the country, ensuring convenient access to our top-notch services.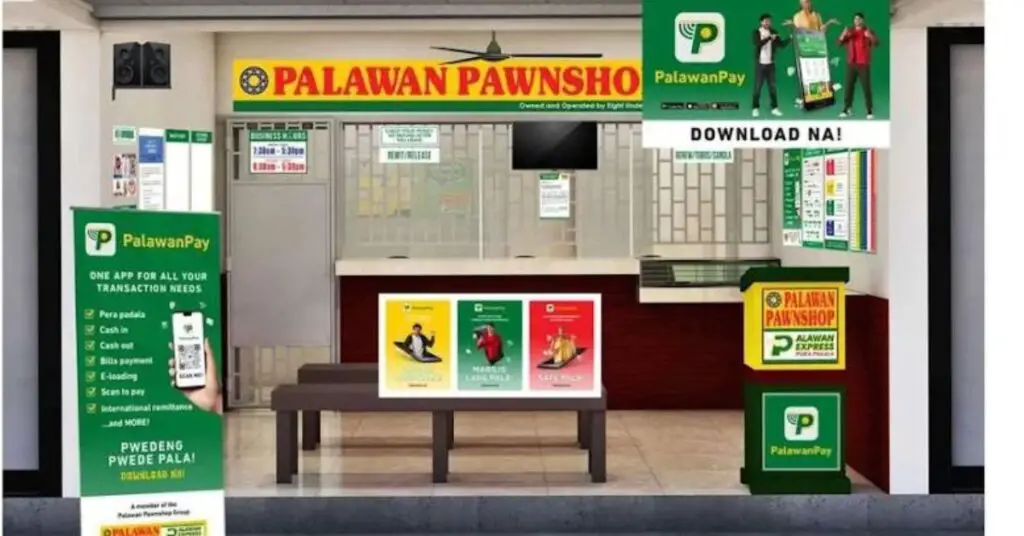 In summary, finding the nearest Palawan Pawnshop branch in Metro Manila is a quick and easy task. With a wide range of branches scattered throughout the city, locating the one closest to your location is a breeze. Whether you need cash urgently or want to transfer money, Palawan Pawnshop provides a reliable and trustworthy service that has been serving the community for many years. We hope that this guide has been helpful and that you can easily find the closest Palawan Pawnshop branch. Always remember, with Palawan Pawnshop, you can trust their commitment to providing a seamless and efficient service for all your financial needs.
A Brief Overview of Palawan Pawnshop and Its Services
As mentioned earlier, among its services is pawning where customers can borrow money using their valuables as collateral.
The interest rate for a loan is reasonable compared to other pawnshops in the Philippines. Aside from pawning services, Palawan Pawnshop also offers remittance services through its subsidiary called "Palawan Express Pera Padala".
Customers can send or receive money quickly and safely through any of its branches nationwide. Customers can also pay bills at any branch such as utilities like electricity and water bills or subscriptions like cable TV providers or internet services.
Finding Palawan Pawnshop Branches
Using the Palawan Pawnshop Website to Locate Branches
Palawan Pawnshop has a website that can be used to locate branches in Manila. The website provides a list of all the branches and their addresses. You can easily search for the branch closest to you.
All you need to do is go to the "Branch Locator" section on their website, enter your current location or address, and hit the search button. The website will show you all the nearby branches.
The website also provides other helpful information such as operating hours for each branch, services offered, and contact information for each branch. This makes it easy for you to plan your visit and know what services are available at each branch.
Searching for Branches on Google Maps or Other Online Maps
Another way of finding Palawan Pawnshop branches in Manila is by using online maps such as Google Maps. Simply type "Palawan Pawnshop" into the search bar on Google Maps and it will show you all the nearby branches.
Online maps are great because they provide additional information such as reviews from other customers who have visited those locations. This can help you determine which branch is more reputable or provides better services.
Asking Locals or Friends for Recommendations on Nearby Branches
Sometimes, the best way to find a good Palawan Pawnshop branch is by asking locals or friends who have used their services before. They can give you firsthand information about which branches are reliable and trustworthy.
You might want to ask if they have any recommendations based on their personal experiences with different branches, how long they've been clients with Palawan Pawnshop, and if there were any issues that needed addressing during their time doing business with them. It's also a good idea to ask about how long it took them to complete a transaction, what documents they needed to present, and how easy it was to negotiate prices with the staff.
Tips for Visiting a Palawan Pawnshop Branch
Preparing necessary documents before visiting a branch
Before you visit a Palawan Pawnshop branch, it's important to make sure you have all the necessary documents with you. These may include government-issued IDs such as your passport, driver's license, or voter's ID.
You may also need proof of address like a utility bill or bank statement. If you're pawning an item, make sure to bring any receipts or certificates of ownership.
It's best to check with the specific branch you plan on visiting beforehand so that you can be certain of what documents are required. Having everything prepared beforehand will save time and ensure that the transaction goes smoothly.
Understanding the different types of services offered by the pawnshop
Palawan Pawnshop offers various services such as pawning, remittance, bills payment and more. It's important to understand each service offered so that you can determine which one is right for your needs. Pawning is when you use an item as collateral in exchange for cash.
Remittance is when someone sends money to another person through Palawan Pawnshop or other remittance partners. Bills payment allows customers to pay their bills conveniently at any Palawan Pawnshop branch and also offers online payments via their website.
Knowing which service to use depends on your financial needs at that moment. Make sure to ask questions and clarify any confusion before proceeding with any transaction.
Knowing how to negotiate prices and terms
When pawning an item, it's important to know how much it's worth so that there are no surprises during negotiation. Do some research online or ask around about similar items being pawned in order to get an idea of its value.
Negotiating terms is also important because interest rates vary depending on the amount borrowed and time frame given for repayment. Don't be afraid to negotiate for lower rates or longer terms, but make sure to read the fine print and understand any consequences before agreeing.
Also, be aware of any fees associated with your transaction, such as appraisal fees or service charges. Ask questions about these fees and make sure you fully understand them before agreeing to any terms.
Visiting a Palawan Pawnshop branch can be a great way to get quick cash or receive money from abroad. By preparing necessary documents beforehand, understanding the services offered and knowing how to negotiate prices and terms can make your visit a smooth one.
---
RELATED POSTS
Looking for BPI branches that are open on Saturdays? We've got you covered with a complete list of BPI branches in various locations. Whether you're in Metro Manila, Makati Central,…

---