Learn about the departure schedules from PITX to Baguio and vice versa, and everything you need to know about P2P, PITX, and Solid North Transit.
BUY TICKETS NOW
WHAT IS P2P
Premium Point-to-Point (P2P) Bus Service is a Department of Transportation (DOTr) initiative that aims to provide commuters with an additional reliable and safe mode of transportation while also assisting in the reduction of traffic congestion in Metro Manila and beyond.
Visitors from the south, such as Cavite, Laguna, and Batangas, can now travel directly to Baguio without stopping in Buendia or Cubao.
ABOUT PITX
The PITX (Parañaque Integrated Terminal Exchange) is a public transportation terminal located in Parañaque, Philippines. PITX was built and is operated as part of the Philippine government's Public-Private Partnership program by Megawide Construction Corporation and the Department of Transportation (DOTr).
PITX serves as a transit hub for buses, jeepneys, and other public utility vehicles traveling to and from areas south of Metro Manila, such as Cavite and Batangas, as well as vice versa.
LOCATION
Tambo, Parañaque, Metro Manila, Philippines
ABOUT SOLID NORTH BUS

Pangasinan Solid North Transit, Inc. is a provincial bus company that primarily connects Cubao, Dagupan, Bolinao, PITX to Baguio, Cabanatuan to Baguio, Bayambang to Baguio, and Dagupan to Baguio.
SOLID NORTH CONTACT
PITX TO BAGUIO SOLID NORTH BUS DEPARTURES
12:00am
1:00am
2:00am
2:30am
3:00am
4:00am
4:30am
5:00am
6:00am
7:00am
8:00am
8:30am
9:00am
10:00am
11:00am
12:00nn
1:00pm
2:00pm
2:30pm
3:00pm
4:00pm
4:30pm
5:00pm
6:00pm
7:00pm
8:00pm
9:00pm
10:00pm
11:00pm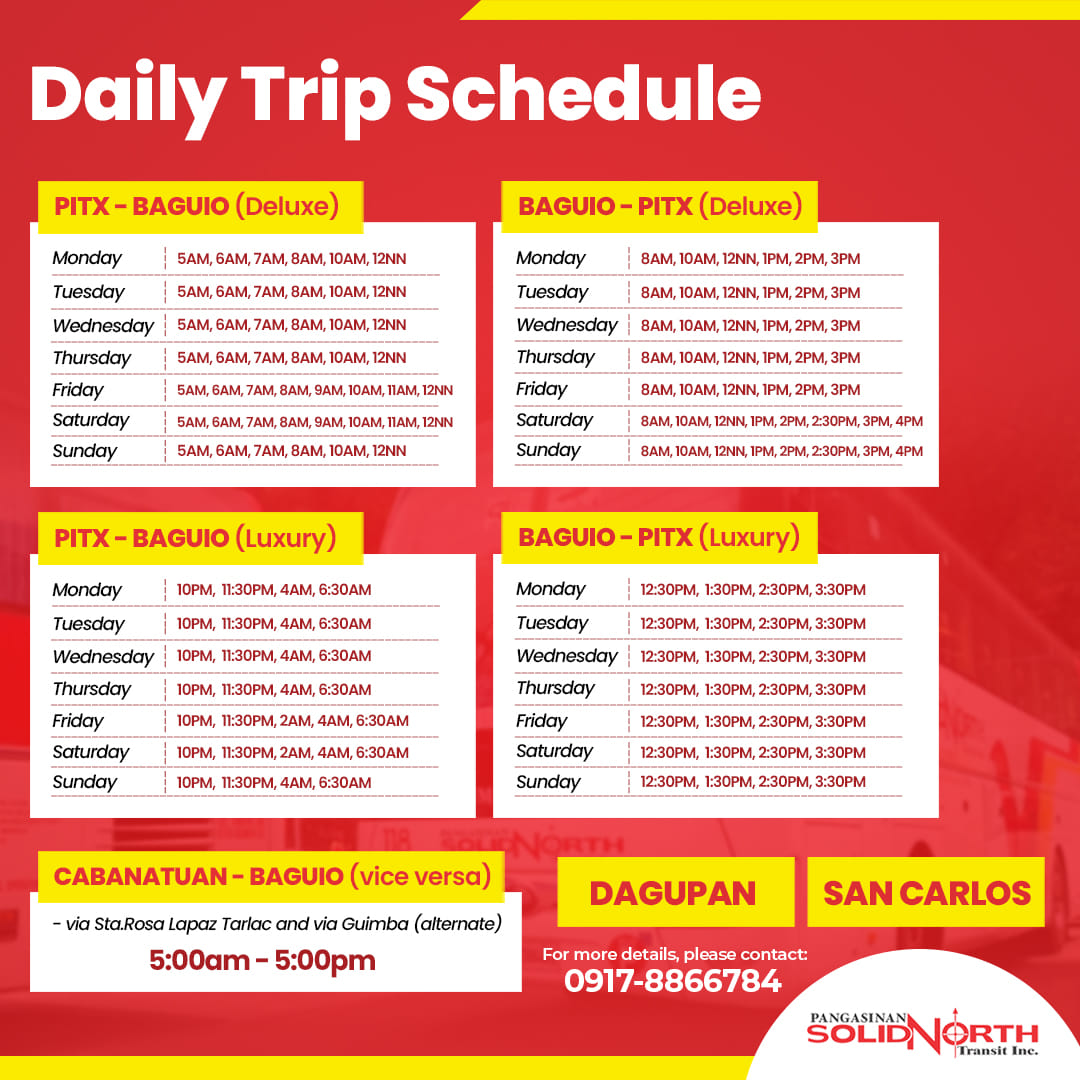 BAGUIO TO PITX SOLID NORTH BUS DEPARTURES
12:00am
1:00am
2:00am
2:30am
3:00am
4:00am
4:30am
5:00am
6:00am
7:00am
8:00am
8:30am
9:00am
10:00am
11:00am
1:00pm
1:30pm
2:30pm
3:00pm
4:00pm
4:30pm
6:00pm
7:00pm
8:00pm
10:00pm
11:00pm
SOLID NORTH TRANSIT TERMINAL IN BAGUIO
Gov. Pack Rd, Baguio, Benguet
From Paranaque Integrated Terminal to Baguio City
From Baguio City to Paranaque Integrated Terminal
---