Indulge in the beauty of the Cordilleras with Coda Lines' premium sleeper bus services. The modern and spacious sleeper buses provide a luxurious way to explore the scenic landscapes and stunning attractions of this breathtaking region. Whether you're traveling solo or with a group, the sleeper buses offer a comfortable and convenient way to get to your destination. So sit back, relax, and enjoy the ride as Coda Lines take you on an unforgettable journey to the Cordilleras. Experience the ultimate blend of comfort and style as it brings you to the heart of this awe-inspiring region, ensuring a seamless and unforgettable travel experience.
CODA LINES NEW TRIP SCHEDULES TO SAGADA,BONTOC & BANAUE
DAILY TRIPS:
QC- NLET to Sagada: 9:00PM
QC- NLET to Bontoc: 9:00PM
QC- NLET to Banaue: 9:00PM
Sagada to NLET – QC : 10:30AM (during peak season)
Sagada to NLET – QC : 1:00PM
Sagada to NLET – QC: 2:00 PM
Note that trip schedules may be subject to change without prior notice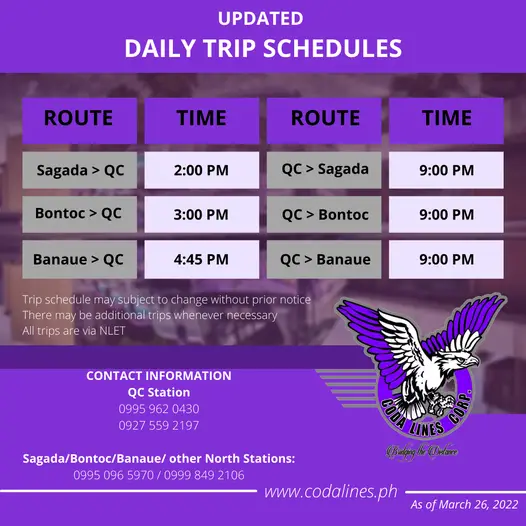 TERMINAL LOCATIONS OF CODA LINES
Quezon City Terminal
HM Transport Terminal, Monte De Piedad St., corner Maryland St., Brgy. Immaculate Concepcion, Quezon City
Sagada, Mt. Province Terminal
Poblacion, Sagada, Mt. Province
Bontoc, Mt. Province Terminal
Bontoc Circle
Banaue, Ifugao Terminal
Below Tourist Information Center
Waiting area: Tourism Office
ABOUT CODA LINES
Coda Lines Corp. connects the nation's capital to the magnificent Cordilleras.
The modest beginnings of the Codamon Family led to the establishment of the bus-operating company, Coda Lines Corporation.
Coda Lines Corporation has expanded into a sizable company since it began operating in the public transportation sector almost 20 years ago, moving thousands of passengers around Luzon every year. 
Coda Lines has a reputation for being a pleasant employer to its personnel; everyone who works there is immediately welcomed into the team and the company operates under the tenets of a happy family. They have devoted a lot of time and effort to the company since they think that working together will enable them to accomplish their goal-setting and objectives.
ABOUT SAGADA
Sagada, Mountain Province, located 275 kilometers north of Manila, is a quiet town that is quickly gaining popularity as a tourist destination in Northern Luzon due to its picturesque landscapes of meandering mountains and lush pine forests, as well as its chilly climate, vibrant local culture, and access to thrilling adventures.
The majority of visitors to Sagada are wanderers and soul-seekers. Beautiful mountain valleys, rice fields, limestone caves, icy waterfalls, and cliffs encompassed by a sea of clouds are just a few of Sagada's attractions. Perhaps the most popular tourist destination in the area is Sumaguing Cave.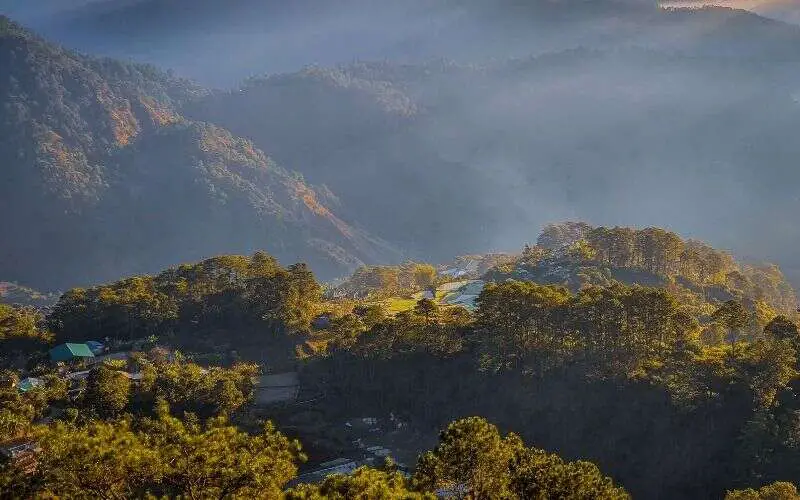 THE BEST TOURIST ATTRACTIONS IN SAGADA
1. Sumaguing and Lumiang Caves
Sumaguing, often known as the "Big Cave," is the largest and deepest of all the caverns in Sagada. It has intriguing rock formations and an underground river that are remnants of the area's submerged state millions of years ago. On the other hand, the Lumiang is a smaller cave that the locals highly revere because it served as the final resting place for their ancestors' hundreds of years ago. These two caverns are accessible via a cave link excursion or independently.
2. Kiltepan Peak
An activity not to be missed is hiking Kiltepan Peak, which is three and a half kilometers from the town center. The sunrise views at Kiltepan, which is 1640 meters above sea level, are legendary. The sun emerges from a sea of clouds and looming mountains to light up the rice terraces and valleys below. For intrepid travelers, Kiltepan also has a designated camping location.
3. Mt. Ampacao and Lake Danum
The summit of Mt. Ampacao, a towering mountain rising roughly 6197 feet above sea level, is thought to be the highest point in Sagada. Ampacao offers views of local villages and mountains that cross the border between Ilocos Sur and Abra-Mt. Province during a 90-minute trip. Mount Polis, Mount Tirad, and Mount Sipsipitan are among the other peaks seen from the summit's panoramic vista. In addition, it leads to Lake Danum, a well-liked camping area four kilometers from Sagada's center.
4. Marlboro Country
The path to the Kamanbaneng Peak or Malboro Country, an 18-kilometer hike that takes approximately four hours, is not typically on a tourist's schedule. It is a wonderful location, though, and should not be overlooked. The peak, which is around 5100 feet above sea level, welcomes visitors with a sweeping panorama of limestone cliffs and rice terraces. Sunrise amidst the sea of clouds is another stunning early-morning sight. The renowned "blue soil hill," which is south of the trail, is where fortunate travelers could also run upon wild horses.
5. Echo Valley
The bouncing of sounds on the walls of rock formations, which are surrounded by lush mountains built of massive limestone formations, is how Echo Valley got its name. This outdoor refuge is a breathtaking panorama of Sagada's bountiful nature and rich culture, providing a view of the century-old hanging coffins concealed between rocks and pine forests. The valley can be reached by foot by circuits that lead to a subterranean river and a cave that is 100 meters long.
6.Bomod-ok and Bokong Falls
Sagada is endowed with more than only healthy pine trees, sweeping mountains, and vast caves. Additionally, it is the location of magnificent waterfalls like the Bomod-ok and Bokong falls. Bomod-ok Falls, also known as the "Big Falls," is a cold-water cascade with a height of 200 feet that is tucked away deep in the valley. On the other hand, it is only two kilometers from Bokong Falls from the town center. It features a basin that is up to 17 feet deep and drops from a height of 20 feet.
Traveling to the Cordilleras has never been more convenient and luxurious than with Coda Lines' sleeper bus services. Whether you're looking for a solo adventure or a group getaway, our modern and spacious sleeper buses provide a comfortable and hassle-free way to explore the beauty of the region. Experience the ultimate blend of comfort and style as we take you on an unforgettable journey to the heart of the Cordilleras. Book your journey with us today and embark on a seamless and unforgettable travel experience.