Discover the best beach destinations in the Philippines. From white sand beaches to hidden lagoons, explore the top spots for tropical getaways and fun-filled beach holidays. Find out what makes each destination special and plan your next vacation today!
Being a tropical nation, the Philippines features some of the finest beaches in the world. The coastline of the nation is a remarkable treasure trove of coastal delights, from pristine, undeveloped white-sand beaches to exquisite coral-fringed lagoons with amazing marine life.
List of the Best Beach Destinations in the Philippines
Best Beach Destinations in the Philippines
At these locations, swimming, snorkeling, and general leisure are activities that everyone may enjoy.
The best beach destinations in the Philippines provide gorgeous, palm-lined beachfront and cool, crystal-clear water for a pleasant and restorative holiday. Expect to find beautiful stretches of pristine white sand, warm crystal clear waters, and all-year-round sun. It's no wonder that the Philippines ranks among the top countries with the most beaches: there are over 7,107 islands to explore!
Those in search of a more exotic and tropical vacation destination will be in for a real treat when visiting any of these beach destinations, as the combination of scenery and activities will make for an unforgettable experience.
EL NIDO PALAWAN
El Nido is a spectacular natural wonder in the Philippines. It is famous for its limestone cliffs, bay islands, limestone caves, and dense forests. It is also one of the most important bird-watching destinations in the world. El Nido is a Spanish word that means "nest." El Nido's beaches are noted for their breathtaking beauty and crystal blue water.
Nacpan Beach, El Nido Airport Beach, Las Cabanas Beach, Hidden Beach, Papaya Beach, Seven Commando Beach, Payong-Payong Beach, Marimegmeg Beach, Duli Beach, Secret Lagoon Beach, Corong Corong Beach, Buena Suerte Beach, Pinagbuyutan Island, and Dolarog Beach are just a few of the popular beaches to visit.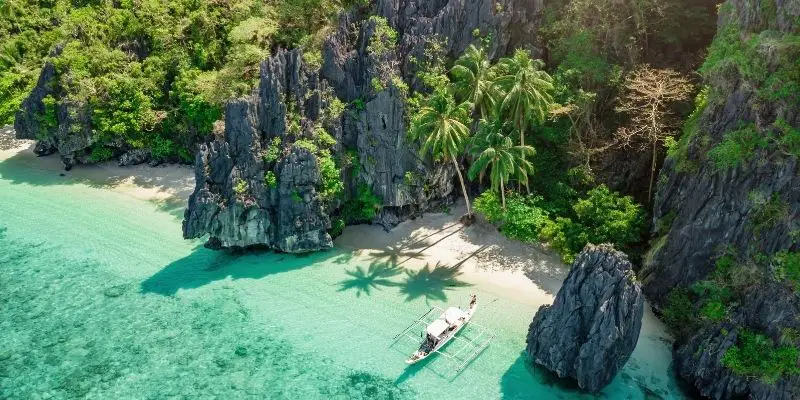 PUERTO PRINCESA PALAWAN
Puerto Princesa is the capital of the island province of Palawan. Beach resorts and seafood restaurants are popular in this coastal community. The Puerto Princesa Subterranean River National Park, often known as the Underground River, is a UNESCO World Heritage Site. It is a five-mile stretch of the Cabayugan River that flows into the West Philippine Sea after passing through a large limestone cave.
Tourists and nature lovers alike will be captivated by its magnificent limestone cliffs, azure waterways, and towering cave formations. The beaches of Puerto Princesa are among the most pristine in the world. The crystal blue waters are perfect for swimming, surfing, snorkeling, and other water sports.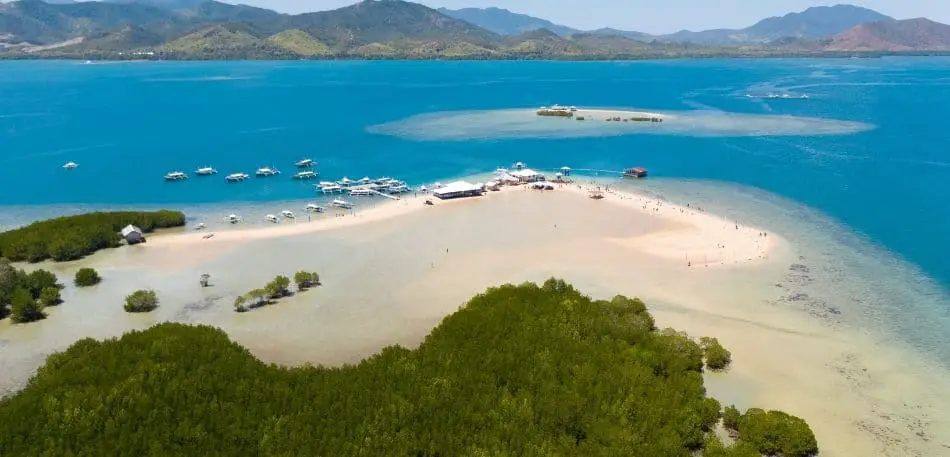 Boracay is a small island located in the Western area of the Philippines. Boracay is a small island located off the northwest coast of the island of Panay in the Philippines' Western Visayas region. It is around 7 kilometers long and less than a kilometer wide at its narrowest point, having a total land area of 10.32 square kilometers.
This island has long been known for its pristine, white sands and crystal clear water which many tourists come to enjoy for this reason. Boracay is a wonderful place to visit for those who are looking for a beach getaway. It offers scenic beauty, great weather, and rich marine life that are all easily accessible from the island.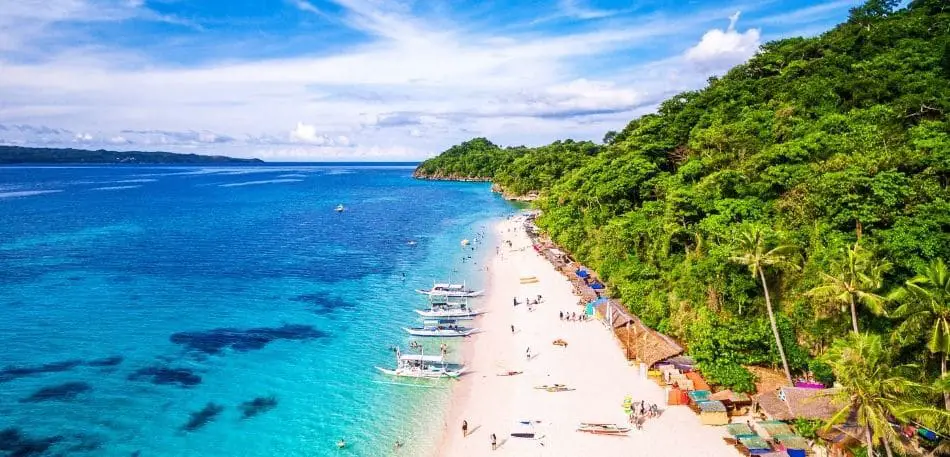 BATANGAS
Batangas is a province in the Philippines that has over 200 kilometers of beautiful coastline. The province has a number of beaches as well as coastal resorts. People who want to take a break from the sun can find shade under one of the many beach huts or restaurants lining the shore.
Some of Batangas' greatest beaches include Bituin Cove, Calayo Beach, Fortune Island, Isla Verde Batangas, Laiya Beach, Malabrigo Point Beach, Manuel Uy Beach Resort, Masasa Beach Batangas, Matabungkay Beach, Pulo Island, Santelmo Cove, and Sepoc Beach.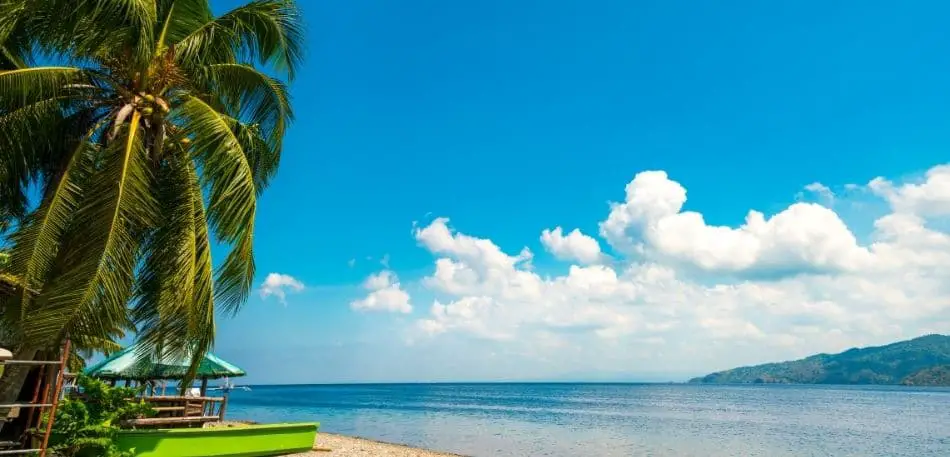 PUERTO GALERA
Known primarily for its natural beauty and water sports. This place, which is located in Mindoro, was formerly a fishing village, but now it has become one of the most popular tourist destinations because of its natural beauty and water sports.
Aninuan Beach, Balatero Beach, Balete Beach, Bayanan Beach, Big La Laguna Beach, Bulabod Beach, Dalaruan Beach, Dulangan Beach, Encenada Beach, Haligi Beach, Hundura Beach, Minolo Beach, Palangan Beach, Sabang Beach, Sinandigan Beach, Small La Laguna Beach, Small Tabinay Beach, Talipanan Beach, Tamaraw Beach, and White Beach are some of the best beaches in Puerto Galera.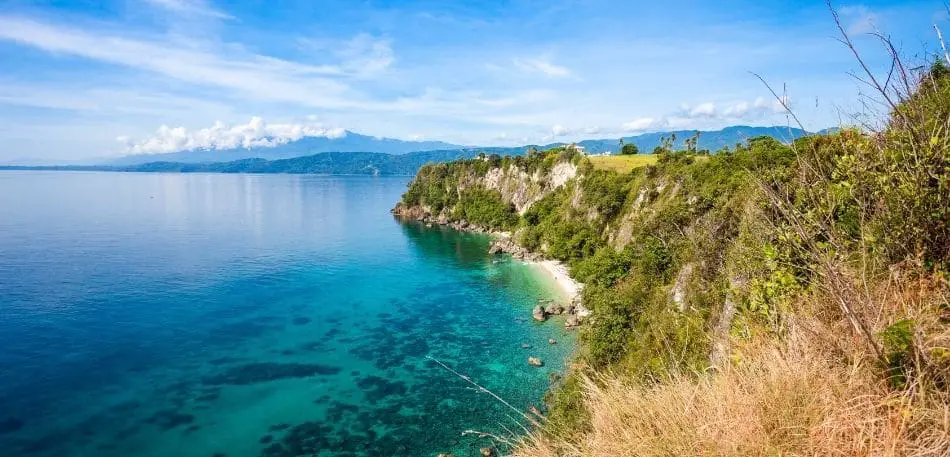 CEBU
Cebu is one of the greatest places to visit in the Philippines because of its amazing natural beauty and easy accessibility. A Beautiful Island with a Great Balance of Culture and Nature. The coasts of Mactan have been a popular destination for tourists on the island. This has been because of its clear blue waters on the beaches, making it frequented by families and couples.
The beautiful beaches in this area are a mix of public and private beaches that can be enjoyed by anyone at any time. These are just some of Cebu's must-see beaches: Bakhaw Beach in Camotes Island, Hunahuna Cliff Resort in Catmon, Pandanon Islandin Mactan, San Remigio Beach in San Remigio, Santiago Bay in Camotes Island, Tonggo Beach in Mactan, Lambug Beach in Badian, Langub Beach in Malapascua Island, Panagsama Beach in Moalboal, Paradise Beach in Bantayan Island, Pescador Island in Moalboal, Sta. Fe Beach in Bantayan Island, Sumilon Island, Virgin Island in Bantayan Island, and White Beach in Moalboal.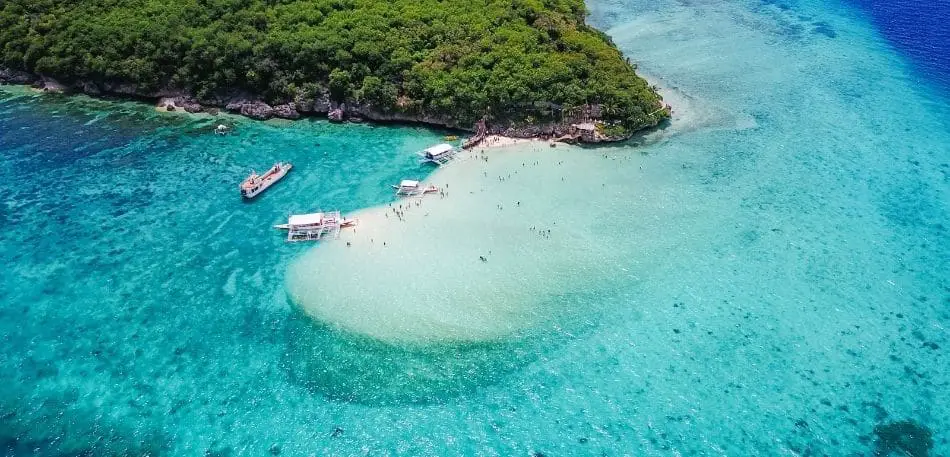 PANGASINAN
SIARGAO ISLAND
People from all over the world come to Siargao Island for its breathtaking beaches. It is one of the most popular tourist destinations in the Philippines. The blue and white sand and clear waters make this place a perfect postcard destination.
The top beaches in Siargao include Alegria Beach, Cloud 9 Beach, Corregidor Island Beaches, Daku Island Beaches, Doot Beach, Guyam Island Beach, Kawhagan Island Sandbar, Magpupungko Beach, Naked Island Beach, Pacifico Beach, and Secret Beach Siargao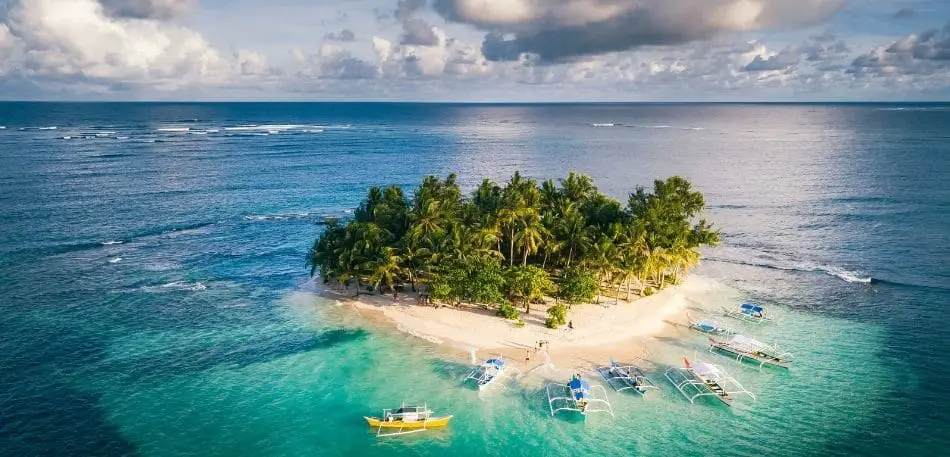 LA UNION
La Union is a province in the Philippines with many beautiful beaches. This is one of the most popular tourist destinations in the country with many resorts, restaurants, and bars lining the coast. La Union's greatest beaches include Acapulco Beach, Bacnotan Beach, Bauang Beach, Canaoay Beach, Carlatan Beach, Darigayos Beach, Panicsican Beach, Paringao Beach, Pebble Beach, San Juan Beach, Taberna Beach, Urbiztondo Beach.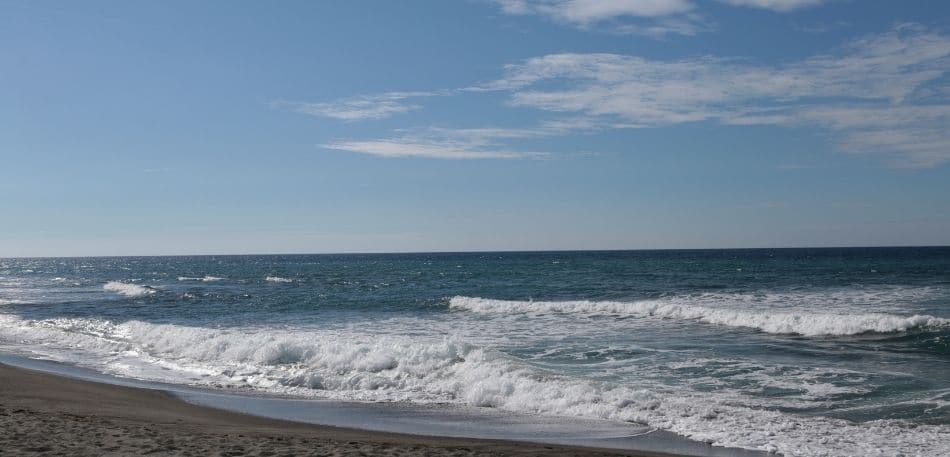 ILOCOS NORTE
Ilocos is a province in the northernmost part of the Philippines. It is home to some of the country's most beautiful beach destinations, including Pagudpud, which has been voted among the best in Asia. Pagudpud is famous for its white-sand beaches and beautiful natural wonders. Saud Beach, Sabang Beach, Pasaleng Beach, Cabongaoan Beach, and Malingay Cove are the best beaches in Pagudpud Ilocos Norte.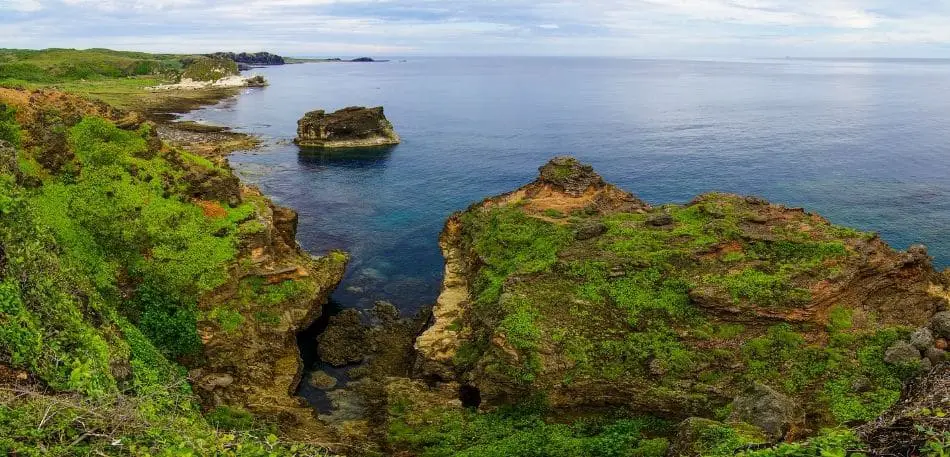 SUBIC, ZAMBALES
Subic Bay is a popular holiday location due to its proximity to Metro Manila, with a travel duration of 3 to 4 hours. Its coastlines were formerly the site of a large U.S. Navy facility which is now an industrial and commercial region known as the Subic Bay Freeport Zone under the supervision of SBMA or Subic Bay Metropolitan Authority. Subic Bay has been transformed into a beach town.
The magnificent beaches are by far the most compelling reason to visit this region. Subic Bay is one of the most protected bodies of water in the country. Its rich marine life and crystal-clear waters make it a great diving and surf destination. The world-class amenities and tourist spots such as Tabby Wreck, Inflatable Island,
Ocean Adventure, Zoobic Safari, Subic Bay, El Kabayo Falls, Tree Top Adventure, Subic Boardwalk, and Lighthouse Marina, beautiful resort hotels, restaurants, and shops make this a destination ideal for both relaxation and adventure. It is great to stay at one of the best beach resorts in Subic Bay after a day of adventure.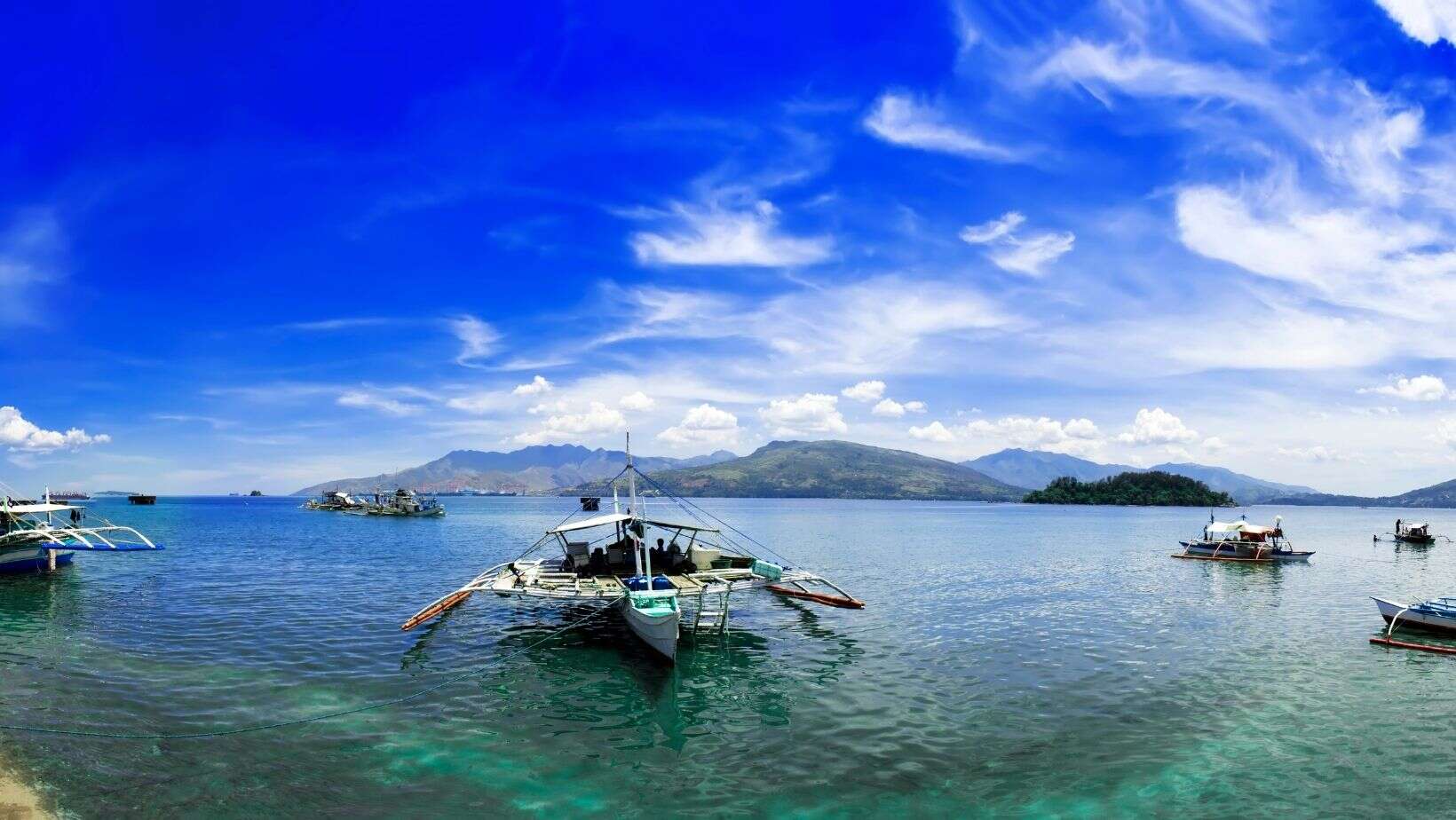 ---