Cabongaoan Beach is a kilometer-long golden-white sand beach on the western coast of Burgos, Pangasinan. The water at Cabongaoan Beach is crystal clear and calm, making it ideal for swimming and snorkeling.
ABOUT CABONGAOAN BEACH
Cabongaoan Beach is famous for its "Deathpool. The Death Pool is a natural pool or lagoon on the far right side of the beach. It's one of the reasons Cabongaoan Beach has grown in popularity as a Pangasinan tourist destination.
Nature lovers and photographers flock to the area to take in the breathtaking view of the Death Pool, beautiful rock formations, and pristine beach. It also became a popular location for prenuptial photo shoots in Pangasinan. 
Locals coined the term "Death Pool" because it suited the site's thrilling effect. 
This natural pool and other rock formations on Cabongaoan Beach were formed by the constant lapping of tidal waves against the shore over the centuries.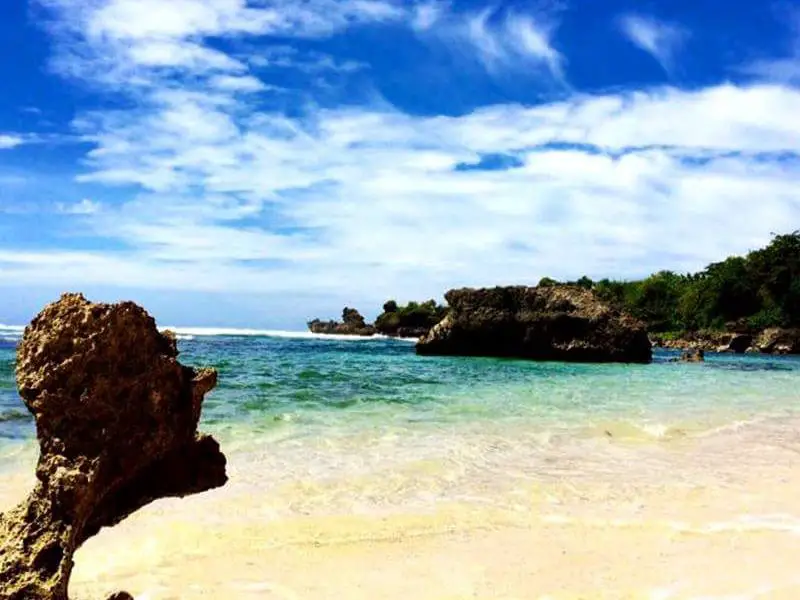 LOCATION
Address of Cabongaoan Beach
Burgos, Pangasinan, Philippines
HOW TO GET TO CABONGAOAN BEACH
By Bus
From Cubao, take the Victory Liner or FiveStar bus to Alaminos or Bolinao.
Get off at Alaminos Bus Station.
From the Victory Liner terminal, take the bus to Sta. Cruz.
Get off at Burgos town proper.
Take a tricycle to Cabongaon Beach.
By Private Car
Take NLEX-SLEX-TPLEX to Lingayen, Pangasinan.
Travel east to Alaminos.
From Alaminos, follow the road signs to Dasol. Drive until you reach Cabongaon Beach Burgos in Burgos.
WHAT TO EXPECT
Pristine white sand beach
Clear blue waters
Beautiful rock formations with natural pools
A death pool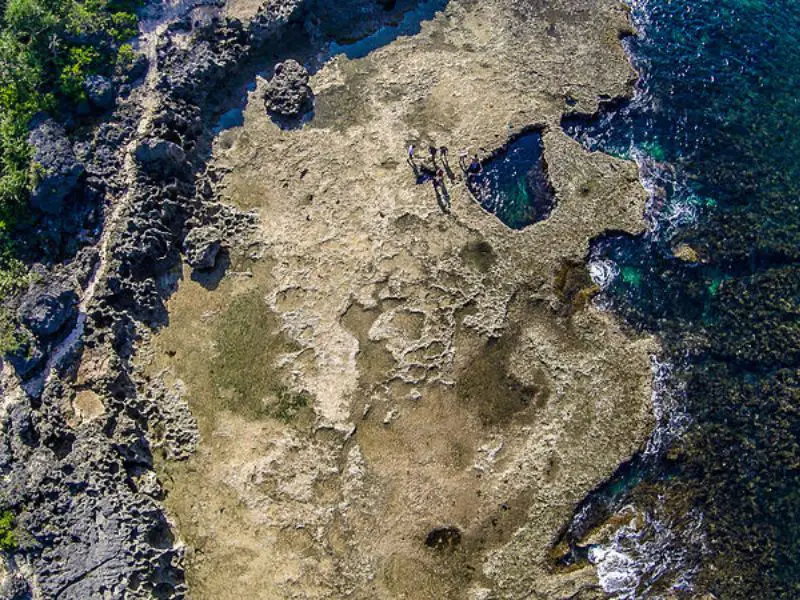 TOUR OFFERS
Visit this untouched jewel of Burgos, Pangasinan, and get away from the city. Relax while basking in the sun and swimming in its clear blue waters. Go on an adventure and visit the well-known Death Pool, which is only a short distance from the beach.
Learn more…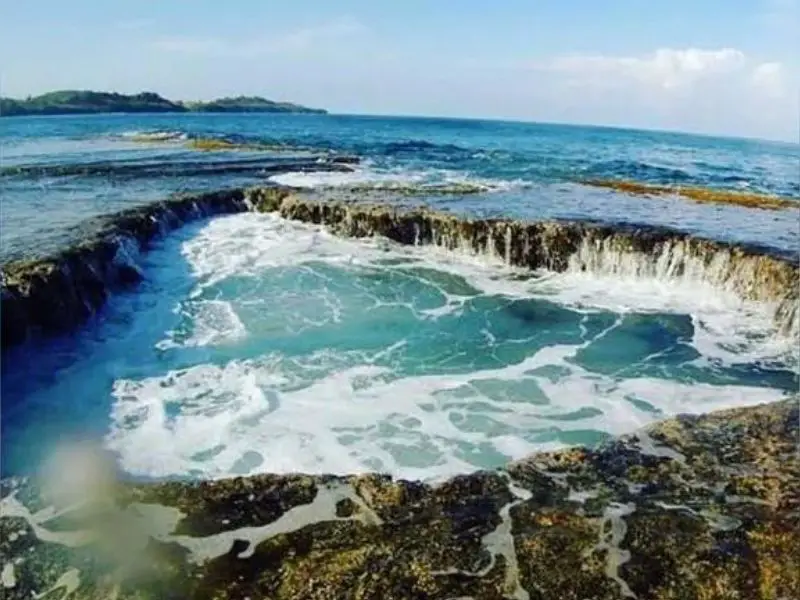 REVIEWS
Find the best deal, compare prices, and read what other travelers have to say on Tripadvisor
WHERE TO STAY
The Best Places to Visit in the Philippines
Explore the Best of Philippines: Must-See Tourist Destinations
The Philippines is a stunning cluster of islands brimming with breathtaking natural wonders and cultural treasures. With over 7,000 islands, the country offers a diverse range of destinations to explore, from bustling urban centers to tranquil shorelines, and historical landmarks to breathtaking terrains. The Philippines caters to every traveler's needs, whether it's seeking an adventurous escapade, unwinding on a serene beach, or delving into cultural experiences. This guide presents a curated list of must-see tourist destinations in the Philippines, each of which offers a distinct and charming experience. So, prepare to embark on an adventure to discover the best of the Philippines.
Honda Bay Palawan in the Philippines is a stunning destination that offers a plethora of natural wonders and exciting experiences. This coastal paradise is known for its crystal-clear turquoise waters,…

---
The Banaue Rice Terraces in the Philippines are a magnificent testament to human ingenuity and a true marvel of Philippine heritage. Located in the northern part of Luzon, these terraces…

---

Discover the convenience of applying for your OFW Pass using the DMW Mobile App. Follow our comprehensive step-by-step guide for a seamless application process. Your journey to hassle-free documentation starts here.

---

Unravel the power of PHIVOLCS: A comprehensive guide exploring their role in monitoring volcanoes and earthquakes. Discover cutting-edge technologies used.

---

Unearth unbeatable deals and score the cheapest flights to the Philippines with expert tips and lesser-known strategies. Journey awaits!

---

Uncover the best travel deals in the Philippines now and embark on a journey through stunning destinations and hidden gems. Don't miss out!

---

Discover the beauty of Lake Holon – a hidden gem located in the Philippines. Learn about its history, culture, and conservation efforts.

---

Discover the top affordable beach resorts in Subic. Enjoy your budget-friendly beach getaway with these tips and recommendations. Read more now!

---

Discover the best travel agencies in the Philippines for a stress-free and unforgettable vacation. From big players to hidden gems, find your perfect match today!

---

Search for the best hotels using this comprehensive list of DOT-accredited hotels in Baguio.

---

This page contains links to the best Cebu Pacific Piso FarePromo. Cebu Pacific is one of Southeast Asia's leading airlines, serving more than 60 destinations across the region.

---

Looking for the best travel agencies in Manila? Our comprehensive list features only DOT-accredited agencies, ensuring you'll receive top-quality service and have a stress-free vacation. Let us guide you to the perfect agency for your needs and plan the trip of a lifetime to this vibrant city.

---

Experience the ultimate travel adventure with PAL's EPIC SALE! Discover unbeatable deals on luxurious escapes and exciting destinations, and elevate your travel experience to new heights.

---

Unlock your potential and unleash your entrepreneurial spirit with these 100 powerful business ideas to start in the Philippines this 2023. From online tutoring to personalized jewelry stores, fuel your passion and ignite your success with these uncommon and emotionally impactful business ventures. Discover your path to financial freedom and build your dream business today.

---

This page contains links to the most recent Cebu Pacific promotions for the years 2022-2023. Cebu Pacific is a leading airline in Southeast Asia, serving more than 60 destinations throughout the region. By providing high-quality, low-cost air travel, it has grown to become a major player in the aviation industry.

---

Learn about the departure schedules from PITX to Baguio and vice versa, and eveything you need to know about P2P, PITX and Solid North Transit.

---

Discover the hidden treasures of Baguio with our comprehensive guide to the complete list of DOT-accredited travel agencies in the city. Find the most reputable and trustworthy travel agencies in Baguio that offer exceptional services and unforgettable experiences for your next adventure.

---

Booking hotels via a mobile app is now preferred due to its convenience and well-organized structure. Many hotels and even smaller accommodations in the Philippines have partnered with popular hotel…

---