ABOUT ISLA VERDE
Isla Verde is famous for its wonderful beaches of coarse beige sand mixed with coral fragments and seashells. It is a secluded and unspoiled island that is suitable for those looking for complete leisure. It features relatively untouched attractions including the beautiful Mahabang Buhangin and Cueva Sitio, as well as several lovely resorts. This island is also part of the Verde Island Passage, which is home to a diverse range of marine species.
Where is ISLA VERDE Located?
Isla Verde is located between the provinces of Batangas and Mindoro. It is situated in the middle of the Verde Island Passage. This 1.14 million hectare passage is extremely rich in marine species, making it the richest location in the entire Coral Triangle. It has been dubbed the "Center of the Center of Marine Shorefish Biodiversity." 
BEST THINGS TO DO IN ISLA VERDE IN BATANGAS
SWIMMING
Mahabang Buhangin Isla Verde Beach . Mahabang Buhangin is a kilometer-long white sand beach that is perfect for swimming and snorkeling.
San Antonio Beach
HIKING
Mt Liponpon
Mt Dagit Dagit
Maliit na Nalayag
CAVING
Cueva Sitio. Cueva Sitio has a magnificent cave among the rocks, and the lighthouse provides breathtaking views. The location is great for picnics.
SCUBA DIVING AND SNORKELING
Sawang Dive
Maliit na Nalayag
Pulong Bato Diving Spot
CAMPING
HOT BATH MASSAGE
BEST TIME TO VISIT ISLA VERDE
The best time to visit Isla Verde is in the months of January, February, March, April and May when the seas are relatively calm. It is important to know that the waves to Isla Verde Batangas can be enormous at times, so plan your visit carefully.
How to get to Isla Verde Batangas
Note: When planning your trip to the island, leave Manila by 4 am to catch the public boat in Batangas heading for Isla Verde at 9 am as there is only one trip per day.
From Buendia or Cubao, take a bus going to Batangas City Grand Terminal. The travel time is approximately 2 hours.
Take a jeepney to Bagong Palengke then another jeepney to Tabangao Aplaya , OR take a tricycle directly to Tabangao Aplaya. The travel time is approximately 45 minutes
At Tabangao Aplaya, take a boat that will take you to Isla Verde. Make sure you know which Sitio you're going to. There are two main drop-off points : Mahabang Buhangin and Sampalukan. The travel time is approximately 2 hours.
Alight at your destination. Enjoy!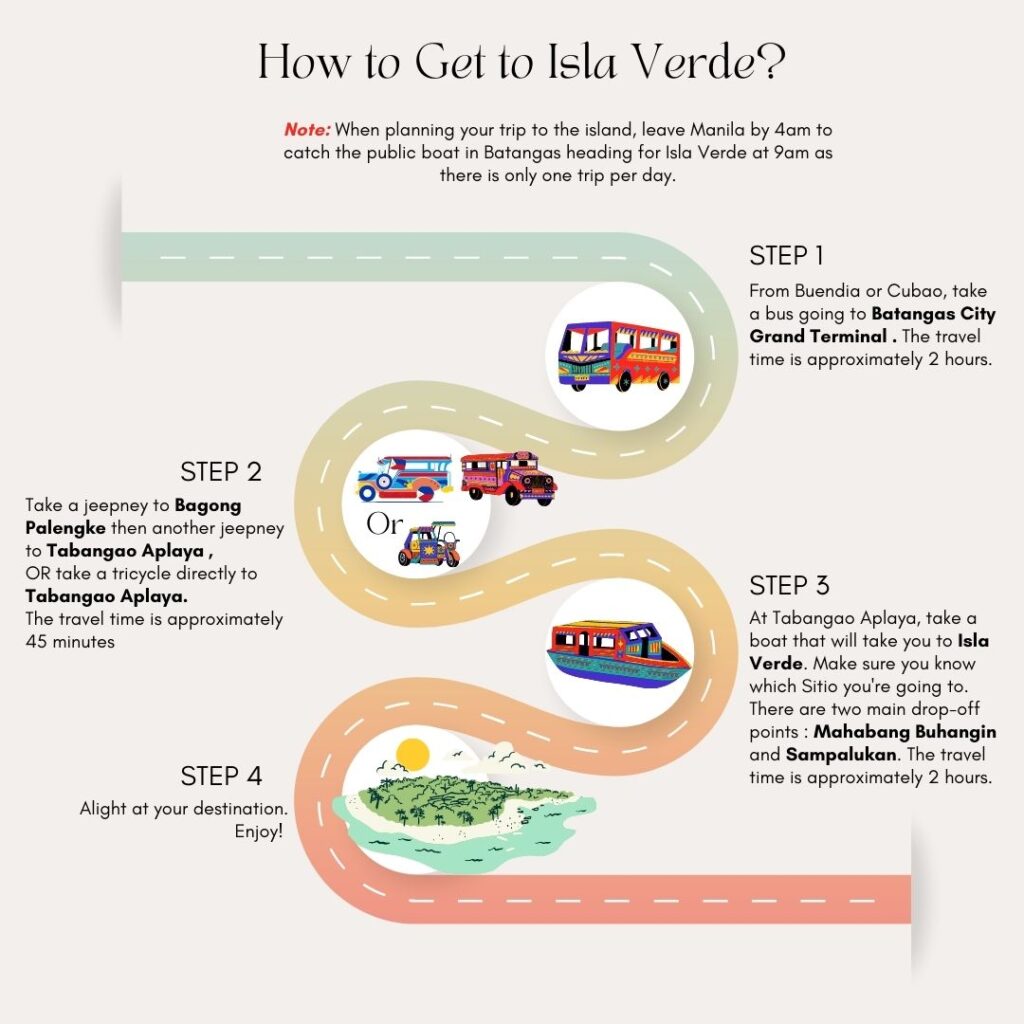 ---
Is Batangas open for tourists?
Yes, Batangas is now open to tourists. Tourists must meet the requirements for visiting Batangas in order to enter the province. Learn more…
TOP HOTELS IN ISLA VERDE
Isla Verde Tropical Friendly Resort
Loida Claro Homestay
Engracio's Beach Resort
Surface Interval Isla Verde
Jessica's Homestay
Booking.com has a great selection of hotels in Isla Verde. Booking.com is a market leader in the hotel booking sector, with over two decades of experience. Customers can anticipate inexpensive costs as well as a variety of booking options.
---
Share Your Experience
---
RECOMMENDED: Philippine Adventures