Discover the Philippines' incredible natural beauty and culture with our selection of unforgettable adventures. From breathtaking waterfalls and hidden lagoons to thrilling nightlife and ancient churches, explore all the amazing attractions this beautiful country has to offer.
THE MOST INCREDIBLE ADVENTURES IN THE PHILIPPINES
The Philippines offers both quick adventures and lifelong wanderlust. Get motivated to explore more of this tropical paradise by viewing our list of top activities.
Adventure activities are often associated with extreme sports, but there are also many adventure activities that are more accessible to the average person. Some of the most popular adventures in the Philippines are zip-lining, diving, and kayaking. While Filipinos love to explore their surroundings for adventure, most tourists might not know that there are a lot of great places to go for this kind of experience. Aside from visiting the different islands in the archipelago for different adventures like zip-lining or scuba diving, they can also go kayaking or rappelling.
CAVING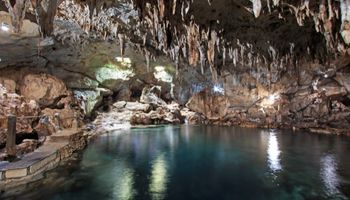 The Philippines is an archipelago of over 7,000 islands with mountains and forests covering the majority of the area. Because of the high elevation, many regions of the country are difficult to reach, and this geographic diversity has resulted in a wealth of geographic and biological diversity. As a result, there are many caves throughout the Philippines that tourists can visit. More than 3,000 caves have been identified with many more yet to be discovered. Tourists can enjoy a range of attractions in the top caves in the Philippines. Impressive rock formations, waterslides, caving, and other attractions are among the most popular. The following are some of the best caves to visit in the Philippines.
Langun-Gobingob Caves, Samar Island
Hinagdanan Caves, Dauis, Bohol
Odloman Cave, Negros Island
Callao Caves, Peñablanca, Cagayan
Odessa Tumbali Cave, Peñablanca, Cagayan
Callao Caves, Peñablanca, Cagayan
Jackpot Cave, Peñablanca, Cagayan
Biak-na-Bato, San Miguel, Bulacan
Tabon Caves, Quezon, Palawan
Hoyop-Hoyopan Cave, Legazpi
Sumaging-Latipan-Lomyang Crystal Cave, Sagada, Mountain Provnice
Callao Caves, Peñablanca, Cagayan
Enchanted Cave, Bolinao, Pangasinan
Sohoton Cave, Basey, Samar
DIVING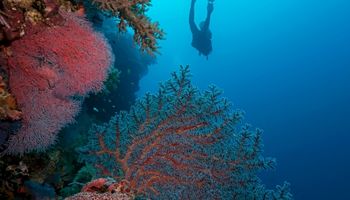 The Philippines is one of the most popular destinations for scuba divers due to its abundance of brilliant underwater scenery. Here are some of the best diving locations in the country.





Balicasag, Bohol
Coconut, Apo Island, Negros
Monad Shoal, Malapascua Cebu
Anilao, Batangas
Balicasag Island, Bohol
Yapak, Boracay
Okikawa Maru, Coron Bay, Palawan
Manta Bowl,Ticao Pass, Donsol, Sorsogon
Apo Reef Natural Park, Occidental Mindoro
Coron, Palawan
Verde Island Passage, Batangas
Dauin, Dumaguete
WAKEBOARDING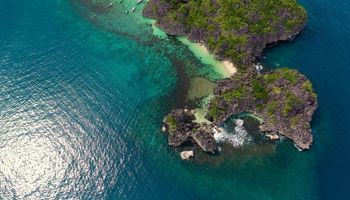 The clean, pleasant water in wakeboarding spots in the Philippines is ideal for beginners. It has great deals to offer. Beautiful beaches, magnificent landscapes, wonderful shopping, vibrant nightlife, and delectable cuisine are just a few of the attractions.




Clark Wakeboard Park. Pampanga
SURFING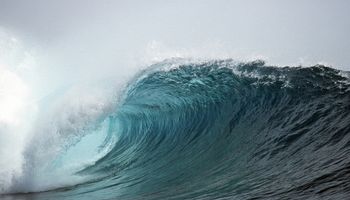 Surfing is a fascinating outdoor activity that people who visit the Philippines may also use as a way of experiencing the country. Surfing is present on most of the country's islands, Visitors can find waves on most of its coasts as well as on many of its islands.




Cloud 9, Siargao Island, Siargao, Surigao Del Norte
San Antonio, San Narciso, and San Felipe, Zambales
Daet, Camarines Norte
San Juan, La Union
Pagudpud, Ilocos Norte
Guian Island, Eastern Samar
Calicoan Island, Eastern Samar
Lanuza Bay, Surigao Del Sur
Real, Quezon
Baler, Aurora
Bacnotan, La Union
Baras, Catanduanes
Mati, Davao Oriental
Nagtabon Beach, Palawan
Gubat, Sorsogon
WHITEWATER RAFTING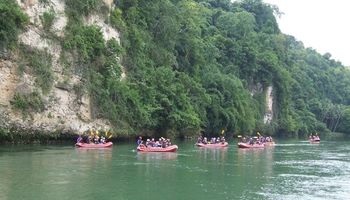 Whitewater rafting is a popular water sport that can be practiced in a variety of locations all over the world. Whitewater rafting activities are popular in countries such as the Philippines, and they are frequently held during the country's yearly festivities. These activities provide an adrenaline boost for participants as they float downstream on a raft in a river or other flowing water. Whitewater rafting in the Philippines is great for people seeking a thrilling but relaxing vacation. In the Philippines, there are five exceptional rivers that have been plotted out and give a lot of possibilities for a fantastic ride.
Calbiga River, Samar
Balanac River, Magdalena, Laguna
Chico River, Kalinga Province
Davao River, Southern Mindanao
Cagayan de Oro River, Northern Mindanao
CANYONEERING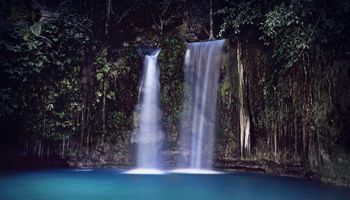 Canyoneering is the sport of rappelling, abseiling, caving, climbing, descending, and swimming through canyons. Adventure tourism is a flourishing business all around the world. The Philippines' numerous canyons serve as a hub for explorers looking to try their hand at caving and rappelling in a safe atmosphere. These are some of the most beautiful canyoneering locations in the Philippines.


Surigao Del Norte
San Jose, Tarlac
Hundred Islands, Pangasinan
Ternate, Cavite
Badian, Cebu
Clark, Pampanga
Samar
Camaerines Sur
Cagayan de Oro
SANDBOARDING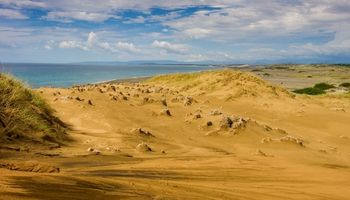 Sandboarding is a sport that has existed for more than a decade. Participants slide down a sand dune on a board. Because there is no downhill course, the athlete must physically descend the slope at their own pace and under their own control. The sport is ideal for those who want to experience what it's like to be a pro snowboarder without having to spend thousands of dollars on equipment and training. In the Philippines, It is a relatively new activity that has been gaining popularity. Sandboarding is available in the Ilocos Region of the Philippines, specifically in the province of Ilocos Norte. There are several sand dune systems near Laoag City, the province's capital.
PARAGLIDING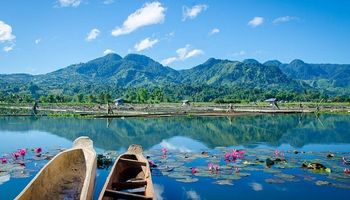 One of the most underrated adventure activities is paragliding. It is generally safe, offers amazing views, and can be enjoyed by people of all ages and abilities. It is less expensive than many other adventure sports and requires little training. For anyone seeking to attempt this adrenaline-pumping activity, the Philippines is one of the greatest places to visit. Here are some of the country's best paragliding spots:


Maasim, Sarangani
Binangonan, Rizal
San Mateo, Rizal
Carmona, Cavite
Montalban, Rizal
SKYDIVING
Skydiving is an adventure sport that involves jumping out of an airplane while wearing a parachute. Skydiving allows people to see the natural beauty of the world while also experiencing the exhilaration of free-falling from the sky. Skydiving is a once-in-a-lifetime experience that makes for an exhilarating day out in the Philippines. For those looking for a new way to explore, there are several different heights to choose from, each with its own set of challenges and thrills. Here are the top skydiving locations in the Philippines.
Skydive Zambales, Iba Airport, Iba, Zambales
Binalonan Drop Zone, Binalonan, Pangasinan
Skydive Greater, Santa Fe Airport in Bantayan Island, Cebu
Skydive Greater Siquijor
Tropical Asia Parachute Center, Clark Special Economic Zone, Angeles City. Pampanga
Skydive Greater Vigan
SkyDive Davao, Mati City Airport, Davao
CANYON SWING
A canyon swing is an activity in the field of adventure tourism. Canyon swings are all the trend among adrenaline junkies looking for a thrilling adventure without risking their lives. These swings are attached to cliffs or other high objects and allow the user to jump off and free-fall for a few seconds before the swing slows them down. It's gaining in popularity and can be found all around the world. With a 75-meter free-fall, the Plunge in Danao Adventure Park in Bohol, Philippines, is believed to be one of the world's highest canyon swings.
ZIPLINING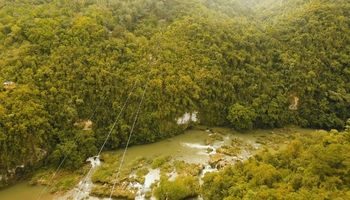 ZIPLINING is an outdoor adventure activity, where participants descend a steep line on a pulley system that includes both fixed and moving cables at heights of up to 300 ft. The Philippines has become a hotspot for ziplining. Here are the top ziplining spots in the country.




Quezon Memorial Circle, Quezon City
La Mesa Eco Park, East Fairview
Tree Top Adventure Nature Park, Baguio City
Danao Adventure Park, Bohol
Dahilayan Adventure Park, Bukidnon
Picnic Grove, Tagaytay
Sabang X Zipline , Puerto Princesa, Palawan
Chocolate Hills Adventure Park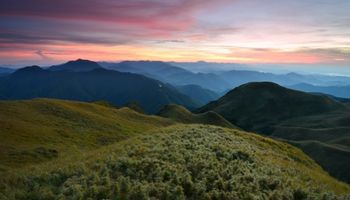 Trekking in the Philippines is a thrilling activity that will introduce you to the wonders of nature. Trekking is one of the most popular activities on the islands, attracting visitors searching for a challenging and rewarding outdoor sport. Take a look at some of the top trekking locations in the Philippines.




Mt. Pulag , Benguet
Mt. Makiling, Laguna
Mt. Batulao, Nasugbu, Batangas
Mt. Apo, Mindanao
Mt. Pinatubo, Zambales
Mt. Maynoba, Tanay Rizal
Mt. Pico De Loro, Cavite
Mt. Daraitan, Tanay, Rizal
Mt. Tapulao, Zambales
Marlboro Country, Sagada
Mt, Daguldol, San Juan Batangas
Mt. Batolusong, Tanay, Rizal
Mt. Maculot, Batangas
Masungi Georeserve, Cuenca, Batangas
Tarak Ridge, Mariveles, Bataan