El Nido Tours: Discovering the Hidden Gems of Palawan
El Nido is a small town in the northern part of Palawan, known for its stunning limestone cliffs, clear turquoise waters, and hidden lagoons. It's no surprise that this paradise has been gaining popularity over the years as a top tourist destination in the Philippines.
One of the best ways to fully experience the beauty and wonder of El Nido is by taking tours. These tours offer various activities such as snorkeling, kayaking, swimming, hiking, and island hopping.
With so many tour options available, it can be overwhelming to choose which one to take. However, taking at least one tour during your stay in El Nido is crucial for fully immersing yourself in this breathtaking location.
Why Take Tours In El Nido?
The natural attractions that make El Nido so popular are scattered throughout several islands that surround the main town itself. Taking tours is an ideal way to visit these islands hassle-free while also learning about their unique histories and ecologies from knowledgeable tour guides. Tour packages usually cover transportation via boat or van depending on which tour you will take.
Along with this comes equipment rental for activities like snorkeling gear or kayaks. Some packages even include lunch meals prepared by locals on some of the islands visited during the tour.
Tours also allow travelers to explore different parts of El Nido that are not usually accessible or visible from land-based accommodations or public beaches. They give you exclusive access to hidden lagoons and beaches that are tucked away between lush vegetation and towering rock formations.
Exploring Popular Tours In El Nido
The most popular tours around El Nido are called Island Hopping Tours A, B, and C with Tour A being the most popular and most recommended. It includes stops at Small Lagoon, Big Lagoon, Secret Lagoon, Simizu Island, and Seven Commandos Beach. These islands offer stunning views of lagoons and turquoise waters that seem to glow under the sun's rays.
Island Hopping Tour B takes tourists to Snake Island, Pinagbuyutan Island, Cudugnon Cave, Cathedral Cave, and Pangulasian Island while Island Hopping Tour C explores Hidden Beach, Matinloc Shrine, Secret Beach, Helicopter Island, and Tapiutan Island. Each tour has a distinct set of attractions that will satisfy different interests and preferences ranging from historical landmarks to adventurous activities like rock climbing or cliff diving.
It's important to research what each tour offers before deciding which one to book. Taking tours in El Nido is not just about ticking off items on your bucket list but also about experiencing the natural wonders of this slice of paradise.
Popular Tours in El Nido:
El Nido's Island Hopping Tour A is arguably the most popular among tourists. This tour takes you to four of the most breathtaking locations within Bacuit Bay. As soon as you hop on a boat, your journey begins.
The first stop is the famous Seven Commandos Beach, where you can bask in the sun and take a dip into crystal-clear waters. The highlight of this tour is visiting two surreal lagoons called Small Lagoon and Big Lagoon.
While exploring these lagoons, you'll feel like you're walking on water. You can also rent kayaks to paddle around the lagoons at your own pace or slip into the water for some snorkeling where colorful fish are abundant.
The last stop is Secret Lagoon which can be accessed through a small hole in between layers of rock formations. Once inside, prepare yourself for an otherworldly experience – turquoise waters surrounded by towering limestone cliffs and lush vegetation.
Another popular option is Island Hopping Tour B which takes you to enchanting caves and rock formations within Bacuit Bay. You'll visit Cudugnon Cave which was once believed to be a burial ground for ancient Filipinos; Cathedral Cave with its impressive stalactites and stalagmites that formed over millions of years; Pinagbuyutan Island for its long white sand beach with clear blue waters; Snake Island which earned its name from its S-shaped sandbar; Pangulasian Island's reef has one of the greatest marine biodiversity in El Nido. As soon as your boat reaches each destination, it will anchor so that guests may swim or snorkel around the crystal-clear waters and take photos of these natural wonders.
The last of the popular tours in Bacuit Bay is Island Hopping Tour C. This tour takes you to more secluded places that most tourists haven't yet discovered. The first stop is Helicopter Island, named for its shape that resembles a helicopter from afar.
Its beach boasts powder-white sand combined with blue-green waters perfect for swimming or just enjoying the scenery. Next, you will visit Matinloc Shrine, a religious site built in 1982 that houses a statue of the Blessed Virgin Mary overlooking the sea.
The shrine can be reached through a short forest trail where you can also enjoy panoramic views of Bacuit Bay and nearby islands. Tapiutan Island is where guests will have their final stop for snorkeling or swimming before heading back to El Nido town proper.
Whether you're an adventurer or just want to relax, there's a tour perfect for your preference. Book now and experience El Nido at its finest!
Tips for Choosing the Right El Nido Tour
Considering Personal Interests and Preferences
When choosing an El Nido tour, it's important to consider your personal interests and preferences. Do you want a tour that focuses on snorkeling or one that explores hidden beaches?
Are you interested in kayaking or trekking to waterfalls? Think about what activities will make your trip memorable and choose a tour that aligns with those interests.
If you're traveling with a group, make sure everyone's preferences are taken into account. It's best to choose a tour that offers a mix of activities so everyone can have fun.
Checking Weather Conditions and Sea Conditions
The weather and sea conditions can greatly affect your El Nido tour experience. While it's usually sunny in El Nido, there are occasional typhoons during the rainy season from June to November.
Check the weather forecast before booking your tour to avoid any cancellations or rescheduling due to bad weather. In addition, check the sea conditions before booking your tour if you're prone to seasickness.
Some tours involve longer boat rides than others, so choose accordingly. If you're unsure about how rough the seas might be during your preferred travel dates, ask locals or fellow travelers for insight.
Researching Tour Operators for Safety and Quality
When choosing an El Nido tour operator, it's important to research their safety and quality standards. Look for operators with positive reviews online and ask for recommendations from locals or accommodations.
Ensure that they provide life jackets on board their boats, have skilled guides who speak English well (if necessary), and follow proper safety protocols on all activities offered throughout each day of touring around various destinations within El Nido Island Group. You may also want to consider whether they employ eco-friendly practices such as minimizing waste or supporting local conservation efforts.
Be wary of tour operators who offer unusually low prices as this may indicate inferior safety or quality standards. Always prioritize your safety and experience over cost.
Insider Information on El Nido Tours
Best Time to Visit for Optimal Tour Experiences
El Nido is a popular tourist destination, which means that it can get quite crowded during peak season. If you want to avoid the crowds and have a more enjoyable tour experience, consider visiting during the low season, which is usually from June to November. During this time, there are fewer tourists, and you can have more time and space to explore the beautiful islands at your own pace.
Another factor to consider when planning your El Nido tour is the weather conditions. The best time to visit El Nido is from December to May when the weather is dry and sunny.
This makes for ideal conditions for island hopping and snorkeling activities. However, keep in mind that this period is peak season and tours may be more expensive.
How to Avoid Crowds During Peak Season
If you're visiting El Nido during peak season but still want to avoid the crowds, there are some tips you can follow. First, try booking your tours in advance so that you can secure your spot before they sell out.
Another option is to go on private tours instead of joining group tours. Private tours can be more expensive but offer a more personalized experience with fewer people around.
You can also try visiting some of the less popular islands or beaches during your tour instead of sticking only with the popular ones included in standard tours. Your tour operator may be able to suggest some alternatives for you based on their local knowledge.
Little-Known Facts About Islands Visited on Tours
El Nido's islands are not just beautiful but also rich in history and culture. For example, did you know that Matinloc Island was once used as a hiding place by Japanese soldiers during World War II?
Or that Cadlao Island has a hidden lagoon and a historical marker commemorating the first mass held in El Nido? Another interesting fact is that the island of Helicopter got its name because it was once used as a landing site by American helicopters during the Vietnam War.
And if you're lucky, you might even spot some rare wildlife species during your tour, such as the elusive dugong or sea cow. When you go on an El Nido tour, not only will you get to see some of the most beautiful islands in the world, but also learn about their fascinating histories and cultural significance.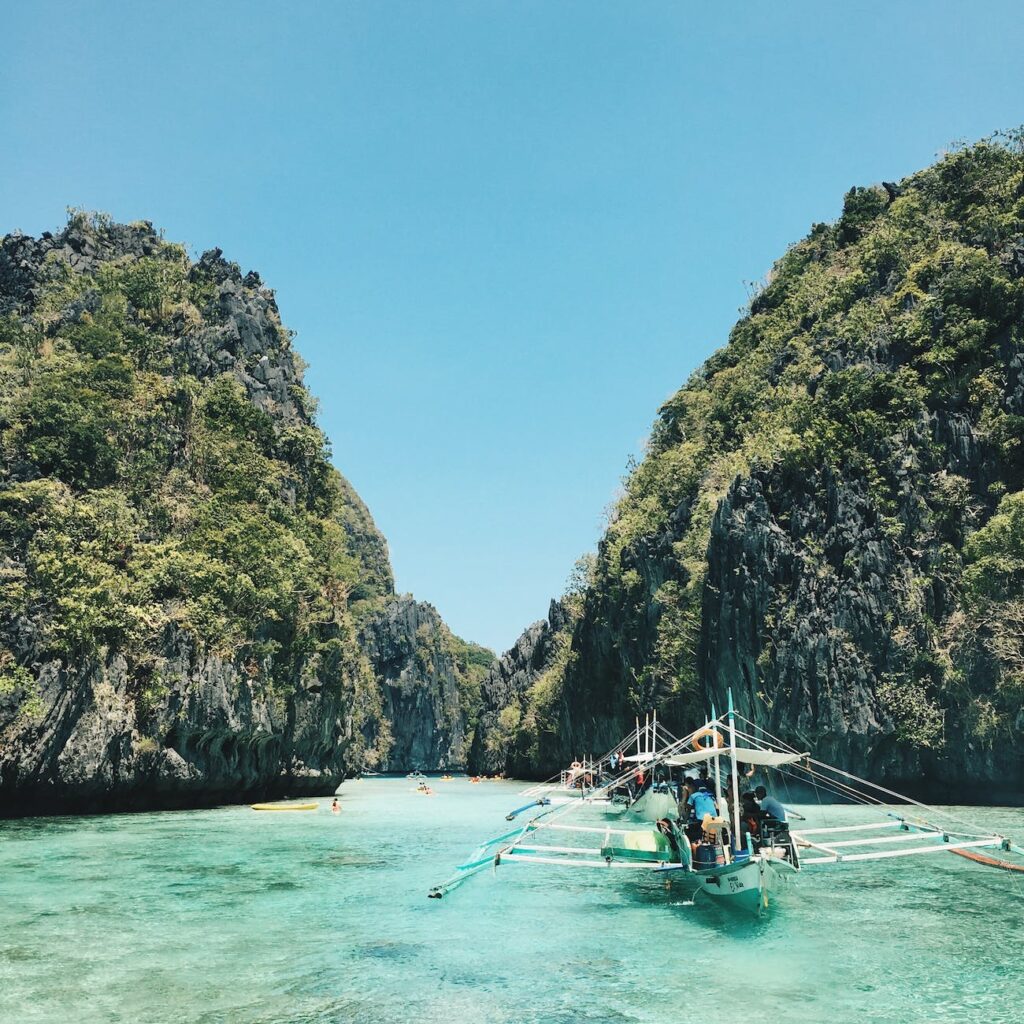 Conclusion: A True Paradise for Tourists
El Nido tours offer visitors an unforgettable experience exploring some of the most stunning islands and beaches in the world.
By following insider tips such as visiting during low season, booking tours in advance, and exploring lesser-known spots, you can avoid crowds and have a more enjoyable tour experience. And by learning about little-known facts about each island's history and culture, you can gain a deeper appreciation for these natural wonders.
So what are you waiting for? Start planning your El Nido tour today!
---
RELATED POSTS