In an era of digital transformation, traditional banking methods are rapidly giving way to the convenience and efficiency of online banking. One prominent player in the world of digital banking is BDO Online Banking, a service offered by Banco de Oro Unibank, one of the largest and most trusted banks in the Philippines. In this comprehensive guide, we'll delve into what BDO Online Banking is, its key features, and the numerous benefits it offers, and provide you with a step-by-step guide on how to get started. So, let's dive into the world of digital banking with BDO.
Introduction: What is BDO Online Banking and Why Should You Use It?
What is BDO Online Banking?
BDO Online Banking is a digital banking service that allows BDO clients to access and manage their accounts conveniently from the comfort of their homes or on the go through their mobile devices. It's designed to streamline your banking experience, offering a wide range of services that make financial management easier and more efficient.
Why Should You Use BDO Online Banking?
There are several compelling reasons to embrace BDO Online Banking:
1. Digital Banking Benefits:
BDO Online Banking leverages the power of technology to provide you with a host of benefits, including instant access to your account information, easy fund transfers, and the ability to pay bills electronically. It's banking at your fingertips.
2. Convenience of Online Banking:
No more waiting in long queues or adhering to traditional banking hours. BDO Online Banking lets you manage your finances at any time, 24/7, giving you the flexibility to bank when it suits you.
Key Features of BDO Online Banking
BDO Online Banking offers a wide array of features and services tailored to meet your financial needs. Some of its key features include:
1. Account Balance Inquiry:
Easily check your account balances in real time. No more guesswork about your financial status; it's right there on your screen.
2. Fund Transfers:
Seamlessly transfer money between your BDO accounts or to other banks, making payments and transactions swift and convenient.
3. Bill Payments:
Settle your bills hassle-free with BDO Online Banking. You can pay utilities, credit card bills, and more, all from one platform.
4. Mobile Banking App:
BDO's mobile banking app brings the power of online banking to your smartphone or tablet. Manage your finances on the go, no matter where you are.
The Benefits of Using BDO Online Banking
1. 24/7 Access to Accounts:
BDO Online Banking doesn't sleep. You can access your accounts, perform transactions, and monitor your finances around the clock, ensuring you're always in control of your money.
2. Secure Transactions:
Security is a top priority for BDO. They employ robust security measures to protect your personal and financial information, ensuring every transaction is safe and secure.
3. Time-Saving Convenience:
Say goodbye to the time-consuming trips to the bank. BDO Online Banking lets you complete transactions in minutes, saving you valuable time for other important tasks.
How to Enroll in BDO Online Banking
Getting started with BDO Online Banking is a straightforward process. Here's what you need to do:
BDO Online Enrollment Process:
Visit the BDO website: Go to the BDO official website to begin the enrollment process.
Choose "Enroll Now": Select the "Enroll Now" option to create your online banking account.
Provide Your Information: You'll be asked to provide your personal and account information. Make sure to have your BDO account number and other identification details handy.
Create Your Username and Password: Set up a unique username and a strong password to secure your account.
Set Up Two-Factor Authentication (2FA): For added security, BDO may require you to set up 2FA, which typically involves receiving a one-time code on your registered mobile number.
Review and Confirm: Double-check all the information you've provided, and confirm your enrollment.
Activation: Once your enrollment is approved, you'll receive instructions on how to activate your BDO Online Banking account.
A Step-by-Step Guide on How to Use BDO Online Banking Services
Navigating BDO Online Banking is user-friendly and intuitive. Here's a step-by-step guide to help you get started:
Navigating the BDO Online Banking Website/App:
Log In: Visit the BDO Online Banking website or open the mobile app, then log in using your username and password.
Dashboard: You'll land on your account dashboard, where you can see an overview of your accounts and recent transactions.
Account Balance Inquiry: Click on the relevant account to check your balance.
Fund Transfers: Navigate to the fund transfer section to transfer money between accounts or to other banks. Follow the on-screen instructions.
Bill Payments: To pay bills, select the bill payment option, and follow the prompts to input the payee details and make your payment.
Tips for Ensuring Security and Protecting Your Account in BDO Online Banking
While BDO ensures a secure environment for online banking, it's important to take your own precautions:
Set Strong Passwords: Use a combination of letters, numbers, and special characters for your password.
Enable Two-Factor Authentication (2FA): Always activate 2FA when prompted. It adds an extra layer of security to your account.
Beware of Phishing: Be cautious of unsolicited emails or messages asking for your login details. BDO will never ask for this information via email.
Log Out: Always log out of your BDO Online Banking session when you're done to prevent unauthorized access.
Regularly Check Your Account: Monitor your account for any suspicious transactions and report them immediately to BDO.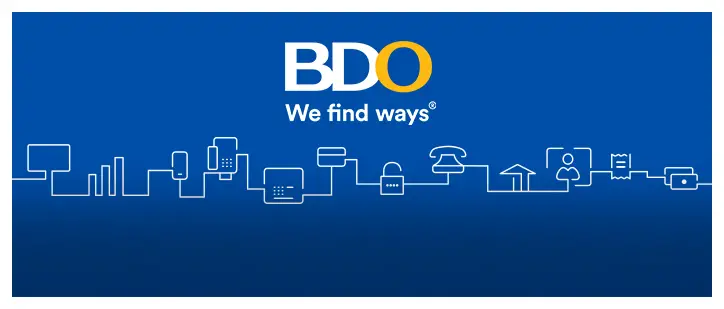 Conclusion: Enjoy the Convenience and Efficiency of Managing Your Finances with BDO Online Banking
In the fast-paced world we live in, BDO Online Banking offers a lifeline to those seeking convenient, secure, and efficient financial management. By enrolling in BDO Online Banking and following the provided tips for security, you can gain full control of your finances, make transactions at your convenience, and enjoy the peace of mind that comes with banking with one of the Philippines' most trusted institutions. Embrace the digital age of banking, and take advantage of the endless possibilities offered by BDO Online Banking to simplify your financial life. Start today and experience the future of banking!