The Manor at Camp John Hay
This mountain resort's cool breeze, crisp mountain air, and earthy pine tree scent are just the beginning of an unforgettable stay. The Manor at Camp John Hay combines the beauty of nature with a touch of luxury and a welcoming spirit. 
The Manor is distinguished not only by its impressive architecture and comfortable interiors but also by an atmosphere that sets it apart from other hotels in Baguio City. This four-story structure, which was designed to blend in with the surrounding towering pine trees, offers a breathtaking view of the Cordillera mountain range. To let in the cool, fresh air, simply open the windows.
The Manor at Camp John Hay's cozy, relaxed, and luxurious ambiance is enhanced by a Baguio stone exterior finish, shingled roofing, and tinted glass windows.
The interiors are intended to evoke the atmosphere, history, and fond memories of Baguio. The wooden furniture and paneled walls have a Filipino-Colonial feel to them. Outdoor patios with breathtaking views are accessible via wooden shuttered doors.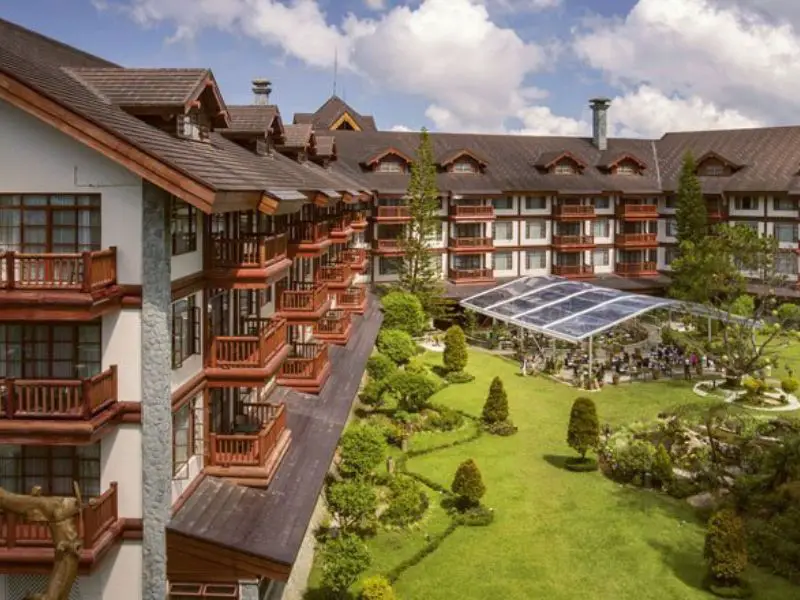 Amenities
The 176-room Manor promises five-star service through highly trained staff and world-class facilities. There are Superior, Deluxe, 1-Bedroom, and 2-Bedroom Suites to choose from. Every room overlooks the mountain range and pine forests. The rooms also include a refrigerator, a hot and cold shower, an in-room safe, and an IDD/NDD phone system. The hotel has a café and restaurant, as well as a lounge with a large fireplace and other amenities typically found in luxury hotels.
Users' Rating
Excellent!
When compared to other Baguio accommodations, the facilities here are rated higher than 94% of them.
Guests who stayed here thought it was neat and tidy, ranking it higher than 93 percent of other accommodations in the city. Guests who stayed at this caravan park rated it higher than 96% of the city's accommodations. Read Reviews…
Location
Camp John Hay, Baguio, Philippines 
---