Introduction: Popeyes in the Philippines and its Unique Menu Offerings
Popeyes has firmly established itself as a beloved fast-food chain globally, known for its mouthwatering Louisiana-inspired cuisine. In the heart of the Philippines, Popeyes has multiple locations, making it accessible to food enthusiasts across the country. Join us on a culinary journey as we explore the irresistible offerings that make Popeyes in the Philippines a culinary adventure worth embarking on.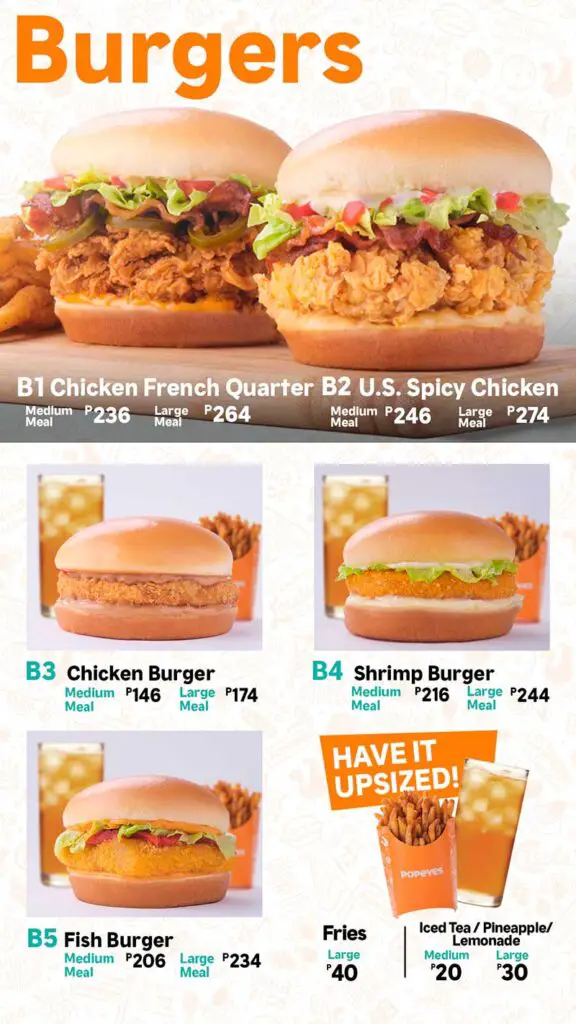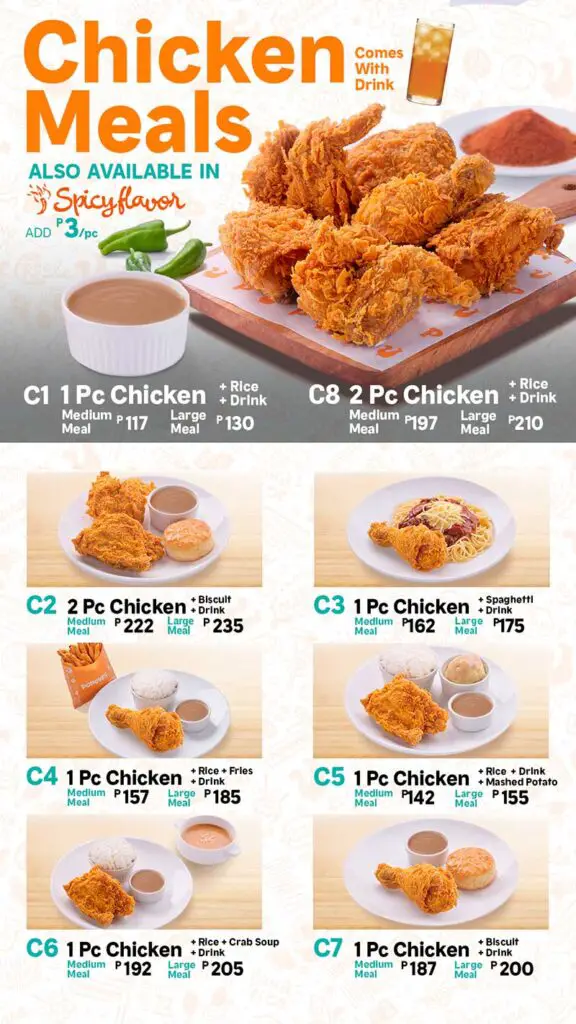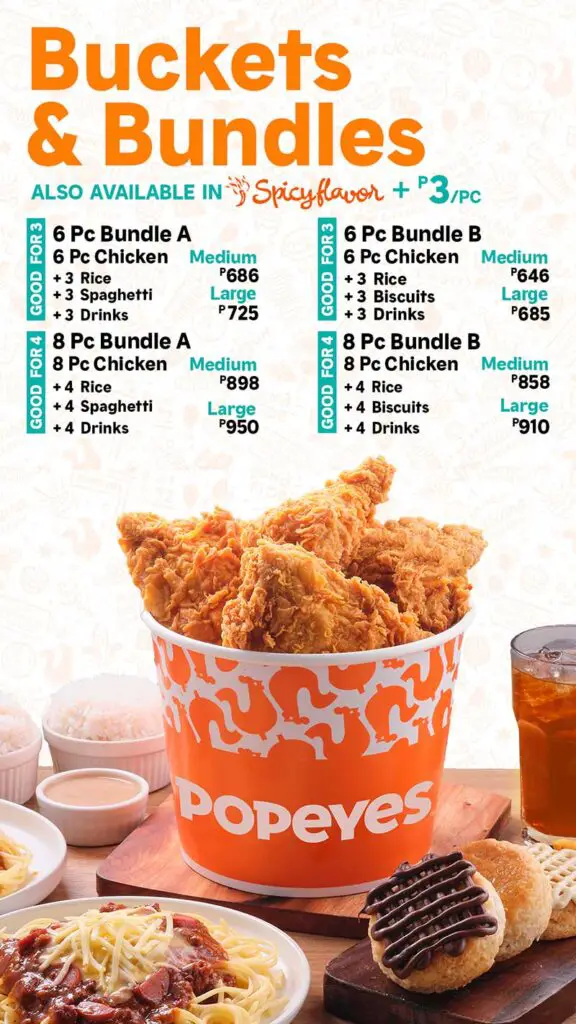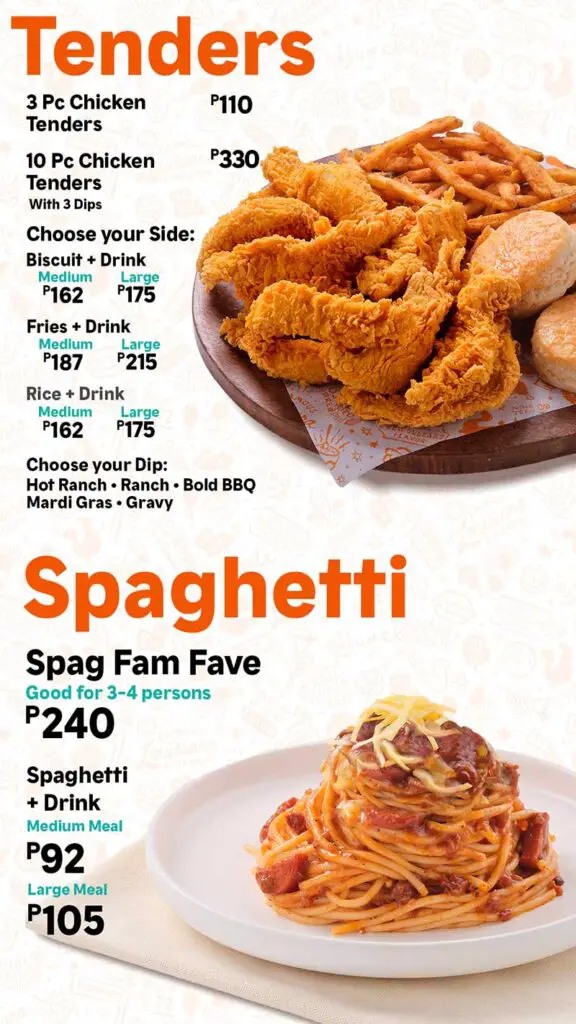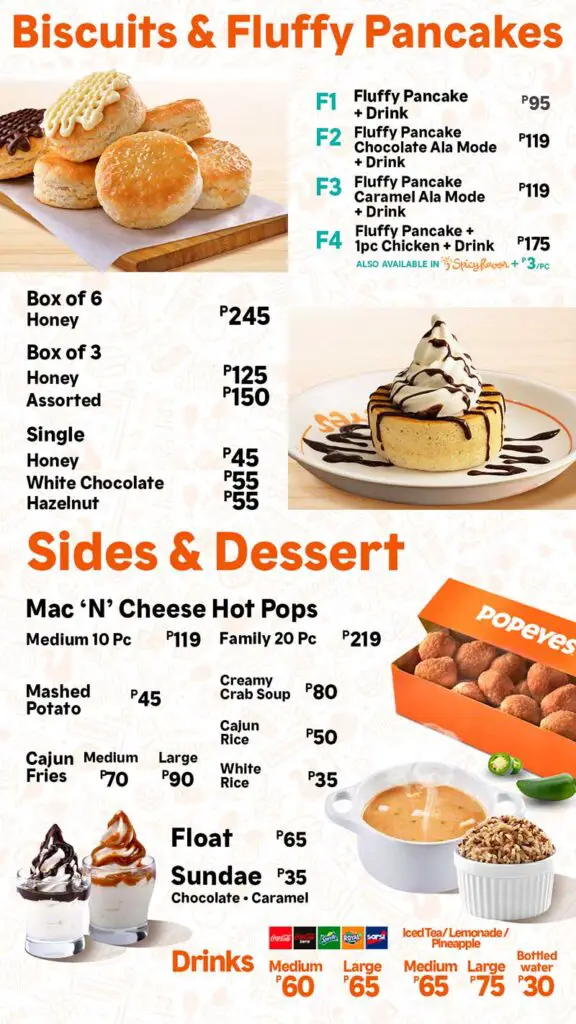 Popeyes Locations in the Philippines
Popeyes has expanded its presence in the Philippines, with locations in major cities and provinces. You can find Popeyes in:
ARCOVIA CITY
ALABANG TOWN CENTER
SM SAN LAZARO
NU MALL OF ASIA
EASTWOOD
SM SOUTHMALL
ALIMALL
KROMA
ROBINSONS PLACE MANILA
ROBINSONS GALLERIA
SM MANILA
ETON CENTRIS
MALL OF ASIA
FESTIVAL MALL
SM NORTH EDSA
SM FAIRVIEW
VENICE
SM MEGAMALL
UP TOWN CENTER
SM MARIKINA
TRINOMA
SM CITY GRAND CENTRAL
SM JAZZ MALL
SM CITY NOVALICHES
SM CITY SUCAT
SM CITY STA. MESA
SM CITY VALENZUELA
AYALA FELIZ
EVER GOTESCO
CALIFORNIA GARDEN SQUARE
GLORIETTA
LUCKY CHINA TOWN
NEWPORT CITY
FAME
PITX
UN TAFT AVENUE
N. DOMINGO
999 MALL
SM CITY NOVALICHES
CROSSROAD TANDANG SORA
QUEZON AVENUE
SM CENTER MUNTINLUPA
EVIA LIFESTYLE CENTER
C5 EXTENSION
VISTA MALL TAGUIG
GREENBELT
KEYLAND MAKATI
MARKET MARKET
ROBINSONS PLACE ANTIPOLO
NEW FRONTIER THEATRE
And Many More: Popeyes continues to expand, bringing its flavors to various locations across the Philippines.
Signature Fried Chicken Delights: The Stars of Popeyes Menu
Popeyes Fried Chicken: The undisputed superstar of Popeyes, their fried chicken is crispy, succulent, and seasoned to perfection. Whether you prefer it mild or spicy, each bite is a delightful burst of flavor.
Spicy Chicken: For those seeking an extra kick, the spicy chicken at Popeyes delivers just the right amount of heat. The bold flavors will leave your taste buds dancing.
Crispy Chicken Sandwich: A crispy chicken patty, served in a warm, toasted bun, with a choice of spicy or classic mayo. It's a handheld masterpiece that's both satisfying and scrumptious.
Chicken Tenders: Perfect for dipping into your favorite sauce, these tender strips of chicken are a hit among both kids and adults.
Popeyes has mastered the art of fried chicken, and their signature dishes are a testament to this. Their classic fried chicken is a crowd-pleaser, known for its crispy exterior and juicy, flavorful meat. It's the kind of fried chicken that can brighten any day.
But if you're looking to take your taste buds on a fiery adventure, don't miss out on Popeyes' Spicy Chicken. It's a flavorful explosion of spices and heat that adds an exciting twist to the classic favorite. The combination of the crispy breading and the spicy kick is a match made in food heaven.
For those who prefer their fried chicken in a more portable form, Popeyes' Crispy Chicken Sandwich is a must-try. Imagine a perfectly fried chicken patty, nestled in a soft, toasted bun, with your choice of spicy or classic mayo. It's a handheld delight that's ideal for on-the-go indulgence.
And let's not forget about Chicken Tenders, which are tender, juicy strips of chicken with a crisp coating. These are not just for the kids; they are universally loved and perfect for dipping into Popeyes' delectable sauces.
Mouthwatering Sides and Add-ons to Complement Your Meal
No Popeyes meal is complete without their mouthwatering sides and add-ons. These dishes are carefully crafted to complement the main attractions and enhance your dining experience.
Cajun Fries: Popeyes takes fries to a whole new level with their Cajun seasoning. These fries are not just a side; they're a flavor-packed experience. The Cajun seasoning adds a zesty kick that elevates your standard french fry into something truly special.
Mashed Potatoes with Gravy: Creamy mashed potatoes smothered in rich, savory gravy. It's the ultimate comfort food that perfectly complements any Popeyes meal. The velvety texture of the mashed potatoes paired with the savory goodness of the gravy is a match made in comfort food heaven.
Coleslaw: A refreshing and crunchy coleslaw salad that provides a delightful contrast to the hearty main dishes. The crispness of the cabbage and the creamy dressing create a harmony of textures and flavors that balance out the richness of the fried chicken.
Biscuits: Popeyes' flaky and buttery biscuits are legendary. These are a must-try and a delightful addition to your meal. Whether you enjoy them on their own or as a side, these biscuits are a buttery, melt-in-your-mouth delight.
Indulge in Irresistible Seafood Selections at Popeyes
While Popeyes is famous for its chicken, it also offers an array of seafood options that are equally tempting.
Butterfly Shrimp: Dive into the oceanic flavors of Popeyes' butterfly shrimp, lightly breaded and fried to perfection. Each shrimp is a succulent bite that bursts with flavor.
Fish Fillet Sandwich: A crispy fish fillet served in a bun, topped with lettuce and tartar sauce. It's a fantastic alternative for seafood lovers. The flaky fish and the tangy tartar sauce create a harmonious combination that's hard to resist.
Seafood Platter: Can't decide between shrimp and fish? The seafood platter combines the best of both worlds, offering a satisfying seafood feast. It's the perfect option when you want to enjoy a variety of seafood flavors in one meal.
Satisfy Your Cravings with Flavorful Burgers and Sandwiches
Popeyes goes beyond chicken with its lineup of burgers and sandwiches, each packed with bold flavors.
Popeyes Burger Options: From classic cheeseburgers to innovative creations, Popeyes has a burger to satisfy every craving. The juicy beef patties, fresh toppings, and special sauces make these burgers a delightful indulgence.
Chicken Sandwich Variations: If you can't get enough of Popeyes' famous chicken, you'll love their chicken sandwiches, available in various mouthwatering flavors. These sandwiches feature Popeyes' signature fried chicken, ensuring that every bite is a flavor explosion.
Po' Boy Sandwiches: Inspired by the traditional New Orleans po' boy sandwich, Popeyes serves up a variety of these delicious creations, including shrimp and chicken options. The po' boy sandwiches are a tasty blend of flavors and textures, with generous fillings and fresh ingredients.
Treat Yourself to Delectable Desserts and Beverages at Popeyes
A satisfying meal at Popeyes deserves a sweet ending. Don't forget to explore their dessert and beverage offerings.
Sundaes: Indulge in Popeyes' delightful sundae options, a perfect way to satisfy your sweet tooth. Whether you prefer classic flavors or something more adventurous, Popeyes has a sundae to treat yourself with.
Refreshing Beverages: Pair your meal with Popeyes' selection of beverages, including classic sodas and other thirst-quenching options. Whether you prefer a carbonated soda