The bai Hotel Cebu is for the business and leisure traveler who seeks boldness, authenticity, and innovation for each visit, whether it is for the first time or repeat visits. It was designed to improve the beauty and change of the heavily urbanized cities of Mandaue and Cebu.
ABOUT BAI HOTEL
The Bai Hotel Cebu offers spectacular harbor and city views together with state-of-the-art amenities and facilities. It is situated between the busy cities of Mandaue and Cebu. A contemporary, chic business hotel and culinary destination in one of the finest business and recreational areas in the country. Each of the 8 restaurants and all 668 guestrooms has been elegantly adorned with contemporary hues that evoke a sense of contemporary elegance and spaciousness, and they are all secured by a first-rate access control system.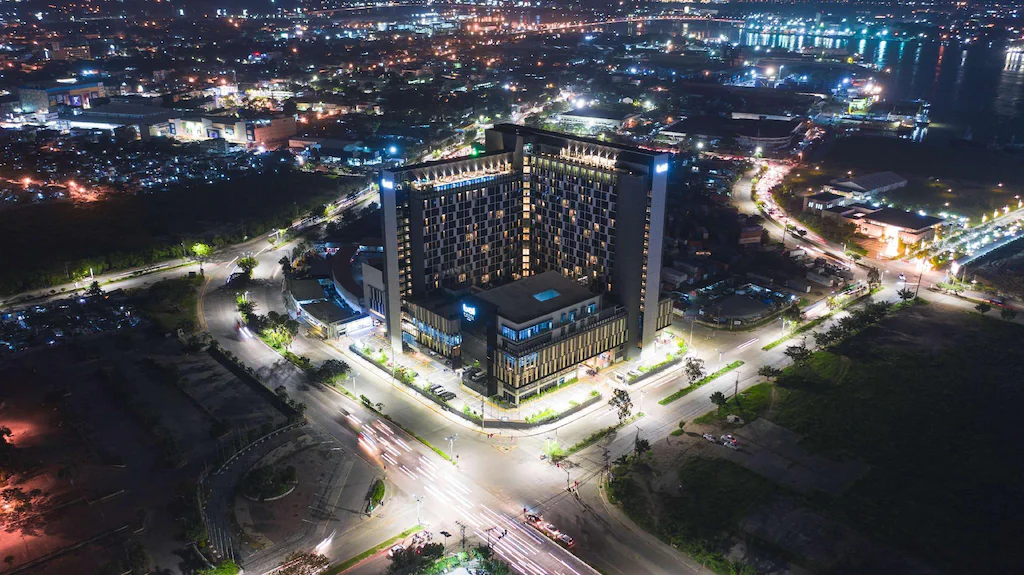 Bai Hotel Cebu is a member of the prestigious Worldhotels. It connects travelers to a global dedication to improved safety, comfortable lodgings, and distinctively bai service in exciting and unforgettable locations.
ROOMS
Each room is elegantly decorated and thoughtfully furnished to give you the best comfort. It has Internet Protocol Television (IPTV), which offers an unequaled selection of live TV channels, free wireless internet, a modern lockset system, and a safety deposit box for your security.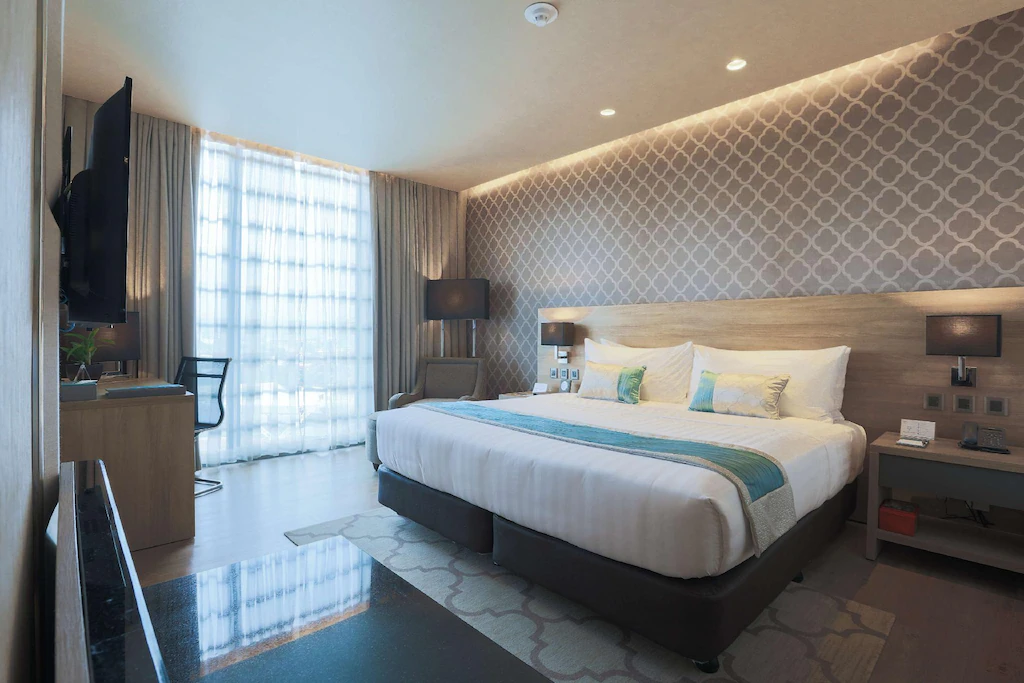 To assure your safety and comfort of mind, all 668 guest rooms and suites go through a meticulous and stringent cleansing and disinfection procedures.
All guest rooms are equipped with a sprinkler system, personal climate control, electronic safe, key card system, full-length glass windows with low-E glazing, complimentary daily newspaper, designer toiletry set, espresso maker, free beverages in the mini bar, electric iron, and ironing board.
DINING
Dining at Bai Hotel Cebu is an unforgettable experience. From our international buffet breakfast to an exquisite dinner in the restaurant, to a late-night snack from the 24-hour in-room dining, there is something for everyone.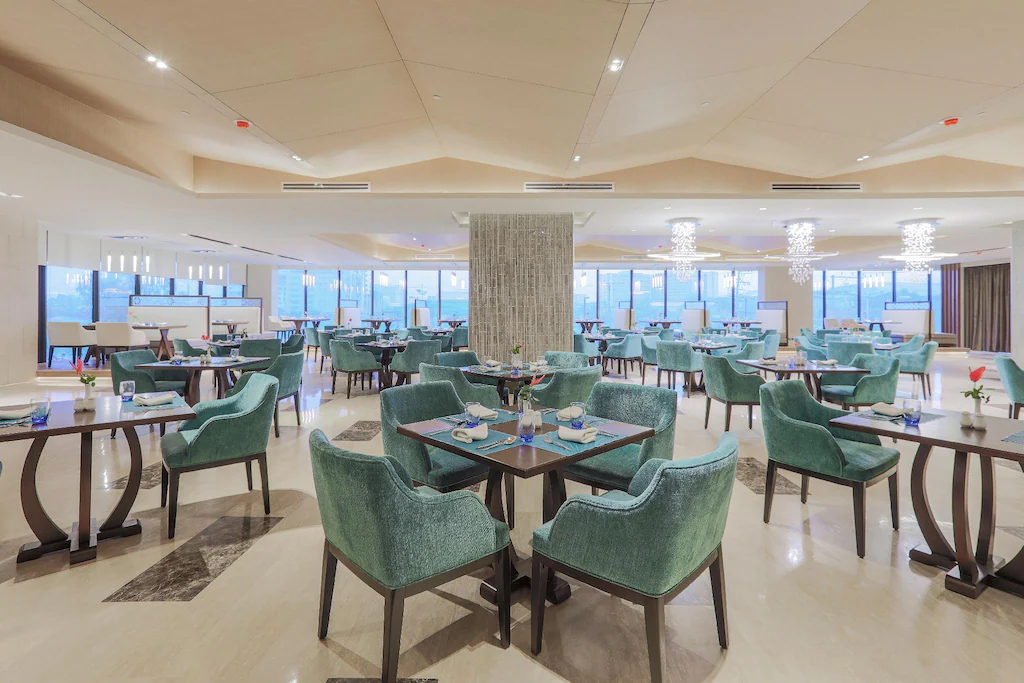 Wallstreet Coffee + Bar
This vibrant location delivers a wide assortment of juices and fruit smoothies in addition to its characteristic offerings from a classic coffee house, like drips and decafs, lattes, and blended drinks. Daily fresh baking provides you with enough sweets to keep you going when you need a fast snack.
CAFÉ bai
A popular buffet dining location with a vast variety of delectable foods from East to West.
Marble + Grain Steakhouse
A chic and sophisticated restaurant offering the best USDA prime meat that has been specially matured, fantastic service, and a terrific wine list. Seafood is also on the menu.
UME Japanese Cuisine
Restaurant serving made-to-order sushi, soba, rice bowls, yakitori, sashimi, and other dishes in an authentic Japanese setting.
Pool Bar
Located on the 21st floor, the Pool Bar is the perfect spot to take a refreshing swim paired with chilled cocktails and a spectacular sunset view.
Twilight Roofdeck Lounge+Bar
Your dining experience will be elevated by the wonderful view and delectable bar food. The atmosphere at Twilight Roofdeck Lounge+Bar is positive.
In-Room Dining
Enjoy the convenience of your own accommodation while indulging in our specialty meals Warm Comfort, Noodles & Pasta, Western Comfort, and All-Day Breakfast. Offering a wide variety of options for your dining needs, available around the clock.
DAY PASS
Outdoor Infinity Lap Pool
Mondays to Sundays  |  8:00 AM TO 10:00 PM  | 21st floor, bai Hotel Cebu
Php 499 | Adult Rate
with Php 250 consumables for food & beverages at the Pool Bar
CONTACT INFORMATION AND SOCIAL SITES
LOCATION OF BAI HOTEL
Address
Ouano Ave. corner C.D Seno St. City South Special Economic Administrative Zone, Mandaue City Cebu
---
Hotels in Cebu City: Hotels in the center
Hotel
Stars
Discount
Price before and discount
Select dates
Cebu R Hotel Capitol

★★★

-16%

17 233

14 399
View hotel
Hamersons Hotel

★★★

-11%

57 936

51 757
View hotel
Harolds Evotel Cebu

★★★★

-28%

4 875

3 515
View hotel
Golden Prince Hotel & Suites

★★★

-7%

75 339

70 294
View hotel
Hotel Elizabeth Cebu

★★★★

-59%

8 503

3 515
View hotel
Red Planet Cebu

★★★

-15%

3 628

3 118
View hotel
Quest Hotel & Conference Center - Cebu

★★★

-26%

4 932

3 685
View hotel
Cebu Parklane International Hotel

★★★

-8%

100 452

92 346
View hotel
Seda Ayala Center Cebu

★★★★★

-7%

6 406

5 952
View hotel
Waterfront Cebu City Hotel & Casino

★★★★

-22%

4 535

3 515
View hotel
RELATED POSTS
Indulge yourself to a luxurious staycation. Choose from one of the 10 most highly ranked 5 star hotels in Cebu.

---