Welcome to our ultimate guide to Tambuli Seaside Resort & Spa, a luxurious haven located on the beautiful Mactan Island in Cebu. The resort offer stunning swimming pools, surrounded by lush tropical gardens, that provides a perfect spot to relax and unwind. The pool is large enough for swimming laps, and also features a shallow area for children to play safely. You can lounge on the comfortable sunbeds while enjoying refreshing drinks and snacks from the poolside bar. The pool offers breathtaking views of the ocean, making it an ideal spot to soak up the sun and enjoy your vacation. Our guide provides all the information you need to plan your perfect getaway and experience the luxury of Tambuli Seaside Resort & Spa.
ABOUT TAMBULI SEASIDE RESORT AND SPA
Tambuli Seaside Resort and Spa is an 11-hectare residential resort development located on Buyong Road, Maribago, Lapu-Lapu City, Cebu. It provides unmatched access to the four-hectare dining and activity area.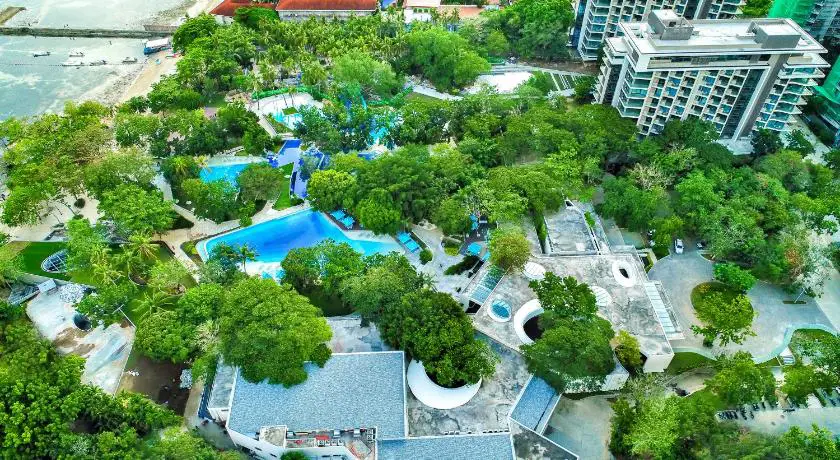 Recharge in a setting where thoughtful measures have been made to protect the island's innate abilities for relaxation, healing, and the preservation of both mind and body. By avoiding removing even one tree during construction and structuring the facilities to bend and twist to meet the contours of the bare terrain, the resort's design prioritizes respect for the land's natural state.
ROOMS
The Tambuli Seaside Resort and Spa's accommodations have all been carefully thought out to offer everything you could possible need for a well-deserved staycation. Imagine it as your home in the middle of nature's bounty.
The luxurious accommodations are outstanding. It is without a doubt the perfect escape for the whole family to enjoy some quality time together or for a joyous group of friends to catch up in the middle of nature. Here, you are met with sumptuous feelings from the foyer to the kitchen and all the way to the two bedrooms, which are always prepared to welcome you after a long day. The dining area is also ideal for holding charming conversations over a nice home-cooked meal.
All of the lodging choices come with a complimentary daily breakfast buffet, WiFi access, use of the resort's amenities, and a 30-minute pass for non-motorized water sports.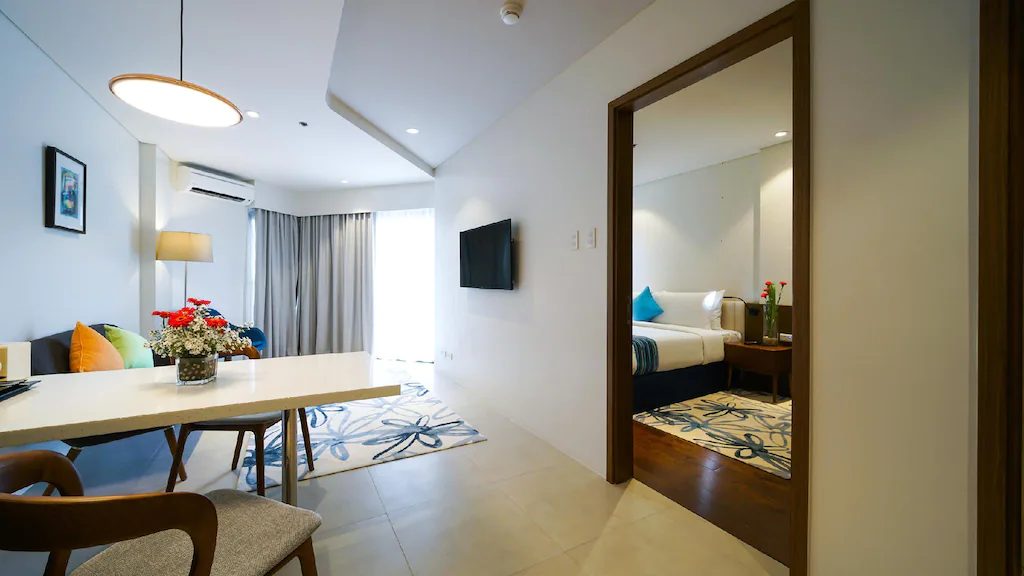 DINING
Discover the best of the best!  A fantastic dining experience is available at the Tambuli Seaside Resort & Spa. Your bucket list should be empty after dining at Tambuli Seaside Resort and Spa because they provide exquisite feasts. The  in-house chefs ensure that every tourist has a tasty and savory stay by producing simply divine delicacies that you genuinely deserve. The resort is currently making plans to add new restaurants to better accommodate you throughout your lavish vacation.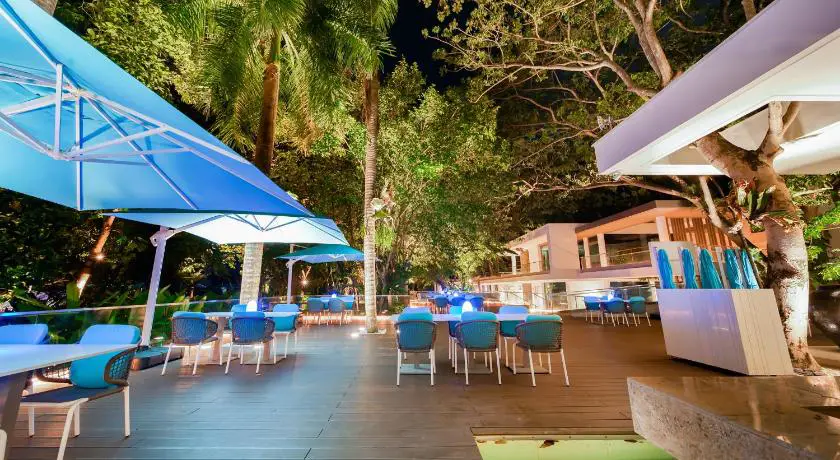 FACILITIES
Tambuli Seaside Resort and Spa is the ideal spot for a holiday or weekend getaway. The facility is surrounded by a beautiful beachfront, lush green garden and the blue Ocean.
Breakfast at Café Hojas
Front Desk & Concierge
Cafè Hojas (Restaurant)
Caverna (Restaurant)
Pugon (Restaurant)
Bar Montan
Housekeeping
Main Pool
Montan Pool
Kiddie Pool
Activity Pool
Gym
Slides
Beach & Watersports
Playa
DAY USE
Good feelings and enjoyable times are the essence of summer. Graze down the gradient of the glistening water to get back in touch with nature and listen to the sound of the breeze under the palms. Spend a day with us and enjoy the Tambuli Experience.
INCLUSIONS:
Php 1,350 nett per persom
Php 850 worth of food consumable
Complimentary use of identified swimming facilities from 9:00 AM – 5:00 PM
Complimentary use of pool towels
Use of pool towels
Complimentary use of locker and changing room
CONTACT INFORMATION AND SOCIAL SITES
LOCATION OF TAMBULI SEASIDE RESORT AND SPA
Address
Buyong Road, Maribago, Mactan Island, Lapu-lapu, Cebu 6015
MYTOURGUIDE.PH'S REVIEW OF TAMBULI SEASIDE RESORT AND SPA
This hotel will be very close to being the greatest if the rooms can be changed to appear more hotel-like. The extravagant amenities, lushly wooded pools, and experienced staff make up for the blandness of the rooms.
ROOMS
Spacious rooms with all the condo's amenities, but with very minimal furnishings and decor. Lacks a hotel vibe.
FACILITIES
The pool and facilities at the hotel are fantastic. A leisure recreation area with a lavish lobby and a classy setting. The presence of dense trees protects the pools from the sun's heat. Pools have shallow areas that are kid-friendly. Beachfront is average. The staff is excellent in terms of appearance, courtesies, and support.
DINING
There are only two restaurants that serve pricey food. The breakfast buffet is simple and features predominantly Filipino cuisine. You can place a delivery order through Grab or Food Panda for a less priced meal.
PRICE
The cost during off-peak season is reasonable. Booking during peak season is not advised because it can be very expensive and not worth the money.
VERDICT
This hotel makes up for its lack of luxurious rooms with excellent facilities and recreational spaces. The entire visit was made comfortable by the staff's vibrant appearance and courtesy. Too late check-in time taints the experience. It is good to open more restaurants with more reasonable prices and a shop selling necessities and . A directory map or plain signpost would be a great addition.
---
Hotels in Cebu City: Hotels in the center
Hotel
Stars
Discount
Price before and discount
Select dates
Cebu R Hotel Capitol

★★★

-16%

17 233

14 399
View hotel
Hamersons Hotel

★★★

-11%

57 936

51 757
View hotel
Harolds Evotel Cebu

★★★★

-28%

4 875

3 515
View hotel
Golden Prince Hotel & Suites

★★★

-7%

75 339

70 294
View hotel
Hotel Elizabeth Cebu

★★★★

-59%

8 503

3 515
View hotel
Red Planet Cebu

★★★

-15%

3 628

3 118
View hotel
Quest Hotel & Conference Center - Cebu

★★★

-26%

4 932

3 685
View hotel
Cebu Parklane International Hotel

★★★

-8%

100 452

92 346
View hotel
Seda Ayala Center Cebu

★★★★★

-7%

6 406

5 952
View hotel
Waterfront Cebu City Hotel & Casino

★★★★

-22%

4 535

3 515
View hotel
RELATED POSTS
Indulge yourself to a luxurious staycation. Choose from one of the 10 most highly ranked 5 star hotels in Cebu.

---