Book your perfect glamping getaway with Glamping ETC Philippines. Choose from luxury tents and unique outdoor accommodations, all located in stunning locations. Enjoy the best of nature while enjoying all the comforts of home – book today!
ABOUT GLAMPING ETC. PHILIPPINES
Glamping Etc. Philippines is the Philippines' first GeoDesic Dome campsite. It is completely handcrafted on-site with extreme precision. It provides you with your own 140 square meters of lakeside bliss unlike any other.
From inside your tent, you have a breathtaking view of the Lumot Lake.
Luxury mattresses, soft linens, towels, toiletries, and your own comfort room. Breakfast, as well as kayaks, floaters, fishing rods, body boards, and vests, are provided.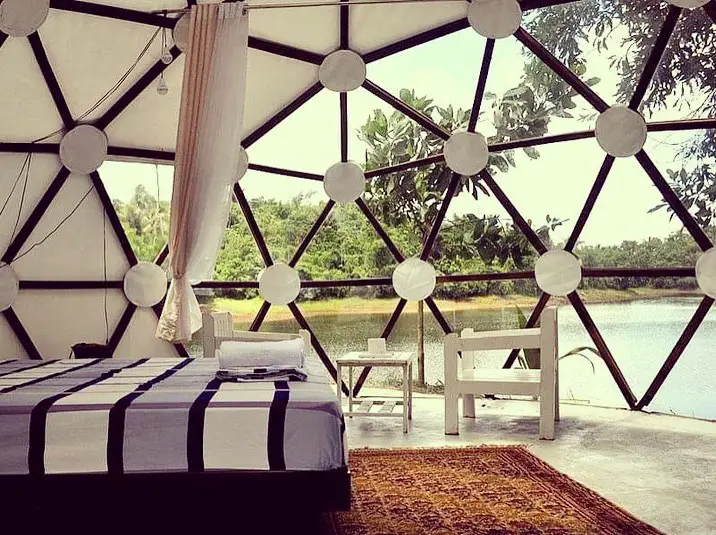 WHAT TO EXPECT
The great outdoors will surprise you! Take in breathtaking sunsets and sunrises.
Feel the cool wind in your hair while listening to bird songs and rustling leaves. At night, you can stargaze, sing and dance around the bonfire, or simply curl up with a book. Allow the peace of the island to claim you.
Lunch, dinner, and drinks are served from the island's kitchen and can be ordered from a menu that you can choose before you arrive. Meals are very reasonably priced.
ABOUT LUMOT LAKE
Lumot Lake, also known as Sierra Lake, is a man-made water reservoir in the Sierra Madre Mountains of the Philippines, located in the towns of Cavinti and Lumban in Laguna province. 
The lake is named Lumot Lake because it contains small islands that resemble moss floating in the water. The Tagalog word for moss is lumot.
The lake is also known as Sierra Lake due to its location at the foot of the Sierra Madre Mountain Ranges.
Lumot Lake is home to a wide variety of fish, including largemouth bass, blackmass fish, mudfish, catfish, shrimp, and ayungin fish.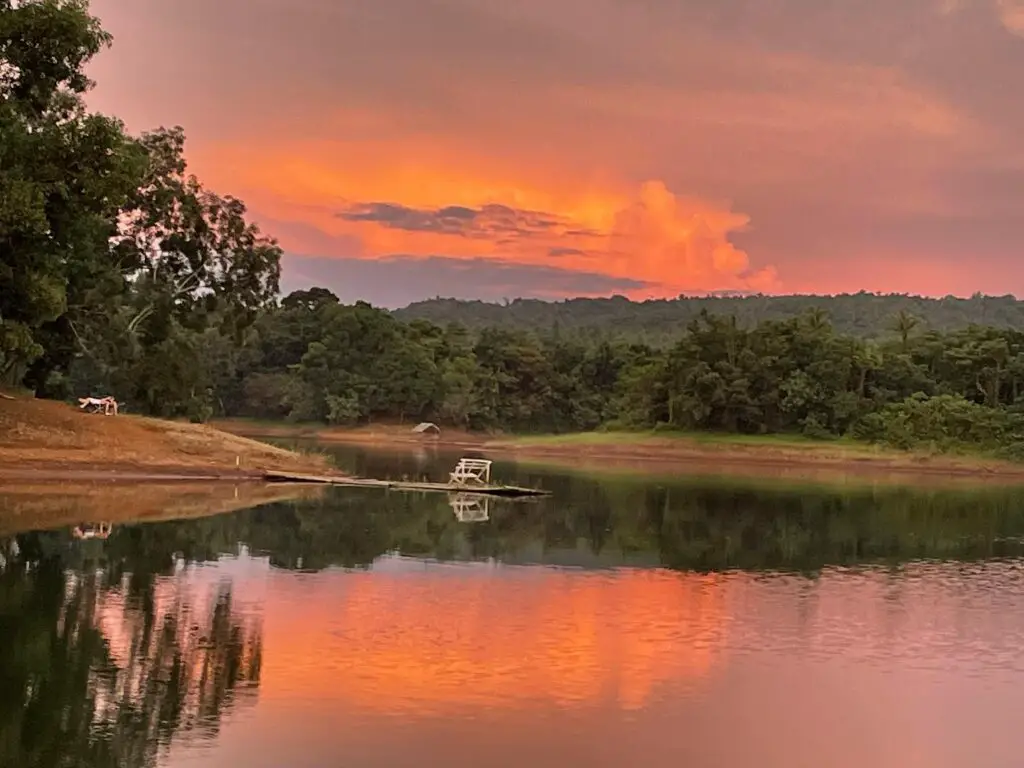 LOCATION OF GLAMPING ETC. PHILIPPINES
Lumot Barangay, Cavinti, Laguna Cavinti, Philippines
ABOUT CAVINTI LAGUNA
Cavinti is located on the province of Laguna's eastern border. The municipality of Lumban borders the town on the north, the municipalities of Sampaloc, Quezon, and Mauban on the east, Pagsanjan on the west, and Luisiana on the south. It is divided into 19 barangays.
It is well-known for its cathedral cave, Cavinti Falls, and Bumbungan Eco Park.
Watersports such as boat rafting, kayaking, swimming, and fishing are popular in Cavinti, Laguna. Lumot Lake has grown in popularity as a result of some resorts and camping sites located around the lake that provide excellent accommodation, camping activities, leisure activities, and watersports activities.
WHAT IS GLAMPING
Combining the words "glamorous" and "camping," the term "glamping" refers to a particular kind of camping that offers amenities and, on occasion, resort-style services that are not normally associated with traditional camping. Glamping, or "glamorous camping," has gained appeal among tourists of the twenty-first century who prefer to stay in a variety of accommodations such as cabins, treehouses, and tents thanks to modern comforts like Wi-Fi with the pleasure and adventure recreation of camping.
HOW TO BOOK A TENT IN GLAMPING ETC PHILIPPINES
Choose a Dome from Airbnd
Book the Dome of your choice
DOME TYPES
Dome 1: Dome BalaGhee with own CR
Standard Occupancy 2. Max 3
Dome 2: Dome Veera: with own CR
Standard Occupancy 2. Max 3
Dome 3: Dome Mufli King with own CR
Standard Occupancy 2. Max 3
Triangle Tent: 1 Unit – With own CR Ensuite, GLAMPING ETC PHILIPPINES
Standard Occupancy 2. Max 4
Attic over the Pavilion: 1 Unit – Common CR
Not Listed on Airbnb
Dormitory Type
Max occupancy 12 pax
Available only for large groups whose number spills over the occupancy of domes and triangle
IMPORTANT INFORMATION
Mattresses are available for a fee if you need to accommodate additional guests.
Children under the age of five can stay free of charge when using the existing bedding.
The price of an extra bed is ₱700.
Supplies come from the mainland and staff retires at 8 p.m so make your requests in advance.
There is no power on the island. There is a generator that can be activated upon request. Solar-powered lights are installed inside the tents and all along the walkways.
You will need to take a short boat ride from Lake Lumot Boat Terminal to reach Glamping Etc. Philippines. Boats are accessible till 6 PM.