Get amazing deals and discounts with Cebu Pacific's PISO FARE 2023! Enjoy incredibly low fares to your favorite destinations in the Philippines, across Asia, and beyond. Book now and get ready for a hassle-free journey with Cebu Pacific.
CEBU PACIFIC PROMO INTERNATIONAL FLIGHTS SEAT SALE
For the month of September, Cebu Pacific offers DAILY flights from Dubai, Hong Kong, Singapore, Seoul (Incheon), and Bangkok, where passengers can connect to further Philippine locations. Additionally, Cebu Pacific has expanded the number of flights between Bali and Manila.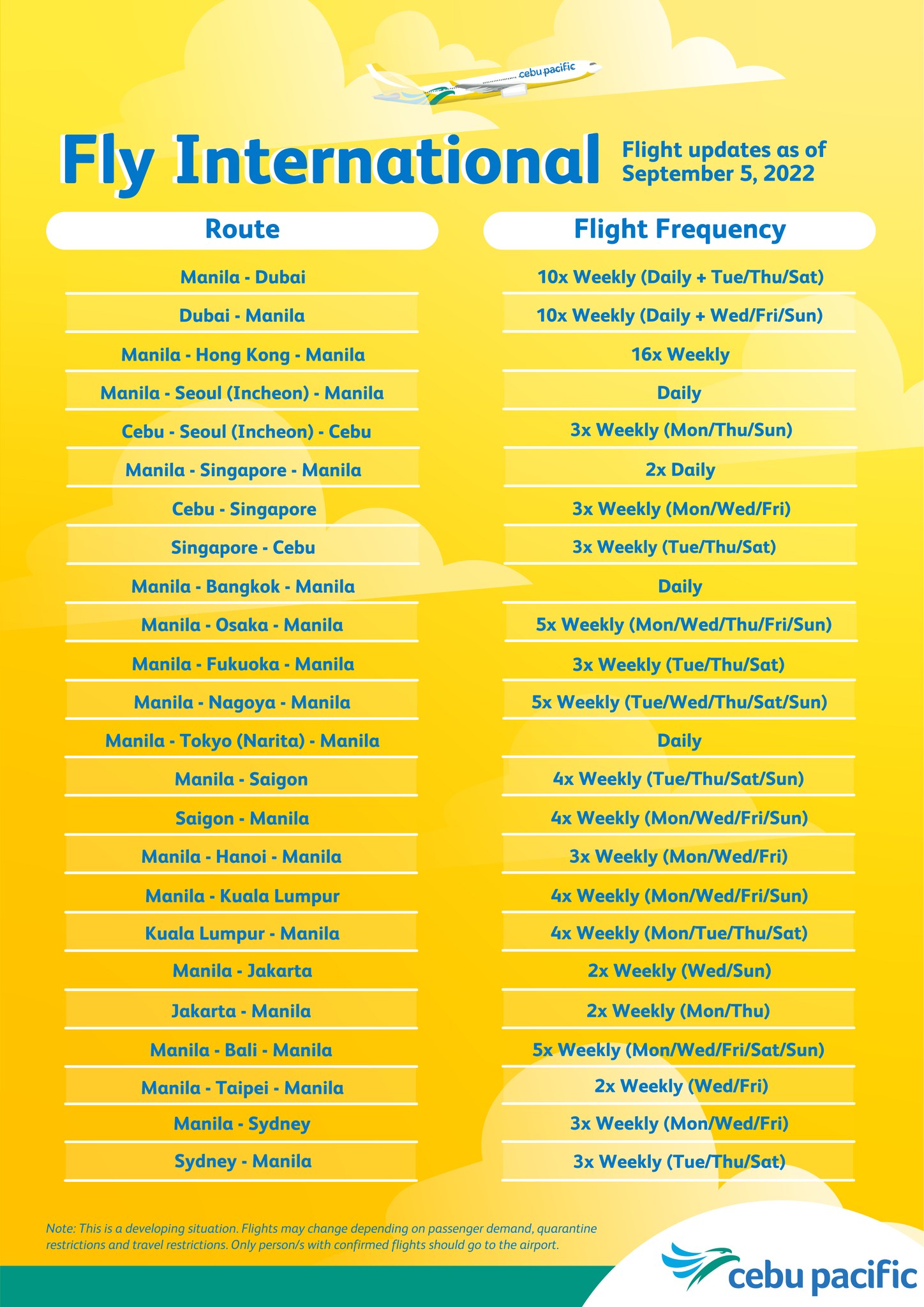 ---
CEBU PACIFIC SALE
Fly to your favorite destinations! Here are all the seats on sale per route!
https://www.cebupacificair.com/seat-sale
WHAT EXACTLY IS A PISO FARE?
Cebu Pacific uses the term Piso Fare to indicate that the base fare is only one peso. The total amount you must pay to complete your reservation includes all taxes and other fees.
These extremely low-cost flight promotions occur only a few times per year. During a piso fare promotion, domestic roundtrip tickets can sometimes be purchased for less than 1000 pesos all-in!
HOW TO BOOK A FLIGHT FROM CEBU PACIFIC?
Book directly at cebupacificair.com
To get the best price, search for cheap flights and compare plane tickets from all major travel agencies and airlines, including Cebu Pacific at Skyscanner!
Skyscanner makes it easy to plan your next vacation. While traveling, look for cheap flights, hotels, and car rentals anywhere in the world. You can also save time and money by comparing and booking from your preferred travel brands in one location. There are no hidden fees or booking fees, only the best prices.
Cebu Pacific Piso Fare Promo
Fly to your favorite destinations! Find all available seats on sale by route here…
Check out this page for other ongoing seat sales to the Philippines, the number of seats available, and seat sale FAQs.
ABOUT CEBU PACIFIC AIR
Cebu Pacific Air is the Philippines' largest airline, offering the most affordable flights to over 60 destinations in Asia, the Pacific, and the Middle East.
Cebu Pacific, the country's aviation industry's innovator, and creative leader was the first to introduce web check-in, E-ticketing, and seat selection in the Philippines. It recently launched GetGo, its newest lifestyle rewards program, to reward frequent fliers with additional benefits and free flights. 
Cebu Pacific also collaborated with WWF-Philippines on a climate adaptation program, as well as with various online hotel reservations companies, car rental companies, travel insurance providers, and entertainment ticketing services to provide its passengers with a more convenient travel experience.
CEBU PACIFIC CONTACT AND SOCIAL MEDIA SITES
CEBU PACIFIC TWEETS
WHAT ARE THE BEST FLIGHT BOOKING APPS?
To find the best flight times and prices, you do not need to visit each airline's website separately. Apps for flight booking can scan all brands and recommend the best option based on your travel needs. There are numerous airlines in the Philippines, and using one of the booking apps on this list will assist you in locating the best deal for your flight. Skyscanner, Hopper, and Kayak are the most well-known international and domestic flight search websites. Philippine Airlines and Cebu Pacific are the two largest airlines in the country, with the most flights scheduled.
Hopper
Kayak
Cebu Pacific
Philippine Airlines
---
PHILIPPINE DESTINATIONS
Explore the Best of Philippines: Must-See Tourist Destinations
The Philippines is a stunning cluster of islands brimming with breathtaking natural wonders and cultural treasures. With over 7,000 islands, the country offers a diverse range of destinations to explore, from bustling urban centers to tranquil shorelines, and historical landmarks to breathtaking terrains. The Philippines caters to every traveler's needs, whether it's seeking an adventurous escapade, unwinding on a serene beach, or delving into cultural experiences. This guide presents a curated list of must-see tourist destinations in the Philippines, each of which offers a distinct and charming experience. So, prepare to embark on an adventure to discover the best of the Philippines.
Intramuros is the ancient heart of Manila, a walled city that showcases the rich history and Spanish architecture of Old Manila. Built by the Spaniards as their political and military…

---