AppleOne Properties Inc. is a leading property developer in the Philippines that offers residential properties for sale. Find out more about their most recent projects here.
ABOUT APPLEONE PROPERTIES INC.
AppleOne Properties Inc. is a Cebu-based and homegrown real estate developer created by enterprising couple Ray and Venus Manigsaca, whose deep belief in cooperation, diligence, caution, and integrity have propelled the business to unparalleled success over the last 12 years.
AppleOne Properties, Inc., a real estate developer with deep ties to Cebu and its lauded tradition of local design meeting international standards, is in charge of some of the region's most prestigious construction projects.
AppleOne Properties, which has over ten years of experience in the property development industry, continues to create iconic partnerships, landmarks of strength, and projects that have won numerous awards and are competitive on a worldwide scale.
APPLEONE CORPORATE ADDRESS
16F AppleOne Equicom Tower, Mindanao Avenue corner Biliran Road, Cebu Business Park, Cebu City 6000 Philippines
APPLEONE CONTACT INFORMATION & SOCIAL SITES
New Residential Property Projects of AppleOne in CebU
1. APPLEONE BANAWA HEIGHTS
The residential property is spread out across a 2.8-hectare plot of land and has views of both nature and the city skyline. AppleOne Banawa Heights is evidence of the company's commitment to pushing the boundaries of local design and workmanship. It was named Best Condo Development in Cebu in 2017 and Best Boutique Developer in the Philippines in 2016.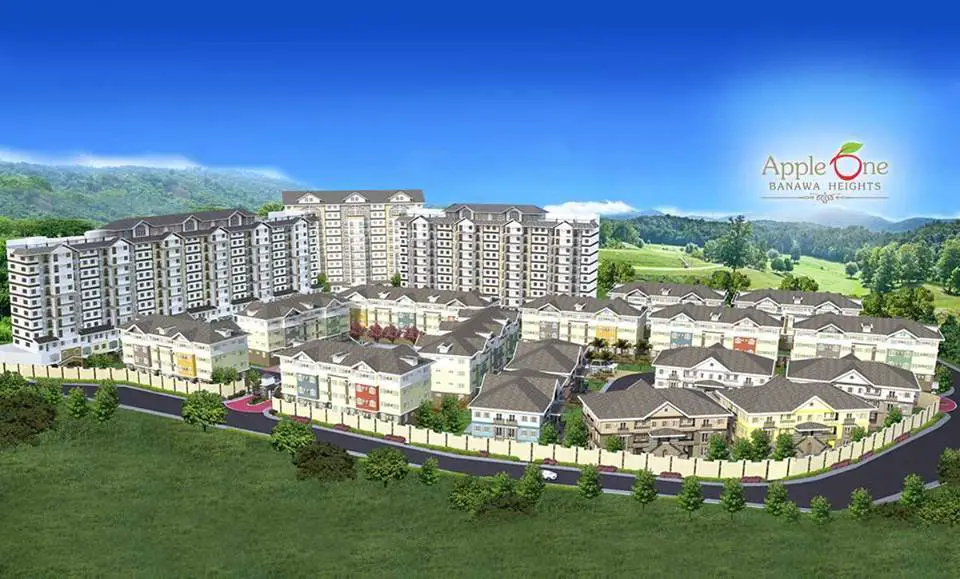 2. The Residences at Sheraton Cebu Mactan Resort
The Residences at Sheraton Cebu Mactan Resort is a leader in the nation's tourism and real estate sectors, having won the 2018 Property Guru Property Awards for Best Condo Development Philippines, Best Condo Interior Design Philippines, and Best Luxury Condo Development Cebu.
The Residences at Sheraton Cebu Mactan Resort, located in a tropical haven of sea and land, revolutionize daily living via intelligently designed and meticulously crafted home-like apartments that provide all the modern comforts of unmatched services and 5-star hotel amenities.

Cebu City Sales and Admin Office
Schedule an appointment
You can also fill out the contact form…
---
Hotels in Cebu City: Hotels in the center
Hotel
Stars
Discount
Price before and discount
Select dates
Hamersons Hotel

★★★

-9%

3 410

3 126
View hotel
Harolds Evotel Cebu

★★★★

-18%

3 865

3 126
View hotel
Golden Prince Hotel & Suites

★★★

-7%

75 085

70 083
View hotel
Hotel Elizabeth Cebu

★★★★

-59%

8 242

3 354
View hotel
Red Planet Cebu

★★★

-20%

4 036

3 240
View hotel
Quest Hotel & Conference Center - Cebu

★★★

-26%

3 922

2 899
View hotel
Cebu Parklane International Hotel

★★★

-10%

3 183

2 842
View hotel
Seda Ayala Center Cebu

★★★★★

-13%

6 593

5 741
View hotel
Waterfront Cebu City Hotel & Casino

★★★★

-20%

4 661

3 695
View hotel
Mezzo Hotel

★★★★

-24%

4 092

3 069
View hotel
RELATED POSTS
Indulge yourself to a luxurious staycation. Choose from one of the 10 most highly ranked 5 star hotels in Cebu.

---