The Asin Hydroelectric Plant, the Cable Car System as Public Transportation, and Bulk Water have all been identified as the three major projects for which Baguio City is now inviting proposals.
OFFICIAL ANNOUNCEMENT FROM THE CITY OF BAGUIO'S FACEBOOK PAGE, Public Information Office:
𝗧𝗛𝗥𝗘𝗘 𝗠𝗢𝗥𝗘 𝗕𝗜𝗚 𝗧𝗜𝗖𝗞𝗘𝗧 𝗣𝗥𝗢𝗝𝗘𝗖𝗧𝗦 𝗢𝗣𝗘𝗡 𝗙𝗢𝗥 𝗣𝗥𝗢𝗣𝗢𝗦𝗔𝗟𝗦
The city government is accepting proposals for three more big-ticket projects:
Asin Hydro Electric Plant
Cable Car System as Public Transport
Bulk Water
The period of submission will be from Aug. 22, 2022, to Sept. 22, 2022.
For requirements, please contact City Administrator Engr. Bonifacio Dela Peña at 442-5497 – PIO Baguio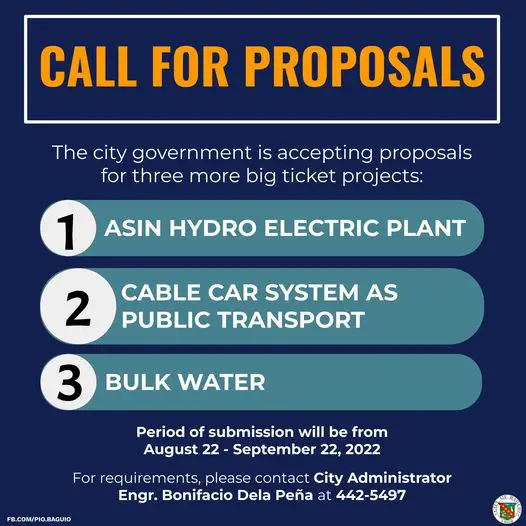 ---
WHAT IS A Hydroelectric Plant
A typical hydroelectric plant consists of three distinct parts: a power plant that produces electricity, a dam that can be opened or closed to control the flow of water, and a reservoir that stores water. Through an intake, water from behind the dam enters and presses up against turbine blades, spinning them.
WHAT IS BULK WATER
Water that is distributed in bulk from one water supplier to another may be drinkable, recycled, or raw. These mass deliveries normally take place under "wholesale supply" agreements between water providers, with the recipient subsequently distributing to ultimate users under "retail supply" agreements.
WHAT IS A CABLE CAR SYSTEM
In a cable car, rail carriages are pulled by an always-moving cable that travels at a constant speed. Cable cars are a type of cable railway used for public transit. Individual autos release and tighten this cable as necessary to stop and start.
The cable car installation research in Baguio City
In order to conduct a study on the creation of a cable car system connecting Baguio City and neighboring local government units like La Trinidad, Itogon, Sablan, Tuba, Tublay, and portions of La Union, the City Council approved a resolution authorizing Mayor Benjamin B. Magalong to enter into a memorandum of agreement with the Department of Transportation (DOTR). Read more…
Baguio City is likely to have cable car OR monorail systems accessible
After being chosen by the United Nations Development Program and the Department of Transportation as one of the pilot towns for a low-carbon urban transport system, Baguio City may soon have a cable car or monorail system. City authorities had already been briefed by UNDP and DOTr representatives on the idea to connect local governments with interested business sector partners and offer technical help.