Mirador Heritage and Eco Park is one of Baguio's newest attractions and is quickly becoming a popular tourist destination in the city. This tourist spot opened in late November 2020. It is located in Mirador Hill, near Our Lady of Lourdes Grotto. The location is very popular in the afternoon around sunset.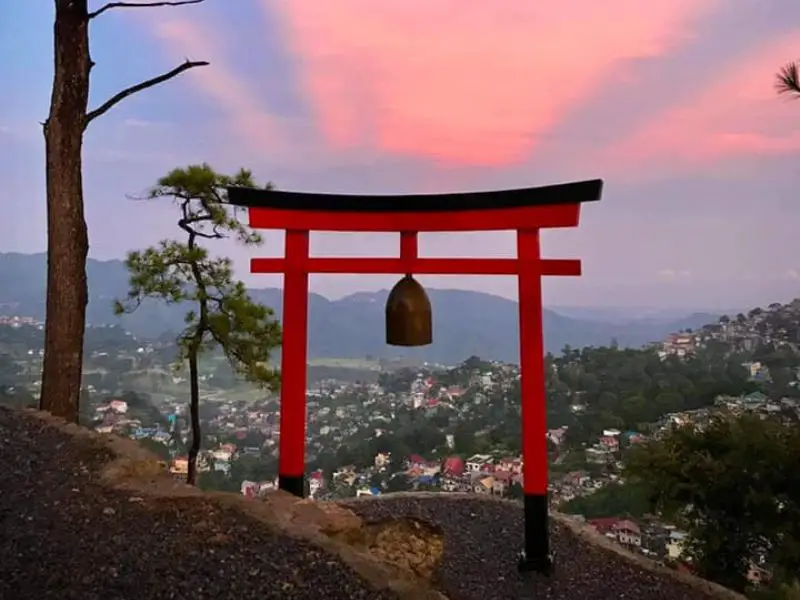 Discovering the Hidden Gem of Northern Luzon
Located in Baguio, the summer capital of the Philippines, Mirador Heritage, and Eco Park is a hidden gem that's worth exploring. The park is a vast and lush green space that offers an escape from the hustle and bustle of city life.
It boasts breathtaking views of nearby mountains, valleys, and forests that will leave nature lovers mesmerized. This article will serve as your complete guide to exploring Mirador Heritage and Eco Park.
A Brief Overview of Mirador Heritage and Eco Park
As you enter the park through its main gate, you'll be welcomed by lush greenery on both sides. The park has several hiking trails that lead to different parts of it but have no fear if you're not up for hiking; there are also paved walkways throughout so everyone can enjoy what it has to offer.
What To Expect
A 5-hectare multi-tiered landscaped park.
The iconic structure, Torii. Torii is a traditional Japanese gate most often found at the entrance to or within a Shinto shrine, where it symbolizes the transition from the mundane to the sacred.
Arashiyama Bamboo Grove. 
A Peace Memorial.
A Jesuit Villa and Retreat House.
Sunset views and a cool foggy atmosphere.
A breathtaking view of Baguio City
A coffee shop, Cafe Iñigo.
Why It's Worth Visiting
Mirador Heritage and Eco Park provide a much-needed escape from city living without having to go too far away from civilization. A visit here means immersing yourself in nature while taking in beautiful panoramic views of natural landscapes.
The flora is equally impressive with a variety of species such as the Benguet Pine Tree and Dendrobium Orchids. You can also enjoy picnics under the shade of trees or rent a bike and explore the park on wheels.
Mirador Heritage and Eco Park is a place that should be on everyone's must-visit list when in Baguio. It provides an opportunity to get away from city living while immersing oneself in nature's beauty and learning about Philippine culture.
LOCATION
Address of Mirador Heritage and Eco Park
Mirador Heritage and Eco Park is located at Mirador Hill, Baguio City. It's close to the famous Lourdes Grotto.
How to Get to Mirador Heritage and Eco Park
By Public Transport
Take the Lourdes-Dominican route jeepney from Kayang Street.
Drop off at Mirador Jesuit Villa Retreat House, which is close to the Dominican-Mirador Barangay Hall and the jeepney terminal area.
entrance fee
₱100
12 years old and below are Free
opening hours
6 am to 6 pm
PARKING
There is a parking lot near the registration area with a parking fee of ₱25.
mirador eco park map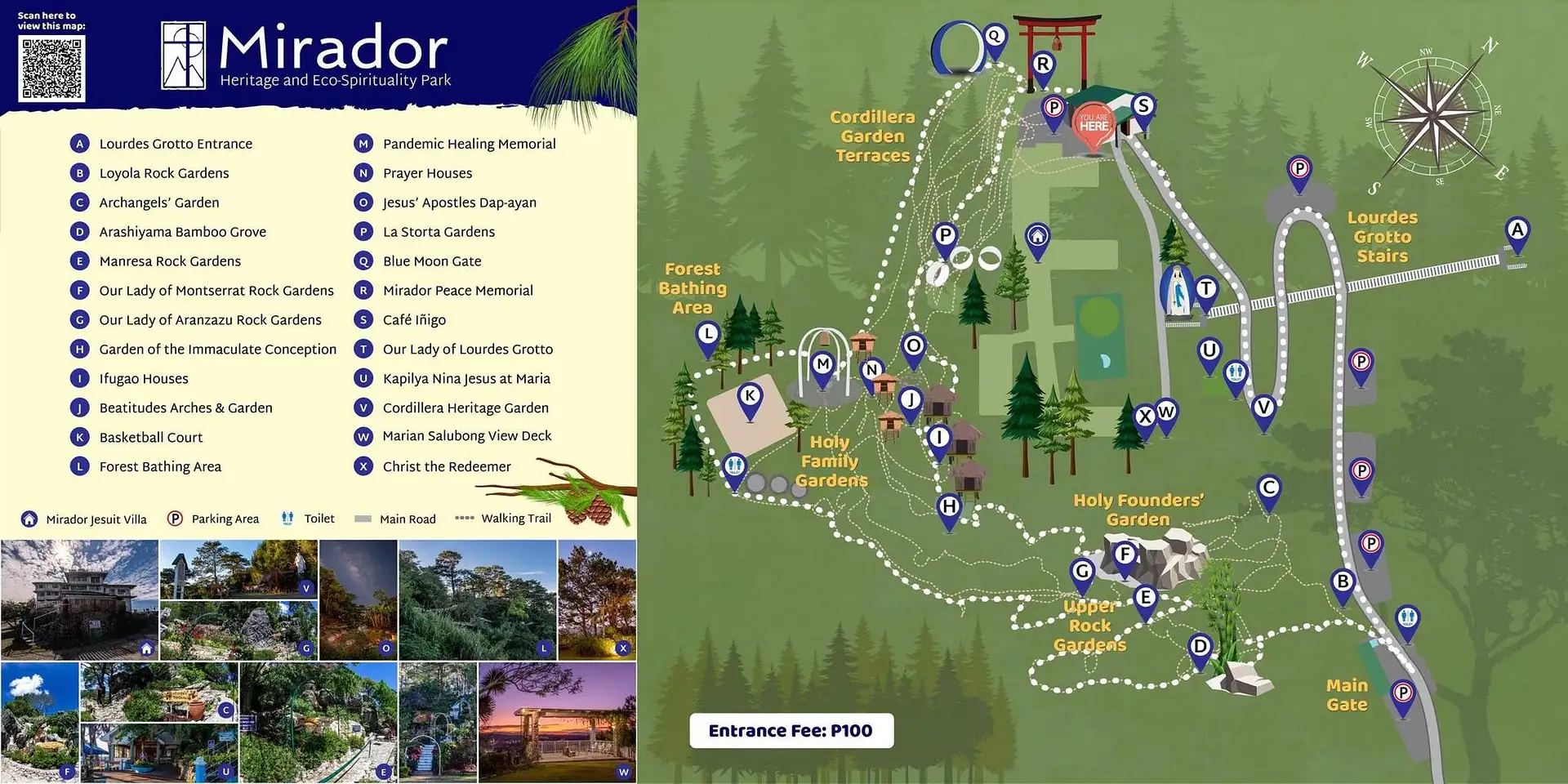 Mirador Eco Park Restaurant
Cafe Iñigo is located near the Eco-Spirituality Park's entrance.
IMPORTANT INFORMATION
Pets are not permitted in the eco-spirituality park as a courtesy to other visitors.
No eating is permitted in the park. You can eat at Cafe Iñigo or nearby eateries outside Mirador Hill.
Mirador Jesuit VILLA & and eco park history
*This article is from the Facebook page of Mirador Jesuit Villa Retreat House and Eco Park.
Before Mirador, it was Manila Observatory in Baguio! Read this short historical account by Fr. Rene Javellana, SJ:
In his short essay on Mirador Hill, entitled, "Prospect Point," the eminent Jesuit historian, Horacio Villamayor de la Costa wrote that there were four stages in the history of Mirador. The first stage began with the Manila Observatory. In 1901, the Manila Observatory, which had made its name during the previous century for its forecast and tracking of typhoons and its research into earthquakes opened a branch in Baguio. Its first location was at the foot of Mirador Hill where seismographs were located and a helioscope to study the sun and sunspots were built. From this lower station began the conquest of Mirador. In 1905, the Jesuits acquired a 36-hectare property from the American colonial government at a public auction. Two years later, beside the observatory, the Jesuits built a bodega and project house as a road was cut up to the summit of Mirador by cutting to the karst formations of the hill. At the apex, where the dapay-an and Knidos Labyrinth are located, the Jesuits built a two-story house of stone and mortar. It was laid out as a C or U, where the northern arm was set aside for the Manila Observatory in Baguio and the opposite southern arm and the connecting wing were for the Jesuit Villa dedicated to St. Joseph. By 1908, the house was operational and the Observatory moved up the hill.
There, seismologist Fr. José Selga operated his machines. The seismograph was vital to earthquake research because the instruments in Baguio helped triangulate where the epicenter of the earthquake was. For more than a century, except for an interruption during the war and brief breaks to maintain and upgrade the machines, Baguio has provided a continuous record of earthquakes. Today, the transmission of records no longer depends on a paper printout and is fully digital, with the machinese forwarding to Phivolcs it's reading in a continuous stream of information. But the seismographs are still there and are a feature of the newly opened Mirador Heritage and Eco Trail.
The building where Fr. Selga had an office was destroyed during World War II in 1945. A new building with three wings and a connecting corridor, following an E-plan, was completed in 1951. The Observatory occupied present Wing C, named El Observatorio to recall its former use. Now that Wing is the Jesuit Wing. Below it, what was once a separate entrance and parlor for the Observatory is now three dining spaces, El Patrimonio de San Ignacio, Sala del Pepetuo Succoro, and Laudato Si Art Space that form the Cafe Iñigo Complex.
The Manila Observatory continued to operate in Baguio until 1961 when new buildings of the Manila Observatory were built in the Ateneo de Manila University Campus along Masterson Drive and Seminary Lane. But the seismographs continued ticking and still do so today as they feel the pulse of Mother Earth.
---
RELATED POSTS
Discover the best cheap hotels in Baguio for budget travelers. Find affordable accommodations near popular attractions and enjoy a memorable stay!

---