The Igorot people live in the Cordillera region, which is famed for its beautiful terraced rice fields and old stone monuments. In this guide, we'll look at the interesting history and significance of the Igorot Stone Kingdom, as well as its different attractions and recommendations for a great visit. Let's get started!
ABOUT IGOROT STONE KINGDOM
The Igorot Stone Kingdom is an Igorot theme park based on the Sab-angan legend of a lost kingdom from a thousand years ago.
Pio Velasco created this 6,000-square-meter garden. He saw a white carabao in 2020 as a sign to build the structure that resulted in the Stone Kingdom's construction. He fantasized as a child about erecting fantasy stone castles and towering walls in the Mountain Province. He gradually figured it out due to his vision and the overall mental image of what the Stone Kingdom would look like.
The stone kingdom was designed to look like rice terraces and was built in the style of traditional riprap.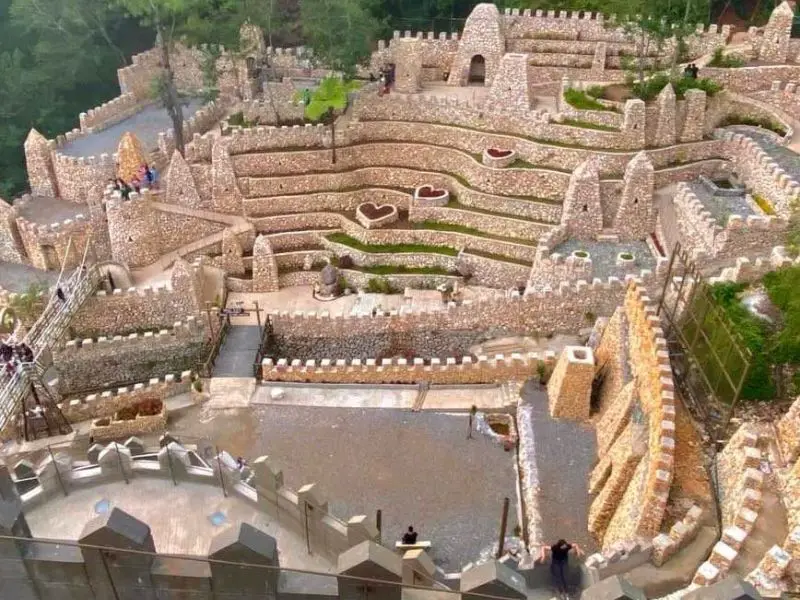 WHAT TO EXPECT
A castle made of stone in the shape of a rice terrace.
Towers depicting Gatan and Bangan, two Igorot survivors of the Holocaust.
Tower of Igorot God Kabunyan
A fertility tower
An Igorot Gold Mine
A white carabao monument which the owner claimed as his sign to build the Stone Kingdom.
A bridge
Locals performing on traditional musical instruments
A small cafe and an eatery
LOCATION
The Igorot Stone Kingdom is located on Long Long Road in Pinsao Proper, Baguio City. It is only two minutes away from the well-known Tam-Awan Village and five kilometers from Baguio City's downtown.
Address of Igorot Stone Kingdom
No. 86 Long-Long Road, Pinsao Proper, Baguio City
How to Get to the Igorot Stone Kingdom
1. By Public Transport
Take a jeep bound for Tacay-Longlong in Otek Street at Central Business District
2. By Private Car
Make use of Waze or Google Maps.
* There is a large parking lot nearby.
ENTRANCE FEE
Adults: ₱100
Kids & Seniors: ₱80
3 years old and below Free
OPERATING HOURS
Visiting Tips and Recommendations for Exploring the Igorot Stone Kingdom Today
For travelers eager to embark on their own exploration of the Igorot Stone Kingdom, careful planning and respect for local culture are paramount.
Best Time to Visit: The Cordillera region experiences a cool and dry season from November to April, making this period ideal for travel. However, keep in mind that the Banaue Rice Terraces are at their most vibrant during the planting and harvesting seasons, which vary by location.
Accommodations: While accommodations vary from simple homestays to more modern hotels, it's advisable to book in advance, especially during peak tourist seasons.
Respect Local Customs: Visitors are encouraged to respect local customs and traditions. Always ask for permission before taking photographs of individuals or their property, and adhere to any guidelines provided by your hosts or tour guides.
Pack Light: The terrain in the Cordillera region can be rugged, so pack accordingly. Comfortable, sturdy shoes are a must, as are layers of clothing to accommodate varying temperatures.
Support Community Initiatives: Whenever possible, support community-based tourism initiatives and purchase locally made crafts and products. Your contribution directly benefits the local economy and helps sustain cultural traditions.
Conclusion:
Immersing Yourself in the Richness of The Igorot Stone Kingdom Experience
As we conclude our journey through the Igorot Stone Kingdom, we invite you to immerse yourself in the richness of this extraordinary experience. The Igorot people and their ancient civilization have left an indelible mark on the Cordillera region and the Philippines as a whole. By preserving their legacy and
Explore Further:
Prepare for a journey that will transport you through time and immerse you in the wonders of the Igorot Stone Kingdom. The beauty of this ancient civilization and the breathtaking landscapes of the Cordillera region await your exploration.
---
RELATED POSTS
Discover the best cheap hotels in Baguio for budget travelers. Find affordable accommodations near popular attractions and enjoy a memorable stay!

---