ABOUT IGOROT STONE KINGDOM
The Igorot Stone Kingdom is an Igorot theme park based on the Sab-angan legend of a lost kingdom from a thousand years ago.
Pio Velasco created this 6,000-square-meter garden. He saw a white carabao in 2020 as a sign to build the structure that resulted in the stone kingdom's construction. He fantasized as a child about erecting fantasy stone castles and towering walls in the Mountain Province. He gradually figured it out due to his vision and the overall mental image of what the stone kingdom will look like.
The stone kingdom was designed to look like rice terraces and was built in the style of traditional riprap.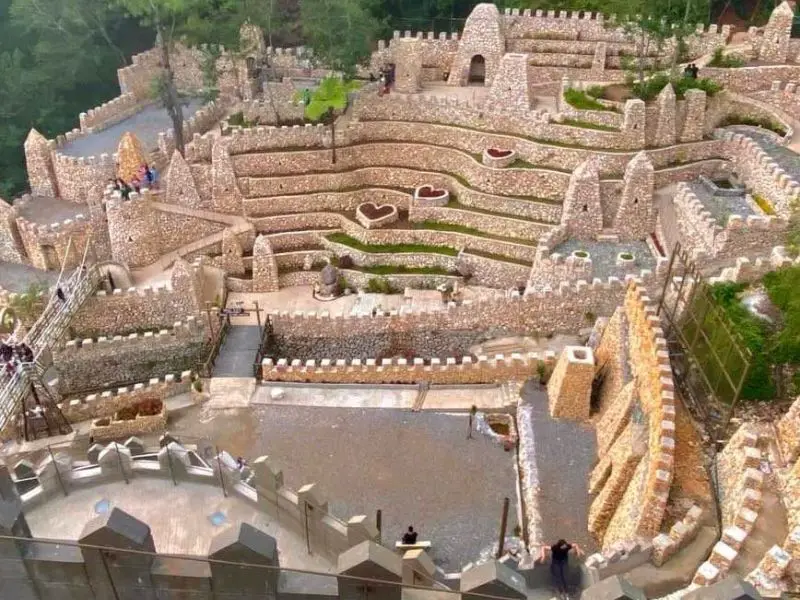 WHAT TO EXPECT
A castle made of stone in the shape of a rice terrace.
Towers depicting Gatan and Bangan, two Igorot survivors of the Holocaust.
Tower of Igorot God Kabunyan
A fertility tower
An Igorot Gold Mine
A white carabao monument which the owner claims was his sign to build the Stone Kingdom.
A bridge
Locals performing on traditional musical instruments
A small cafe and an eatery
LOCATION
No. 86 Long-Long Road, Pinsao Proper, Baguio City
The Igorot Stone Kingdom is located on Long Long Road in Pinsao Proper, Baguio City. It is only two minutes away from the well-known Tam-Awan Village and five kilometers from Baguio City's downtown.
How to Get to the Igorot Stone Kingdom
By Public Transport
Take a jeep bound for Tacay-Longlong in Otek Street at Central Business District
By Private Car
Make use of Waze or Google Maps.
* There is a large parking lot nearby.
ENTRANCE FEE
Adults: ₱100
Kids & Seniors: ₱80
3 years old and below Free
OPERATING HOURS
6 am to 6 pm
---